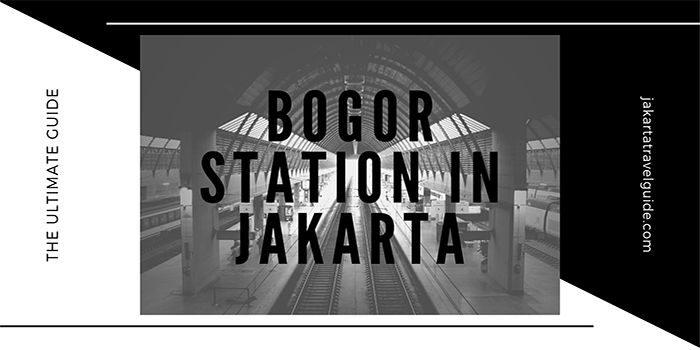 Bogor Station, locally known as Stasiun Bogor in Bahasa Indonesia is a commuter station in Bogor City.  
Bogor, if you are unfamiliar, is a popular weekend destination for people living in Jakarta due to good shopping (at factory outlets), the Botanical Gardens and outlying recreational activities.
GPS Address: -6.595661, 106.790403
Station Address: Jalan Mayor Oking, Kampung Parung Jambu, Kota Bogor, Jawa Barat, Indonesia
Commuter Line(s): Red Line and Yellow Line
Train Platforms: 6 bay platforms
Number of Tracks: 8
Commuter Line Information for Bogor Station
Bogor Station is the terminal stop on two of Jakarta's popular commuter lines, the Red Line and the Yellow Line.
The Red Line connects Jakarta Kota Station in Kota Tua to Bogor Station.
The Yellow Line services trains heading from Jatinegara Station to Nambo, Depok and Bogor.
If you are planning on taking the yellow line to Bogor Station, then make sure that your train terminates here.  
Some Yellow Line commuter trains terminate in Nambo, and therefore, do not go to Bogor.
Since Bogor Station is a terminal station on both the Red and Yellow commuter lines it is the farthest station south. If you are travelling towards Jakarta, then the next station north of Bogor Station is Cilebut Station.  
The distance between Bogor Station and Cilebut Station is about 7.5 kilometers.   
What is located around Stasiun Bogor?
Stasiun Bogor is one of the most strategic and important commuter stations in greater Jakarta.
One of the reasons for this is fact that Bogor Station is located within walking distance of the highly recommended Bogor Botanical Gardens (locally known as Kebun Raya Bogor).
It should only take you about 5 minutes to walk from Bogor Station to the entrance of the Botanical Gardens.  It is only about 500 meters away. To get to the center of the Botanical Gardens, expect it to take you about 20 minutes by foot.
Another reason why Bogor Station is popular is because it is the most southerly station on the KRL commuter system.
This makes it convenient for people living in Bogor (or even further south) to access Jakarta without experiencing any road traffic along the way.  This is also true in the opposite direction. People working in Jakarta can take the commuter all the way to Bogor.
Taking the commuter from Jakarta all the way south to Bogor Station can also be a practical decision for domestic and international tourists to get to Bogor in order to enjoy shopping and recreational activities in the area.
If the commuter isn't too busy (like early on a Sunday morning) then it is possible to take the train all the way to Bogor and then hire a car to bring you to other attractions like Taman Safari for instance.
There are a lot more quality hotels in Bogor and in the vicinity of Bogor Station in comparison to other other commuter stations on the Red and Yellow lines south of Jakarta.  
Here is an overview of some of the closest properties in relation to Bogor Station sorted according to star level and proximity:
4-star
Hotel Salak The Heritage (700 meter/8 minute walk)
Hotel Royal Padjajaran Bogor (5.1 km/18 minute drive)
The Mirah Bogor Hotel (4.6 km/17 minute drive)
THE 1O1 Bogor Suryakancana Hotel (4.6 km/20 minute walk)
3-star
Sahira Butik Hotel (3-star) (1 km/12 minute walk)
Hotel Royal Bogor (3-star) (1.1 km/13 minute walk)
Favehotel Padjajaran Bogor (5.1 km/20 minute drive)
2 Star
Sofyan Inn Srigunting – Halal Hotel (4.9 km/19 minutes drive)
It is very common for people living in Jakarta to spend their long weekends in Bogor or the surrounding countryside.  Therefore, before you decide to visit Bogor be mindful of your departure times to avoid very heavy traffic.
Taking the commuter can be a smart option, but it too can be extremely busy to the point of discomfort. Try to leave really early in the morning or very late at night to avoid peak travel times if possible.
Driving from Bogor Station to the Airports in Jakarta
Getting from Stasiun Bogor to Soekarno-Hatta Airport
The driving distance from Bogor Station to Soekarno-Hatta International Airport is around 83 kilometers and this should take you around 1 hour and 40 minutes to 2 hours depending on traffic.
Getting from Stasiun Bogor to Halim Perdanakusuma
The driving distance from Bogor Station to Halim Perdanakusuma International Airport is around 50 kilometers and this should take you around 1 hour and 10 minutes to 1 hour and 25 minutes depending on traffic.
10 Closest Hotels to Bogor Commuter Station in Jakarta
***Organized according to Star Rating
***Mobile users swipe right