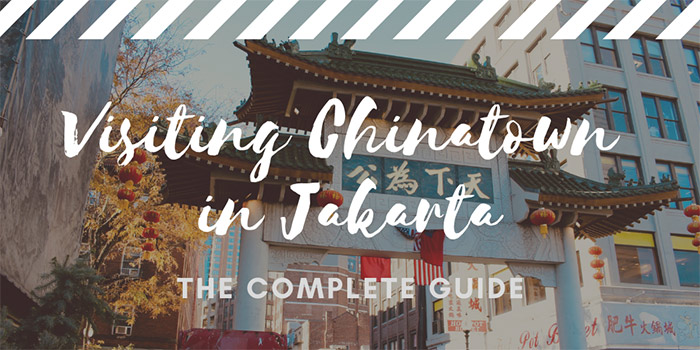 Jakarta's Chinatown is one of the busiest and most fascinating areas to explore in the Indonesian capital. It is the largest Chinatown in the country. If you visit Jakarta Chinatown,  you will walk amongst fruit, vegetable and spice markets, electronics shopping malls and temples dotted throughout tiny narrow streets and alleyways.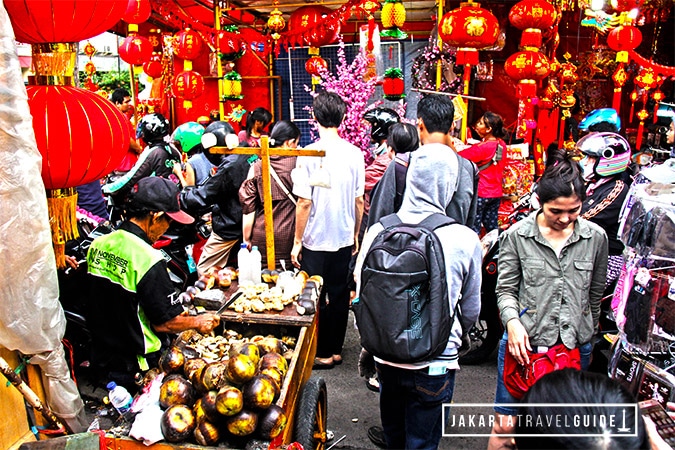 You might also hear Chinatown being called 'Glodok' by locals in Jakarta. Although Glodok consists of a larger area than only Chinatown, you might hear the two terms being used interchangeably within the city.
Chinatown in Jakarta is also one of the least 'touristy' Chinatowns in comparison to other ones you will find in major cities such as Singapore and Kuala Lumpur. You will see fewer tourists and experience a more authentic atmosphere. It is still a functioning marketplace with motos whisking by, meat getting chopped and incense in the air.
---
Things to see and do in Jakarta's Chinatown
Walking through Street Markets in Chinatown Jakarta
One of the most popular activities with visitors to Chinatown in Jakarta is walking through the bustling streets and getting right in the middle of the action. The market along Jalan Kemenangan Raya is particularly interesting. It is one of the 'must-see' streets in Chinatown. The narrow alleyways along Jalan Kemenangan Raya are also really interesting.
Expect the tiny roads throughout Chinatown get really busy in the morning hours when fresh fish and meat are being sold by the local merchants.
You should also consider walking over to Pasar Pagi and Pasar Asemka.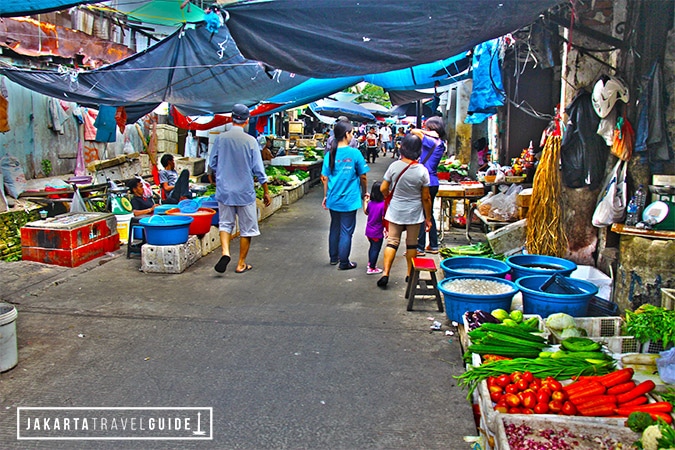 Visiting Temples and Churches in Jakarta's Chinatown
When you are visiting Chinatown in Jakarta you can also check out some historic places of worship as well.
There are three temples that you can easily walk to: Dharma Sakti Temple, Hui Tek Bio Temple and Dharma Bhakti Temple. You can easily walk to these while you are sightseeing in Chinatown. Dharma Bhakti Temple was built in 1650 and is considered to be the oldest temple in Jakarta.
You can also walk to Santa de Fatima Catholic Church in Jakarta's Chinatown. You can get to the church by walking along Jalan Kemenangan Raya and looping around onto Jalan Kemenangan.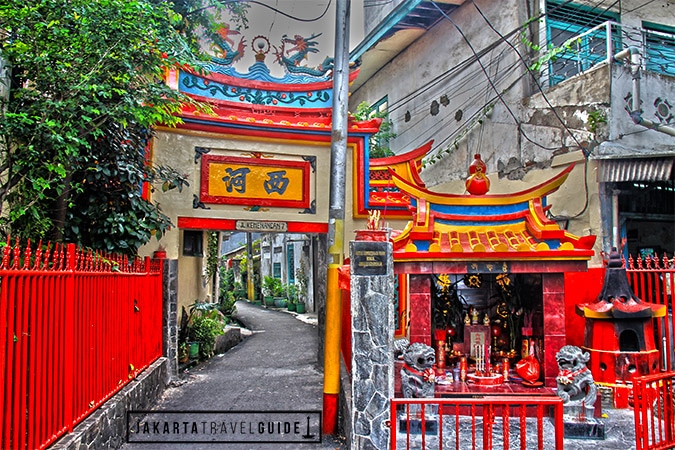 Shopping in Chinatown Jakarta
One of the most popular activities in Glodok, or Chinatown Jakarta is shopping. As you might expect, there are plenty of street markets and shopping malls in this area of Jakarta.
If you want to check out interesting markets, try to visit Pasar Glodok, Pasar Pagi, Pasar Grosir Asemka and the interesting painting market slightly north of Pasar Glodok. When you visit Chinatown in Jakarta you might feel like the whole area looks and feels like a market. This is understandable.
Chinatown (Glodok) in Jakarta is also quite famous for electronics. Glodok and Mangga Dua are two of Jakarta's best areas for finding cheap electronics such as phones, televisions and computers. The malls in this area of Jakarta are definitely not fancy. You will find small shops with local merchants set up for business. Be prepared to bargain for prices.
Some of the popular shopping centers in Chinatown (Glodok) include Orion Plaza, Glodok Plaza, Harco Glodok, LTC Glodok and Lindeteves Trade Center. Orion Plaza, Glodok Plaza and Harco Glodok specialize more in electronics. LTC Glodok and Lindeteves Trade Center both offer a wide selection of trade products for plumbing, electrical construction projects.
You can easily walk between all of these malls in Glodok without arranging transportation.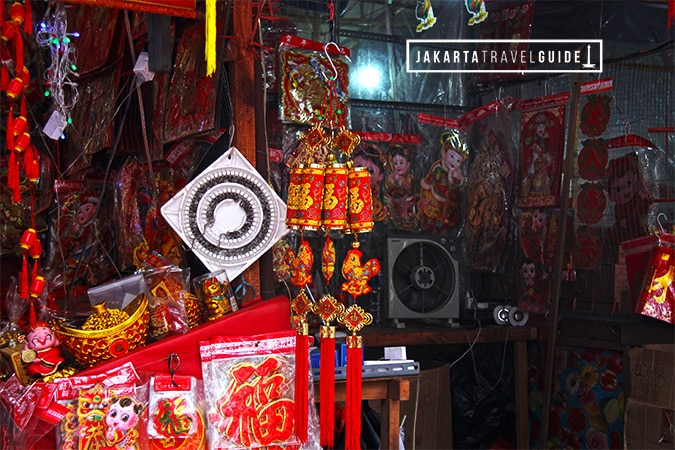 Eating in Chinatown Jakarta
Eating traditional Chinese food in Jakarta is a pretty cool experience. You will find lots of roadside vendors selling street food. But you do have to be careful eating in this area of Jakarta. This is a very busy area with lots of pedestrian and moto traffic. Use common sense when choosing what to eat in Jakarta's Chinatown.
A popular place with visitors to Jakarta is Pantjoran Tea House. It serves Chinese food but it is enclosed and quite clean. It is located directly beside Pasar Glodok along Jalan Pintu Besar Selatan. It is a bit more 'tourist friendly' in terms of sanitation and ambiance.
There are all kinds of little shops selling Chinese snacks throughout Chinatown as well. Don't hesitate to try them out.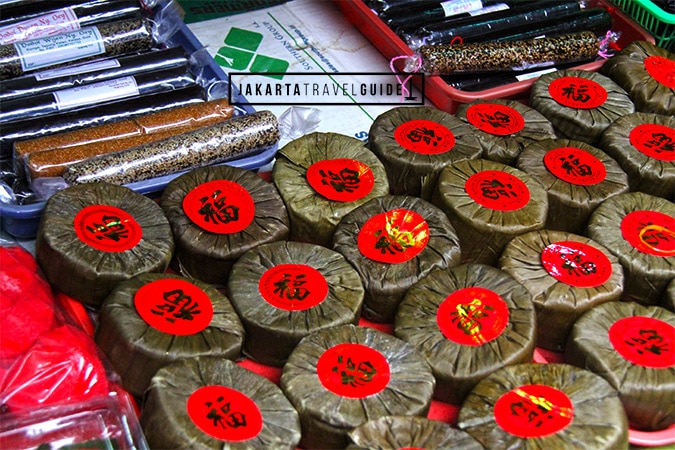 Additional Tips about Visiting Chinatown in Jakarta
Chinatown in Jakarta is also quite close to Kota Tua – an area famous for Dutch colonial architecture, museums and some cool cafes. You can either walk between Chinatown and Kota Tua or arrange a short ride.
It is a wise and efficient decision to see Chinatown and Kota Tua during the same day if possible. This will cut down your time in traffic and free up time to see more attractions in Central Jakarta.
If you want to stay near Glodok or Chinatown there is a cluster of good hotels south of the market area. Some of the best options include Jakarta Novotel Gajah Mada, Hotel Santika Premiere Hayam Wuruk Jakarta and Mercure Jakarta Kota Hotel.
If you stay south of Glodok then you will be able to access Chinatown, Kota Tua, and the Monas area. If you stay closer to Kota Tua you will spend way more time in traffic trying to reach the Monas and its surrounding museums.
Chinatown can be a really interesting place to visit in Jakarta. Make sure you charge up your cameras and don't hesitate to get right in the middle of the action.
---
10 Closest Hotels to Chinatown in Jakarta
***Organized according to Star Rating