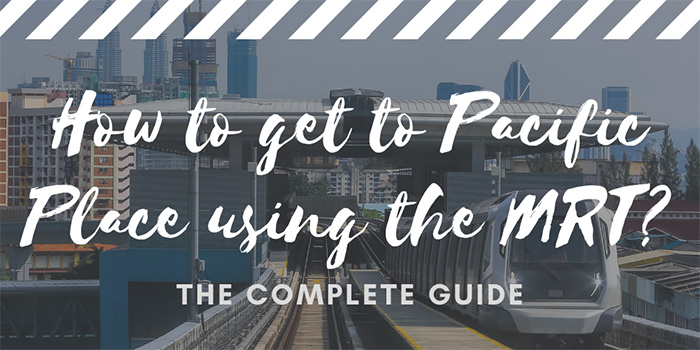 The complete guide to getting to Pacific Place in Jakarta using the MRT Network.
Pacific Place MRT
This article is designed to provide you with a step-by-step guide on how to get to Pacific Place using the MRT in Jakarta. The information that we have presented within this article is based on official Jakarta public transport information and our own travel experiences getting to Pacific Place on multiple occasions.
Regardless of whether or not you are staying in Jakarta or visiting on a trip, it is important for you to be familiarized with some of the major malls in the city. 
Pacific Place is one of Jakarta's best luxury shopping centers and it is located right in the heart of Jakarta. Not only does it have some of the nicest designer stores in the entire city, it also has an excellent selection of restaurants as well. The Hard Rock, for instance, is just one of many popular restaurants and bars that are located in the Pacific Place.
---
Why should you consider visiting Pacific Place if you are in Jakarta?
Since its construction Pacific Place has always been considered one of jakarta's Premier Luxury malls. It is one of the most convenient shopping malls in all of Jakarta for people that are conducting business in the Sudirman region of the city.  
To place its location into perspective, Pacific Place is situated directly across from the Indonesian Stock Exchange, and minutes away from Gelora Bung Karno – a large athletics park where national and international competitions take place.  Over the years many massive concerts have taken place at Bung Karno including the recent visit of Guns N' Roses.
Prior to the MRT opening up in Jakarta it was just considered one of many malls in the city centre. However, now that the first-ever MRT line in Jakarta is opened up, it is possible to access Pacific Place without spending a second in Jakarta traffic. This is a game-changer for people who want to stay at Pacific Place during their trip, enjoy the shopping and dining experiences while avoiding all the headaches associated with Jakarta traffic.
Another reason why you may want to visit Pacific Place in Jakarta is the fact that it is physically attached to one of the best hotels in the entire city – the Ritz-Carlton Pacific Place. This is an extremely popular hotel for business travelers and affluent tourists who are in Jakarta. You can shop at Pacific Place and stay at the Ritz-Carlton without stepping foot in Jakarta traffic which is a priority for a lot of people. 
---
Here is a step-by-step guide on how to get to Pacific Place using the MRT:
#1: Leave your hotel and access the closest MRT Station in Jakarta.
The first step to getting to Pacific Place using the MRT system is to figure out where your hotel or accommodation is relative to the nearest MRT Station.
In order to help you out with this task you can refer to the following highly informative articles that are extremely popular with our readers:
You might be surprised to learn that there are a lot of excellent hotels that are situated very close to MRT stations in Jakarta.  Blok M, for instance, has a series of budget hotels that are within walking distance of Blok M MRT Station.
There are also a lot of hotels that are situated close to Bundaran HI MRT Station.  this is one of the best areas and all of Jakarta to stay and it is also only a few minutes from the station.
Once you have figured out where your hotel is in Jakarta relative to the nearest station, it is time to head to the station and enter the MRT system.
---
#2: Navigate MRT Jakarta to Pacific Place using the MRT
Once you enter one of the stations that is part of MRT Jakarta, it is a simple process to get on the train. 
There are signs and maps in each station that you can refer to so see which way you need to go. 
Currently, the MRT Line in Jakarta consists of 13 stations. The southernmost station is Lebak Bulus, whereas the northernmost station is Bundaran HI.
Expect a quick security check when you arrive at the station. Then you can tap your card to gain access.
---
#3: Purchase your MRT Ticket
Once you are in the station closest to your hotel in Jakarta, the next step is actually purchasing a ticket to make it to Pacific Place.
Similar to other MRT systems in Singapore and Kuala Lumpur, there are actually multiple ways that you can purchase tickets in Jakarta for MRT rides.  To quickly summarize, you can either purchase single journey trip tickets right at the station or you can alternatively pre-purchase a top-up card from Indomaret, Alphamart and other convenience stores in Jakarta.
There are some other additional details that you should be familiar with. We highly recommend that you refer to this comprehensive guide that outlines how to buy tickets for Jakarta MRT.
This has all the information that you are required to make it to Pacific Place.
---
#4: Take the MRT to Istora MRT Station
Are you purchase your MRT ticket to Pacific Place the next step is making sure that you get off at Istora MRT station.  This is the closest and by far the most practical station to get off at if your intended destination is Pacific Place.
Technically, you could walk from Senayan Station to Pacific Place as well but it is farther and definitely less convenient.
---
#5: Exit from Istora Station and Walk to Pacific Place
If you use one of Istora Station's eastern exits then you will be extremely close to Pacific Place Mall. 
All you need to do is exit the station and look for the Ritz-Carlton Pacific Place. It should be immediately visible the second that you exit the station. 
The walk to the mall entrance is about 200 meters from Istora Station. Once you reach Pacific Place you can enter via the underground entranceway. 
Take the underground passage through to the mall. You can take the escalator up to the main atrium of Pacific Place.
---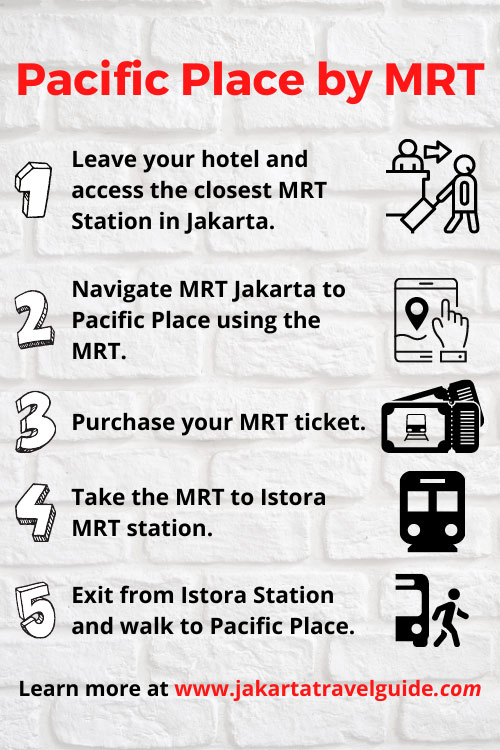 ---
How long does it take to get to Pacific Place using the MRT?
The time that it takes you to take the MRT to Pacific Place will depend on which station you start your journey from. To put things into perspective, Istora MRT Station is the 5th station along the line from the North and the 9th station on the line from the South. 
You can expect it to take you about 20 minutes from Lebak Bulus MRT Station (south of Istora) and 10 minutes from Bundaran HI MRT Station (north of Istora). 
The airport train takes 45 minutes to BNI City Station where you can transfer to Dukuh Atas MRT Station. From there it will take around 10 minutes to reach Istora MRT Station and Pacific Place. Therefore, you can get to Pacific Place and the Ritz-Carlton in less than an hour using the airport train and MRT.
Read More: 
---
$$$
How much does it cost to take the MRT Pacific Place in Jakarta?
Again, the price to get to Pacific Place will depend on your origin. Regardless, you can expect it to be very affordable. At the time of writing, the maximum cost for any 1-way MRT ride in Jakarta is 14,000 IDR (roughly equivalent to $1 USD). This is from one end of the line to the other. Therefore, you can expect to pay less than that because you are going to Istora which is not a terminal station.
Read More: Jakarta MRT Price Guide: Find out how much trips cost.
---
Selecting the Best Hotel near Pacific Place
Fortunately, there are many high quality hotels near Pacific Place that you may want to consider during your time in Jakarta.
Naturally, the most convenient option is the Ritz-Carlton because it is physically attached to Pacific Place and only 200 meters from the MRT system. 
If this is outside of your budget you may want to consider the following properties:
Both of these options are still minutes away from both Istora MRT Station as well as Pacific Place.
---
Where have we stayed near Pacific Place in Jakarta?
Fortunately, we have had the opportunity to stay at multiple hotels in downtown Jakarta. This includes the Ritz-Carlton Pacific Place and also excellent hotels in Thamrin and the Monas area.
We were very satisfied with the Ritz and the level of service throughout the entire property. 
During our stay we had lounge access that included unlimited food and alcoholic beverages while we were there. We would recommend this property if you are looking to celebrate a special event such as an anniversary or you are looking for a very comfortable business property while you are in the city. 
The spa is super nice with a sauna, jacuzzi, steam room and ice bath. The gym and pool are also great.
All staff members knew our names throughout the entire property and they made an extra effort to make sure we were comfortable.
Keep in mind that this property has not paid us anything to share this information.
---
10 Closest Hotels to Pacific Place in Jakarta
***Organized according to Star Rating
---
Anymore Questions about your trip to Pacific Place using the MRT?
This has been a step-by-step guide on how to get to Pacific Place using the MRT in Jakarta. But, we realize that we may not have answered all of your questions about your trip thus far. If you do happen to have additional questions, feel free to send us an email any time. We would be happy to help.
Also, keep in mind that there are a lot of different things to do around Pacific Place aside from shopping and eating.  Gelora Bung Karno is an excellent spot for exercising in the morning.  You are also literally a few hundred meters away from Car-free Sunday.
Take advantage of your central location at Pacific Place while you are in Jakarta.