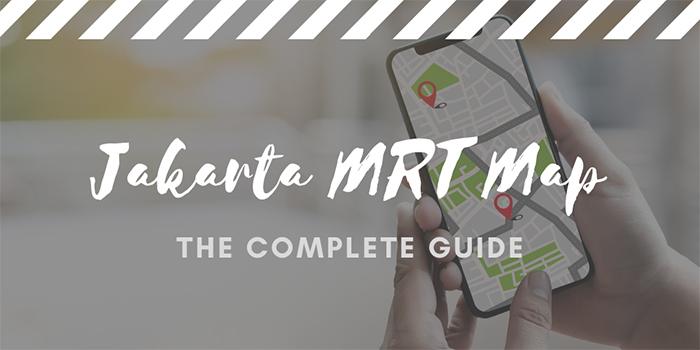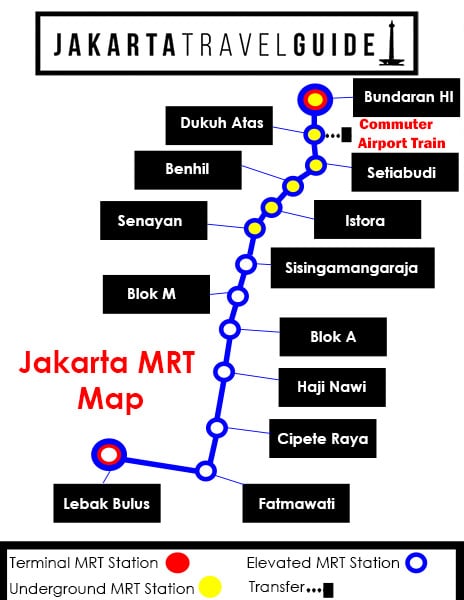 This is a clear MRT Jakarta Map which is designed to make your planning easier. MRT Jakarta is now officially open to the public in Jakarta! The MRT Jakarta Map (to the right) summarizes the stations making up Jakarta's first MRT Line.
Jakarta MRT is a very long awaited alternative form of public transportation that should reduce traffic congestion in Indonesia' capital city.
As the Jakarta MRT map illustrates, there are a total of 13 MRT stations that are part of the North South Line.
The 6 northern stations that are located in central Jakarta have been built underground. Therefore, you will either walk downstairs or take an escalator to access the MRT.
Jakarta MRT – Underground Stations
On the Jakarta MRT Map to the right,  these underground stations are represented with a solid yellow circle .
The 7 southern stations are elevated. They have been constructed above the existing road infrastructure in south Jakarta.
Jakarta MRT – Elevated Stations
On the Jakarta MRT Map above, these elevated stations are represented by an empty blue circle.
---
Jakarta MRT Map – Additional Information
Terminal Stations on the Jakarta MRT Map
Currently, the two terminal stations on the North South Line of Jakarta MRT are Lebak Bulus Station (south Jakarta) and Bundaran HI Station (central Jakarta).
On the Jakarta MRT Map illustrated above these are denoted with a red circle.
When Phase II of the MRT development in Jakarta is completed, Bundaran HI will no longer be considered as a terminal station. Phase II of the MRT development will extend north beyond Kota Tua.
This map of Jakarta MRT will be updated when Phase II of construction is almost complete.
Transfer Stations on the Jakarta MRT Map
Currently, it isn't possible to transfer to another MRT line from this one. Therefore, if you get off at one of the MRT stations in Jakarta, you will have to consider one of the following forms of transportation:
TransJakarta
KRL Commuter
Go-Jek
Grab
Taxi Services
Dukuh Atas MRT Station is the most connected station along the M1 North South MRT Line. It is a convenient station to stay near while Jakarta because you can walk to other commuter stations, the Airport Railink, and eventually the LRT (the LRT isn't open yet).
When you arrive at Dukuh Atas MRT Station, you can walk to the following stations:
Sudirman Station

(Commuter)

Karet Station

(Commuter)

BNI City Station

(Jakarta Airport Railink)
The Jakarta MRT map above shows that you can transfer to the commuter and airport train with three black dots and a square box attached to Dukuh Atas MRT Station.
---
Future Updates to this Map of Jakarta MRT
This Jakarta MRT map will be updated when the Jakarta LRT system officially opens in the city. Similarly, you can expect it to be updated well before the Phase II of MRT construction is finished.
MRT Jakarta Related Links and Resources