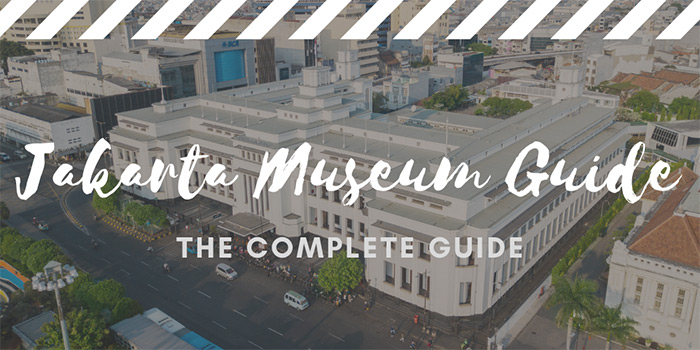 This is the ultimate Jakarta Museum Guide perfect for travelers who wish to explore the interesting museums in the capital of  Indonesia.
Many locals, expats and domestic and international tourists in Jakarta often do not realize how many fascinating museums there are to see in this city. This Jakarta Museum Guide is designed to make your trip planning faster.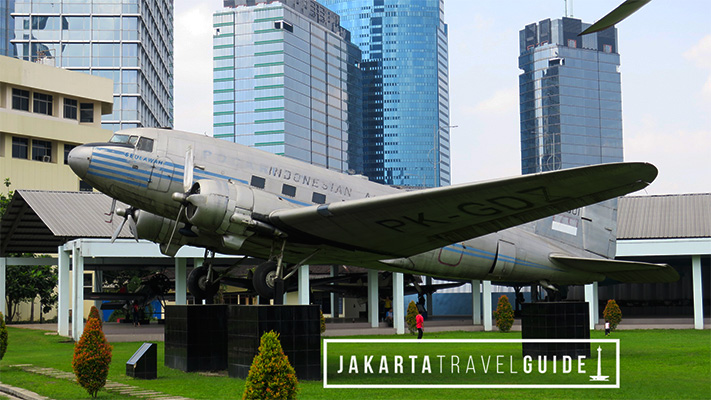 Jakarta has plenty of museums to explore over a 3 to 4 day period and many of them are located in districts which makes it possible to walk between them without even experiencing a second of Jakarta's notorious traffic.
Another thing that many visitors to the city are uninformed about is how affordable it actually is to visit Jakarta's museums. Jakarta has some of the most affordable museum admission fees anywhere.  This makes it possible for the whole family to visit multiple museums over a 3 to 4-day stay in Jakarta.
Many of the exhibits in Jakarta will feature Bahasa Indonesia text. This can make it challenging for visitors who do not know the local language. In this case, try to get the most out of the images and displays, or hire a local guide to show you around.
---
What are the best areas for visiting Jakarta's Museums?
Although Jakarta has museums sprinkled in different areas of the city, there are few key districts that have more museums than the others.
A few of these districts include Kota Tua (Jakarta's Old Town), Gambir (the area around the Monas) and Menteng (the area east of the Monas).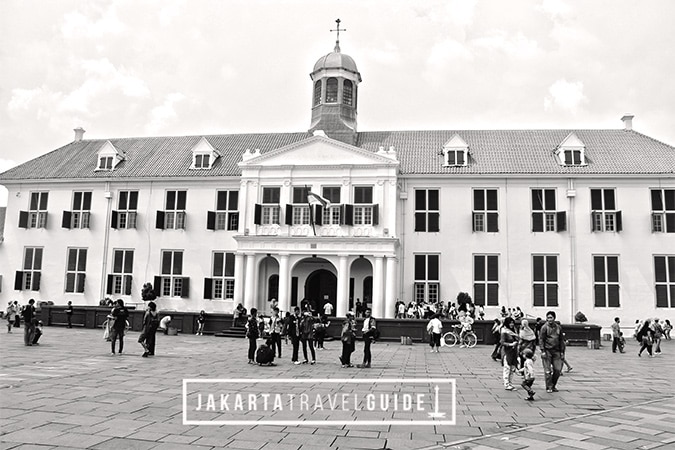 ---
Museums in Kota Tua
If you haven't visited Jakarta before, then you might not be familiar with Kota Tua. This is Jakarta's Old Town. In other words, it consists of many Dutch colonial buildings which offer tourists a sample of Jakarta's historic past.
At the center, Kota Tua is Taman Fatahillah (also called Fatahillah Square). This is the center or heart of Kota Tua. When you arrive at Fatahillah Square you will notice that it is surrounded by colonial buildings that have been converted into museums.  Actually, there are at least three museums directly overlooking the square:
You can easily walk between any of these within 1 or 2 minutes.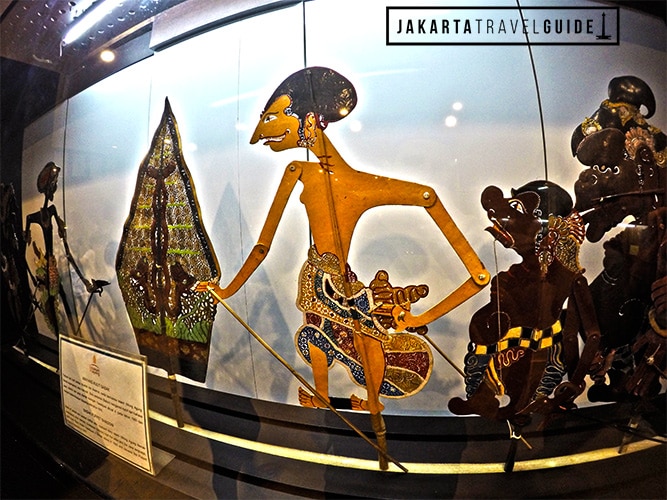 About 300 meters south of Fatahillah Square there are two additional museums that you can also check out while you're in Kota Tua. They include: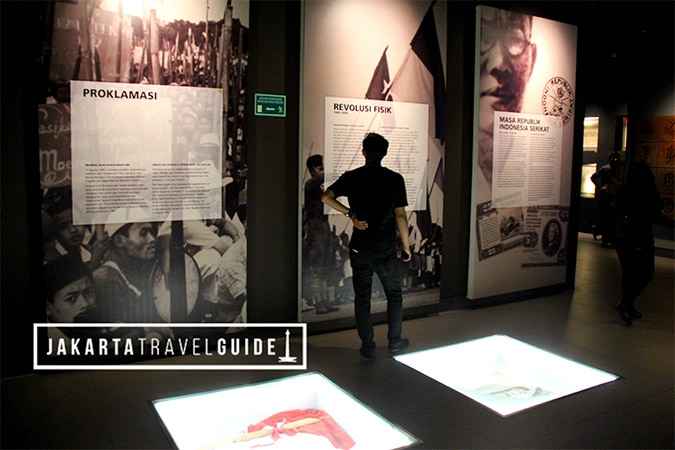 ---
Museums in Gambir
Gambir is an area situated directly in central Jakarta. This is the region that directly surrounds the National Monument, locally known as the Monas.
If you are visiting the Monas like most tourists do while they're in the city, then you can head directly below it to find a museum that highlights Indonesia's movement towards independence. They have done an excellent job of showcasing the different time periods leading up to independence.
Fortunately, the museum below the Mons is not the only museum that you can explore in this area of Jakarta.  East of the Monas you will be able to visit the National Gallery of Indonesia. This is a very impressive exhibit of Indonesian and international artwork.  You can literally walk from the Monas to the National Gallery in about 5 minutes.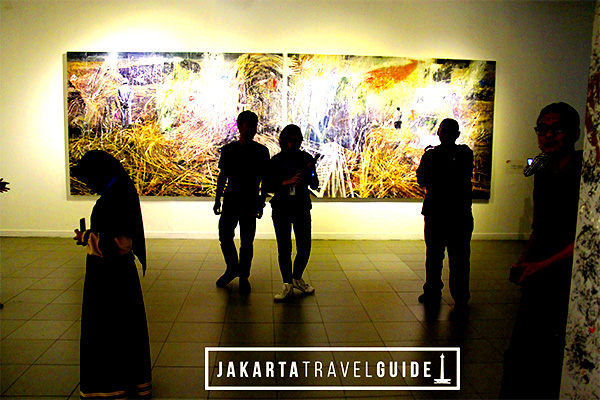 To the west of the Monas, you will arguably find what is considered to be the best museum in Jakarta – the National Museum. You can walk to the National Museum from the northwestern corner of the Monas in less than 5 minutes.  If you're in this area and you are still not tired of checking out museums, you can also walk to Taman Prasasti Museum from the National Museum. This museum is quite unique in that it showcases the cemetery stones of elite Dutch colonialists.
---
Museums in Menteng/Senen
For the sake of simplicity, it is easier to describe Menteng and Senen as one area when it comes to exploring museums in central Jakarta.  Both of these areas are located to the east of the Monas. Menteng and Senen are both known to be affluent areas of Jakarta with many large Dutch colonial buildings, large mansions, and tree-lined roads.
Although the museums in Menteng and Senen are not quite as concentrated as Gambir or Kota Tua there are still some museums located within 1 to 2 km radius of each other. Some of the museums in Menteng/Senen include: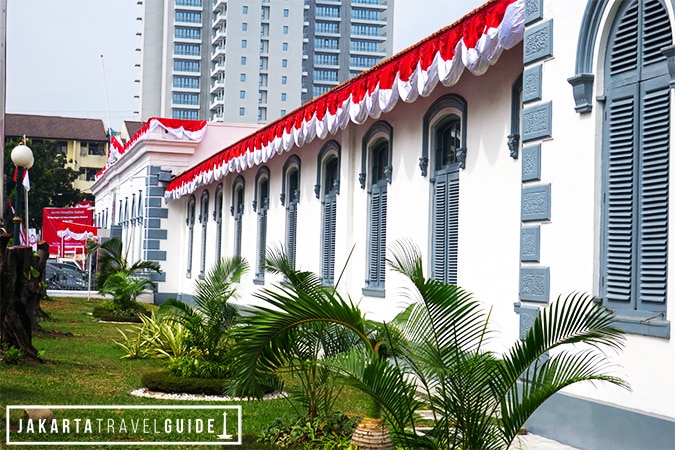 Most tourists typically drive between these, but walking is also possible if you are okay walking in Jakarta's heat.
---
Jakarta Museum Guide
How much does it cost to visit Museums in Jakarta?
Some of the museums in Jakarta definitely do not have the newest exhibits or the best technology to support their displays.  But when you consider the entrance fees to get into the museum, Jakarta has to be considered as one of the best "museum deal cities" anywhere!!
Adults visiting museums in Jakarta typically get charged only 5,000 Indonesian Rupiah.  This converts to well under $0.50 cents in US dollars. Not a bad deal right?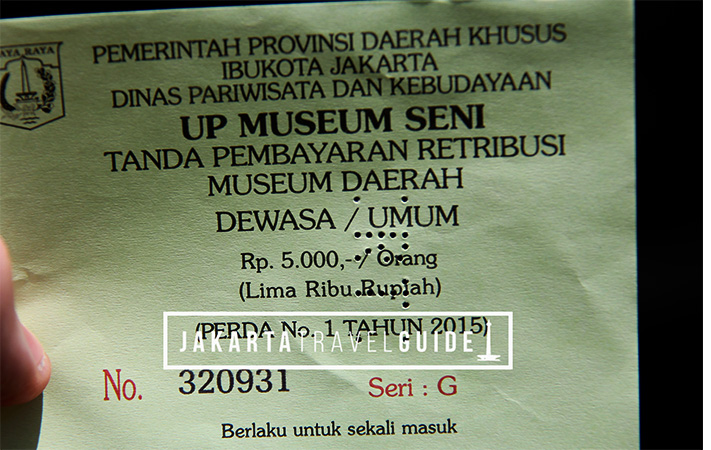 You can expect children to either be charged 3000 IDR or free entrance.
As mentioned before, this makes it quite practical for both local and international families to explore multiple museums in Jakarta without breaking the bank. Actually, for history lovers, it is possible to create a museum focused itinerary for their trip to Jakarta. This would consist of seeing the museums in Kota Tua and then working south to Gambir and Menteng/Senen.  There are also museums sprinkled throughout other areas of central Jakarta and southern Jakarta.
---
Additional Tips about Visiting Museums in Jakarta
It is important to note that if you're visiting some museums in Jakarta they will ask you to check your bag upon entrance. Do not be alarmed by this. This is business as usual in Jakarta and you will receive your bag when you exit the museum.
The museums in Jakarta typically have public washrooms that guests can use during their visit.
Jakartans are typically very open-minded about visitors taking photos in museums and in public spaces. Therefore, bring your camera along when you visit museums in Jakarta. If for some reason a particular museum does not permit for you to bring in a camera, you can simply keep it stowed with security and pick it up on the way out of the museum.
---
Museums in Jakarta – Quick Links
National Gallery of Indonesia (Galeri Nasional Indonesia)
Textile Museum (Museum Tekstil)
Museum of Fine Arts and Ceramics in Jakarta
Sasmita Loka Ahmad Yani Museum
Grand General Dr. A. H. Nasution Memorial Museum