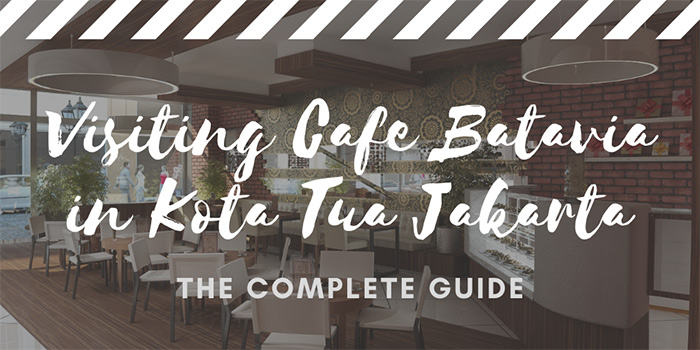 Cafe Batavia is definitely one of the most charming attractions in Jakarta. This very popular cafe and restaurant will impress you with its elegant colonial decor and fascinating history.
Cafe Batavia is situated on the northwest corner of Fatahillah Square of Kota Tua – the old Dutch colonial area of Jakarta.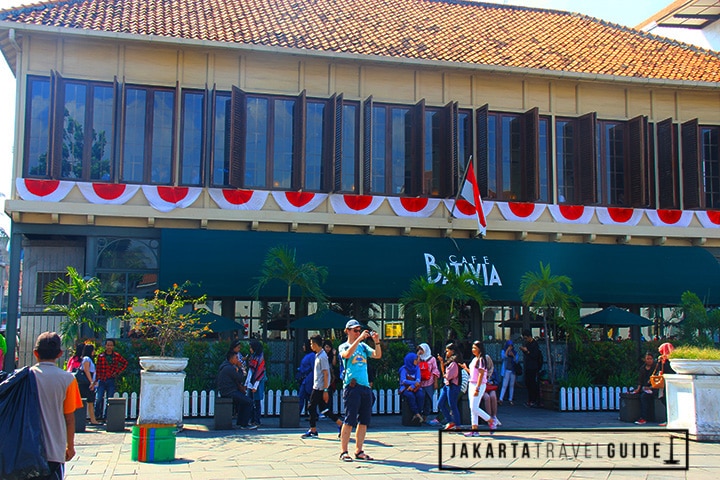 Due to its beautiful high ceilings, rustic interior decor and authentic colonial ambiance, Cafe Batavia is a big hit with both domestic and foreign tourists visiting Jakarta.
Cafe Batavia's location makes it much accessible to all visitors and locals in Jakarta.
Although the construction of the building began in the early 1800's, the Cafe itself was opened in the 1990's and it has been a big draw ever since. The word "Batavia" is the old capital name for Jakarta.
---
So why is Cafe Batavia so popular with visitors to Jakarta?  
Once you walk into Cafe Batavia you will immediately feel like you have taken a step back in time!
The cafe is one of the oldest buildings in all of Kota Tua. The lamps, photos, flooring, high ceilings create a colonial feel similar to that established in the movie Casablanca.
It also doesn't hurt that Cafe Batavia has excellent service standards in comparison to many restaurants and cafes in Jakarta. The servers are usually prompt, polite and very professional.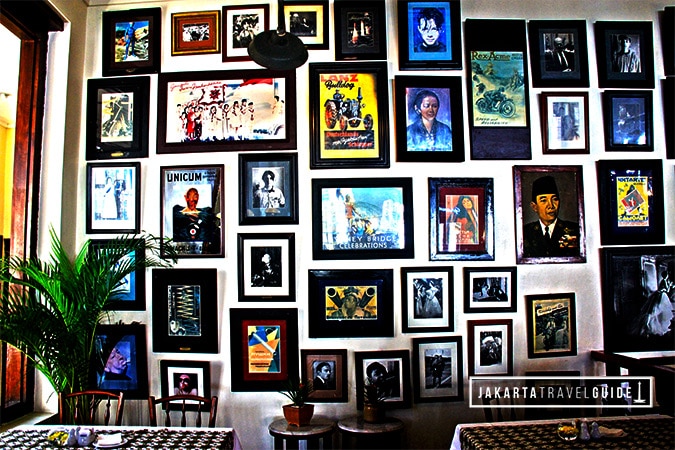 The cafe welcomes many customers due to its ideal location beside some of Jakarta's most popular museums such as
It is quite common for tourists to sightsee around the various attractions in Kota Tua and then eat and/or grab a drink at nearby Cafe Batavia.
And the other great thing about visiting Cafe Batavia Jakarta is its consistently great live music performances.
A live band usually performs on the ground floor of the two-story cafe building. The band typically starts playing late afternoon until late night.
In the evenings, the cafe lighting is dim and adjusted to create a romantic candle-lit vibe. Indeed, Cafe Batavia is one of the most romantic places to dine in Jakarta.
---
What's Around Cafe Batavia?
Cafe Batavia is located in one of the most popular areas for sightseeing in all of Jakarta. It offers one of the best views in the entire city of Fatahillah Square. Cafe Batavia is located directly north of the square and overlooks various other colonial buildings.
Cafe Batavia is within walking distance to the most prominent Jakarta museums like:
Many visitors to Kota Tua enjoy checking out these museums, they also walk around and shop at the street markets.
Expect lots of street food and small items for sale in these locals street markets.
You won't find too many high-end hotels near Kota Tua. Most of the hotels near Cafe Batavia are all of the budget type, mainly in the 1 to 3-star range. A few of the best properties near Cafe Batavia are Wanderlost Hostel and Teduh Hostel Kota Tua. Expect basic amenities and rooms but they receive great reviews from guests.
If you are a sightseeing around Cafe Batavia, and you are looking for something with better services and larger rooms then consider staying in Gajah Mada where there is a nice sprinkling of new, positively reviewed properties. A few examples include Yello Hotel Harmoni and Harris Vertu Hotel Harmoni. These properties are a few kilometers south of Kota Tua, but they do provide convenient access to both Chinatown and the Monas which can make your trip to Jakarta more efficient.
Tourists who are visiting Cafe Batavia in Kota Tua, Jakarta, also tend to check out a few other attractions in this area of the city other than the surrounding museums and markets. A perfect example is Sunda Kelapa. Sunda Kelapa is the port area where you can take photographs of the old boats along the waterfront.
If you are at Cafe Batavia and you're interested in shopping then you might want to explore Mangga Dua – an area known for good electronics and affordable prices.
Mangga Dua is a few kilometers east of Cafe Batavia. There are multiple malls in this area :
Mangga Dua Square
WTC Mangga Dua
LTC Mangga Dua
Harco Mangga Dua
Pasar Pagi Mangga Dua.

 
Visitors typically arrange a short ride from Cafe Batavia to Mangga Dua.
---
Cafe Batavia Visit Insider Tip:
1.Photo Opportunity: Fatahillah Square from the Second Floor
Although both floors of Cafe Batavia are extremely photogenic, you might want to consider reserving or selecting a table on the second floor that overlooks Fatahillah Square below.
From this position, you can enjoy watching the carnival-like atmosphere of Fatahillah Square.  The colorful bicycles, bustling energy of school groups and colonial buildings make for excellent photo and video opportunities.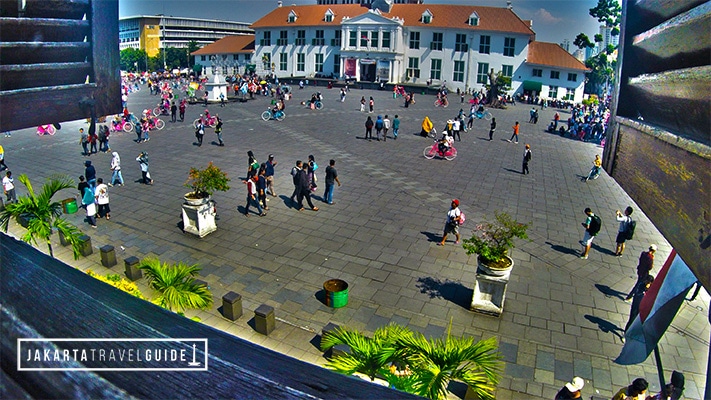 2. Beating the Traffic to Cafe Batavia
Cafe Batavia, like most of its neighboring attractions, is located in an area of Jakarta that is notorious for heavy traffic congestion.
If you have the choice, stay in Mangga Dua, Glodok or Gaja Mada to beat the traffic to and from Kota Tua. It also makes sense to explore more than one sight every time you visit Kota Tua to reduce the number of trips you have to make.
---
The Pro's and Con's of Visiting the Cafe Batavia Jakarta
Why should you visit Cafe Batavia in Jakarta?
Cafe Batavia is perfectly located in the northwestern corner of Fatahillah Square. Their food is quite well prepared and the ambiance is simply world class.
It's one of those places you will have fond memories of after your stay in Jakarta. It is also within a short walking distance of many of Jakarta's museums and other sights in the Kota Tua area.  
Why may you not want to visit Cafe Batavia in Jakarta?
There are a few reasons why some visitors might not enjoy Cafe Batavia.  First of all, it's quite expensive in comparison to other cafes in Jakarta. Secondly, they do allow people to smoke cigarettes inside (but they also allow smoking in most restaurants in Indonesia!).
Due to the very high ceilings, the cigarette smoke is much more bearable in Cafe Batavia than in most restaurants, cafes, and pubs in Jakarta. It is still something to consider though.
---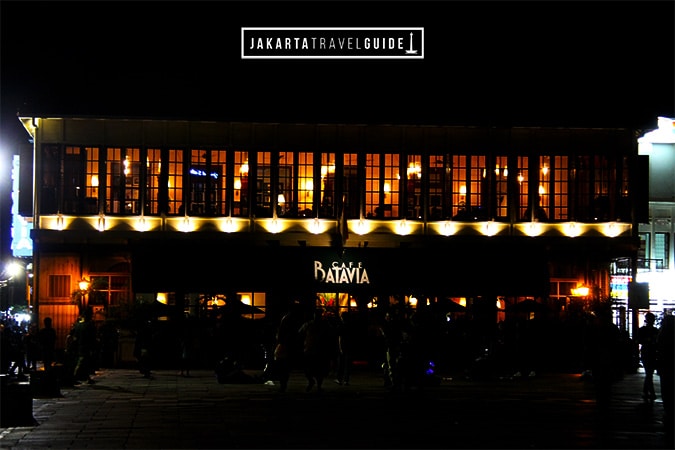 ---
10 Closest Hotels to Cafe Batavia in Jakarta
***Organized according to Star Rating
Final Thoughts Visiting the Cafe Batavia Jakarta
Cafe Batavia is one of our favorite cafes in all of Jakarta, and Indonesia for that matter!  It is romantic at night, ideally located, professional, clean and its ambiance is unrivaled.
Whether you are going for a date or simply looking for a cold refreshment on a warm afternoon in Jakarta, Cafe Batavia is a memorable place to take some photos and absorb some colonial charm.
Cafe Batavia Operation Times:
Monday 9AM–12AM
Tuesday 9AM–12AM
Wednesday 9AM–12AM
Thursday 9AM–12AM
Friday 8AM–1AM
Saturday 8AM–1AM
Sunday 8AM–12AM