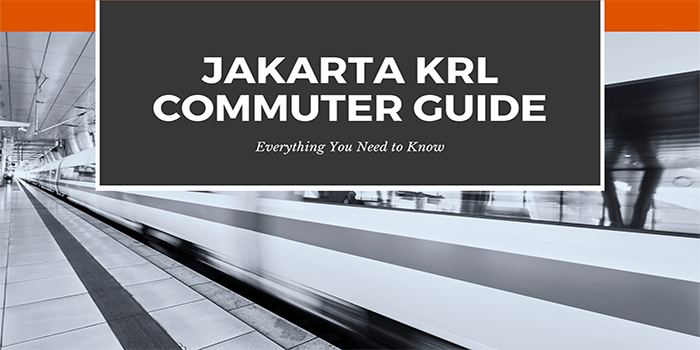 This is the complete guide to the KRL Commuter Train System in Jakarta and the surrounding cities. Find out everything you need to know, right here.
The Jakarta KRL Commuter or 'KRL Jabodetabek' is the largest train network in Jakarta's metropolitan area.
The KRL Commuter services daily trains within Jakarta and also to its satellite cities including Bogor, Depok, Tangerang, and Bekasi (the term 'Jabodetabek' is derived from the first syllable of these locations).
Although Jakarta's commuter system has seen many changes over the years, there are currently 6 main lines making up the network.
As you will see below, the KRL Commuter Jabodetabek services trains to some of Jakarta's most popular areas for sightseeing such as Kota Tua, Sudirman, Jatinegara, Senen and the Monas. These are just a few examples.
Back in 2015, there were approximately 850,000 people using Jakarta's commuter system on a daily basis. Currently, there are approximately 1 million daily users.
The KRL commuter in Jakarta serves as an important alternative to driving in the city.
It is immensely popular with locals working in Jakarta who live in the neighboring cities. Subsequently, commuter trains in Jakarta can get overly crowded during peak travel times when road traffic is also congested.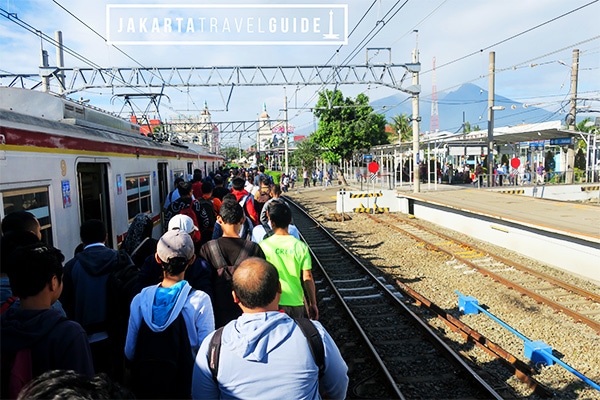 You can expect most commuter trains in Jakarta to be jam-packed during the morning on weekdays from 6-9 am and from 4-7 pm when people are finishing work.
Jakarta's commuter system is also a very affordable way to get around, enabling locals to commute on a daily basis while still supporting children and other financial obligations.
---
Jakarta KRL Commuter: Line Information
Here are links to each of the 6 current lines making up the KRL Jabodetabek System:
Of these six lines, the Yellow (Bogor-Jatinegara) Line is particularly important. The Yellow Line is often called the "loop line" in Jakarta.
The Yellow Line has trains running all the way from Bogor in the south all the way up to Tanah Abang. It loops around north of Kota Tua and then runs south to popular market areas such as Pasar Senen and Jatinegara.   
---
Jakarta KRL Commuter: Transit Station Information
Currently, there are 7 transit stations in the Jakarta KRL Commuter System. You can transfer between different commuter lines at any of the following stations:
Jakarta Kota Station (Stasiun Jakarta Kota) Transfer between: Red—Blue—Pink
Duri Station (Stasiun Duri) Transfer between: Brown—Yellow
Tanah Abang Station (Stasiun Tanah Abang) Transfer between: Brown—Yellow
Manggarai Station (Stasiun Manggarai) Transfer between: Red—Blue—Yellow
Jatinegara Station (Stasiun Jatinegara) Transfer between: Blue—Yellow
Kampung Bandan Station (Stasiun Kampung Bandan) Transfer between: Pink—Yellow
Rajawali Station (Stasiun Rajawali) Transfer between: Pink—Yellow
---
Jakarta Commuter Information
Transferring to the MRT and Airport Railink
If you are using the commuter in Jakarta, it is also possible to transfer to the MRT and Airport Railink from the commuter network.
Transferring from the Commuter to Jakarta MRT
The best station in Jakarta's commuter system for transferring to Jakarta MRT is Sudirman Station. Sudirman Station is located right in the heart of central Jakarta.
When you arrive at Sudirman Station it is possible to walk to Dukuh Atas MRT Station.
Transferring from the Commuter to Jakarta Airport Railink
Conveniently, you can also access the Airport Railink (the airport train to Soekarno-Hatta International Airport) from Sudirman Station. The Airport Railink Station is called BNI City Station. The two stations are very close to each other (only about 200 meters).
You can walk between Sudirman Station (commuter) and BNI City Station (airport train) in about 2-3 minutes.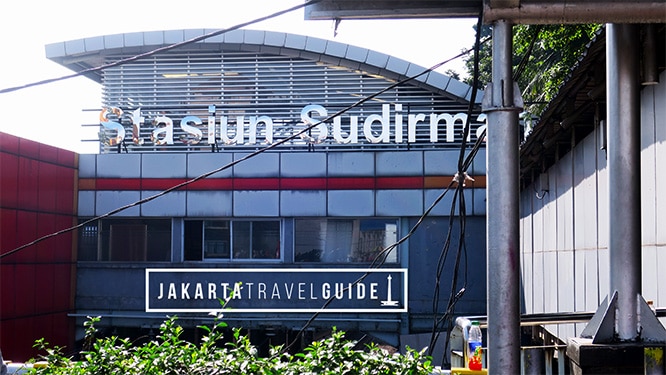 ---
Jakarta KRL Commuter: Frequently Asked Questions
How much does it cost per trip on Jakarta's commuter trains?
KRL Commuter tickets in Jakarta cost 3,000 IDR for any journey up to 25 km. After the first 25 km, journey prices go up by 1,0000 IDR for every 10 km. This is considered to be a very affordable transportation option for people living in Jakarta or one of its neighboring cities. The price is subsidized by the government.
Are Jakarta's commuter trains air conditioned?
Yes, the trains are air-conditioned, but you might expect with high passenger numbers and the odd broken AC, it isn't always a comfortable temperature during every ride.
How many lines does Jakarta's commuter train network consist of?
Jakarta's commuter system currently consists of 6 Lines
How many stations are there currently in the Jakarta Commuter system?
There are currently 80 stations making up Jakarta's commuter system spread over 6 lines.
What is the official website for the KRL Commuter (Jabodetabek)?
The official website for Jakarta's commuter system is: http://www.krl.co.id
Take note that this website is only in Bahasa Indonesian, therefore if you don't speak the local language it will be little use for you. You are better off using this website for English information.