Visiting Jakarta Cathedral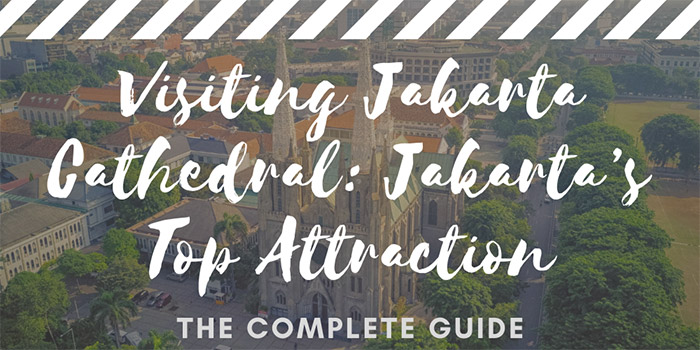 Jakarta Cathedral, locally translated to 'Gereja Katedral Jakarta' in Bahasa Indonesia, is a certified Jakarta's top attraction. This impressive 1901 neo-gothic church is the current seat of the Roman Catholic Archbishop of Jakarta.
Jakarta Cathedral is located within walking distance of the Monas in central Jakarta. Visiting  Jakarta Cathedral is one of the top things to do in the city.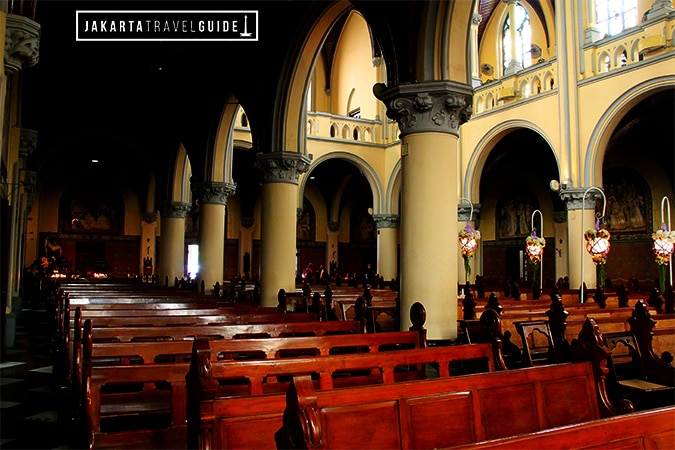 Don't be confused by the name of this Cathedral as its official name is 'The Church of Our Lady of Assumption' (Indonesian: Gereja Santa Perawan Maria Diangkat Ke Surga). The current construction of Jakarta Cathedral was completed in 1901 after the original building collapsed in 1890. Aside from its beautiful neo-gothic architecture, Jakarta Cathedral serves a very important symbol of unity in Indonesia.  
Indonesia's roughly 85% the total population are Muslims. Having Jakarta Cathedral located directly across the road from Jakarta's largest mosque, Istiqlal Mosque (Indonesian: Masjid Istiqlal) sends a clear message to the world about the level of mutual respect between Indonesian citizens.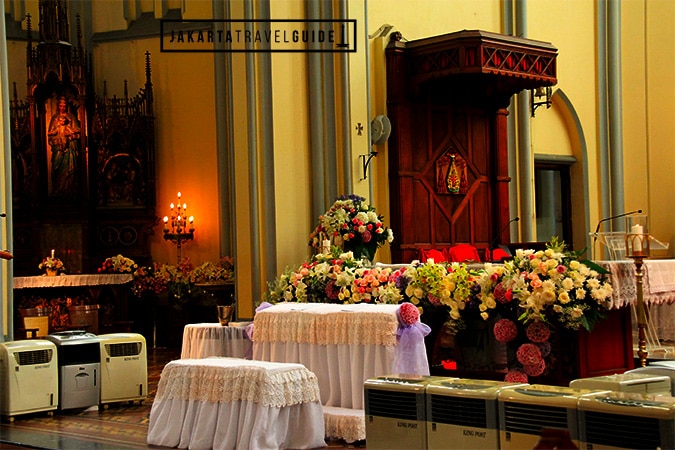 Aside from being a place of prayer, Jakarta Cathedral is also a worthwhile place to see while in the city. Its interior has been immaculately maintained. Furthermore, it's ideally located within walking distance of Merdeka Square, the Monas, the National Gallery of Indonesia, Pasar Baru and other attractions.
As you walk towards Jakarta Cathedral, you will find it hard to ignore the two white spires extending above the front portion of the building. While inside, be sure to check out the large pipe organ which was created in 1988.
Catholic visitors to Jakarta should consider attending mass at the Cathedral, but as you probably already know, members of other religions are also welcome to visit it as part of their stay in the city.
Since Istiqlal Mosque is located directly across from Jakarta Cathedral, plan to visit both of these religious sites during the same day to reduce the amount of time you spend in Jakarta's traffic.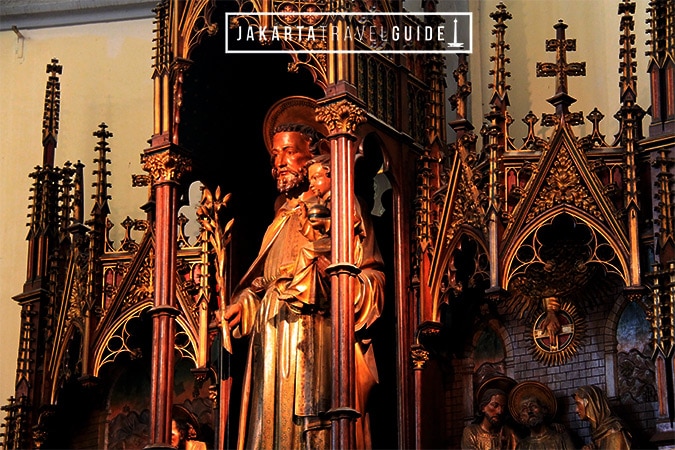 ---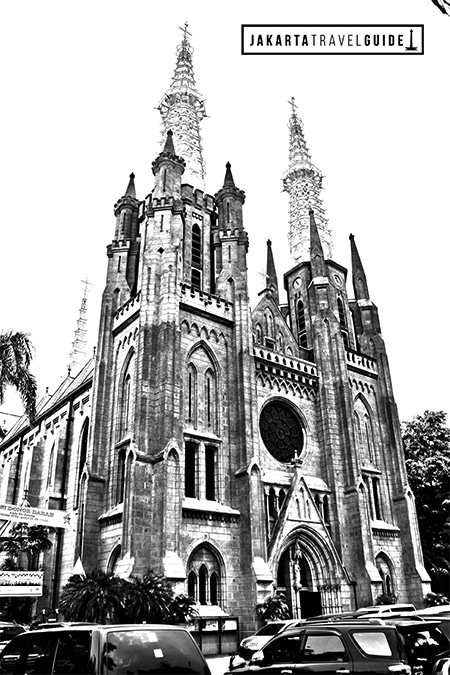 JTG Insider Tip: Visiting Jakarta Cathedral as part of your Jakarta Travel Itinerary
Jakarta Cathedral is ideally located right in the heart of central Jakarta.  What this means is that if you're staying near the Monas area (as many visitors typically do), you will have no problem integrating this into your sightseeing itinerary.
Many visitors to Jakarta stay just south of the Monas which enables them to easily access attractions further south in Thamrin and Sudirman, while at the same time being within walking distance of Merdeka Square and the Monas. Once you are in the vicinity of the Monas it won't take you long to reach Istiqlal Mosque and Jakarta Cathedral.
---
What is Around Jakarta Cathedral?
Jakarta Cathedral is located in one of the best areas in all of Jakarta for sightseeing. It is literally only about 800 meters northeast of the Monas – Indonesia's National Monument.  
It can't get much more central than this in Jakarta.
Jakarta Cathedral is also conveniently located near other popular museums, hotels restaurants and markets that you might want to check out as well.
Directly east of Jakarta Cathedral,  you will find is to Istiqlal Mosque.  They are directly located opposite of one another.  Visitors to Jakarta tend to check out both of these attractions during the same visit to this area of the city.  
If you continue walking in the northeastern direction you will also eventually reach Pasar Baru.  This is one of the most famous and historical markets in all of Jakarta. It specializes in textiles, and sporting goods, among other things.
If you are looking for more public green space then you can head southeast of Jakarta Cathedral to Taman Lapangan Banteng. Taman Lapangan Banteng is a popular public park that is located directly across from Hotel Borobudur.
Hotel Borobudur is one of the best accommodation choices near Jakarta Cathedral if you want to stay in this area of the city. It typically receives review scores from guests that are above 8 out of 10 on major booking sites.
The West Irian Liberation Monument is also located nearby.
Many other points of interest that you might want to check out while you are near Jakarta Cathedral are primarily located to the south and southwest of the cathedral. Some of them include the Monas, the National Gallery, the Museum of National Awakening, Tugu Tani and Joang '45 Museum.  
Aryaduta Hotel and Fraser Residence Menteng are good hotels if you want to stay south of Jakarta Cathedral, but still close to the aforementioned points of interest. They are both located close to Tugu Tani.
The direct area around Jakarta Cathedral is not particularly famous for large shopping malls. Both Pasar Baru and Chinatown are two popular market areas not too far away. You might also consider going to Plaza Atrium. This is a shopping mall located about 2 km southeast of the Cathedral.
If Fraser Residence Menteng, Aryaduta, andHotel Borobudur are too expensive for your budget you might want to consider staying at Amaris Hotel Juanda or Swijiwaya Hotel. Both of these are within a few hundred meters away from Jakarta Cathedral. They receive moderate review scores from guests.
---
JTG Insider Tip: Bring a Wide Angle Lens for your DSLR Camera
Jakarta Cathedral is a beautifully designed neo-gothic building.  But the interesting thing about it is that it's not the easiest building to photograph.
Portions of the Cathedral are guarded by trees, which means that you have to get quite close to the building to get unobstructed photos. Unless you bring a wide angle lens, you might find it difficult to capture the true essence of the place.
Bringing along a wide angle lens for your camera will also make it easier for you to take impressive pictures of nearby Istiqlal Mosque. A drone camera would be perfect to take quality photos of both of these religious landmarks in Jakarta.
---
The Pro's and Con's of Visiting Jakarta Cathedral
Why should you visit Jakarta Cathedral?
Members of the Roman Catholic Church typically consider Jakarta Cathedral to be a must-see destination while in Jakarta.  And by no means think that only Catholics will enjoy a visit.
Whether you are a historian, photographer, or simply a fan of neo-gothic architecture, Jakarta Cathedral is a worthwhile place to see. It is also perfectly located right in the middle of central Jakarta and within walking vicinity of many other attractions in Jakarta. Like most Catholic churches around the world, there is no entrance fee to enter Jakarta Cathedral.
Why might you not want to visit Jakarta Cathedral?
If churches aren't your thing, then obviously you probably won't add Jakarta Cathedral to your itinerary. If you are very well traveled and you have seen many of the world's most famous churches like Sagrada de Familia in Barcelona and/or St. Vitus Cathedral in Prague for instance, then don't set your expectations too high or you might get disappointed with Jakarta Cathedral.
---
10 Closest Hotels to Jakarta Cathedral in Jakarta
***Organized according to Star Rating
---
Final Thoughts – Visiting Jakarta Cathedral 
Jakarta Cathedral is a symbol of unity in Jakarta and Jakartans should feel proud that the Cathedral is peacefully located directly across from the largest mosque in the city.
The Cathedral is a really easy stop while in the city, especially if you're in the Monas area.  We wouldn't suggest planning on visiting the Cathedral for multiple hours or anything like that, but 20-30 minutes should suffice for most visitors.