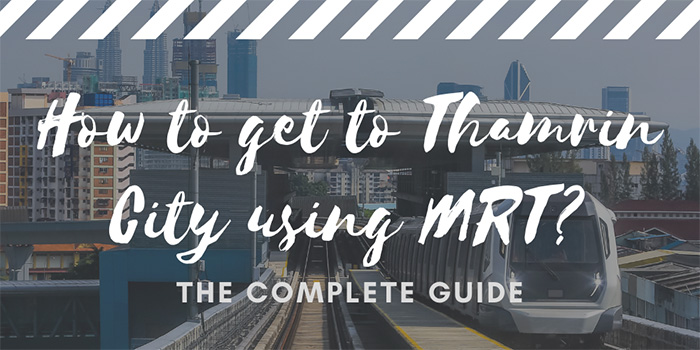 Want to get to Thamrin City Mall? This is the complete Guide.
Getting to Thamrin City Mall in Jakarta
This article is designed to provide you with a step-by-step guide on how to get to  Thamrin City Mall using MRT in Jakarta. Since we have extensively travelled throughout Jakarta using the MRT network this information is based on our own personal travel experience getting to Thamrin City. We promise that this information is accurate and reliable. 
Until recently, Jakartans and visitors to the city had to wait through massive traffic jams to access popular malls, attractions, hotel, and cultural sites in Jakarta. Things have now changed for the better. You can now use the MRT system to get to central Jakarta which bypasses jams while improving Jakarta's air quality. 
---
Why should you visit Thamrin City in Jakarta?
If you haven't visited Thamrin City before, then you might want to consider it! This mall is part of a large commercial and residential complex that also consists of 5 apartments buildings, Amaris Hotel and a gym.
Thamrin City is particularly popular with local shoppers because it is one of the cheapest malls in central Jakarta for textiles. Batik is extremely popular here. People flock to Thamrin City to buy fabrics which can then be used to create dresses and other garments. There is also a large selection of local restaurants here and affordable products that are either made in Indonesia or imported from China. 
It also doesn't hurt that Thamrin City is a few minutes walking distance from two of Jakarta's best malls:
You can easily develop a shopping itinerary that includes all three of these malls in the same day. But be warned, all three of them are quite large. 
---
Here is a step-by-step guide on how to get to Thamrin City:
1.  Leave your hotel and access the closest MRT Station in Jakarta.
Prior to the development of the MRT in Jakarta it was quite challenging finding a hotel in the strategic location.  You would have experienced a lot of traffic regardless of where you would have stayed.
Now, your priority when you book a room in Jakarta should be to stay as close as possible to an MRT station. There are currently 13 stations that run from Bundaran HI to Lebak Bulus in the south. First find a hotel or accommodation choice 5 minutes or less from a station.  
Fortunately, we have an extensive selection of articles that have been designed to help people in Jakarta find a good hotel that is within walking distance to a station. Please see below:
---
2. Purchase your MRT Ticket to Bundaran HI Station
Once you are in the station closest to your hotel in Jakarta, the next step is actually purchasing a ticket to make it to Thamrin City Mall. In this case you want to buy a ticket to Bundaran HI Station.
Every MRT Station in Jakarta has clear route maps to help you navigate your trip.
Fortunately, MRT Jakarta is similar to other major cities such as Singapore and Tokyo, in that there are various options for paying for tickets.  
When you are heading to Thamrin City you can purchase a single journey trip ticket right at the station.  Alternatively, you can pre-purchase a top-up card from Indomaret, Alphamart and other convenience stores in Jakarta.  
We suggest that if you are in Jakarta for more than a day or two, it is more practical to get a top up card for a few different reasons. First of all, top-up cards are cashless and can be easily tapped to access the other public transportation options such as TransJakarta Buses and the commuter system. 
Read this comprehensive guide that outlines how to buy tickets for Jakarta MRT.  It is a pretty straightforward process that shouldn't be too stressful during your trip.
---
3. Take the MRT to Bundaran HI MRT Station
Since Bundaran HI Station is the current 'northern' terminal station on the line, you will be travelling in a south to north direction. This is by far the most practical station to get off at if you want to get to Thamrin City Mall. 
As you are traveling on MRT Jakarta, take note that you will hear verbal announcements that will remind you of what the upcoming or next station will be. Above the exits on the trains there are also route-map screens that are available to show you where you are on the line.
The preceding station before Bundaran HI on the line is Dukuh Atas MRT Station. Once the train stops here you might as well get closer to the exit because you will be getting off momentarily. 
---
4. Exit from Bundaran HI Station and Walk to Thamrin City
Once you have arrived at Bundaran HI MRT Station in Central Jakarta, it's really straightforward to reach Thamrin City.
By far the most practical way to get from Bundaran HI to Thamrin City is to walk. You can expect this 800-meter walk to take you about 10 minutes. 
Alternatively, if you find it too hot outside and can't walk the next best option would be getting a GoJek or Grab ride to the mall. You will require a downloaded app on your phone to do this, however. 
---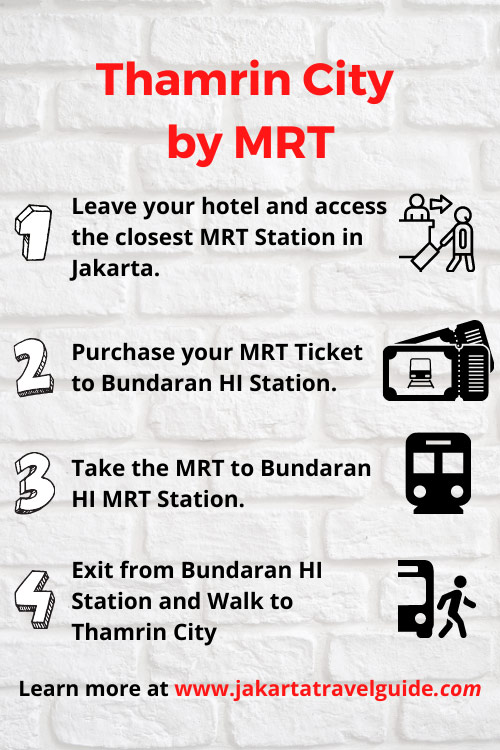 ---
How long does it take to travel to Thamrin City using the MRT?
The travel time to reach Thamrin City using the MRT system depends on where you begin your trip.  If you begin your trip at Lebak Bulus MRT Station  you can expect it to take about 35-40 minutes of total travel time.
Lebak Bulus Station is the other terminal station on the line and the farthest from the Monas.  However, if you are in Senayan staying near Pacific Place, at the Ritz-Carlton for instance it should only take 10 minutes on the MRT followed by the 10 minute walk. 
If you want to get to Thamrin City (or the area around it from the airport) Both articles below include information on how you can transfer from the airport train to the MRT system.
Read More: 
How to get from the airport to Bundaran HI using the Airport Train?
---
$$$
How much does it cost to take the MRT to Thamrin City?
Similar to most MRT networks around the world the cost of this ride to Thamrin City really depends on what station you begin your trip at.  If you begin at Lebak Bulus (which is the other terminal station) obviously this is going to cost more than if you are I Dukuh Atas which is directly beside Bundaran HI.
At the time of writing, the maximum cost for any 1-way MRT ride in Jakarta is 14,000 IDR (roughly equivalent to $1 USD). This would correspond to a journey from Lebak Bulus to Bundaran HI and vice versa. 
Read More: Jakarta MRT Price Guide: Find out how much trips cost.
---
Selecting the Best Hotel near Thamrin City Mall
The direct area around Thamrin City in Jakarta is loaded with some of the best hotels in the entire city. Actually, the Bundaran HI area is one of Jakarta's best areas to stay. There are lots of hotels, malls and attractions nearby!
One of the best properties in this area is the Grand Hyatt Jakarta.This is about a 5-minute walk from Thamrin City Mall in Central Jakarta. It is also 1 minute from Bundaran HI MRT Station. It is physically connected to Plaza Indonesia. 
The Mandarin Oriental and the Pullman are also located around this famous roundabout in Jakarta. They are 800 meters from Thamrin City. You can walk to them in 10 minutes.
Hotel Indonesia Kempinski Jakarta is a popular choice for wealthy visitors and it is physically attached to Grand Indonesia (it's about 600 meters away from Thamrin City). It is one of the most positively reviewed properties in the city.
Physically attached to Thamrin City Mall you will find Amaris Hotel. 
This is an affordable option in comparison to the previously listed properties. The second most convenient place to stay near Thamrin City is the Ascott Jakarta. It's 200 meters from the mall and on the same side of the road. 
---
Where have we stayed near Thamrin City in Jakarta?
Fortunately, we have had the opportunity to stay at two different properties in the vicinity of Thamrin City Mall: Hotel Indonesia Kempinski Jakarta  and the Mandarin Oriental. 
In our honest opinion both of these properties were excellent. 
Both of these properties overlook Bundaran HI and the Selamat Datang Monument. We also had breakfast buffets at both properties. They were both exceptional with a wide variety of local and international choices. Both rooms were extremely clean and the service standards were very very high. The outdoor pool area at both properties is very nice and they both have an extensive gym and spa facility.
Typically, both of these properties receive review scores around 9/10 on leading accommodation sites.  Based on our experience this is an accurate review score. 
***Keep in mind that these properties have not paid us anything to share this information.
---
Any more Questions about your trip to Thamrin City?
We hope that this step-by-step guide on how to get to Thamrin City using MRT has been detailed enough to make this a stress-free journey.  Please don't hesitate to send an email if you have additional questions that you would like to ask us anything!
Also keep in mind that Thamrin City is ideally located and close to many other markets, historic and cultural sites, art galleries and monuments. Make the most of your trip to this area of Jakarta by checking out our itinerary guide. These articles are popular with our readers.