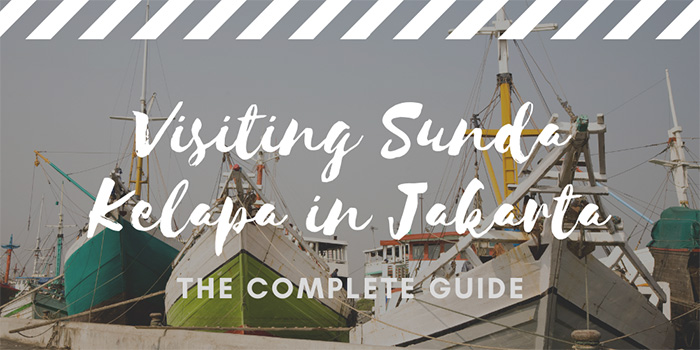 Sunda Kelapa is one of the interesting attractions to visit while you're in Jakarta. It is particularly popular with travel photographers who visit Jakarta. The old boats at Sunda Kelapa are a photogenic reminder of the past.
Located about a kilometer north of Taman Fatahillah in northern Jakarta, Sunda Kelapa is situated near the mouth of the Ciliwung River.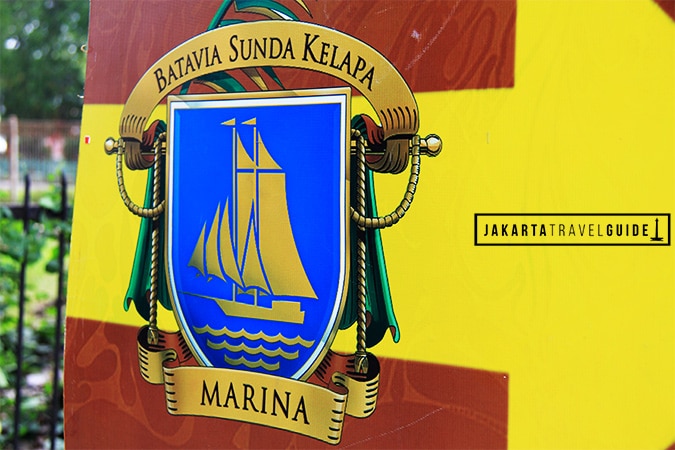 Although Sunda Kelapa is Jakarta's old port, it still has a wide selection of Makassar schooners called 'pinisi' that offer rewarding and uncommercialized photo opportunities for those who make the effort to visit.
Pinisi, is best described as a traditional two-masted wooden sailing ship. They are currently used for cargo transport between different Indonesian islands in the archipelago.  
These large, and often colourful vessels, look like a thing of the past. This is what makes a visit to Sunda Kelapa an interesting one. You will also see porters briskly carrying boxes filled with various products such as spices, lumber, and wholesale goods.
Sometimes you might also see large groups of men doing maintenance work on the schooners such as painting, hammering and sealing leaks, while of course, smoking their favourite cigarettes.  Most of the workers are quite friendly, and they usually like examining tourists, while they are also being examined.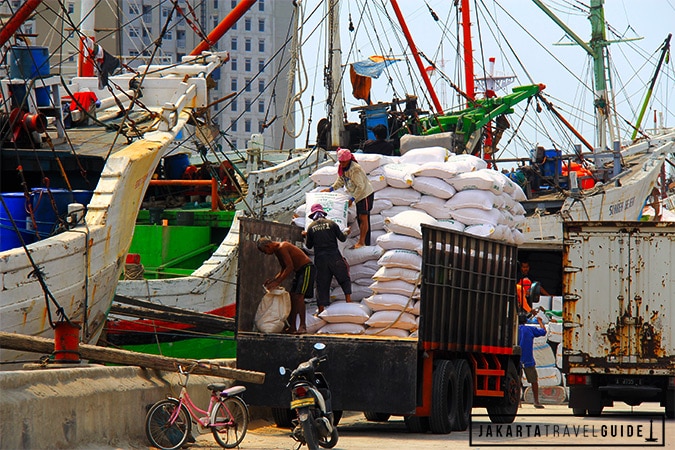 What To Do While in Sunda Kelapa
When you visit Sunda Kelapa you will have the opportunity to walk along the schooners and take photos.  
But another interesting activity that you might want to consider, is taking a small boat tour around the Port area.
Some of the local boaters at Sunda Kelapa are very observant, and quick to identify new visitors to the Port. They might approach you and ask if you would like to take a tour of Sunda Kelapa. If you're interested, just be sure that the boat looks legitimate and not too old.  Some of the boats can be pretty rough looking and weathered in Sunda Kelapa. Also, try to negotiate a reasonable price before you decide to take a tour.
Expect these boaters to have very limited English proficiency skills, therefore, if you don't speak Bahasa Indonesia, show the price on your phone or a sheet of paper before starting your tour.
Touring around Sunda Kelapa in a boat should provide you with alternative angles for photos and give you a different perspective of the old port area.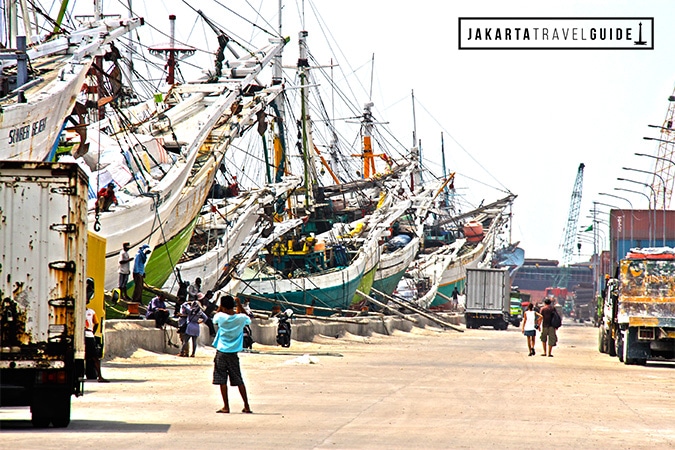 ---
The Pro's and Con's of Visiting Sunda Kelapa in Jakarta
Why should you visit Sunda Kelapa in Jakarta?
Despite being mentioned in travel blogs and travel brochures, Sunda Kelapa is still non-touristy.
Actually, it's the complete opposite of being a typical tourist draw. This is what makes it worthwhile to visit. It's the kind of place that's a bit rough around the edges; one that frontier travelers tend to enjoy.  The 'pinisi' are quite rustic looking and ideal for photographing.  
If you decide to take a local boat tour around Sunda Kelapa you will definitely get a better perspective of Jakarta than simply walking around the Port area.  
Why may you not want to visit Sunda Kelapa in Jakarta?
The exact entrance to Sunda Kelapa could be much more obvious than it is. It's common to see domestic and international tourists with their faces planted either in a guidebook or their cell phone trying to locate the entrance to the Sunda Kelapa Port area.
Some tourists might also be misguided by thinking this area will be crystal clean tourist stop with plenty of restaurants and shops nearby.  This simply isn't the case.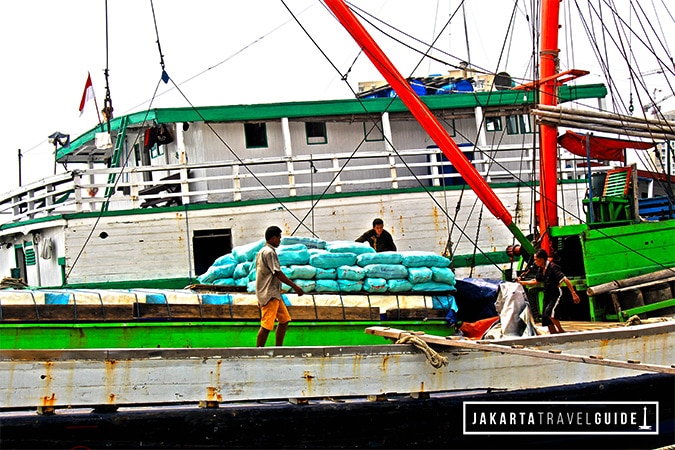 ---
Tips on Visiting Sunda Kelapa in Jakarta
Sunda Kelapa is an aged port area that can still reward visitors with its rustic charm. The schooners are obviously the primary reason why most tourists visit Sunda Kelapa. Since it's just a short drive away from Fatahillah Square in Kota Tua (and very close to the Maritime Museum and Syahbandar Tower) it isn't overly challenging to reach if your driver knows where to go.
You might enjoy visiting Sunda Kelapa because of how it has successfully managed to resist advancements in boating technology.
It's like taking a step back in time. At the same time, however, we can see how some tourists would not enjoy Sunda Kelapa.  It's rough around the edges and not for everyone.
If you are going to visit Sunda Kelapa in Jakarta, then try to put together a day itinerary that also includes Kota Tua as well. This will make your trip more efficient.
---
What is around Sunda Kelapa in Jakarta?
Sunda Kelapa is located in the port area north of Kota Tua. Most tourists visit Sunda Kelapa during the same day as Kota Tua.
This is a smart idea because the area north of Kota Tua can get really busy in terms of road traffic. There are lots of trucks transporting goods all over the place.
Whether you visit Kota Tua or Sunda Kelapa first doesn't really matter.
Once you arrive at Sunda Kelapa take some time to walk around the boats. After you have finished then consider checking out some of the other attractions in this area.
About 500 meters south of Sunda Kelapa there are two historical points of interest to check out: Jakarta Maritime Museum (Museum Kebaharian) and Syahbandar Tower (Menara Syahbandar). You can either walk to these places or get a short ride. You purchase 1 ticket at the Maritime Museum to enter both of these attractions.
One of the biggest attractions in Jakarta is Ancol – a large amusement park. Ancol is located about 4 km east of Sunda Kelapa. People typically arrange a ride between these two points of interest.
If you are visiting Sunda Kelapa and you want to get some shopping done, try Pluit Junction, Emporium Pluit Mall or Pluit Village. All three of these are located to the west of Sunda Kelapa.
Even though Sunda Kelapa is right on the water, this isn't the best area if you are looking for a place to stay, unfortunately. It is quite busy with road traffic.
There are some satisfactory mid-range accommodation options that are about 700 meters south of Sunda Kelapa such as the Aston Pluit Hotel u0026amp; Residence, Amaris Hotel Pluit and Holiday Inn Express Jakarta Pluit Citygate. These three options typically receive review scores between 7.5-8/10 on major booking sites.
If you stay in this area you will be able to access Sunda Kelapa, Ancol, Kota Tua and the aforementioned malls.
---
10 Closest Hotels to Sunda Kelapa in Jakarta
***Organized according to Star Rating