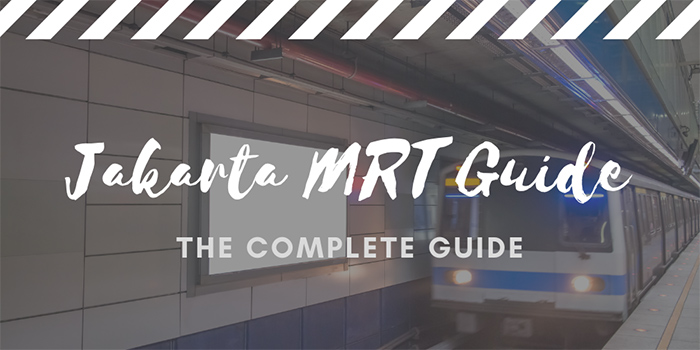 Everything you need to know about using the MRT Network in Jakarta. 
Welcome to the most comprehensive guide to Jakarta MRT. Here you find all essential information about the MRT stations and nearby attractions in Jakarta.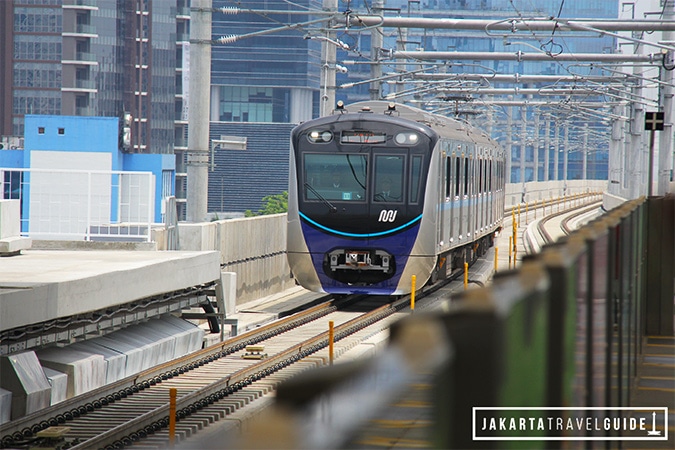 MRT Jakarta currently is open to the public. This is an extremely exciting time for locals and tourists visiting Indonesia's capital city. It took quite some time to develop the first ever MRT Line in Jakarta, but now with it being operational, there is no better time to explore what it's like! There are various malls, markets and tourist attractions within walking distance of various MRT stations. 
Jakarta's first MRT Line is called the M1 North-South Line. This line will service commuters from:
Lebak Bulus MRT Station (Southern Jakarta)    TO   Bundaran HI Station (Central Jakarta)
And Vice Versa
---
Jakarta MRT Essential Information
Jakarta MRT has 13 stations with a

total distance of 15.7 km.

You should be able to travel on the Jakarta MRT Line in approximately 30 minutes.

Jakarta's MRT Line has both elevated and underground stations.

The M1 North-South Line travels through the business district of Jakarta and has stations very close to many of Jakarta's best

shopping malls

and

hotels

.

It makes sightseeing and conducting business in Jakarta much more convenient and efficient than ever before.

The 7 southern stations on the

M1 North-South MRT Line

are above ground.

The 6 northern stations are built underground through the modern central business area of Jakarta.
---
Read More about Jakarta MRT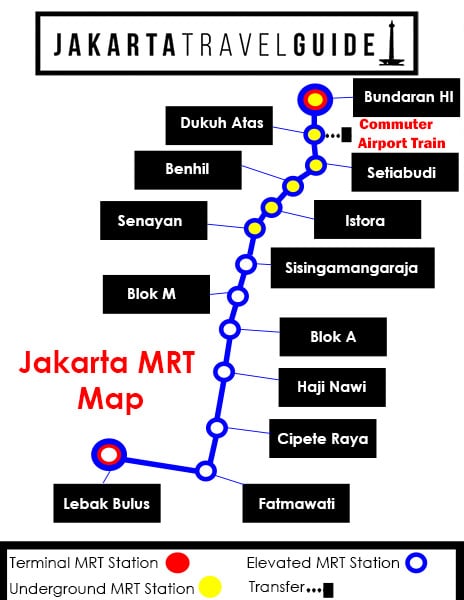 Jakarta MRT Stations Quicklinks
---
Jakarta MRT: Frequently Asked Questions
Is the MRT in Jakarta currently open?
Yes! The MRT in Jakarta has recently opened to the public. Although March 1st was the targeted opening date, it took a few extra weeks of trial runs. Now it is open and available to the public!
How many lines does Jakarta MRT consist of?
Only Phase I of the Jakarta MRT plan is opening on March 1st. Therefore, you can expect only one MRT Line in Jakarta for a while. The M1 North-South MRT Line will be Jakarta's only line for at least five years until Phase II is complete.
---
How much does it cost for each trip on the Jakarta MRT?
There has been a lot of public debate about how much each trip will cost on MRT Jakarta.
There will be pressure to keep the fares low due to Jakarta's notorious traffic issues. When you consider Jakarta's serious traffic problem, one of the goals of the MRT is to get commuters excited about using public transportation. High prices won't help this.
Therefore, to get people into the routine of using the MRT on a daily basis we all hope the prices remain extremely cheap for all commuters using MRT Jakarta.
Currently, the maximum cost for a 1-trip ticket is 14,000 IDR. The minimum charge is 3,000 IDR enter the system plus 1,000 IDR per stationed traveled. Keep in mind that your ticket price will vary depending on how far your journey is and how many stations you pass along the way. If you travel all the way from Lebak Bulus to Bundaran HI or vice versa it will cost you 14,000 IDR.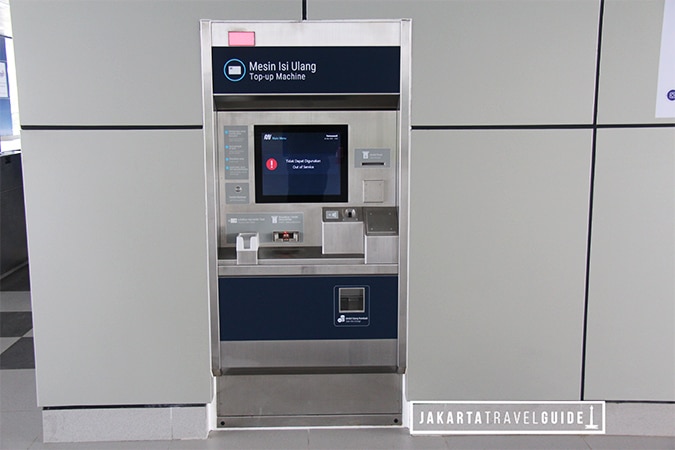 This page will be continuously updated when the price of MRT Jakarta changes in the future.
Read More about MRT Jakarta Prices…….
---
How many stations are there on the first MRT Line in Jakarta?
There are 13 stations on Jakarta's M1 North-South MRT Line.
Here are quick links to all of the Jakarta MRT Stations:
Central
South
---
How long is Jakarta's MRT Line?
Jakarta's M1 North-South Line covers a total distance of 15.7 km. Keep in mind that the line does not run in a complete straight line from north to south.
It begins in Central Jakarta at Bundaran HI MRT Station (Stasiun MRT Bundaran HI) and then deviates to the southwest as it reaches Senayan MRT Station (Stasiun MRT Senayan).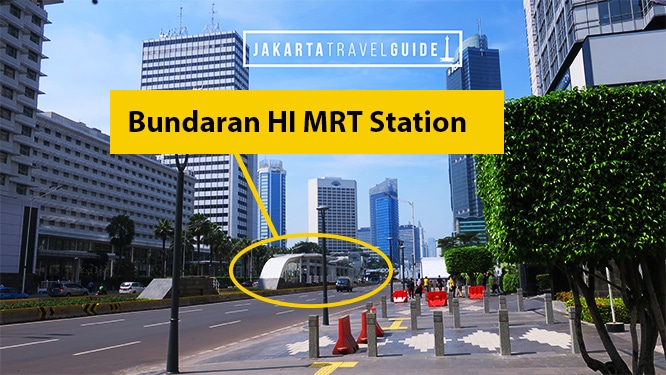 From Senayan to Cipete Raya MRT Station (Stasiun MRT Cipete Raya) it runs in practically a straight line. After Cipete Raya the MRT Line does a sharp corner to the west before reaching Fatmawati MRT Station (Stasiun MRT Fatmawati).
From Fatmawati to Lebak Bulus MRT Station (Stasiun MRT Lebak Bulus), the line runs northwest.
---
What are shopping malls located within walking distance of Jakarta's MRT Stations?
Many of Jakarta's shopping malls are located within walking distance of MRT Stations. This makes it really convenient to stay at a hotel close to the station and only use the MRT as your form of transportation.
South Jakarta
If you are beginning your MRT trip from Lebak Bulus MRT Station then you will be within walking distance of Poins Shopping Mall. This is a popular mall with locals in Jakarta.
As you travel north in the direction of the Monas the next station that is located around a bunch of shopping malls is Blok M MRT Station.
Blok M is a popular shopping area that is well known for affordable prices. You can everything from textiles such as batik to electronics in Blok M.
When you arrive at Blok M MRT Station you can walk to the following malls:
Blok M Square
Plaza Blok M
Pasaraya Blok M
Mal Blok M
Melawai Plaza

.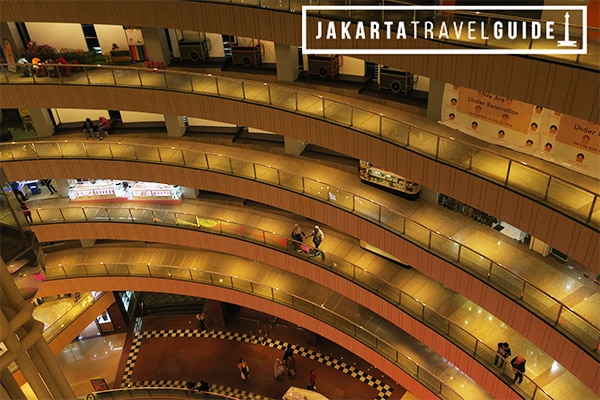 Central Jakarta
One of the best stations for shopping along Jakarta's M1 North-South MRT Line is Senayan MRT Station.
It is within walking distance of multiple malls such as Senayan City, Plaza Senayan, Ratu Plaza and fX Sudirman.
It is also possible to access Pacific Place by walking a bit farther or taking the MRT to Istora MRT Station. Pacific Place is arguably the best luxury mall in all of Jakarta.
As you reach the other end of the M1 North-South MRT Line you will stop at Bundaran HI MRT Station. This is one of the most famous areas of Jakarta because of Bundaran HI, the Selamat Datang Monument and some of the best hotels in the city.
You can easily walk from Bundaran HI MRT Station to Grand Indonesia, Plaza Indonesia, and Thamrin City. All three of these are popular hotels that are in the same neighborhood.
***Read more about shopping near MRT Stations in Jakarta……
---
How long does it take to travel from one end of Jakarta's MRT Line to the other (Lebak Bulus to Bundaran HI or vice versa?)
Although this approximation might be off, expect the Jakarta MRT to take 30-40 minutes from one end to the other. As more information is shared by the MRT developers, more precise times will be updated.
---
How many of Jakarta's MRT Stations are above ground versus below ground?
The Jakarta MRT consists of 13 stations. This number will grow when Phase II is completed.
For the meantime, the seven southernmost stations are above ground:
The above-ground stations have been built on a cement foundation above the road.
The six northernmost stations are built underground through central Jakarta's shopping and business areas:
---
How frequently do MRT Jakarta trains depart each station?
According to the MRT personnel, trains will depart every 10 minutes throughout the day, with the exception of during peak travel times. Although the peak times are always subject to change, currently they have been identified as from 6-8 am and 5-8 pm.
During these hours the MRT departure frequency will increase to every five minutes. This should help to accommodate the increased demand during these times.
---
Do the MRT Jakarta Stations have elevator and escalator access for passengers?
Yes, each station has two elevators which are designed for individuals requiring more support getting up to the MRT platforms. There are also escalators available to reach each platform as well.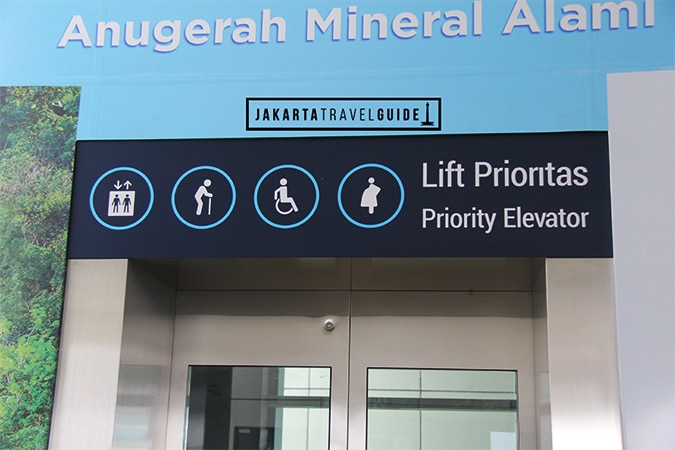 ---
MRT Jakarta Guide Update Information
As time goes on there will be changes to the MRT Jakarta price structure, hours of operation and departure frequency. As such, this MRT Jakarta Guide will be updated to make sure that all passengers are fully informed. You can bookmark this page and refer back to it to get the latest updates.
---
MRT Jakarta Related Links and Resources