This is your comprehensive Jakarta Transportation Guide. Here you find all essential information on Jakarta MRT, Jakarta Airport Railink, KRL Commuter Line, Transjakarta Bus, Ride Apps, and Taxis.
Jakarta MRT
The first-ever Jakarta MRT Line is set to open on March 1st, 2019.  This is going to be Indonesia's first MRT Line so there is a lot of anticipation throughout the city.
Currently, there are over 4 million daily commuters in Jakarta. Everyone knows that Jakarta's traffic needs to be improved. The Jakarta MRT provides some hope for a better future in the city.  Jakarta's first MRT Line is called the M1 North-South Line. It consists of 13 stations which span a total distance of 15.7 km.
Jakarta MRT Essential Information
Detailed Information about MRT Jakarta: Learn everything you need to know.
Relevant Articles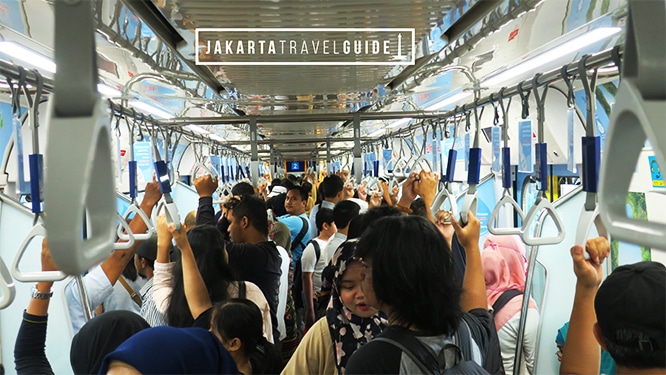 Jakarta MRT Stations Quicklinks
MRT Jakarta Map

---
Jakarta Airport Railink (aka Airport Train)
The Jakarta Airport Rail Link is an airport train that currently connects passengers from Soekarno-Hatta International Airport to Central Jakarta and vice versa. Its opening was long-awaited and highly anticipated because it allows passengers to completely bypass Jakarta's notorious traffic jams during peak times.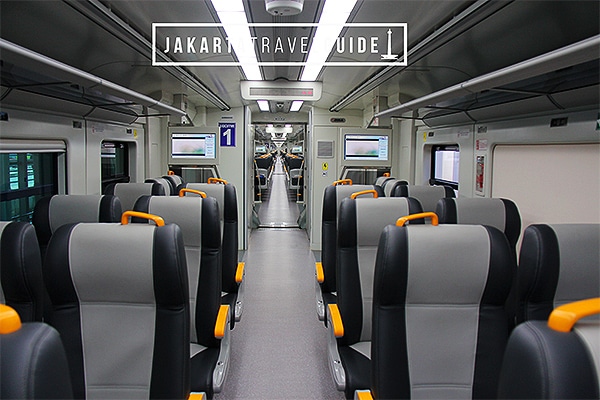 Jakarta's airport train travels along one line that originates at Soekarno-Hatta Integrated Railway Station (SHIA). You can expect Jakarta's Airport Train to take you about 40-50 minutes to reach BNI City Station in Central Jakarta. The Airport Rail Link will make brief stops at Batu Ceper Station and Duri Station before reaching BNI City Station.
The airport train from Jakarta's Soekarno-Hatta International Airport will eventually be connected to Halim Perdanakusuma International Airport.
Jakarta Airport Railink Station Quicklinks
SHIA
Batu Ceper
Duri Station
BNI City
Manggarai
---
Jakarta KRL Commuter
The Jakarta Commuter Train network is the largest train system in and around Jakarta. The commuter train system in Jakarta is often called KRL Commuter or KA Commuter.
You might also hear the commuter system in Jakarta being called 'KRL Jabodetabek'. Jabodetabek is a term used to describe the cities making up Jakarta's metropolitan area. The term is derived by adding up the first syllables of Jakarta, Bogor, Depok, Tangerang and Bekasi. Jakarta's commuter system services all of these areas.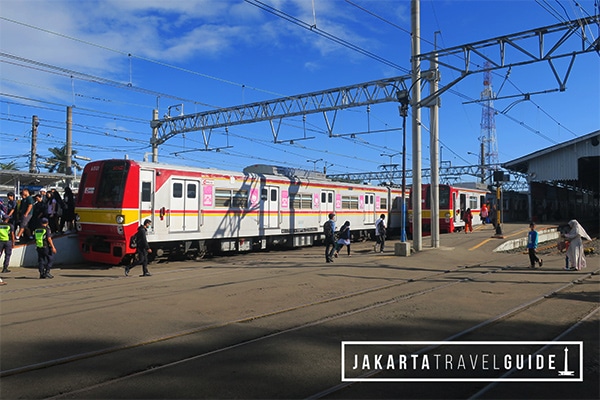 Jakarta's KRL Commuter is very affordable and very popular with locals commuting to/from Jakarta for work on a daily basis. You can expect jam-packed trains during peak periods when road traffic is also heavy.
Currently, the Jakarta commuter system consists of 6 lines and over 80 stations. It services trains to some of Jakarta's most popular tourist areas such as Kota Tua, Tanah Abang, and the Monas.   
***Read Jakarta KRL Commuter Guide: A Comprehensive Guide to Jakarta's Commuter Train
Jakarta KRL Commuter Line Quicklinks
---
TransJakarta Bus Network
TransJakarta is a massive rapid bus transit system that has been operating throughout the city since 2004.
It is the longest bus system of its kind in the world. TransJakarta was originally designed to alleviate very heavy traffic on Jakarta's roads. It has been considered a success by locals living in the city.
Currently, TransJakarta consists:
13 primary bus routes

10 cross corridor routes spanning over 230 km in length
More routes are being planned at the moment.
If you are visiting Jakarta, the TransJakarta Bus routes can come in handy in the downtown area.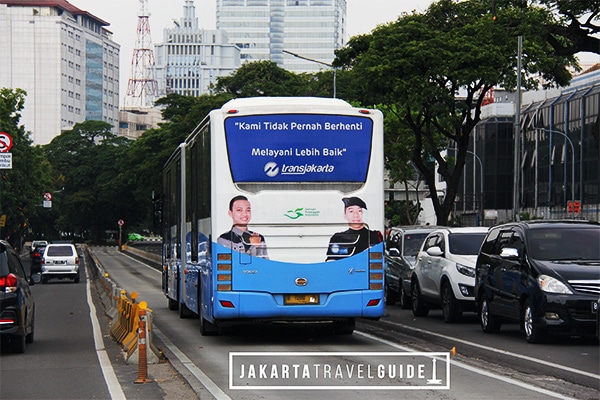 Unlike most public bus systems around the world, many areas of Jakarta have entire lanes that are only dedicated for buses to use. This makes taking the bus during peak travel times the fastest method of transportation. It is also very affordable with tickets costing only 3500 IDR or less. This is well below $0.50 USD.
The TransJakarta system has faced some challenges over the years, however. Since there is a lane that only buses can enter and use, this 'lane' typically has far much less traffic during peak hours.
It is common for motos and cars to illegally enter the bus lane which disrupts the flow of buses in the system. They attempt to 'beat the jam' and by doing so they slow down the buses.
---
Ride-Sharing Apps in Jakarta
Currently, there are two ride-sharing companies in Jakarta: Go-Jek and Grab.
Both of these are very popular with locals and expats living in Jakarta. UBER was also operating in Jakarta, but it recently got taken over by Grab, leaving only two choices.
Unlike many cities around the world, both of these offer both car rides and motorcycle rides. Therefore, when you arrive in Jakarta you can choose between traveling in a car or on the back of a motorcycle. If you do travel on a moto the driver should provide you with a helmet for safety purposes. Be sure to wear it.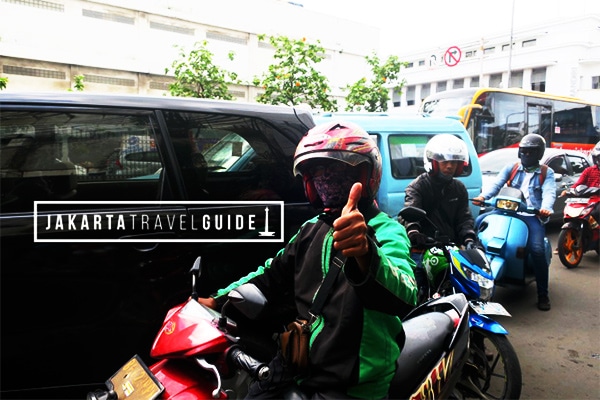 Both Go and Grab are usually about 10-20% cheaper than taking a taxi following the meter. This can vary though during surges and peak traffic times. They are usually significantly cheaper for short rides, however.
BlueBird taxis usually charge a minimum of 20,000 IDR for short rides, whereas Go-Jek and Grab often have prices as low as 9,000 IDR for short rides under 2 km.
As you might have guessed, moto rides are the cheapest option available. Locals and expats in Jakarta love using these apps for moto rides because they are the cheapest and fastest option available. Motorcycle travel in Jakarta is definitely more dangerous, but motos bypass many traffic jams by driving between cars and by hugging the curb.
If safety is your priority and you aren't concerned about money, stick with cars!
If you want to reach your destination fast and save money while doing so, go with a moto.
Which is cheaper Grab or Go-Jek?
Both Grab and Go are similarly priced most of the time. Both companies will significantly increase their prices during peak traffic times, when they are short of drivers and when it rains!
In this case, it is a wise decision to check the price on both apps before searching for a driver.
Overall, Go-Jek has a larger market share in Jakarta. They are an Indonesian-based company and their app features all kinds of additional delivery services.
If you are planning on staying in Jakarta for a long time, it is wise to join their points programs. You will save money on each trip, go cashless, and receive points towards redeemable prizes.
Since these are internet-based apps, you will need either roaming or a data plan while you are in Jakarta. You can download both Go-Jek and Grab on Google Play.
Can Go-Jek and Grab Drivers Speak English?
Although there are some Go and Grab drivers can understand and speak English, on average most of them cannot.
Therefore, if you don't speak some Bahasa Indonesian it will be more challenging to use their services. Typically, drivers will call you or text you to ask where you are to be picked up from. This is usually done in Bahasa Indonesian.
If you still want to use Go or Grab in Jakarta then text them the name of your pick up spot.
Alternatively, you can tell them to "tolong gunakan GPS". This translates to "please use GPS" to find your location for pick up.
---
Taxis in Jakarta
Jakarta has no shortage of taxi services within the city. When you walk around central Jakarta you will notice that taxis will have different colored vehicles depending on which company it is. Unlike many cities in Southeast Asia, Jakarta does not have a set color for taxis.
The most respected and reliable taxi service in Jakarta is provided by the Blue Bird Group.
As the name suggests, the most common kind of Blue Bird taxi is blue. They also have a SilverBird taxi as well that is typically a black luxury vehicle.
Bluebird taxis are the most trusted in Jakarta for taking the meter. It is quite rare for a BlueBird driver to request for additional money or to refuse to take the meter. They have complaint phone centers set up where unsatisfied passengers can call to complain and report drivers.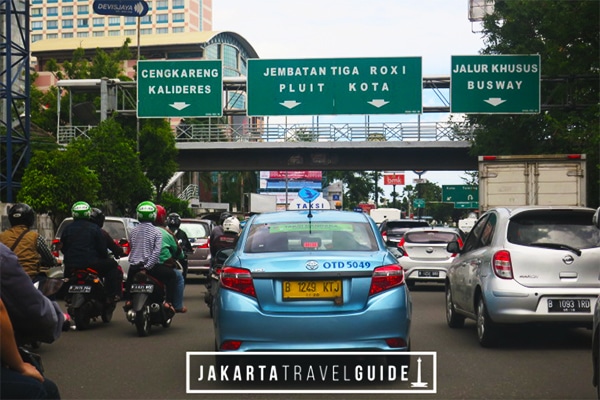 You can arrange for a taxi pick-up in Jakarta using three methods:
Waving down a taxi along the road

Calling the taxi company

Using a taxi company app
BlueBird is not the only taxi company in Jakarta. You might even have a good experience using a different company. Just remember to make sure the taxi driver knows exactly where they intend to drop you off and that they follow the meter.
It is also a wise decision to track the route your driver is taking using Google Maps or another similar program. This will ensure that you avoid unexpected traffic jams and take the most direct route to your destination.