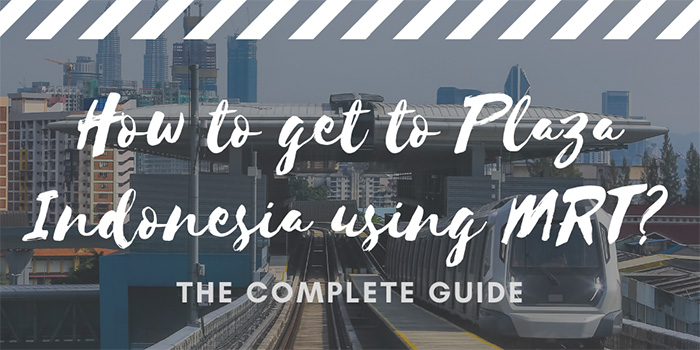 Read this complete guide to get to Plaza Indonesia. Fast and Easy!
Getting to Plaza Indonesia Mall in Jakarta
This article is designed to provide you with a step-by-step guide on how to get to Plaza Indonesia using MRT in Jakarta. We have visited Plaza Indonesia on multiple occasions using the MRT Network. Therefore, the information included in this article is sure to be reliable because it's based on our own personal travel experience in Jakarta.
Prior to the MRT opening up in Jakarta both Jakartans and visitors had to deal with insane traffic jams.  
Now, it's possible to spend most of your time using the MRT and very little time in a car. You can now access popular malls, attractions, hotels, and cultural sites in Jakarta by using the MRT.  Currently, there is only one MRT line in Jakarta but it does allow you to navigate your way all the way from Bundaran HI Station in central Jakarta all the way south to Lebak Bulus Station. 
---
Why should you visit Plaza Indonesia in Jakarta?
Plaza Indonesia is a popular mall that is ideally located right in the heart of central Jakarta.  It has no shortage of different internationally branded stores and a wide selection of restaurants to choose from.
In comparison to other malls in Jakarta Plaza Indonesia definitely caters towards a more upper class shopping base. Therefore, expect to see a lot of luxury brands to choose from here. It is also a popular place for tourists, expats and locals to dine out with an extensive selection of restaurants from different regions of the world. 
You will also be within walking distance of the following two malls when you visit Plaza Indonesia:
Therefore, if you are a shopaholic you can combine these three malls into the same day itinerary. All three of them are large so be prepared to walk a lot! 
---
Getting to Plaza Indonesia by MRT: The Complete Guide
1. Leave your hotel and access the closest MRT Station in Jakarta.
One of the first things that you should do when you are planning a trip to Jakarta is making sure that your hotel is within walking distance of an MRT Station. Obviously, for 5 years ago tourists and people having 'staycations' in the city just didn't simply have this opportunity.
The last thing that you want to do is spend a considerable amount of time in Jakarta traffic jams.  Jakarta MRT is affordable, efficient and helps save the environment so take advantage of it by staying within walking distance of a station.
You can find a hotel or accommodation choice 5 minutes or less from a station.  
Because of our extensive travel experience with travelling in Jakarta we also have some really useful resources that you can read regarding the MRT and hotels:
---
2. Buy an MRT Ticket to Bundaran HI Station
After you leave your hotel and access the closest station,  the next step is actually purchasing a ticket to the closest station to Plaza Indonesia.
The closest MRT Station to Plaza Indonesia is Bundaran HI. Therefore, purchase a ticket to this station. 
You have two major ticket options for your trip to Plaza Indonesia:
Buy a single journey trip ticket right at the station. 

Buy a top-up card from Indomaret, Alphamart and other convenience stores in Jakarta.  
The mode of payment that you choose really depends on your own personal itinerary in Jakarta. For example, if you are going to use the MRT, and commuter system a lot then it's much better to get an actual card that you can top up with cash.  This will save you time when you go into an MRT Station because you do not have to wait in line to purchase a ticket.
Single journey tickets may be convenient, but they are less efficient because every time you enter a station you will have to go to a ticketing machine in order to get a pass. Avoid this method unless you only plan on using the system once or twice while in Jakarta.
You can read this comprehensive guide that outlines how to buy tickets for Jakarta MRT if you have additional questions or concerns about getting a ticket. 
---
3. Ride the MRT to Bundaran HI Station
When you travel on the MRT to Plaza Indonesia you will be traveling from the south to the north. Bundaran HI Station is the terminal northernmost station on the line, therefore you will be coming from the south. 
While on the train you will hear common announcements that indicate what the upcoming station is on the line.  There are also signs over the exit doors that show the route that you will be taking.
The preceding station before Bundaran HI on the line is Dukuh Atas MRT Station.  When you stop at Dukuh Atas it's a good idea to get closer to the exit doors because it only takes one or two minutes from there to Bundaran HI.
---
4. Exit from Bundaran HI Station and Walk to Plaza Indonesia
When you are leaving Bundaran HI station it is important that you take one of the western exits from the station. This will allow you to easily access the eastern entrance of Plaza Indonesia. 
Simply leave the station and it should only take you about 2-3 minutes to walk 100 meters to the entrance of Plaza Indonesia. 
---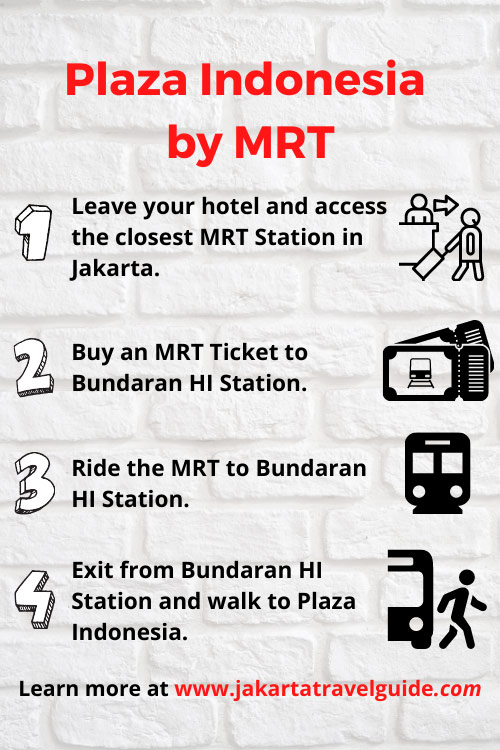 ---
How long does it take to travel to Plaza Indonesia using the MRT?
The time it will take you to reach Plaza Indonesia will depend on your origin.  There are 13 stations on Jakarta's MRT line. If you begin your trip at Lebak Bulus MRT Station  you can expect it to take about 35-40 minutes of total travel time. This is the farthest station from Plaza Indonesia.  
You can compare this to staying in Senayan within close proximity of Pacific Place and the Ritz-Carlton for instance it should only take 10-12 minutes on the MRT followed by 2 minute walk to the mall entrance.
If you want to reach Plaza Indonesia from the airport then you can read the following articles below with expected travel times:
Read More: 
How to get from the airport to Bundaran HI using the Airport Train?
---
$$$ 
How much does it cost to take the MRT to Thamrin City in Jakarta?
At the time of writing, the maximum cost for any 1-way MRT ride in Jakarta is 14,000 IDR (roughly equivalent to $1 USD). This would correspond to a journey from Lebak Bulus to Bundaran HI and vice versa. 
Naturally, the shorter your ride is, the cheaper the cost will be.
***Read More: Jakarta MRT Price Guide: Find out how much trips cost.
---
Selecting the Best Hotel near Plaza Indonesia
One of the interesting things about staying near Plaza Indonesia is that this is actually surrounded by many of the best hotels in the entire city. Bundaran HI, stands for 'hotel roundabout' in English. This is a famous spot in Jakarta that is surrounded by 5-star properties.
One of the most respectable choices that is physically attached to Plaza Indonesia is Grand Hyatt Jakarta. It is also 1 minute from Bundaran HI MRT Station. 
The Mandarin Oriental and the Pullman are also located around this famous roundabout in Jakarta. They are both less than a 5-minute walk from the station and Plaza Indonesia.
Hotel Indonesia Kempinski Jakarta is a popular choice for wealthy visitors and it is physically attached to Grand Indonesia. Grand Indonesia ia large, popular mall that is directly across the road from Plaza Indonesia. The Kempinski one of the most positively reviewed properties in the city.
---
Where have we stayed near Plaza Indonesia?
We have stayed at two different properties in the vicinity of Thamrin City Mall: 
We can honestly say that both of these are superb properties with top-end service standards. Conveniently, they both have rooms that overlook Bundaran HI and the Selamat Datang Monument.
The breakfast buffet at both of these properties was top-notch with wide selections. Our rooms were spotless and the front desk checked us in promptly. The pool, spa and gym were world class. 
Usually these properties receive review scores around 9/10 on leading accommodation sites.  Based on our experience this is an accurate review score and we would recommend either one of them to anyone. 
***Keep in mind that these properties have not paid us anything to share this information.
---
Any more Questions about getting to Plaza Indonesia using MRT?
After you get to Plaza Indonesia you will be delighted to hear that there is a broad range of different attractions that are either within walking distance or short driving distance of this mall.
The Monas, for instance, is Indonesia's National Monument. This is a short drive north of Plaza Indonesia. Once you are near the Monas you can access the National Museum and the National Gallery in no time. 
We do really hope that this step-by-step guide on how to get to Plaza Indonesia has been detailed enough for you to complete this in a stress-free manner. If not? Send us an email or a comment and we would be happy to send you more information!