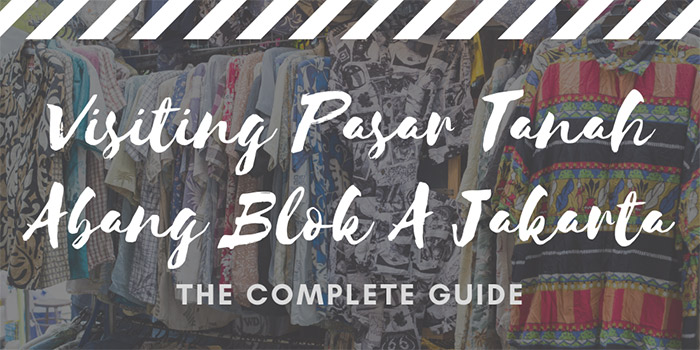 The most comprehensive guide to Tanah Abang Blok A. Find all the shopping information you need right here.
Pasar Tanah Abang Blok A Jakarta is an extremely popular textile market in Central Jakarta. 
You may have heard about Pasar Tanah Abang before? Well, the "Blok A" part of the name signifies that this is just one market section of Pasar Tanah Abang – Southeast Asia's largest textile market. 
One of the most convenient things about visiting Tanah Abang Blok A is that it is right downtown in Central Jakarta. You can easily travel between the Monas area, Sarinah and the malls in Thamrin from the market (Grand Indonesia, Plaza Indonesia, Thamrin City).
---
Why do people shop at Pasar Tanah Abang Blok A?
One of the biggest reasons why both locals and tourists visit this market is to buy fabrics (textiles). Indonesia is famous for batik and Pasar Tanah Abang is the 'king of batik' in Jakarta.
If you approach locals in the city and ask them where is the best place to buy batik, the answer will surely be Pasar Tanah Abang. There are a couple of reasons why this market is so popular. 
The first reason is price. 
Pasar Tanah Abang Blok A is a wholesale market so you can buy large quantities of fabric if you like. This enables visitors to 'load up' with large orders while they are there. Since there are tonnes of shops competition is fierce and this lowers prices even more. Many merchants simply want to make a sale to keep their business going. 
The second reason is selection.
It is no surprise amongst locals that Pasar Tanah Abang is the largest market in Indonesia, and also the largest textile market in Southeast Asia. Therefore, people go to the market knowing that they will find what they are looking for. The branding is strong and everyone knows that Tanah Abang Blok A has a solid reputation.
The third reason is location.
If you are sightseeing in Jakarta you can easily stop by this market. It is a short drive from Bundaran HI MRT Station. You can also walk from Tanah Abang Commuter Station to the market in under 5 minutes. Actually, the market extends right to the entrance of the station. That's how big it is!
---
Orientation – Tanah Abang Blok A
As mentioned before, Tanah Abang Blok A is just one of many markets making up Pasar Tanah Abang. 
This section of the market is a very large, multistory structure with hundreds of shops. Tanah Abang Blok A is physically connected to Tanah Abang Blok B. Blok B is located directly south of Blok A. 
In the middle section of Blok B and Blok A there is a large central Atrium that has multiple pathways to get from one market building to the other. This is an interesting area to relax for a while. You can see the bustling environment unfold from here. 
Tanah Abang Blok A has multiple escalators, staircases and an elevator. 
The food court at Pasar Tanah Abang Blok B is located on the top floor. 
---
Pasar Tanah Abang Blok A Jakarta: Essential Visitor Information
Closest Public Transportation Stations: Tanah Abang Station and Bundaran HI MRT Station.
GPS Coordinates: -6.187362, 106.814828
Address: Pasar Tanah Abang Blok A Central Jakarta 10250, Central Jakarta City, Jakarta 10250
---
What is located around Tanah Abang Blok A in Jakarta?
Other Markets
One of the added benefits of shopping at Pasar Tanah Abang Blok A is the fact that is in one of the most market-dense areas in all of Jakarta.
When you arrive at Blok A, you are within 500 meters of many textile markets. 
Stasiun Tanah Abang is a popular commuter station that enables visitors to access this market. Once you arrive at the station you can walk south along the covered pedestrian bridge. Eventually you will walk by Pasar Tanah Abang Blok G.
Continue on the pathway to the back of Blok B. Once you are Blok B you need to walk north to access Pasar Tanah Abang Blok A.
Directly east of Blok A is Pusat Grosir Metro Tanah Abang. This is also a large textile market. You can walk across a pedestrian bridge to walk between these two markets. Pusat Mode Tanah Abang is directly north of Pusat Grosir. This is a multistory textile market as well.
You can easily walk between all these markets. Also keep in mind that there are street markets in this area as well. Many of them sell textiles, fruits and vegetables. 
Best Accommodation Options
There are lots of 2-4 star hotels within walking distance of Pasar Tanah Abang Blok A. Since this is a budget-friendly place to shop, you will find that the hotels here are also affordable. 
Some of the closest hotel to Pasar Tanah Abang Blok A include:
Focus Hotel
Juno Hotel Jakarta
Simple Inn Jakarta Wahid Hasyim
Hotel Arthama Jakarta
Artotel Wahid Hasyim Jakarta
Be sure to check the verified guest reviews for each one of these properties before booking your room.
Shopping Malls
The closest shopping mall to the east of Pasar Tanah Abang Blok A is Sarinah. This was the first department store in Jakarta, so it is well known amongst local shoppers. You can either drive or walk between them in under 15 minutes. 
About 1 km south of Sarinah you will find 3 more of Jakarta's most popular shopping malls:
Grand Indonesia
Plaza Indonesia 
Thamrin City
These are conveniently located next to Bundaran HI MRT Station and some of Jakarta's best hotels such as the Grand Hyatt, Mandarin Oriental and Hotel Kempinski Indonesia. 
You can easily reach Pasar Tanah Abang Blok A from any of these properties. 
Attractions
Most of the attractions near Tanah Abang Blok A are around the Monas. This is also one of the best districts for seeing museums.
The National Museum of Indonesia and Museum Taman Prasasti are both close to Tanah Abang.
You can travel to either of these museums in about 10 minutes from the market. On the other side of the Monas you will find a variety of other attractions that are worth checking out. Some of them include:
National Gallery of Indonesia
Jakarta Cathedral
Istiqlal Mosque
Pasar Baru 
Jalan Surabaya Antique Market
Taman Lapangan Banteng
If you are in this area of Jakarta it makes sense to check out the Mona's and many of these attractions during the same day. This should help to cut down on your time in Jakarta traffic. 
Arguably the most interesting experience near Pasar Tanah Abang Blok A is making batik at the Textile Museum. The textile Museum in Jakarta showcases various batik designs that have been developed over the years. If you walk to the back of the museum there is a workshop space where visitors can try to actually make real batik clothing.
---
10 Closest Hotels to Pasar Tanah Abang Blok A in Jakarta
***Organized according to Star Rating
---
Summary: Shopping at Pasar Tanah Abang Textile Market
There is no denying the fact that Pasar Tanah Abang is one of jakarta's best markets.
It is famous throughout the city for its wide selection of batik.  But do not be surprised. This Market also has a wide selection of other things aside from batik. You can also find everything from sporting equipment to items for babies and children. There are multiple jewelry shops in Pasar Tanah Abang Blok A.  You can even find fruit stalls that sell raisins and dates by the kilogram.
Despite the excellent prices and the truly amazing selection, Pasar Tanah Abang Blok A  is still under visited by Foreign tourists. a similar Market such as this in Thailand or Kuala Lumpur, for instance, would be jam packed with hundreds or maybe even thousands of tourists on a daily basis. Fortunately, this Market in Jakarta still feels local and authentic. It still feels far removed from mass tourism.  Consequently when you shop here you can still find great products for great prices.
An added benefit of shopping here is that you are also very close to other malls, hotels and museums in central Jakarta. Pasar Tanah Abang  can be easily added to any central Jakarta itinerary. Keep in mind though that it can get busy with road traffic in this area. Therefore, always consider getting dropped off about 500 m away from the market so that you don't spend 20 minutes trying to get dropped off right at the door.
Remember that the elevator is the fastest way to get to the food court in this building. If you try going up the stairs or escalator you can expect it to take you at least 15 minutes to reach the restaurants in this market.
Make the most of your visit to Pasar Tanah Abang Blok A and don't forget to bring your camera long for your trip! This area has vibrant streets and excellent opportunities for travel photographers.