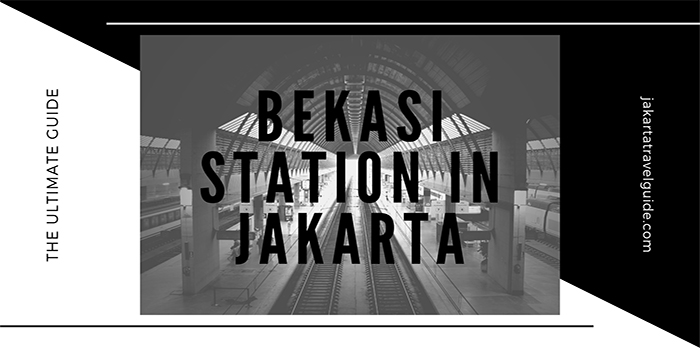 Bekasi Station, also called Stasiun Bekasi in Bahasa Indonesia, is a commuter station which is located in Bekasi – a city to the east of Jakarta. Therefore, this station is named after the city where it is located and it is one of the most popular stations along the entire Blue Line.
GPS Address: -6.236035, 106.999431
Station Address: Jl. Pusdiklat Raya St. Bekasi No.7, Marga Mulya, Bekasi Utara, Kota Bks, Jawa Barat 17143, Indonesia
Commuter Line(s): Blue Line
Commuter Line Information for Bekasi Station
Bekasi is a stop on the Blue Commuter Line which has trains travelling from Jakarta Kota Station (located in Kota Tua West Jakarta) all the way to Cikarang Station (southeast of Jakarta).
It is the 14th station south of Jakarta Kota Station and the 4th station from the Cikarang terminal end of the Blue Line.
Due to Bekasi's proximity to Cikarang, it will take you longer to get to this station from Jakarta Kota opposed to Cikarang.
If you are being at Jakarta Kota Station in Kota Tua expect it to take you about 1 hour to reach Bekasi Station.
Alternatively, if you start at the opposite end of the line, expect it to take approximately 40 minutes from Cikarang to Bekasi. Take note that these are just approximations.  Travel time will vary according the number of passengers alighting at each station and the number of stops made along the way.
Transfer Information for Bekasi Station
It is not possible to transfer to another commuter line at this station. There are some regional trains that depart from Bekasi Station, but to get to the nearest 'commuter' transfer station you will have to travel west to either Jatinegara or Manggarai Station.
Once you arrive at Jatinegara you will have the choice of going to Jatinegara Market or the Gem Market if you get off of the train. You can also transfer to the Yellow Line (Bogor-Jatinegara Line) and travel north to access Pasar Senen.
Manggarai Station is another option, especially if you want to access the Red or Yellow Line. Three commuter lines intersect at Manggarai, making it one of the busiest stations in the entire commuter network.
You can access destinations south of Jakarta such as Bogor, Nambo or Depok by travelling south of Manggarai. You can also visit market-dense Tanah Abang by travelling further east on the Yellow Line.
Closest Stations to Bekasi
If you are starting your journey at Bekasi Station and you decide to travel towards central Jakarta on the Blue Line, the next closest station you will stop at is Kranji. The distance between Bekasi Station and Kranji is about 2.5 km.
If you travel in the opposite direction from Bekasi Station towards Cikarang, the next closest station is Bekasi Timur. Timur in Bahasa Indonesia translates to 'east' in English. The distance between Bekasi and Bekasi Timur is 3.3 km.
According to these distances, you can expect it to take you a few minutes longer to reach Bekasi Timur in relation to Kranji if you are starting at Bekasi Station.
A lot of people in Bekasi commute everyday to Jakarta for work purposes. Subsequently, this is one of the busiest stations along the Blue Line. There is also more development around Bekasi Station in comparison to most of the stations nearby as well.
What is located around Stasiun Bekasi in Jakarta?
The area around Stasiun Bekasi consists of shopping options, outdoor parkland, residential neighbourhoods and local shops.
About 1.3 km to the east of Bekasi Station you will find Bekasi City Sports Venue. This is an outdoor park where locals play various sports. It can be accessed by either walking or driving from the station. You can walk there in 15 minutes or drive there in 8 minutes.
If you continue about 200 meters further south of Bekasi City Sports Venue you will reach Patriot Candrabaga Stadium. This is a nice, large outdoor stadium that is conveniently located only about 1.4 km away from Bekasi Station. You should be able to either walk (18 minutes) or drive (8 minutes) to the stadium from the station.
There are plenty of shopping malls and markets to the north and south of Bekasi Station. To the north you will find Pasar Modern Sinpasa and Summarecon Mal Bekasi. They are about 1.5 km north of the station and adjacent to each other.
If you travel south of Bekasi Station you will have a nice selection of shopping malls to choose from.
They include:
Bekasi Cyber Park

(an electronics mall)

Metropolitan Mall
Bekasi Hypermall
Living Plaza
Revo Town Mall
These shopping centers are concentrated about 2-3 km south of Bekasi Station. You can drive to this area in about 10-15 minutes. Since there are so many malls, so close to each other, this creates the best shopping area in Bekasi and one of the best in all of greater Jakarta.
This dense collection of malls also makes for a convenient place to stay. One of the best hotels in this area is the Aston Imperial Bekasi Hotel and Conference Center. It is a 3.5 km drive south of the station. It is also physically attached to Bekasi Cyber Park which makes its location even more convenient.
Some other accommodation options close to the station include:
All distances and travel times are in relation to Bekasi Station.
Of these properties listed, expect Aston Imperial Bekasi Hotel and Conference Center to have the best amenities and the highest services standards around these malls or Bekasi Station.
Driving from Bekasi Station to the Airports in Jakarta
Getting from Stasiun Bekasi to Soekarno-Hatta International Airport
The driving distance from  Bekasi Station to Soekarno-Hatta International Airport is around 54 kilometers and this should take you around 1 hour and 10 minutes to 1 hour and 25 minutes minutes depending on traffic.
Getting from Stasiun Bekasi to Halim Perdanakusuma Airport
The driving distance from Bekasi Station to Halim Perdanakusuma International Airport is around 20 kilometers and this should take you around 40 minutes to 55 minutes depending on traffic.
10 Closest Hotels to Bekasi Commuter Station in Jakarta
***Organized according to Star Rating
***Mobile users swipe right