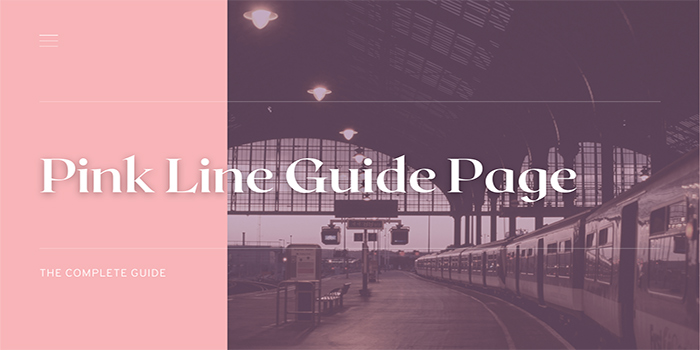 The complete guide to using the Pink KRL Line from Jakarta Kota to Tanjung Priok.
Jakarta's Pink Commuter Line services daily trains from Jakarta Kota Station in West Jakarta to Tanjung Priok Station in North Jakarta. The Pink Line in Jakarta receives little attention in comparison to some of the longer and more popular lines such as the Red, Blue and Yellow Line.

The Pink (Jakarta Kota – Tanjung Priok) Line is the shortest of all the commuter lines making up the train network in and around Jakarta. Currently, it consists of only four stations. Although it may not have many stations, the Pink Line does have some important stops for locals and visitors to Indonesia's capital city.
Jakarta Kota Station, for instance, provides train passengers with the opportunity to access Kota Tua – Jakarta's Dutch colonial district. You can conveniently walk in under five minutes from the station to Taman Fatahillah (Fatahillah Square) which is the central heart of Kota Tua.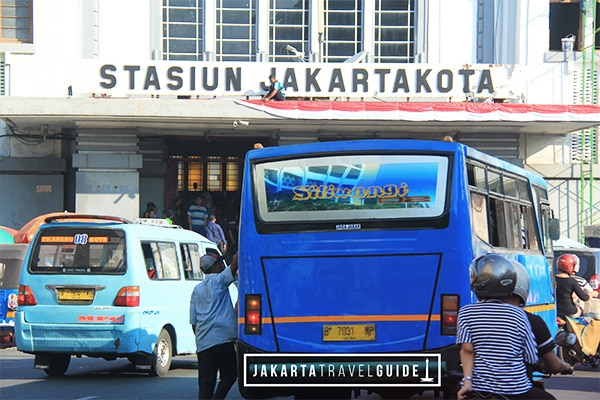 Taman Fatahillah is surrounded by museums and cafes that are worth exploring while you are in Jakarta. This area is popular with locals as well as domestic and international tourists visiting the city. Kota Tua is widely considered to be one of the 'must-see' places to check out in Jakarta.
The adjacent station to Jakarta Kota is Kampung Bandan.
This is a strategic location because it allows passengers to transfer to the Yellow (Jatinegara – Bogor) Commuter Line. The Yellow 'loop' line has stops at popular spots such as Tanah Abang, Manggarai, Jatinegara and Bogor.
Kampung Bandan Station is also convenient if you plan on shopping at some of the malls in Mangga Dua. This area is known for affordable electronics in comparison to other areas of Jakarta.
Before you reach the terminal station of Tanjung Priok, you will first reach Ancol Station.
This is a convenient station to get off at if you plan on visiting Ancol theme park. Ancol is a massive family-focused amusement park that has everything from ziplines to aquariums and waterslides.
Needless to say, seeing everything at Ancol could literally take days. It's massive but slightly outdated!
If you are planning on using the Pink Commuter Line, you will find that Sunday is the quietest day. This is because fewer locals are commuting for work. Saturday is your next best option to beat the crowds.
---
Transfer Station Information for the Pink (Jakarta Kota – Tanjung Priok) Commuter Line in Jakarta
Despite the fact that the Pink Line in Jakarta is the shortest at just over 8 km in length, it still has two very strategic transfer stations. The stations are summarized below:
Jakarta Kota Commuter Station – Transfer to the Red or Blue Line
Kampung Bandan Commuter Station – Transfer to the Yellow Line
If you arrive at Jakarta Kota Station you will have the choice of checking out Kota Tua or transferring to either the Red or Blue Commuter Line.
The Red Line services trains all the way south to Bogor. This is a popular satellite city for people working in Jakarta and a popular weekend destination for Jakartans.
If you transfer from the Pink to Blue Line at Jakarta Kota Station then you will be able to access popular stations such as Manggarai, Jatinegara, Bekasi, and Cikarang.
Jatinegara Station is a great place to get off at if you want to explore interesting street markets. You can walk to Jakarta Gem Market and Jatinegara Market from the station. The Gem Market is across the road from the station.
The second transfer station on the Pink Line is Kampung Bandan. If you transfer here you will be able to access the Yellow Line. This is a busy line because it loops all the way around Jakarta and then heads south to Bogor, Depok and Nambo.
You can also walk to the malls in Mangga Dua from Kampung Bandan Station.
---
Stations on Jakarta's Pink Commuter Line and Related Accommodation Information
The Pink (Jakarta Kota – Tanjung Priok) Commuter Line consists of 4 stations that are currently open and operational. As mentioned before, this is the shortest line in the system. The total line distance from Jakarta Kota to Tanjung Priok or vice versa is approximately 8.115 km.  
All stations on the Pink Line are built above ground.
The table below summarizes all the stations making up the Tanjung Priok – Jakarta Kota Line, beginning with Jakarta Kota Station and working down to Tanjung Priok. You can access detailed information about each station by clicking on the Station names in the table below.
The 3 closest accommodation choices relative to each station are also included for your convenience. The approximate travel time between each station and each individual property is also included as a guide to help you book rooms at the most practical properties.
The roads around the Pink Line stations can get very congested, therefore, try to stay close to a station if you plan on using the commuter system while in Jakarta.
---
Additional KRL Commuter Lines in Jakarta
The Pink (Jakarta Kota – Tanjung Priok) Commuter Line is the shortest of six lines in the entire KA Commuter network. The other lines in the KRL Commuter Network can also help you to access important markets, museums, malls, parks and attractions around Jakarta and neighboring cities.
All lines have supporting accommodation information as well. You can access each commuter line using the links below:
Pink: Jakarta Kota – Cikarang
Yellow: Bogor – Jatinegara
Red: Bogor – Jakarta Kota (see information above)
Green: Rangkasbitung – Tanah Abang
Brown: Tangerang – Duri
Pink: Tanjung Priok – Jakarta Kota
---
Additional Transportation Information for Jakarta
The commuter network in Jakarta is also integrated with other transport systems throughout the city at specific stations. You can use this Jakarta Transportation Guide to find out additional information about each form of public transportation in Jakarta including the MRT.
If you are flying to/from Jakarta or want additional information about getting to/from the airport refer to the Jakarta Airport Guide.