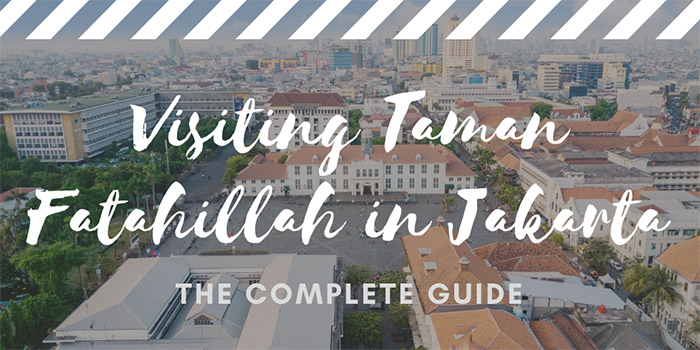 The complete guide to Fatahillah Square in the heart of Kota Tua.
Fatahillah Square in Jakarta is known as Taman Fatahillah in Bahasa Indonesia. Although there are several tourist attractions in Jakarta, visiting Taman Fatahillah is considered to be on the 'must-see' list in the city.
Taman Fatahillah is the central heart of Kota Tua – one of the most interesting areas in all of Jakarta.
When you visit Taman Fatahillah you will quickly notice that it is one of Jakarta's best public areas for tourists and locals to explore. Chances are you will see both international and domestic tourists walking around Fatahillah Square.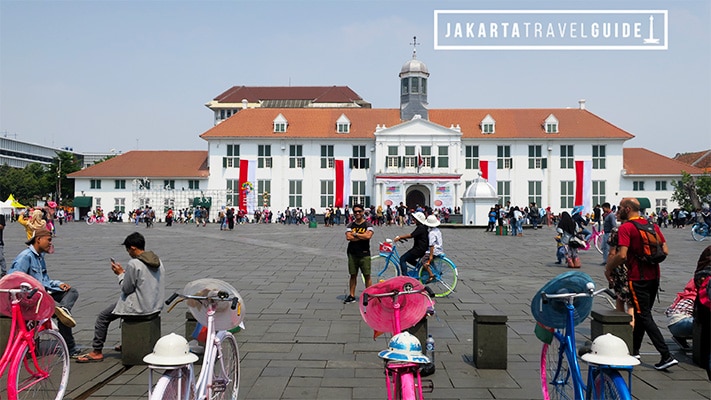 It was formerly known as Batavia City Square during the Dutch rule.   
Soak Up the Atmosphere
As its name suggests, Fatahillah Square (Taman Fatahillah) is the centerpiece of the colonial 'old town' area of Jakarta. The square is an excellent spot to soak up a carnival-like atmosphere that usually consists of locals playing guitar, children biking around, language interactions between locals and foreigners, human statues and tourists snapping photos.  
Fatahillah Square is a great location to simply grab a coffee, tea or beer and 'people watch'.
The square is scenic due to the range of colonial buildings (picture Dutch-influenced architecture) that surround it. The small walkways around the square are lined with street hawkers and small market stalls. This area of the city is busy on weekends when markets and tourists are in full swing.
Over the last few years, the local government has made an effort to improve this area for visitors. The recent facelift was also due to the ASEAN Games being hosted in Jakarta in 2018. Taman Fatahillah still may not look as nice as squares in Europe, but it is quite unique for a Southeast Asian setting such as Jakarta.
Reserve at least an hour or two for your visit to Fatahillah Square and this section of Kota Tua when you are visiting Jakarta. It's one of the coolest areas in the city.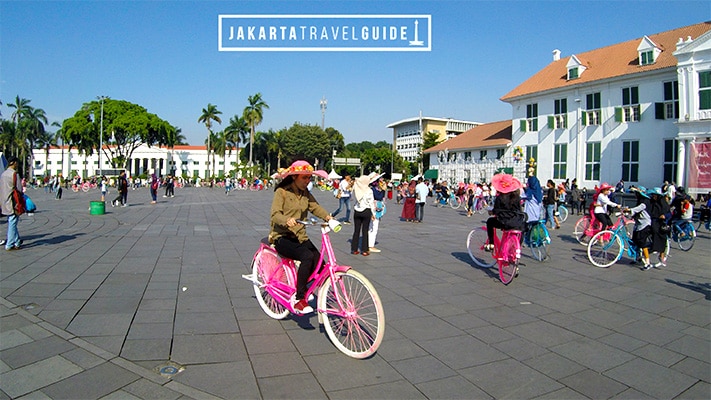 ---
JTG Insider Tip: English Conversations in Fatahillah Square
Fatahillah Square has an awesome atmosphere
For some reason, locals, foreigners and domestic tourists seem to get along particularly well in this public space. It's very common for local school groups (and just random Indonesian people) to approach foreigners to practice their English proficiency.
If you are a foreigner visiting Fatahillah Square in Kota Tua expect to be approached at least once (but probably more) by some groups. In most cases, it's really just an interesting conversation and locals truly do appreciate the time native English speakers take to help them out.
It's also common for locals to ask foreigners if they are comfortable having the conversation recorded.  Again, this is usually for school assignments that teachers have asked students to work on.
If you are visiting Jakarta and Fatahillah Square from abroad then don't be alarmed.
Instead, consider giving up some of your time to the locals.  If you don't have neither the time nor the patience to converse with them, simply tell them that you "have to go" and they usually just smile and say "thanks".
---
What is located around Taman Fatahillah (Fatahillah Square) in Jakarta?
Due to it's superb location, Fatahillah Square also allows visitors to easily navigate between the different cafes and restaurants in Kota Tua.
Museums
Aside from the ever famous Cafe Batavia, Fatahillah Square is also directly surrounded by three interesting museums which include:
Accommodation Options
If you are looking to stay near Kota Tua, you will find that 4 and 5 star accommodation options are still limited in this area. Very limited to be completely honest.
There have been some good hostels and budget options popping up in this area such as:
If you want to have easy access to Fatahillah Square, try staying at one of the new hotels in Gaja Mada such as Yello Hotel Harmoni or Harris Vertu. They consistently receive positive reviews from guests.  
Fatahillah Square is also within 100 meters of an interesting street market and 200 meters away from the Bank of Mandiri Museum and the Bank of Indonesia Museum. They are south of Fatahillah Square. You will walk by these if you are going back towards Yello Hotel or Harris Hotel.
Other Nearby Attractions to Explore
You can visit Fatahillah Square and also easily check out Sunda Kelapa, Mangga Dua and Chinatown. Most tourists will get a taxi, or use a ride-sharing app to reach these destinations from Fatahillah Square. It's possible to walk, but it's typically too hot during the afternoon hours.
The area around Fatahillah Square is not very well known for shopping malls, but there are plenty in Mangga Dua. This is one of the best electronic-shopping districts in the city. You can drive there in about 10 minutes from Fatahillah Square.
---
JTG Insider Tip: Beating the Traffic to Fatahillah Square
Fatahillah Square is located right in the center of Kota Tua.
This area can get really clogged up with traffic, especially during the week.  Therefore, try to stay in nearby Gaja Mada, Chinatown, or Mangga Dua.
All three of these areas are within walking distance of Fatahillah Square (or a short ride away). If you think it's too hot outside to walk to your hotel, from Fatahillah Square you can easily arrange for a taxi pick-up or a moto ride.
---
The Pro's and Con's of Visiting Fatahillah Square in Jakarta
Why you should visit Fatahillah Square in Jakarta?
Fatahillah Square is a great spot to 'people watch' in Jakarta.
It has an excellent atmosphere and it's centrally located right in the heart of Kota Tua.  Surrounded by museums, cafes and aged colonial buildings, Fatahillah Square is the perfect jumping point for seeing Jakarta's historical area.
There is no entrance fee to enter Fatahillah Square making it an ideal spot for budget travelers visiting Jakarta.
Why you might not want to visit Fatahillah Square in Jakarta?
If you are not one for public areas and prefer a quieter, more mellow atmosphere then Fatahillah Square might not be your first choice.  Some tourists find it a bit intimidating having locals approaching them for a conversation in English.
---
Our Opinion – Visiting Fatahillah Square in Jakarta
Fatahillah Square is a must-see if you are visiting Jakarta.
Very few Southeast Asian cities have a prominent square such as this surrounded by colonial buildings.  The atmosphere is really cool and it's free to explore.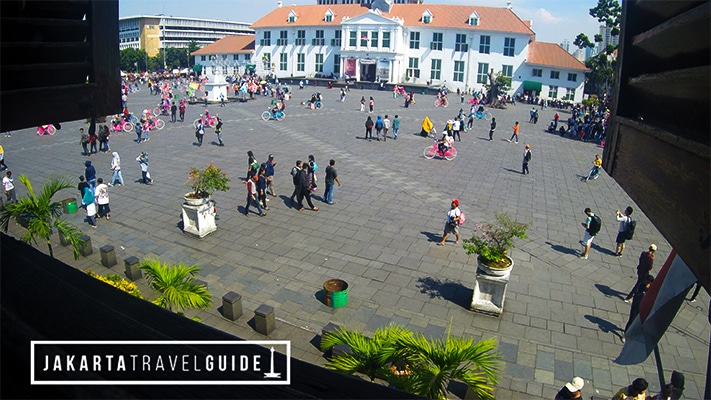 Fatahillah Square is an ideal place to go from one tourist site to another without feeling like you are in a tourist trap.  The healthy mix of tourists and locals gives Fatahillah Square its dynamic ambiance. When you see someone walking around Fatahillah Square taking photos it will make you wonder whether that individual is a local, domestic tourist, international tourist.
The lines get blurred in Fatahillah Square.   
If it's your first time to Kota Tua then try to get a table on the second floor of Cafe Batavia overlooking Fatahillah Square.  This is an excellent vantage point to get a true feel for one of Jakarta's best public spaces.
---
10 Closest Hotels to Fatahillah Square in Jakarta
***Organized according to Star Rating