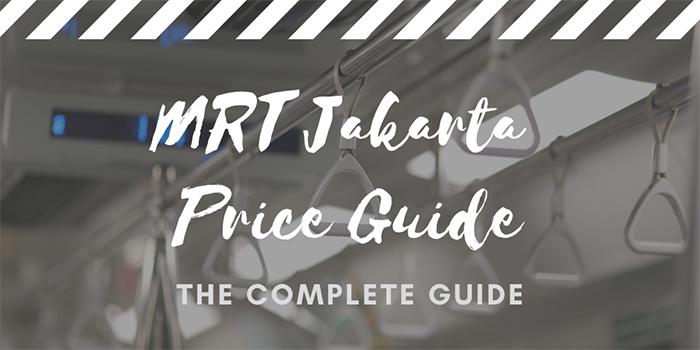 Buying Tickets for MRT Jakarta

How much does it cost to use MRT Jakarta?
MRT Jakarta price? How much does the MRT Jakarta cost per trip? Good questions.
With Jakarta's first-ever MRT now open, the city is buzzing with excitement. This raises a really good question: How much does it cost to ride the MRT in Jakarta? Locals may call this the tariff, whereas international visitors may call it the ticket price.
The M1 North-South MRT Line consists of 13 stations. This line spans a total distance of 15.7 km.
In an effort to cut down on Jakarta's notorious traffic issues, there is optimism that the MRT can take some pressure off the roads and the commuter network throughout the city.
One of the challenges with the MRT in Jakarta is convincing middle-class and upper-class Jakartans to leave their private vehicles at home.
Since owning a vehicle is still a status symbol in Indonesia, skeptics wonder whether locals will be willing to opt for the MRT opposed to being dropped off right at the door using their vehicle?
---
Price, Cost or 'Tarif' for Jakarta MRT: Considerations
Another clear factor that MRT management and the local government in Jakarta must consider is the price of each trip.
If the price of Jakarta's MRT is considered too high by local commuters they will continue to drive their own vehicles. They may even continue using the Transjakarta bus network or the very affordable commuter system throughout the city.
They must be convinced that it is a practical, affordable and a quick form of transportation in Jakarta. If it is too much then commuters won't give it a real shot.
Currently, bus rides and commuter trips usually vary between 3,000 and 5,000 IDR per trip. This is very affordable in comparison to other cities around the world.
---
MRT Jakarta Price Summary
$$$$$
Currently, the MRT Jakarta price follows a progressive model.
What this means is that passengers pay 3,000 IDR to enter the MRT and then an additional 1,000 IDR for every station they pass during their journey. Currently, the maximum MRT Jakarta price is set at 14,000 IDR.
Although these initial prices have been announced, you can expect them to change over time according to demand and changes in government subsidies.
Based on this progressive price model you have to consider how far your trip is going to be on MRT Jakarta. The price of MRT Jakarta tickets differs depending on the distance of your journey.
Let's look at a few examples to fully understand how much tickets cost for MRT Jakarta passengers.
If you begin your journey at Lebak Bulus MRT Station in southern Jakarta and you travel all the way to Bundaran HI MRT Station in Thamrin, Central Jakarta this is the maximum distance. This journey involves stopping at all 13 MRT stations in Jakarta. According to the MRT prices, this will cost 14,000 IDR.
If you consider the round trip journey the MRT Jakarta price will be 28,000 IDR.
The price of this journey will be different from the price of a trip from Lebak Bulus MRT Station to Fatmawati MRT Station, for instance.
These are neighbouring stations that are close to each other. It will cost you 3,000 IDR to enter the MRT and then 1,000 IDR additional because these are adjacent stations. The total cost for this trip on MRT Jakarta will be 4,000 IDR.
If you consider the round trip journey the MRT Jakarta price will be 8,000 IDR.
Also, keep in mind that prices can change depending on the distance between stations as well. If two stations are far from each other, then it may cost you more than the 1,000 IDR surcharge.
According to the MRT Jakarta personnel, the approximate cost to use the MRT is 8,500 IDR for a ten-kilometer 1-way trip.
---
Are there monthly passes available for Jakarta MRT?
Currently, there are no monthly passes available for MRT Jakarta. It sounds like there will be day passes before monthly passes are even considered. Don't be surprised in the future that longer-term passes are available for commuters. In the meantime, expect to pay per trip until more options become available.
---
MRT Jakarta Price Changes Over Time
There are a lot of variables at play that will influence the ticket price to use the MRT in Jakarta going forward.
If the demand for the MRT is very high from public commuters this will be taken into account.
So too will change in government subsidies.
The initial prices are subsidized by the local administration. Depending on the health of the local economy you can expect government support to change, and therefore the price as well.
Another consideration is whether monthly or annual MRT Jakarta passes will be available in the future? There are thousands of commuters who travel from southern satellite cities on a daily basis that would benefit from long term price options.
Singapore, for instance, offers significantly cheaper MRT prices to passengers who travel during non-peak times throughout the day. This can reduce overload and overuse in the MRT system.
The commuter system in Jakarta is extremely popular because it is affordable and well connected. But it can get overloaded. If the prices for the Jakarta MRT are well planned then hopefully it will remain as a practical, comfortable and safe means of transportation in the future.
Although some of these MRT Jakarta price decisions still need to be made, this guide will be continuously updated in the future to show accurate price details at all times.   
---
MRT Jakarta Related Links and Resources