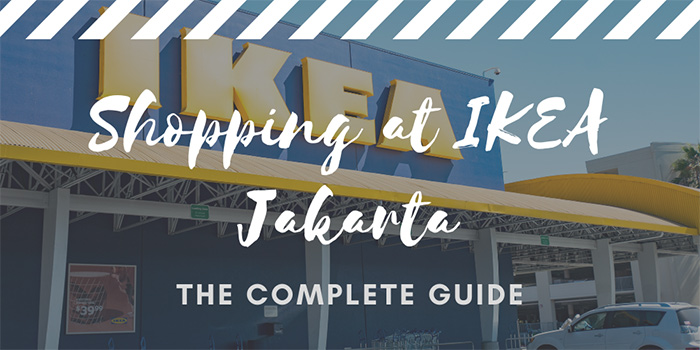 The complete guide to IKEA Jakarta. Everything you need to know about this popular shopping center in Tangerang.
IKEA Jakarta is an extremely popular home furnishing shopping center. Actually, it is likely to be the most popular furniture store in all of Jakarta. It is situated in an area called Alam Sutera. This is found in Tangerang – a satellite city of Jakarta which is located west of the capital's downtown area.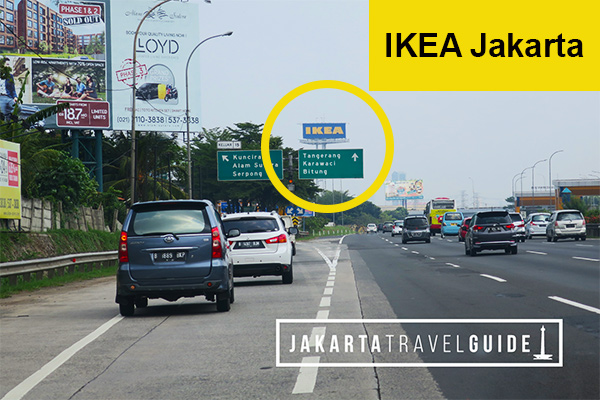 To place this IKEA's location into perspective it is situated about 22 km west of the Monas in Central Jakarta.
If you are in Jakarta be prepared to hear the IKEA store being called different names by different people. Aside from IKEA Jakarta, this massive store is also sometimes called IKEA Indonesia. The official name of the store is IKEA Alam Sutera which reflects the location where it is.
IKEA Jakarta Shopping Information
Similar to other IKEA stores around the world, IKEA Alam Sutera is a massive 'display' home furnishing store. It consists of over 55 smart room-set solutions and three entire home displays.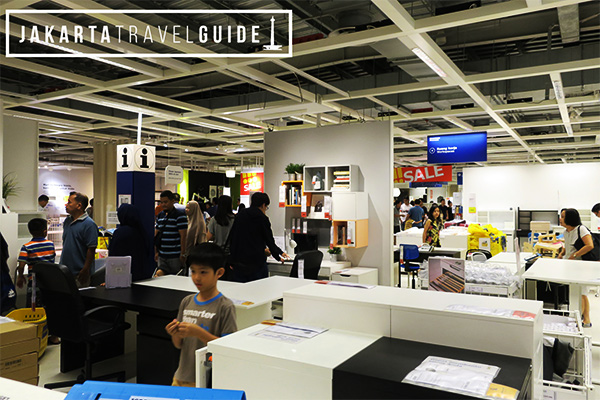 According to the official IKEA Alam Sutera Website, the store covers a 35,000 square meter area and a 700-seat restaurant. 
To cover the high demand of local consumers, it has over 1000 parking places distributed around the store.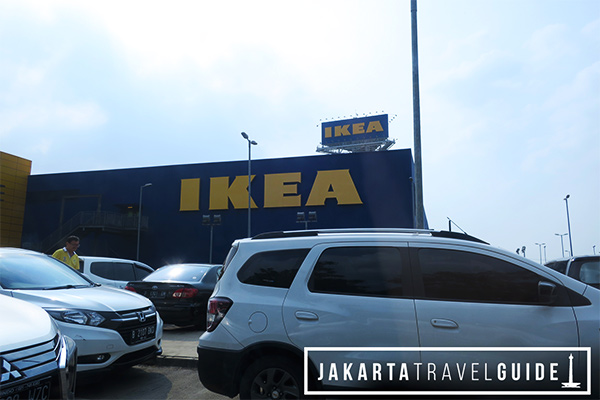 Although it is located outside of central Jakarta, IKEA Alam Sutera is still in a strategic location for shoppers in Jakarta. It is directly south of the Jakarta-Tangerang Toll Road. Therefore, you can access it in only a few minutes once you exit the highway. If they had built it in central Jakarta it would be much harder to access and also find parking. 
Most of the actual physical products in IKEA Jakarta are found in the warehouse section right before the cashiers. This means that most items throughout the display rooms are not the actual product you are going to bring home. There are, however, some smaller items (like kitchen utensils for example) that can be carried throughout the store opposed to being picked up in the warehouse area.
The store is organized according to themed rooms. In other words, there are display rooms dedicated to children's furniture and others dedicated to kitchen, bathroom and living room appliances.
You can use the IKEA App to keep track of which products you want to buy. Then, when you reach the warehouse you can ask one of the employees to help find all the stuff you want. Some of the larger items might be challenging to carry or transport, so don't be shy and just ask for support.
You can arrange delivery from IKEA Jakarta to your place, but costs and shipping times will depend on what you are ordering and where you live.
Eating at IKEA Jakarta
If you have shopped at other IKEA branches around the world then you may already know that IKEA has affordable food choices. The same can be said about IKEA Alam Sutera in Jakarta.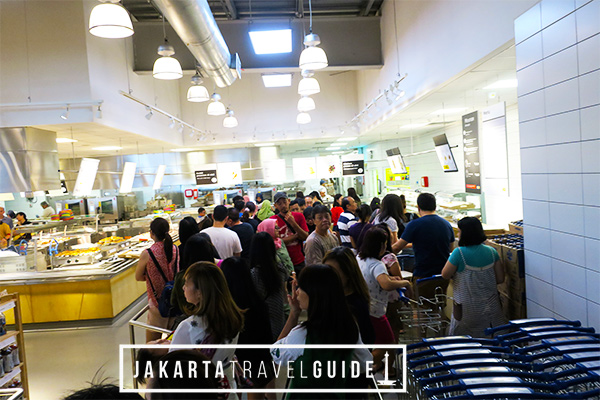 Technically, there are three different places to either eat or drink in IKEA Jakarta:
IKEA Restaurant

IKEA Bistro

IKEA Coffee Bar and Bakery (Fika Corner)
IKEA Restaurant is the main dining area. 
This is set up in such a way that you select specific items as you walk through a 'food line'. The menu is basic but very affordable. Consequently, this area can get extremely busy especially on weekends and national holidays.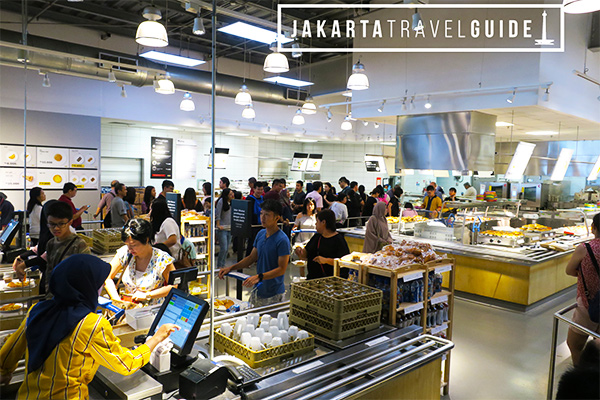 IKEA Bistro offers more fast food options near the checkout area of the shopping center.  
If you plan on eating at IKEA Alam Sutera, we suggest trying to dine during off-peak times when the lines will be small. Otherwise, you do have the chance of not finding a seat. This is common weekends. 
---
IKEA Jakarta: Essential Visitor Information
Opening Times IKEA Jakarta 
Monday – Friday & Sunday: 10.00 – 22.00

Saturday & National holidays: 10.00 – 23.00
GPS Coordinates: -6.220401, 106.663113
Address: IKEA Alam Sutera
Jl. Jalur Sutera Boulevard No. 45 Alam Sutera, Tangerang 15320
IKEA Phone Number Jakarta
021 2985 3900
---
What is located around IKEA Jakarta?
Since IKEA Alam Sutera is east of the central Jakarta it is also quite far from other attractions in the city.
Attractions
The closest major attraction to IKEA is Museum MACAN. 
Museum MACAN is a modern and contemporary art gallery that is also located off of the Jakarta-Tangerang Toll Road. You can travel between Museum MACAN and IKEA in 20 minutes (15 km) on the toll road if traffic is light.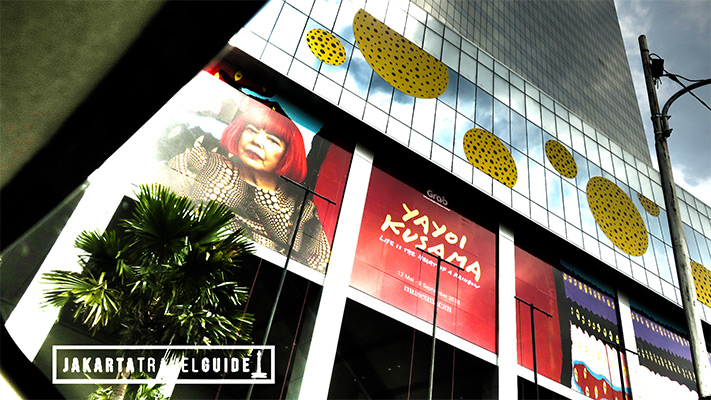 Museum MACAN has evolved into one of Jakarta's most popular places to visit. Arrive early and during non-peak times to beat the lines.
Shopping Malls
You will have to drive a considerable distance to access malls in central Jakarta from IKEA. It is more practical to shop at malls to the west of IKEA, instead. There are three malls further west of IKEA:
Summarecon Mall Serpong
Mall Alam Sutera
Matahari Supermall Karawaci
Best Hotel Choices
The direct area around IKEA is not densely populated with quality hotel options, unfortunately.
Most hotels are within a 4-6 kilometer radius of it. 
Some of the best options in this area of Tangerang include:
You will have to drive to these properties. They are not within walking distance of IKEA Jakarta.
---
10 Closest Hotels to IKEA in Jakarta
***Organized according to Star Rating
---
Final Thoughts about Shopping at IKEA Alam Sutera
Indonesia (and more specifically Jakarta) has a growing number of middle-class residents. Consequently, as they continue to buy more houses and rent more apartments the demand for household furniture and appliances goes up as well. 
You will see this first-hand if you decide to shop at IKEA Alam Sutera in Jakarta on a weekend or public holiday. Parking can be challenging and line-ups can be large. This is especially true if you want to enjoy some of the affordable food options they have. 
The 'themed display rooms' are particularly effective at showcasing IKEA's products. They enable shoppers to visualize how their products could enhance family living spaces. 
Overall the prices at IKEA Jakarta are also very competitive. Although you may find the odd product cheaper elsewhere, the convenience of buying all the stuff you need during one trip may outweigh any price differences you find. 
IKEA is not near a commuter station in Jakarta. Therefore, always use your GPS to see how traffic looks before making the commitment to go to Tangerang!