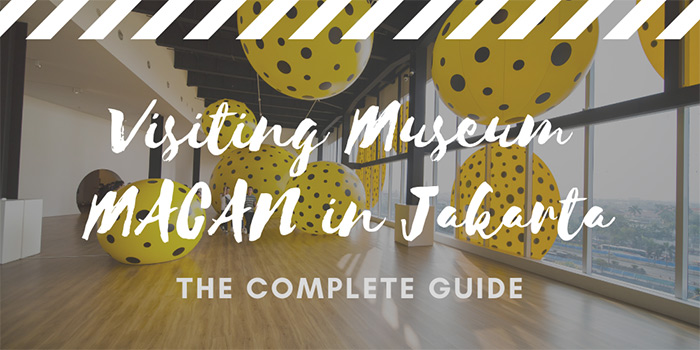 The complete guide to Museum MACAN in Jakarta – one of the city's best and most popular attractions. Find all the info you need, and fast.
Whether you are sightseeing or living in Jakarta, visiting Museum MACAN is something we highly recommend you do.
Museum MACAN or Museum of Modern and Contemporary Art In Nusantara is currently Jakarta's most popular museum by far! Museum MACAN is also currently one of the top attractions in Jakarta.
Museum MACAN Jakarta is a new, cutting edge art museum that has been proven to be a hit so far with locals, expats and tourists in Jakarta.
---
Why is Museum MACAN so popular?
Probably the biggest reason is that it is very different from the other museums in Jakarta. Many of Jakarta's museums are historically significant and informative. But these museums tend to be dated in need of a facelift.
Museum MACAN is contemporary, trendy and an excellent place for taking pictures.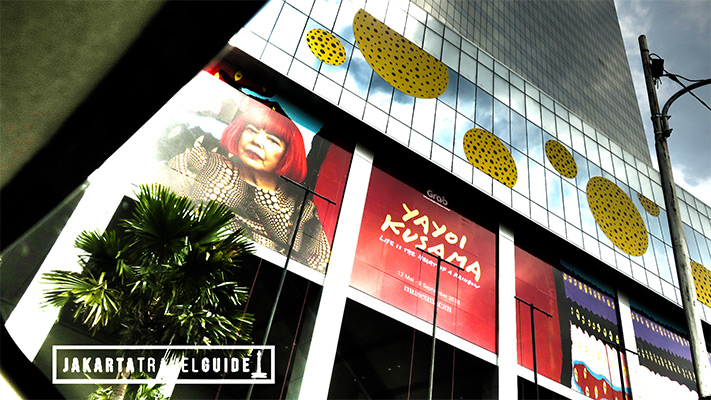 Museum MACAN specializes in showcasing modern and contemporary artworks from Indonesian artists. It also features works of famous artists from around the world. This mixture of local and international art makes it an interesting place to see diverse works under one roof.
With rotating exhibitions at Museum MACAN you can expect it to look different every time you visit the museum.
When you visit Museum MACAN, you should be prepared for large crowds especially if you plan on seeing it on a Saturday or Sunday. It is no secret in Jakarta that Museum MACAN is one of the best 'selfie' locations in the entire city.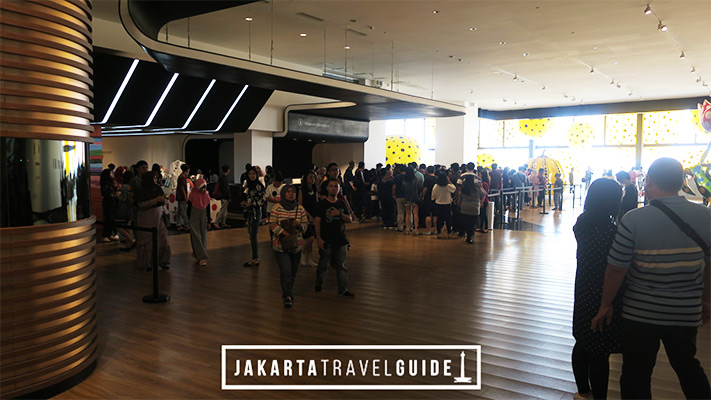 Actually, many visitors simply go to the museum to take photos and selfies of themselves. The art is a secondary attraction for many visitors. Museum MACAN is a very photogenic environment and you should come well prepared to 'snap away' when you visit the museum.
Currently, Museum MACAN is located in a 4,000 square meter facility that consists of multiple floors. You can expect this museum to offer different exhibitions as time goes on. Therefore, if you do decide to visit the museum a few years later it should look much different.
---
Purchasing Tickets at Museum MACAN in Jakarta
When you first arrive at Museum MACAN you will go through an x-ray security check and then you will travel a few floors up on an escalator to the ticket counter. When you arrive in the ticket issuing area you will have a choice of two different lines:
1) Buying Tickets Onsite and 2) Online Tickets.
You can expect that if you are visiting Museum MACAN on a weekend that the lineup may be quite long. Typically, the 'online ticket' lineup is much shorter. Therefore, it might be wiser to purchase your tickets online well before you visit Museum MACAN. This will save unnecessary time in the queue.
Once you pay for your tickets and you have your official entrance pass, then proceed to the main floor of the museum.
---
Navigating your way through Museum MACAN in Jakarta
Museum MACAN has almost all points of interest on one main floor. Once you have your ticket use the lift to reach the official entrance to the museum.
The main entrance area of Museum MACAN has a cafe, cloakroom, public area, children's art space and sculpture area located around the entrance gates. The cloakroom is particularly important because that is where you will be asked to temporarily place your bags as you walk through Museum MACAN.
Once you pass by security and the entrance gates, feel free to walk throughout the museum. Everything is on the main floor with the exception of the 'sticker room'. The 'sticker room' can be accessed by taking the escalator 1-floor up behind the children's art space.
The 'sticker room' is a must-visit attraction within Museum MACAN. It is awesome for taking photos.
The museum staff will give you some colorful stickers and you will be given a set period of time (usually 3 minutes on weekends) to place the stickers wherever you would like. During this time you can take as many photos as possible before the next group enters the room.
---
Taking Photos at Museum MACAN
Cameras are strictly prohibited at Museum MACAN, except for cellphone cameras. Therefore, don't bother bringing your DSLR, point-and-shoot or GoPro to Museum MACAN. These gadgets will not be allowed into the museum. Tripods or monopods are also not permitted in Museum MACAN.
Instead, bring your most reliable cell phone for taking quality photos and make sure that it is fully charged. Security is quite particular for bringing in cameras, so don't even try it. 
When you are taking photos as Museum MACAN keep in mind that no flash photography is permitted inside. You can take videos but you cannot use a flash anywhere.
Although the photography rules do sound a bit strict at Museum MACAN, you will get plenty of time to take all kinds of photos and selfies while you're there. Flash photography is just a distraction in what is supposed to be a relaxing and tranquil environment.  
Taking photos at Museum MACAN is one of the highlights of the entire experience. Take your time and get awesome photos!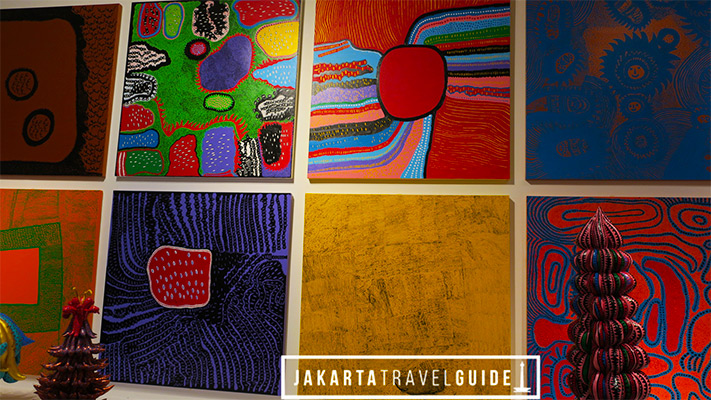 Some must-visit places in the museum include the darkroom, sticker room, and the dotted room. They typically get lineups on weekends.
---
What is located around Museum MACAN in Jakarta?
To help you place Museum MACAN's location into perspective, it is situated about 7.5 km southwest of the Monas – Indonesia's National Monument. It is located in AKR Tower in West Jakarta.
If you are sightseeing or staying at a hotel in central Jakarta close to the Monas, it should take you anywhere from 25-40 minutes to drive to Museum MACAN.
Accommodation Options
The direct area around Museum MACAN isn't particularly well known for major attractions or high-quality hotels, unfortunately. The closest place to stay near the museum is Hotel 88 Kedoya Jakarta. This property doesn't receive good review scores, however.
Probably the best place to stay near Museum MACAN is Harvia Suites Kebon Jeruk. It receives positive reviews from guests and it is only 1 km south of the museum.
If you want more choice in terms of accommodation, then search closer to Central Jakarta.
Other Attractions to Consider
Although there are no major attractions right near Museum MACAN, you can move towards central Jakarta am stop by Taman Anggrek Mall, Central Park Mark, or Neo Soho Mall. These are three large shopping centers that are conveniently located next to each other.  
Neo Soho mall also has Jakarta Aquarium – currently one of the newest and best attractions in all of Jakarta.
As you move further east from these malls you can visit the Textile Museum and Tanah Abang Market before reaching the Monas.
Therefore, to summarize, Museum MACAN isn't directly beside major attractions but you can easily visit malls, markets, and museums on the way to or from the museum.
---
Frequently Asked Questions about Visiting MACAN Museum in Jakarta
---
How much does it cost to visit MACAN Museum in Jakarta

?
Although prices are always subject to change over time, here are the current prices for entering
Visiting MACAN Museum in Jakarta:
Adults: 100,000 IDR
Children: 80,000 IDR
Students and Senior Citizens: 90,000 IDR
If you haven't noticed, MACAN Museum is quite expensive in comparison to other museums in Jakarta.
---
Buying tickets for Museum MACAN. Where should you buy tickets for the museum?
You can purchase tickets directly at Museum MACAN or online. Online tickets can be purchased via the official website for Museum MACAN: http://www.museummacan.org
Keep in mind that tickets are issued for 2-hour periods. Therefore, your ticket is valid for 2 hours from the start time stated on the ticket.
You can get a 10% discount online if you state a member of the museum when purchasing your ticket(s).
Also, remember that if you plan on buying your ticket at Museum MACAN you may be in a long line. Typically, the line is smaller for online ticket purchases.
---
When is Museum MACAN open/closed?
Museum MACAN is open every day except Mondays. It is closed on Monday.
---
What time is Museum MACAN open?
Museum MACAN is open from Tuesday to Sunday from 10 am to 8 pm.
You will not be able to enter Museum MACAN if you arrive after 7 pm. The last visitor is allowed in before 7 pm.
---
How to get to MACAN Museum in Jakarta Using Public Transportation?
The most convenient way to get to MACAN museum is by car or moto. Since it is located in West Jakarta it is still about a 25-minute drive from the closest KRL Commuter train stations such as Palmerah Station.
If you are staying far away from MACAN Museum then you could consider taking the commuter to a station and then carpooling from there. Try to get a BlueBird taxi or use Go-Jek or Grab.
TransJakarta is probably the cheapest option to get to MACAN Museum in Jakarta. The museum is in Kebon Jeruk.
---
Is there parking available at MACAN Museum in Jakarta?
Yes, there is parking available if you are visiting MACAN Museum.
Car parking space – levels P1-P5
Bike/Motorbike parking space – level P3.
Bus parking space – level P2.
---
Is there anywhere to eat near Museum MACAN in Jakarta?
Yes. There is a cafe right near the entrance to Museum MACAN. Also, there is a Starbucks right near the main entrance to the building.
---
Final Thoughts on Visiting Museum MACAN in Jakarta
Museum MACAN is a breath of fresh air for Jakarta's museum culture. It's strikingly new and cutting edge. It is one of the most photogenic places in all of Jakarta.
If you are visiting Jakarta, strongly consider visiting Museum MACAN. It is quite expensive in comparison to other museums in Jakarta. So even if you only visit once, try to make the most of your experience.