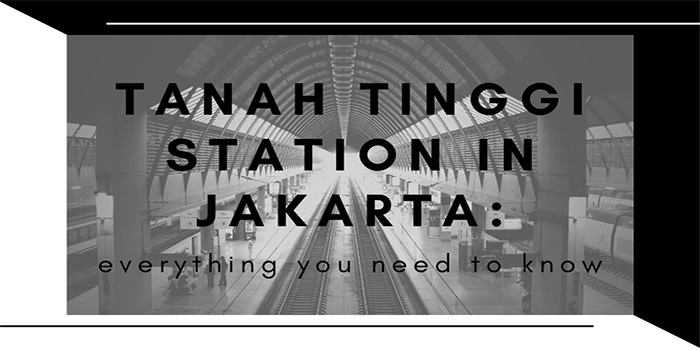 Tanah Tinggi Station, also referred to as Stasiun Tanah Tinggi in Bahasa Indonesia is a commuter station located west of central Jakarta in Kota Tangerang.
It is approximately a 23 km drive west of the Monas and its surrounding museums.
GPS Address: -6.175069, 106.646386
Station Address: Jl. Meteorologi, Tanah Tinggi, Kec. Tangerang, Kota Tangerang, Banten 15119, Indonesia
Commuter Line(s): Brown Line
Commuter Line Information for Tanah Tinggi Station
Tanah Tinggi Station is the second last station on the Brown Line which connects Duri Station (closer to central Jakarta) to Tangerang Station (to the west).
Because Tanah Tinggi Station is located so close to Tangerang, the terminal station, it isn't particularly close any other rail lines.
It is not possible to transfer lines at Tanah Tinggi.
Instead, you will have to travel all the way east to Duri Station.
While at Duri Station, you can transfer trains to the Yellow Line.  
The Yellow Line is one of Jakarta's most strategic lines because it services trains to southern destinations such as Depok, Nambo and Bogor, while also looping north and around to eastern Jakarta. This enables commuters to bypass traffic congested areas of the city.
If you go north on the Yellow Line you will travel close to Kota Tua and Ancol, and then as the line moves further south you will come across bustling market areas such as Pasar Senen and Jatinegara.
Affordable prices and a wide selection of good, keeps locals coming back to these markets day-after-day.
In case you are wondering, these stations are also within walking distance of their respective markets which makes them very convenient to access once you alight from the train.
Closest Stations to Tanah Tinggi Station
From Tanah Tinggi Station, it is easy to reach Tangerang Station.
Simply travel 1.6 km west on the Brown Line and you will be there in a few minutes.
If you travel eastward from Tanah Tinggi Station then the next station that you will come across will be Batu Ceper Station.
These two stations are only 2 km away from one another. Therefore, expect it to take a slightly shorter period of time to reach Tangerang Station opposed to Batu Ceper Station if you are at Tanah Tinggi Station.
What is located around Stasiun Tanah Tinggi?
Stasiun Tanah Tinggi is not particularly close to central Jakarta. Therefore, do not expect hoards of tourists in and around the station.
Actually, you probably won't find any!
This areas isn't too well known for major sights and attractions, but you will get a taste of Indonesian culture here.
There are a few things to check out that are quite close to the station.
Pasar Induk Tangerang, is one of greater Jakarta's best traditional wholesale produce markets.
Conveniently, this is only a 450 meter walk from the station. This is super convenient. You can just take the train all the way to Tanah Tinggi Station and then walk five minutes north and you will be there!
Expect a bustling environment with a lot of trucks getting stocked for local deliveries.
Tanah Tinggi Station is also conveniently located near Bale Kota Mall.
Once you arrive at the station, all you have to do is walk about 650 south and you will be there. This should talk you approximately 7-8 minutes only.
There is also a Go-Kart center that is adjacent to the mall if that is something that interests you.
If you are still looking to get some shopping done then consider heading further west to Pasar Anyar Tangerang. This is one of Jakarta's largest markets. It is a 1.6 kilometer walk from Tanah Tinggi Station.
Geographically, Pasar Anyar Tangerang is actually closer to Tangerang Station than Tanah Tinggi Station, therefore another practical option would be to take the train one station over and then walk from Tangerang. The choice is yours.
There isn't a surplus of solid accommodation options directly near Tanah Tinggi Station. Most high-end hotels such as the Grand Hyatt and The Mandarin Oriental tend to be closer to central Jakarta.
There are a few respectable options not too far away though. If you are thinking about staying near Tanah Tinggi Station then consider:
Allium Tangerang Hotel (5.9 km/ 12 minutes driving)
Golden Tulip Essential Tangerang (2.4 km/ 6 minutes driving).
Both of these properties get positive review scores from guests.
Driving from Tanah Tinggi Station to the Airports in Jakarta
Getting from Stasiun Tanah Tinggi to Soekarno-Hatta
The driving distance from Jatinegara Station to Soekarno-Hatta International Airport is around 41 kilometers and this should take you around 50 minutes to 1 hour 5 minutes depending on traffic.
Getting from Stasiun Tanah Tinggi to Halim Perdanakusuma
The driving distance from Jatinegara Station to Halim Perdanakusuma International Airport is around 8 kilometers and this should take you around 20 minutes to 35 minutes depending on traffic.
10 Closest Hotels to Tanah Tinggi Commuter Station in Jakarta
***Organized according to Star Rating
***Mobile users swipe right