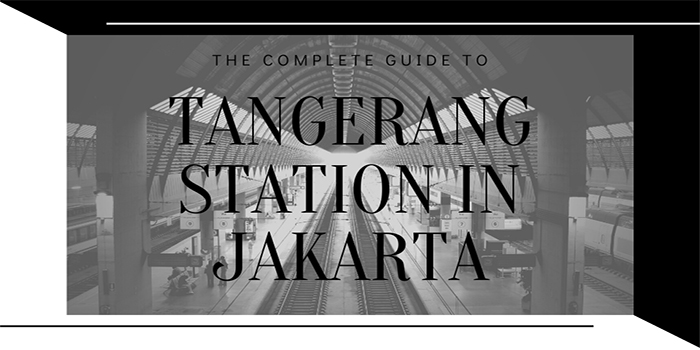 Tangerang Station, also referred to as Stasiun Tangerang in Bahasa Indonesia is a commuter station located approximately 26 km west of the Monas and the other museums in central Jakarta.
It is is named after the city in which it is located – Tangerang.
GPS Address: -6.176761, 106.632782
Station Address: Stasiun pintu tengah Sukarasa, Kec., Jl. Sukamanah IV, Sukasari, Kec. Tangerang, Kota Tangerang, Banten 15118, Indonesia
Commuter Line(s): Brown Line
Train Platforms: 3 bay platforms
Number of Tracks: 4
Commuter Line Information for Tangerang Station
It is the terminal station on the Brown Line which connects Duri Station (which is located east of central Jakarta) all the way to Tangerang.   
As already mentioned, Tangerang Station is the terminal stop on the Brown Line. Therefore, it isn't possible to change to another train line once you arrive at the station.
If you want to access another line in this network, you will have to travel all the way east to Duri Station.
Duri Station is actually a stop on two lines: the Brown Line and also the Yellow Line.
It's the other terminal station on the Brown Line, and just another stop on the Yellow Line. You can transfer between these two there.
Once you arrive at Duri and then transfer, you can head south to destinations such as Bogor, Nambo and Depok. This is a convenient alternative to driving south to these spots because as you probably have heard, the traffic can be horrific.
You can travel north on the Yellow Line to Ancol.
After Ancol you will loop around south to popular market areas such as Pasar Senen and Pasar Jatinegara.
Both of these markets can easily be accessed by getting out of their respective stations and walking a few hundred meters. In other words, they are very conveniently located. Expect bustling crowds and lots of goods at affordable prices.
Since Tangerang is the terminal stop on this line, there is only one station adjacent to it – Tanah Tinggi Station.
The distance between Tangerang and Tanah Tinggi Station is only about 1.6 km with Tanah Tinggi being to the east.
What is located around Stasiun Tangerang?
Stasiun Tangerang and the area around it isn't particularly well known for attracting large tourist crowds.
It is a strategic location, however.
It occupies the terminal position at the end of the Brown Line. This makes it possible to take the train all the way to Tangerang and then access other ground transport options such as the bus from there to other destinations in eastern Java.
Getting off at Tangerang Station can be an excellent decision if you are in the mood for shopping.
Two of greater Jakarta's best markets are within walking distance of the station: Pasar Anyar Tangerang and Pasar Lama Tangerang.
Pasar Anyar Tangerang is a massive market complex that is only 300 meters northeast of the station. You can easily walk there within a few minutes.
Pasar Lama Tangerang is still quite close to the station but to the west (only a few hundred meters). This is a traditional, busy market area with a Chinese influence.
There are also some interesting cultural sites around Tangerang Station as well.
The Benteng Heritage Museum is also worth checking out. It is is right beside Pasar Lama Tangerang. It is only 600 meters from the station which should take you only about 600 meters to walk there.
The Boen Tek Bio Chinese Temple is a must-see in this area as well.
It is situated on the very same street at the Benteng Heritage Museum and only a few meters away.
About 300 meters further south of the Temple is the Roemah Boeroeng Culinary Museum. Needless to say this area is one of the most interesting in all of Tangerang.
The Cisadane River is also quite close to Tangerang Station.  This is a good spot for exercising since there are some riverside lanes for walking or jogging.
If you are planning on staying near Tangerang Station, then your accommodation options will be somewhat limited.
This is especially true if you are looking for international service standards.
One of the closest hotels to the Station is Yellow Bee Hotel (550 m/ 7 minutes walk).
Some better, more upscale options include:
Allium Tangerang Hotel (6 km/ 20 minutes driving)
Golden Tulip Essential Tangerang (3.4 km/ 14 minutes driving).
Since markets and cultural sights are so close to Tangerang Station it might also be a practical idea to stay in central Jakarta at one of the best hotels in the city like the Grand Hyatt, Mandarin Oriental or Hotel Kempinski Indonesia and the commute out to this area for a day trip.
This will still give you the chance to see these markets and museums while still having high quality accommodation choices to select from to suit your needs and preferences.
Driving from Tangerang Station to the Airports in Jakarta
Getting from Stasiun Tangerang to Soekarno-Hatta
The driving distance from Tangerang Station to Soekarno-Hatta International Airport is around 19 kilometers and this should take you around 50 minutes to 1 hour and 5 minutes depending on traffic.
Getting from Stasiun Tangerang to Halim Perdanakusuma
The driving distance from Tangerang Station to Halim Perdanakusuma International Airport is around 47 kilometers and this should take you around 1 hour and 15 minutes to 1 hour and 30 minutes depending on traffic.
10 Closest Hotels to Tangerang Commuter Station in Jakarta
***Organized according to Star Rating
***Mobile users swipe right