The complete guide to Art 1 Jakarta. Find everything you need to know about these modern art gallery.
If you are an art lover, then one of the best places to visit while in Jakarta is ART: 1 Museum. You may also hear it called 'Art 1: New Museum' as well. This is a modern, immaculate art gallery in Kemayoran – an area about 4 km northeast of the Monas.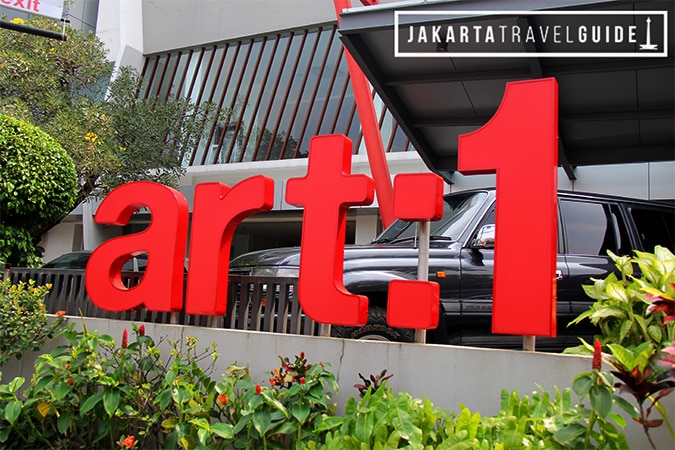 Art:1 was originally known as Mon Decor Gallery.  In 2011, Mon Decor Gallery expanded into a private museum that is now known as Art:1.
When you visit Art:1 in Jakarta you will see original artworks by contemporary and modern masters as well as Indonesian old masters. Art: 1 has an impressive selection of Indonesian art. Therefore, if you have visited galleries around the world, this one will most likely have a greater emphasis on Indonesian works than other ones you have seen.
Art:1 isn't only an art gallery, however.
It also offers interesting art workshops throughout the year as well.
It emphasizes art education for children and focuses on art conservation.  There are permanent collections at Art:1, but also temporary exhibits that change throughout the year. Subsequently, if you visit Art:1 on multiple occasions, expect the collections to be much different.
When you are trying to decide which museums to check out in Jakarta, Art:1 and Museum MACAN rank very high in the 'art museum' category.
Both of these galleries are excellent and very much worth checking out.
When you visit Art:1 in Jakarta, you have to walk up the stairs to reach the entrance.
As you are about to enter, you will notice that they have artistic scaffolding set up in the entrance area.  This sets the mood for an artistic experience to follow.
Once you enter Art: 1 the ticket counter will be to your immediate left.
The prices at Art: 1 differ depending on whether you are a local (Indonesian) or a foreign tourist. The local price is cheaper. However, if you are an expat living in the city with a valid KITAS (stay permit) you will be charged the same rate as a local.  
If you are a foreigner expect the museum attendant to ask you whether or not you live in Jakarta. Bring a copy of your visa along if you are an expat in the city to save some cash.
The Art:1 museum attendant will then issue you a ticket that includes a complimentary beverage for when you have completed your tour of the museum.
Art:1 museum in Jakarta is organized into 6 main display rooms. Three of the rooms are dedicated to permanent collections, whereas the other three are dedicated to temporary exhibits.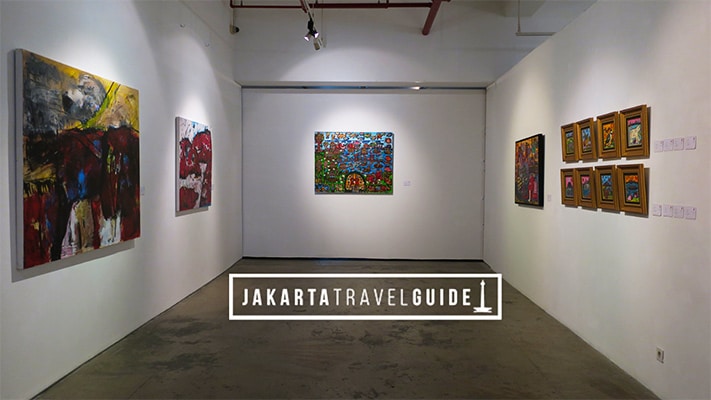 Walking through Art 1
Under normal circumstances, there is usually a museum attendant that will walk through the rooms with you at Art:1. They will also direct you on how to get to the next room in the gallery. The first rooms you will walk through at Art:1 are accessed by walking up the stairs. When you get to the top floor you will walk outside.
As you walk from the exhibit rooms to the permanent collection at Art:1 you will get some nice city views, and a view of the artistic scaffolding near the entrance of the building.
The final rooms of Art:1 are accessed by taking the elevator down.
When you return back to the entrance showroom in Art:1, show the attendant at the ticket desk your voucher for the complimentary drink.
There is a small fridge beside the ticket desk with three or four different types of drinks to choose from.
There are a few tables set up at Art:1 in front of the ticket counter for you to enjoy your drink. They also have a few basic snacks such as french fries and wings that you can order.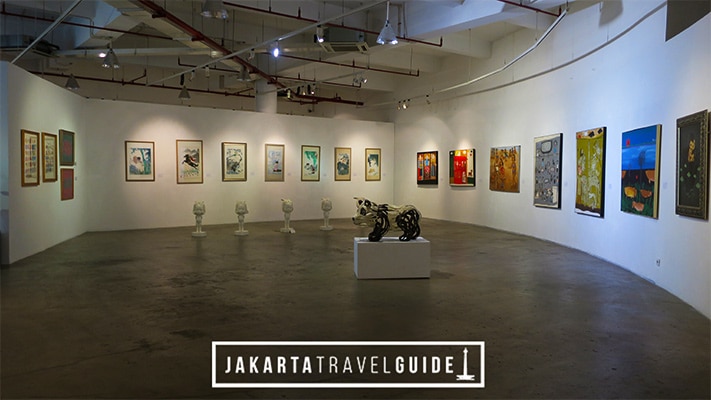 ---
What is located around Art:1 Museum in Jakarta?
Art:1 is located in Kemayoran. It is about 4.5 km northeast of the Monas – Indonesia's National Monument. This is still considered part of central Jakarta.
The direct area around Art:1 isn't particularly popular with tourists, but it is within a few kilometers of some of Jakarta's popular attractions.
One of the closest points of interest relative to Art:1 Museum is Jakarta International Expo. It is about 1 km east of the museum. Two of the closest shopping malls relative to Art:1 are Lokasari Square and Mega Glodok Kemayoran.  
Accommodation Choices
The area around Art:1 mainly consists of mainly 2-4 star hotel choices.
It is a pretty good area to stay if you want affordable accommodation not too far away from the city centre. Some of the best properties near Art:1 are:
Other Attractions to Consider
If you are visiting Art:1 Museum in Jakarta and you want to check out other attractions try these areas:
Both Kota Tua and Chinatown are located about 3.5 km east of Art:1 Museum. Try to check them out during the same trip.
Pasar Baru and the Monas are located around 3-4 km south of Art:1. It makes sense to see both of them during the same trip if possible.
---
Frequently Asked Questions about Art:1 Museum in Jakarta
How much does it cost to enter Art:1 Museum in Jakarta?
Currently, the fees to enter Art:1 are:
Foreigners 125,000 IDR (Non-KITAS holders)

General Adults 100,000 IDR (Indonesians and KITAS holders)

Students 75,00/50,000 IDR (ID card required)

Children Under 12 Years Free
You can also get a tour guide for a group of 8 visitors to Art:1 for 150,000 IDR.
When is Art:1 open in Jakarta?
Art:1 Museum is open every day except Monday. Please see below for a summary of Art: 1 Museum hours of operation:
Monday: Closed

Tuesday: Open 10 am – 6 pm

Wednesday: Open 10 am – 6 pm

Thursday: Open 10 am – 6 pm

Friday: Open 10 am – 6 pm

Saturday : Open 10 am – 6 pm

Sunday: Open 10 am – 4 pm
Take note that Art:1 Museum closes two hours early on Sundays.
Can you bring a camera into Art:1 Museum in Jakarta?
It is important to remember that you have to pay more if you want to bring a DSLR or point-and-shoot camera into Art:1 Museum. You can use your cell phone camera for free though.
If you plan on visiting Art:1 Museum be sure to have your phone fully charged. Flash photography is not permitted in the gallery.
---
10 Closest Hotels to Art:1 Museum in Jakarta
***Organized according to Star Rating