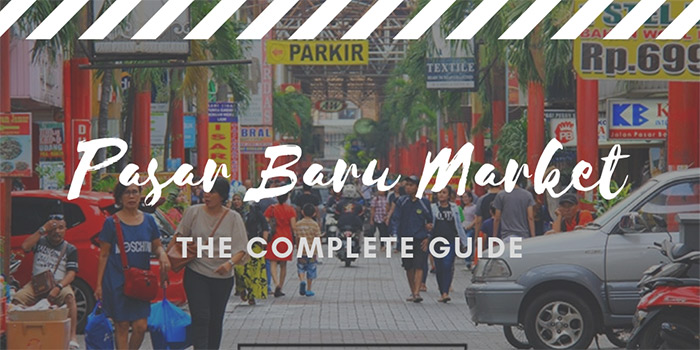 Pasar Baru is one of the most popular markets in Jakarta. Visiting Pasar Baru is one of the more culturally interesting things to do while in the Indonesian capital.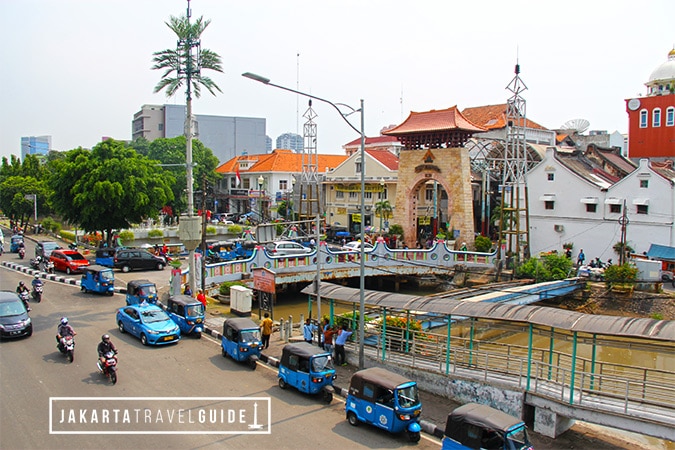 Pasar Baru Market Overview
Ironically, Pasar Baru translates in English to "new market" despite being one of the oldest markets in all of Jakarta. Pasar Baru is quite a famous Jakarta attraction due to its affordable shopping offerings. The market embodies a fusion among Indonesian, Dutch colonial, Chinese and Indian cultures.
Ideally located within walking distance of the Monas (Indonesia's National Monument), Pasar Baru offers a wide selection of goods, but textiles are definitely the most popular thing that you will find at the market.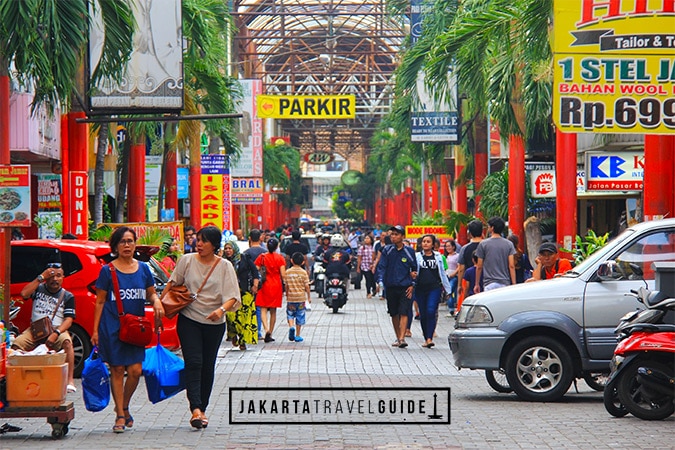 Jalan Pasar Baru is the main street making up the market with no shortage of shops selling a wide variety of stuff ranging from shoes, suits, spices, T-shirts, sporting goods and everything in-between.  
The market has a noticeable Indian influence in comparison to other markets in Jakarta. It is a good place to get a dress or suit made at one of the tailoring shops if you have the time.
As you walk from the southern portion of Jalan Pasar Baru to the northern section, you will transition from outdoor individual shops to multi-story shopping complexes such as Harco Pasar Baru.
The southernmost section of Jalan Pasar Baru has some sporting shops with a wide selection of badminton gear.
Heading north you will stumble upon various textile and craft shops, and then in the area of Harco Pasar Baru, you will find more electronics and various street-side fruit vendors.  
Even if you are not completely motivated to buy anything at Pasar Baru, you might enjoy walking around and checking out the local culture in this area of the city.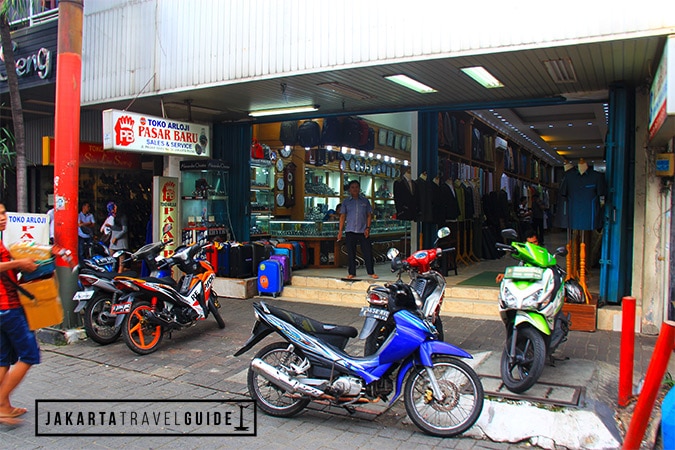 ---
Pasar Baru Visit Insider Tip: The Hidden Painting Market
Jakarta is a city that is known for interesting surprises and the vicinity of Pasar Baru is no exception!
During one of our visits to the market, we noticed an interesting stretch of tiny painting shops south of Jalan Pasar Baru on Jalan Gedung Kesenian. The painters were extremely friendly during our latest visit to the painting market.
Their specialty?
Portrait paintings.  
They have a wide selection on display from hilarious caricatures of Donald Trump to serious portraits of Indonesia politicians.
Many of the painters are quite talented and can create a sketch or painting right on the spot.  We would suggest bargaining for a price, and getting a painting made of you and your travel party.
You can easily navigate on the locality map of Pasar Baru below to locate the painting market or even better, read this entire article about the painting market.
It's the small unexpected discoveries such as this painting market that make Jakarta an interesting city to explore.
---
What is Around Pasar Baru Market Jakarta?
Pasar Baru is not only popular because of shopping, but also because of its ideal location relative to other points of interest in central Jakarta.  
Attractions
There are various attractions in Jakarta that are within walking distance of the market and they include:
These are all located to the southwest of Pasar Baru.
It is also within walking distance (or a short drive away from Gambir Train Station). This station services trains to other destinations in Java such as Bandung.
Accommodation Options
Most of the hotels within walking distance of Pasar Baru are in the two to three-star range.
Some of the most positively reviewed properties near the market include Golden Tulip Passer Baroe, Pop! Hotel Pasar Baru Jakarta and Amaris Hotel Pasar Baru. It is clear that both the shops and hotels in Pasar Baru are catering to visitors that are on a budget.
If you travel about 2 km west of Pasar Baru you will also find a cluster of good places to stay such as Yello Hotel Harmoni, Harris Vertu Hotel Harmoni and Grand Mercure Jakarta. They are conveniently located if you want to check out Pasar Baru, the Monas, and Chinatown during your time in Jakarta.

---
The Pro's and Con's of Visiting Pasar Baru Market
Why should you visit Pasar Baru in Jakarta?
Pasar Baru has some quality textile shops to check out. It also has some interesting craft shops and some sport shops if you are looking for some shoes or gear.
Harco Pasar Baru, located near the northernmost portion of the market has some good prices for electronics.  The market can get quite bustling at times which makes for good 'people watching'.
Since Pasar Baru is conveniently located it shouldn't take you very much time to explore even if you're not interested in buying anything. Within minutes, there are multiple attractions to see, which makes Pasar Baru an easy stop in Jakarta.
Why may you not want to visit Pasar Baru in Jakarta?
Although Pasar Baru is an interesting stop for most tourists, especially those seeking fabrics, it doesn't have the most food choices in comparison to other markets around the world. It does have a few restaurants and some street vendors, but the quality of restaurant choices could still be improved.
---
10 Closest Hotels to Pasar Baru in Jakarta
***Organized according to Star Rating
---
Final Thoughts about Visiting Pasar Baru, Jakarta
Pasar Baru is a worthwhile Jakarta attraction to see if you're already in Central Jakarta.
Because it's very near other Jakarta attractions like the  Monas and National Gallery of Indonesia, it won't take you long to at least walk down to this popular Jakarta market.
While it's not our favorite market in Jakarta, it's definitely one of the most historical markets in the city.