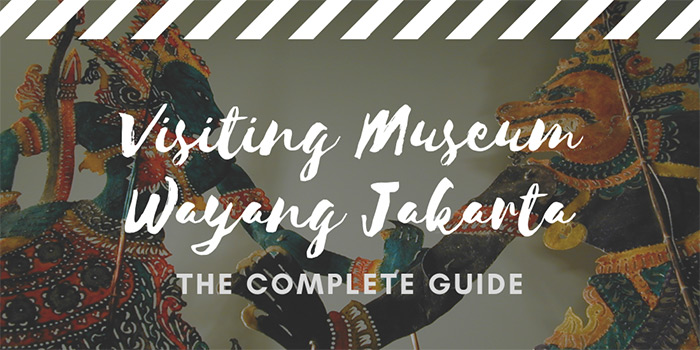 The Museum Wayang or Puppet Museum is one the most interesting museums in Jakarta. If you visit the Wayang Museum (in Bahasa Indonesia it's called Museum Wayang) in Jakarta you get the chance to see a large collection of Javanese Wayang puppets located right in the heart of Kota Tua – the old quarter of the the city.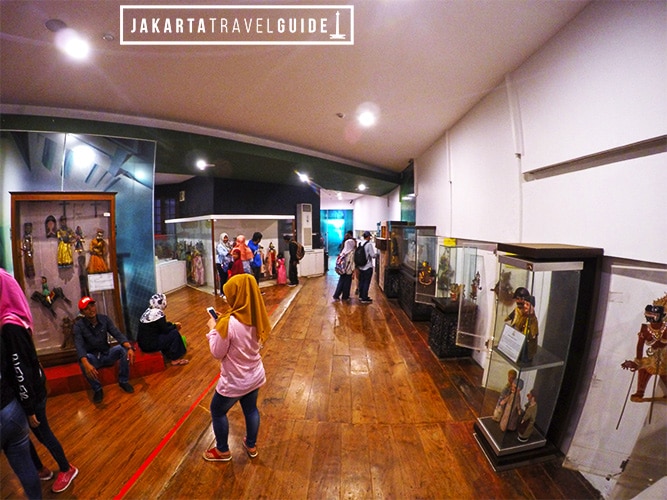 Wayang Museum (Puppet Museum) Visit Overview
The Wayang Museum is considered to be one of the best collections of flat wooden puppets throughout all of Java.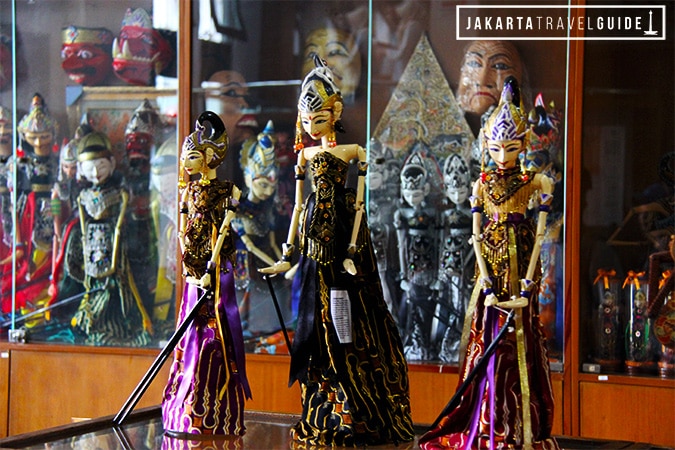 But that's not all!
There are also puppets that you will see in the Wayang Museum that are originally from  India, Cambodia, China, Vietnam, as well as countries in Europe.
You will have an idea of how puppets from different areas of the world look. And their differences are quite remarkable!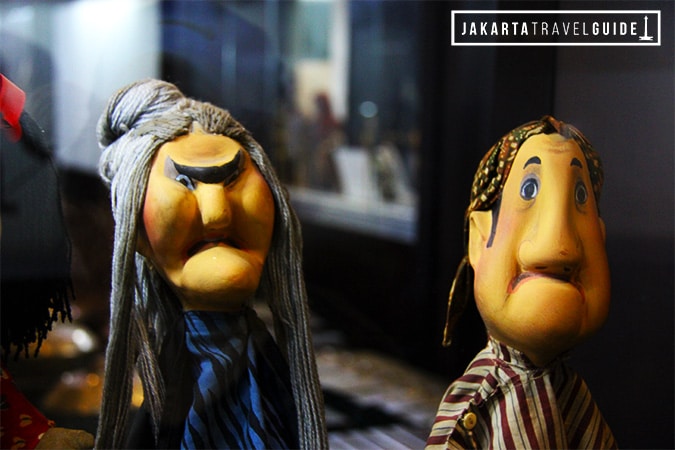 Due to its extremely convenient location; the Wayang Museum is a popular place to visit for tourists and locals exploring the Old Dutch colonial area of Jakarta.
The Museum Wayang or Puppet Museum faces facing Fatahillah Square of Kota Tua. It consists of multiple floors of displays with most puppets and masks being showcased in glass containers.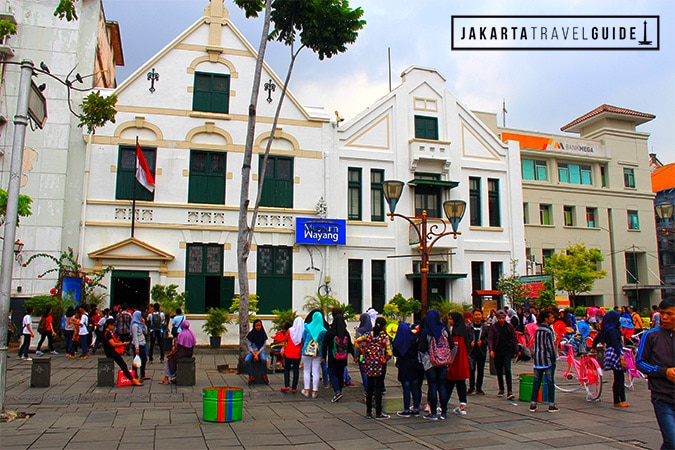 There is also a gift shop located near the exit of the building, where you can purchase a few souvenirs before you leave.
Under most circumstances, tourists that visit the Wayang Museum are usually walking around Fatahillah Square.
Therefore, if you are already in Kota Tua, it won't take very much effort to check out the Wayang Museum during the same trip.
Wayang (Puppet Museum): Essential Visitor Information
Wayang Museum is open from Tuesdays to Sundays: 8 am to 5 pm.
The museum is closed on Mondays. 
Entrance fees: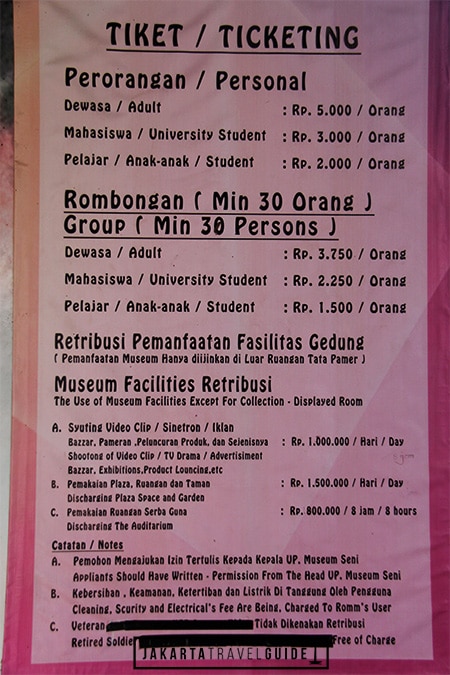 ---
Wayang Museum Visit Travel Insider Tip
If you are in Fatahillah square visiting the Wayang Museum then it's the perfect opportunity to sample some cool cafes in the area.  
Jakartans love their 'kopi' (coffee). Cafe Batavia, which is regarded as one of the most famous cafes in all of Indonesia is literally 50 meters away from the Wayang Museum.
Therefore, if you're planning on visiting the Wayang Museum or Fatahillah Square in general, plan to have a drink and meal at Cafe Batavia or one of the other locals places near Kota Tua.  
---
What is around the Wayang Museum (Puppet Museum) Jakarta?
You couldn't find a more convenient location for the Wayang Museum than where it is right now!
It overlooks Fatahillah Square, the Museum of Fine Arts and Ceramics and Jakarta History Museum. It is also right across from Cafe Batavia.
You can easily walk to any of these points of interest from the Museum.
If you walk about 300 meters south of the Wayang Museum, you will reach two other museums worth checking out: Bank Mandiri Museum and Museum Bank of Indonesia. They located directly beside each other.
You might want to also consider checking out Sunda Kelapa and the Maritime Museum. They are both a few kilometers north of the Wayang Museum. Most tourists arrange a ride to get to them.
The area around Wayang Museum isn't particularly well known for great places to stay. This area mainly has budget accommodation choices.
A few of the highest rated hostels in this area are Wanderloft Hostel and Teduh Hostel Kota Tua. They are both within walking distance of the Wayang Museum.
If you want something more elaborate, try Grand Mercure, Harris Vertu Hotel Harmoni or Yello Hotel Harmoni. These three choices are located in Gadjah Madah – an area close to Chinatown but still close enough to both Kota Tua and the Monas.
---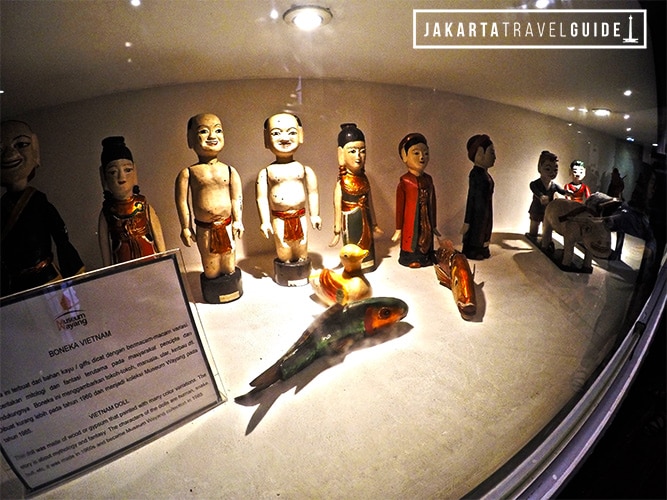 The Pro's and Con's of Visiting Museum Wayang  (Puppet Museum)
Why should you visit the Wayang Museum in Jakarta?
The Wayang Museum in Jakarta is a must-see for visitors to Jakarta that are interested in seeing Java's take on puppetry. Since the museum is located in such a convenient location in Fatahillah Square, it doesn't require much effort to visit the museum if you are already 'seeing Kota Tua'.
Another reason why you should at least take a look at the Museum is the fact that the entrance fee is very affordable, especially in comparison to other museums around the world.
If you get a chance to see one of the puppet shows that would also be an added bonus.
Why may you not want to visit the Wayang Museum in Jakarta?
 If you aren't interested in viewing works of art, the Wayang Museum might seem unsubstantial to you. Also, if you are short for time and completing a quick visit to Jakarta this is an attraction that some visitors that might build into their itinerary for their next visit to the city.
---
10 Closest Hotels to Museum Wayang in Jakarta
***Organized according to Star Rating
---

Final Thoughts on Visiting the Wayang Museum (Puppet Museum) in Jakarta
The Wayang Museum is a very convenient and quick museum to visit if you are in the Kota Tua area.
It can be easily included in a 2-3 hour visit to Fatahillah Square.  
The museum itself could use a major facelift and more resources could be put into making it a better museum to visit.  Considering it's very affordable price, the Wayang Museum is worthy of a visit, but it still isn't one of Jakarta's best museums.
If you have visited many top-notch international museums or galleries before you might be disappointed with the upkeep.  If you're in Kota Tua, definitely check it out but make sure that you are planning on seeing more than just the Wayang Museum during your visit to Kota Tua.