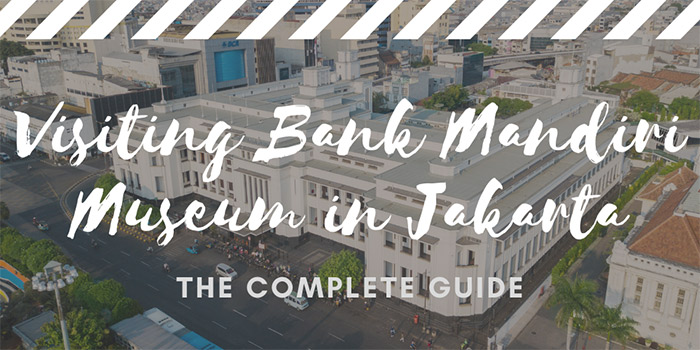 The complete guide to Museum Bank Mandiri in Kota Tua Jakarta.
The Bank Mandiri Museum is one of the top museums to visit while in Jakarta, Indonesia. Locally known in Bahasa Indonesia as Museum Bank Mandiri, this museum is located in Kota Tua, otherwise known as Jakarta Old Town.
If you decide to visit the Bank Mandiri Museum you will notice that it is only minutes away from Fatahillah Square. Since this museum is located in the old part of Jakarta, it comes as no surprise that it is housed in a Dutch colonial building with large rooms and high ceilings.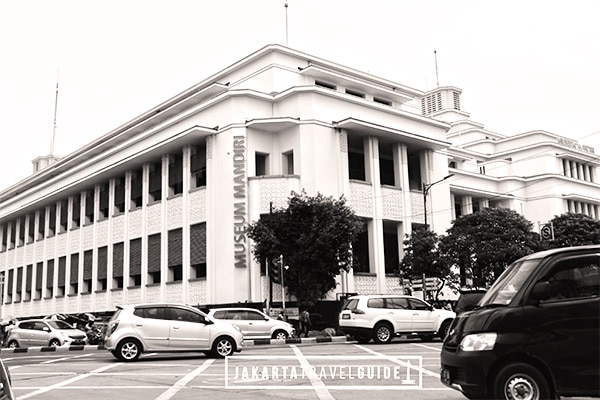 The Museum Bank Mandiri officially opened in 1998. Ever since it has showcased exhibits related to banking activities in Indonesia.
What to See in Bank Mandiri Museum Jakarta?
When you visit the Bank Mandiri Museum you will see old currency notes, safes, deposit boxes and aged ATM's scattered throughout multiple rooms.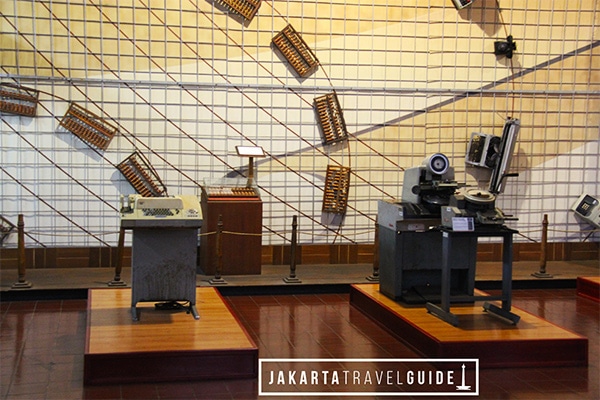 Since the Museum currently does not focus on electronic displays, it still feels like an authentic colonial-era establishment which you might appreciate.
Bank Mandiri Museum often has local vendors set up directly in front of the museum which adds some local flavor to the colonial district of the city.
Jakarta Visitor Tip: Old Banking Machinery
One of the most interesting sections of the Bank Mandiri Museum is, without doubt, the large collection of old banking machinery and instruments located on the bottom floor of the Museum.
When you first enter the Museum you will travel upstairs.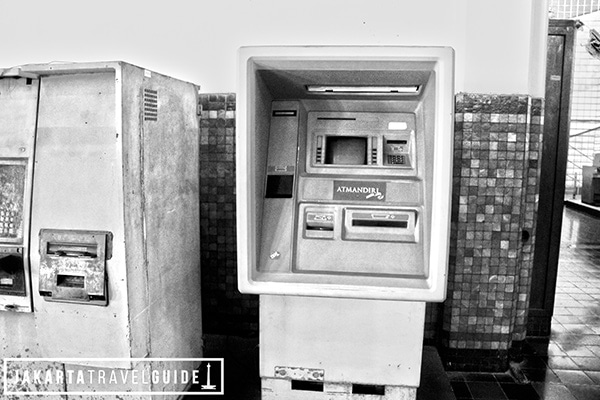 When you come back down to exit the building you will find this exhibit directly behind the ticketing kiosk. If this sounds interesting to you, then try to allocate more time in this area of the Museum, as opposed to upstairs. This exhibit does a nice job of highlighting the important role technology has played towards the evolution of the banking industry within Indonesia.
---
Jakarta Visitor Tip: Kota Tua Museum Budget
Although some visitors consider Kota Tua's selection of Museums somewhat outdated, they are still very popular due to two main reasons: 1) affordability and 2) convenience.
The Bank Mandiri Museum, like the other Museums in Kota Tua, has an entrance fee of just 5000 IDR for adults. This is obviously very affordable in comparison to most Museum entrance fees around the world. Most people that visit the Bank Mandiri Museum don't only visit it, but also the other Museums in the area. The four other museums in Kota Tua within a five-minute walk of the Bank Mandiri Museum include:
Each one of these museums also has an entrance fee of 5,000 IDR for adults. With some basic math, a four-person travel party of 4 could see all five museums around Fatahillah Square for only 100,000 IDR which is less than $10 USD. This is extremely good value, and even if you are not a 'museum person' visiting these museums will quickly provide you with deeper insight into Indonesian culture and the historical development of the country.
---
The Pro's and Con's of Visiting Bank Mandiri Museum
Why you should visit the Bank Mandiri Museum in Jakarta?
The Bank Mandiri Museum in Jakarta is very accessible for most visitors to the city. You can easily get a taxi or a ridesharing driver to drop you off right at the doorstep of the Museum.
Visitors with an interest in the banking industry or a liking for antique banking machines should find the Museum particularly interesting. The entrance fee is extremely affordable, especially if you are traveling as a family. It is also situated in one of the most concentrated areas for sightseeing in all of Jakarta – Kota Tua.
Why you might not want to visit the Bank Mandiri Museum in Jakarta?
Like some of the other museums in Jakarta, the Bank Mandiri Museum could arguably use a renovation. Some visitors will appreciate the colonial feel to the Museum, whereas others might find some of the exhibits quite basic and outdated. You can be the judge.
---
Thoughts on Visiting the Bank Mandiri Museum in Jakarta
The Bank Mandiri Museum in Jakarta is an easy 'sight to see' while you're in the city due to its location and affordable entrance fee.
During our visits to the Museum, we have found it very easy to form conflicting views about the place.  Some visitors will consider the Museum to have an authentic colonial feel, whereas others will find it outdated, needing a face-lift. We think that the Museum could strive towards updating some of the exhibits and rooms to make the experience more interactive for visitors.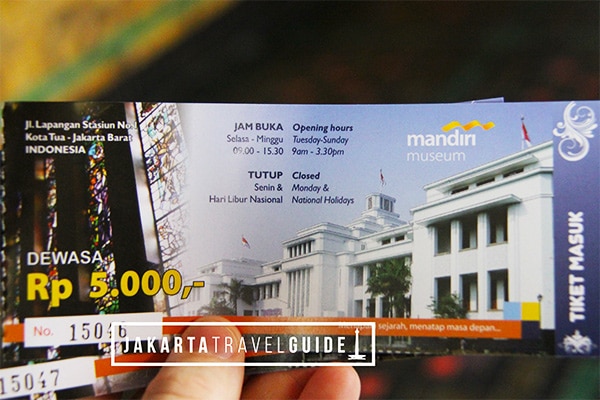 The neighboring Bank of Indonesia Museum, in our opinion, has placed a greater emphasis on using technology to make displays more informative and engaging.
Our visits to the Bank Mandiri Museum have lasted around 30 minutes.  Since it isn't the largest museum in Jakarta, plan for it to take you anywhere from 20 minutes to an hour to check it out.    
Bank Mandiri Address: Jl. Lapangan Stasiun No.1, RT.3/RW.6, Pinangsia, Tamansari, Jakarta Barat, 11110
Hours of Operation: Tuesday to Sunday : 9:00 am to 3:00 pm
Monday: Closed
---
What is around Bank Mandiri Museum in Kota Tua?
Visiting Museum Bank Mandiri in Kota Tua is a practical decision because of its proximity to the other attractions in Kota Tua. You won't have to make an additional trip through Jakarta's traffic to get there.
Other Attractions in Kota Tua
The following points of interest are within walking distance of Bank Mandiri Museum:
If you are checking out Kota Tua, consider working from south to north. Start by visiting Museum Bank Mandiri. Then walk about 50 meters north to the Bank of Indonesia Museum.
Make comparisons between the two and see which one you like the most.
Once you have visited these two museums walk 300 meters north to Fatahillah Square. This is the heart of Kota Tua (the former Dutch colonial district of Jakarta).
Wayang Museum, the Museum of Fine Arts and Ceramics as well as Jakarta History Museum all surround Fatahillah Square. You can easily walk to any one of these in one minute once you reach the square.
After you have visited Museum Bank Mandiri you can walk to any of these in under 5 minutes.
Attractions North of The Museum
If you still want to check out more attractions near Kota Tua considering traveling north to Sunda Kelapa and Jakarta's Maritime Museum. You can try to arrange a short ride to reach either one of these points of attraction.
If you travel south of Museum Bank Mandiri you will reach Chinatown. Chinatown various street markets that you can explore.
It is possible to walk between the Museum Bank Mandiri and Chinatown. If it's too hot outside get a ride instead.
You won't find too many shopping malls in the direct vicinity of Kota Tua.  But you can find various electronic shopping malls in Mangga Dua.
You can drive from Museum Bank Mandiri to Mangga Dua in about 10 minutes.
Best Accommodation Options to Choose
If you want to stay near Museum Bank Mandiri, then most of the choices in this area are budget hotels.
You might want to consider staying at these properties:
You can walk to them from Museum Bank Mandiri in just a few minutes.
If you are looking for larger rooms and better service standards then you can stay in Gadjah Madah. Yello Hotel Harmoni, Harris Vertu Hotel Harmoni and Grand Mercure Jakarta Harmoni Hotel are positively reviewed by guests.
These hotels are centrally located between Kota Tua and the Monas. This can help you save time commuting during your stay in Jakarta.
---
10 Closest Hotels to Bank Mandiri Museum in Jakarta
***Organized according to Star Rating