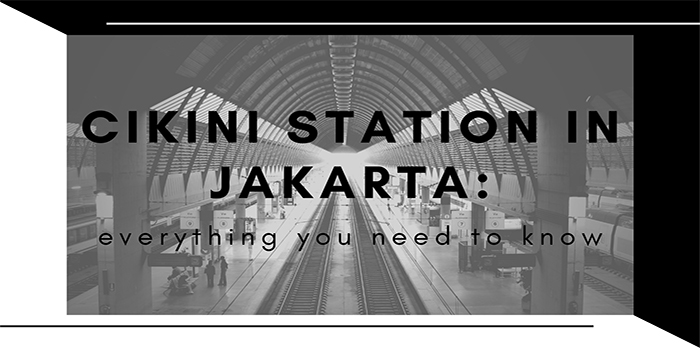 Cikini Station, locally known as Stasiun Cikini in Bahasa Indonesia is a commuter train station located in Menteng, Central Jakarta.
Commuter Line(s): Blue Line and Red Line
Train Platforms: 2 side platforms
Number of Tracks: 2
Commuter Line Information for Cikini Station
Cikini is a stop on the commuter lines which connect Jakarta Kota Station in the north to Bogor, Bekasi and Depok in the south.
The Red Line connects Jakarta Kota Station to both Depok and Bogor, whereas the Blue Line connects Jakarta Kota to Bekasi.
Cikini Station only services commuter lines in Jakarta with no direct connections to the MRT or LRT as of the moment.  
There are no intercity trains that depart from this station.
Despite the fact that Cikini is not a main transfer station, it is still quite strategic due to its proximity to Manggarai Station.
Manggarai is the next station south of Cikini. Only 1.6 km separates these two stations. If you travel to Manggarai you can transfer between the Yellow, Red and Blue Commuter Lines. Manggarai, arguably, is one of the most important stations in the entire commuter system.
Due Cikini Station's prominent location in central Jakarta, it is quite close to some of Jakarta's most popular public parks and it is only a few hundred meters away from one of Jakarta's most interesting markets – Pasar Jalan Surabaya.
What is located around Stasiun Cikini in Jakarta?
Stasiun Cikini is located in Menteng, which is a wealthy area in central Jakarta that is known for tree-lined roads and large colonial mansions.
If you decide to stay at a hotel near Cikini Station then you will be within 1.5 kilometers of three of Jakarta's most popular public parks:
Of the three, Taman Menteng is the farthest from Cikini Station.  It should take you about 20 minutes to walk to Taman Menteng, whereas the other two parks should take you around 15 minutes depending on your walking pace.
Jalan Surabaya Antique Market is the closest tourist attraction from Cikini Station, with it being only 500 meters away.  It takes under 5 minutes to walk from Cikini Station to Jalan Surabaya.
There are some really, really nice hotels within walking distance of Cikini Station.  
The Hermitage, a Tribute Portfolio Hotel is one of the most positively reviewed properties in all of Jakarta and it is only 450 meters from Cikini Station.  You can walk there in under 5 minutes.
Similarly, the DoubleTree by Hilton Hotel – Jakarta Diponegaro is a solid choice that is only 500 meters from Cikini Station.
If you want to stay to the north of Cikini Station then Mercure Jakarta Cikini is a good choice.  It is cheaper than the DoubleTree and the Hermitage, and it's only a 7 minute walk from Cikini Station.
About another 600 meters north of Mercure Jakarta Cikini you can explore Taman Ismail Marzuki.  This area has a few theatres and the Planetarium.