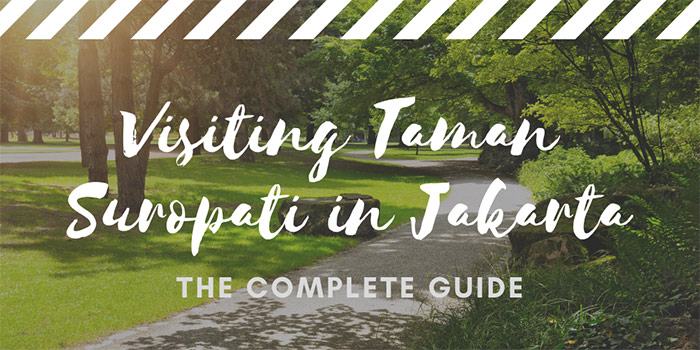 The Complete Guide to Taman Suropati in Central Jakarta. 
If you are in central Jakarta, consider visiting Taman Suropati for some local culture and fresh air.
Suropati Park, which translates to 'Taman Suropati' in Bahasa Indonesia is a popular public park, located in the middle of Menteng in Central Jakarta. Suropati Park is named after Untung Suropati who is regarded as an Indonesian War Hero.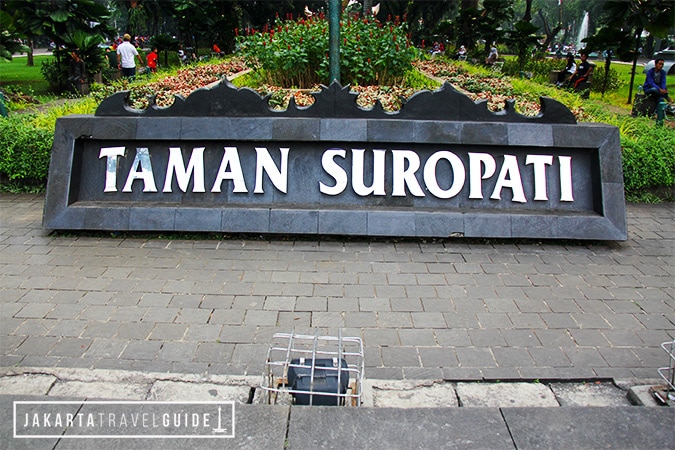 The Park is located in such a way that three of Jakarta's streets surround it: Teuku Umar Street, Diponegoro Street, and Imam Bonjol Street.
Although Suropati Park is not overly large, it does have some very tall, mature trees scattered throughout it that provide excellent shelter from the sun.
As one of the most famous public parks in Jakarta, Suropati, is usually quite clean with a nice relaxing feel. The park maintenance has been pretty good over recent years.  It does have some pathways that can be used for walking or jogging, but you will have to do quite a few laps in order to get an extensive workout.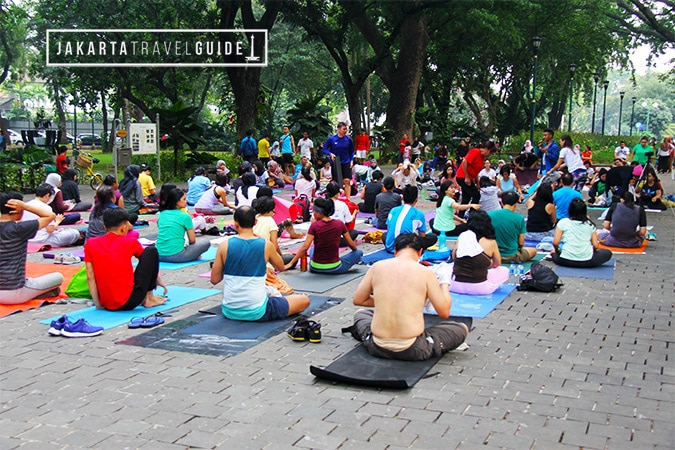 Suropati Park is definitely more famous because of its atmosphere opposed to its size or scenery.
During weekends, in particular, it's common for locals to visit Suropati Park during the evening time to relax and to listen to local musicians.  If you walk around the park after 9 pm you will most likely find young musicians jamming along the walkways. This is an excellent time to get a true feel for the warmth and happiness of the locals in Jakarta.  Watching locals playing music for free in a public park with bright smiles and not a worry in the world is an authentic experience to be a part of while in the city.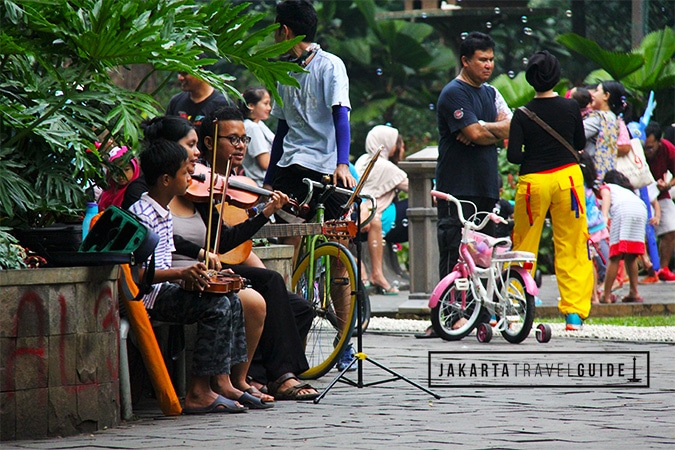 While you're walking around Suropati Park you will also notice some statues. Six to be exact.  These are statues from other ASEAN founders and they were added to Suropati in 1984.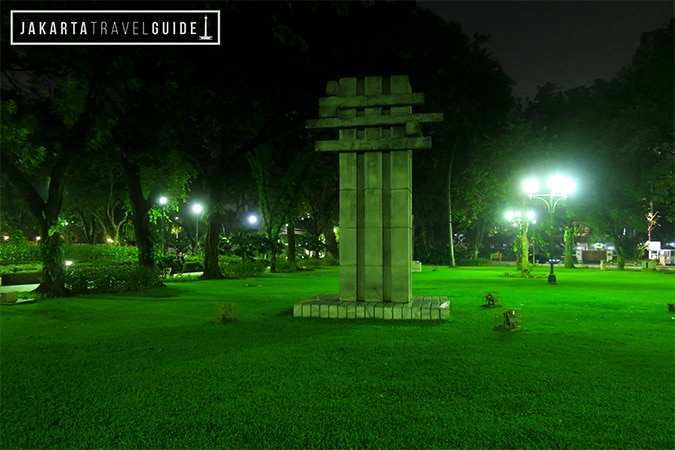 ---
What is around Taman Suropati in Jakarta?
Since Suropati Park is located Menteng, a district of central Jakarta, it is also quite close to some of the most popular shopping malls in the city.
Shopping Malls
Grand Indonesia, Plaza Indonesia and Thamrin City are three popular malls that are located only about 1.5 km southwest of the park.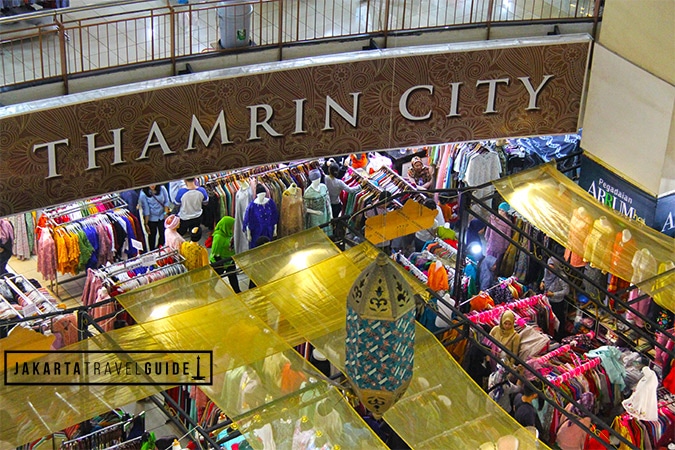 The hotels around these malls are also a great spot for staying in Jakarta, with convenient access to Taman Suropati. Hotel Kempinski Indonesia, the Grand Hyatt and the Mandarin Oriental are all excellent places to stay.
If you are in the mood for exploring a few more of Jakarta's green spaces then Suropati Park is in an ideal location, since it's within walking distance of both Menteng Park (Taman Menteng) and Situ Lembang Park (Taman Situ Lembang).  Consider combining all three parks into your workout.
You will also be close to some museums and markets when you are visiting Taman Suropati.
Jalan Surabaya Antique Market is only about 950 meters east of Suropati Park. You can walk between these in 10 minutes or arrange for a short ride.
Museums
The three closest museums to Taman Suropati are General Ahmad Yani Memorial Museum, Proclamation Museum and Grand General A.H. Nasution Memorial Museum. You can drive to any of these museums in five minutes from Taman Suropati.
The best place to stay that is within walking distance of Taman Suropati is The Hermitage – a Tribute Portfolio Hotel. It is only a 800 m/10 minute walk from the park. It typically receives review scores of 9/10 on major accommodation booking sites.
---
JTG Insider Tip: Plan for a late-night picnic.
Suropati Park is at its best after 9 pm on Saturday night. Bring a blanket or a sarong and relax while listening to some of Jakarta's local musicians play till the wee hours of the morning. Although it's free to listen, it never hurts to support artisans by providing a tip if you really enjoy what you hear!
Expect to see different groups playing with different instruments during your visit to Suropati Park.
If you are a foreigner, don't be shy as Jakartans are known to be extremely welcoming. If you can play an instrument, even consider bringing it along, as this is an awesome way to interact with the locals.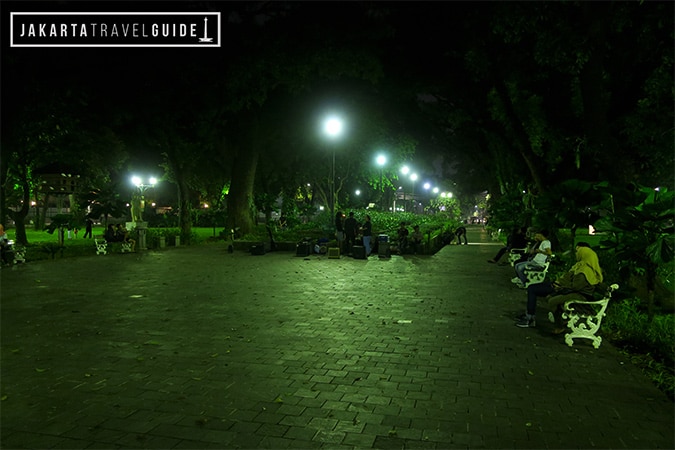 ---
The Pro's and Con's of Visiting Suropati Park
Why you should visit Suropati Park in Jakarta?
Suropati Park is very conveniently located in central Jakarta.  It should only take you a few minutes to get there if you are staying near the Monas or in the Thamrin shopping area. It's also completely free and has no entrance charge regardless of when you decide to visit. Suropati Park is close to nearby attractions and it is within walking distance to some of Jakarta's most popular malls like Grand Indonesia, Plaza Indonesia and Thamrin City.
Its close proximity to Menteng Park and Situ Lembang Park makes it possible for runners and cyclists to combine the parks together to increase their distances covered.  
The main reason why most people love Suropati Park in Menteng is to get some fresh air while exercising, relaxing or listening to some live music. For a city that could use some more 'green lungs', Suropati remains one of the most popular parks with Jakartans.
Why you might not want to visit Suropati Park in Jakarta?
Don't visit Suropati Park thinking it's going to be like Central Park in New York.  It is small, and its size might disappoint you. There are large, mature trees around the Park, but the greenery is not dense enough to block your view of surrounding traffic. Also, don't arrive at Suropati Park thinking you will see a large concert stage setup for evening music.  
Suropati at night is quite informal with groups of musicians jamming.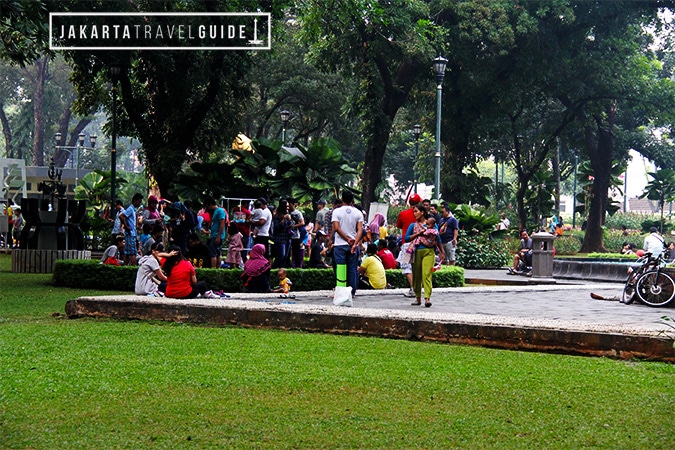 ---
10 Closest Hotels to Suropati Park in Jakarta
***Organized according to Star Rating
---
Final Thoughts: Visiting Suropati Park in Jakarta
Suropati Park is really well known amongst people living in Jakarta, but especially the Indonesian population.  
If you ask a local what park you should visit, "Suropati Park" is a very common answer.
Indonesians love music, and many of them are becoming more active especially in terms of walking, running and cycling.  This makes Suropati a popular choice.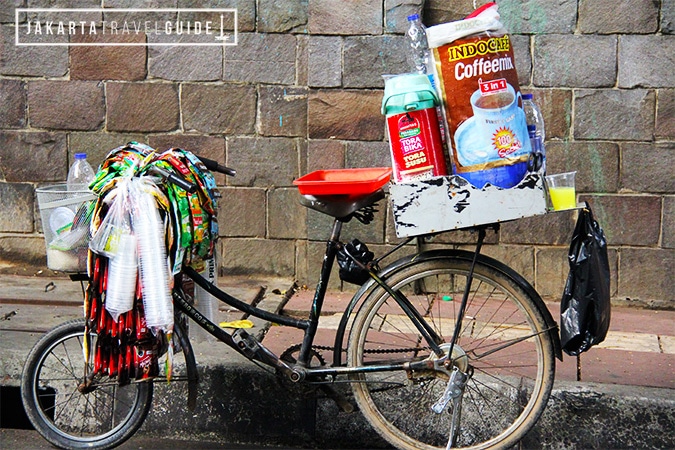 The atmosphere at Suropati can be really nice, especially if you like a mellow, artsy feel.
Exercising there is not ideal, primarily due to its small size.  If only Jakarta had more free space to make the Park larger! Suropati has been quite clean during our recent visits, so hopefully this becomes the norm.
When you consider its ideal location and cool atmosphere, Suropati Park is one of Jakarta's favorite parks.  If exercising is your main goal, however, you might want to try the grounds surrounding the Monas instead.