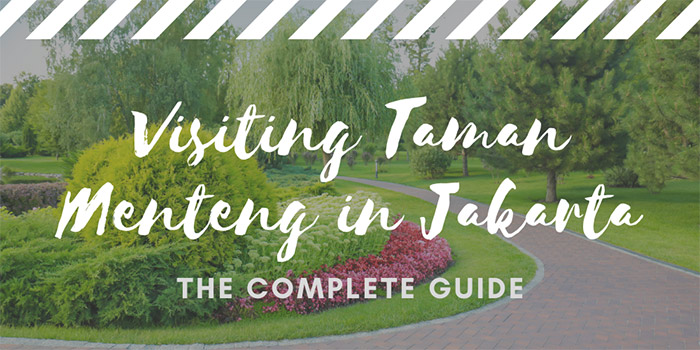 Everything you need to know about visiting Taman Menteng which is ideally located in central Jakarta.
Taman Menteng, which translates to 'Menteng Park' in English is a small public park in the Menteng area of Jakarta. As you have probably noticed, this park is named after the area in which it is located.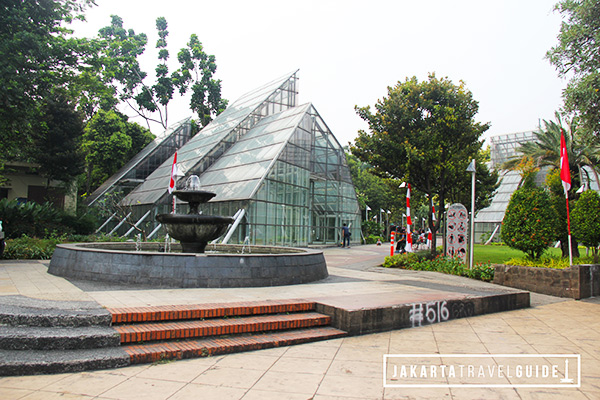 Menteng is one of Jakarta's most elite neighborhoods with expensive real estate prices, tree-lined roads, and massive houses. Many museums and colonial properties are in this area of the city.
Visiting Taman Menteng can be really convenient if you are staying in central Jakarta.
It is ideally located in central Jakarta. It is within walking distance of some of Jakarta's most popular shopping malls such as Grand Indonesia, Plaza Indonesia and Thamrin City.
Similarly, it is also within walking distance to some of Jakarta's most famous parks such as Suropati Park and Taman Situ Lembang. Of these, Suropati is the most famous among Jakartans, with Taman Menteng being a close second.
Taman Menteng is an interesting place to visit if you are in Jakarta for a couple of reasons.  
First off, it offers a small green space to exercise in a city that could surely use some more! And secondly, it's an excellent place to relax and simply 'people watch' throughout the park.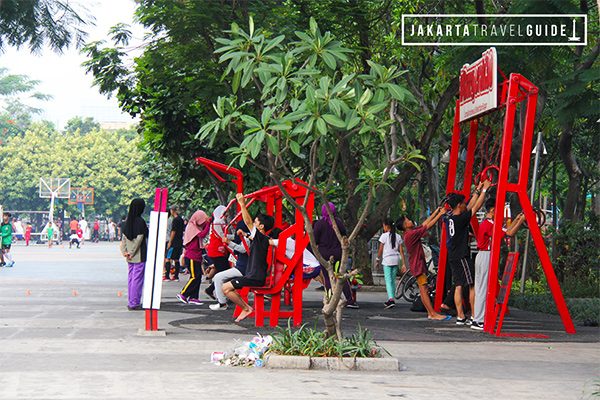 At one moment you might see a mother or father teaching their son or daughter how to play the guitar or violin.  And, a few minutes later you might see a family working out together at the outdoor gym.
Although Taman Menteng is neither the most modern nor the largest park you will see,but it still serves as an important facility for urbanites to exercise and talk about what's happening in the city.  
Sporting Facilities
When you visit Taman Menteng you will quickly notice that there are some public sporting facilities there.
There is a basketball court with two baskets that are commonly used. If you visit on a weekend you might have the chance to watch a pretty competitive game going on. Some of the players are quite skilled.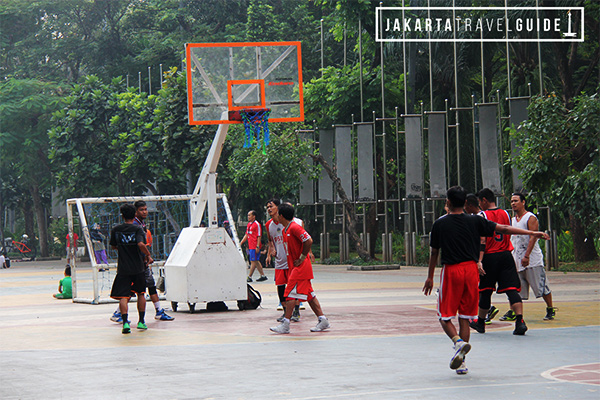 There is also a cement futsal field.
In the vicinity of the futsal, there is a bunch of outdoor gym equipment that is difficult to miss due to its brightly painted color. It is common to see locals working out at this gym, especially during the morning hours on Saturday and Sunday.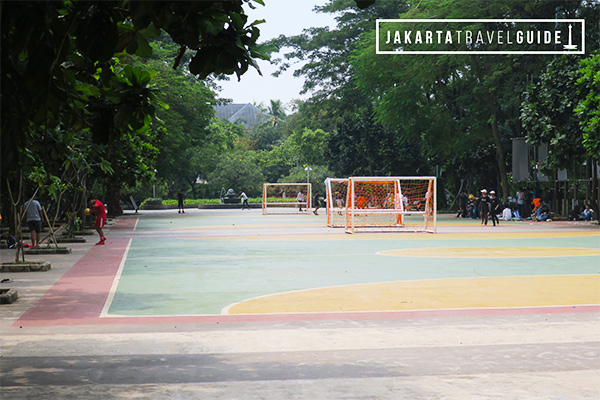 Also, keep in mind that there is an outdoor playground located in the park as well if you have children.
Taman Menteng also consists of some pathways and park benches scattered throughout it.
Although food vendors are technically not allowed to sell their stuff directly in Taman Menteng, there is usually a series of food vendors set up near the north-central entrance. They specialize in selling local snacks.  But if the local food appears a bit too exotic or spicy, there is also Plaza Menteng located adjacent to Taman Menteng that has common Western chains including Starbucks.
---
Taman Menteng: Essential Visitor Information
GPS Coordinates: -6.196413, 106.829309
Address: Jl. HOS. Cokroaminoto, RT.3/RW.5, Menteng, Kota Jakarta Pusat, Daerah Khusus Ibukota Jakarta 10310
---
What is located around Taman Menteng Park in Jakarta?
With Menteng Plaza being located so close to the park you will have no problem finding refreshments if you are working out at Taman Menteng.
If you are staying at one of the hotels in Menteng or Thamrin then consider making a visit to Taman Menteng. Even if you visit for only a few minutes you will get a chance to see locals adopting a healthier lifestyle which is always an exciting thing to see in a developing country such as Indonesia.
If you are in Jakarta and you want to fit a run or jog into your itinerary, then an interesting idea is to combine Taman Menteng, Suropati Park and Lake Lembang Park into your plan.
All three of these parks in Menteng are within walking distance of each other, and therefore, are very accessible if you wish to do some laps of each one during the same run.  
You will find stone pathways surrounding the parks, but if you are running in the early morning or late evening when traffic isn't too heavy, you might find the roads surrounding these to be a better contact surface for your knees and other joints.
The roads connecting Menteng, Suropati and Lembang are quiet during the morning hours on the weekends, with the best day of the week being Sunday. Sundays tend to have far less traffic than all other days in Jakarta.  
You can also consider planning your exercise on Sunday morning to take part in car-free Sunday. You easily get from Taman Menteng to the car-free zone in central Jakarta in only 5-10 minutes.
Consider bringing along a Yoga mat or a skipping rope to fit in some alternative workout ideas as well. If these parks were larger then there would be no real reason to combine all of them into the same run.  Due to their size it's best to do a few laps at each one.
---
The Pro's and Con's of Visiting Taman Menteng
Why you should visit Taman Menteng in Jakarta?
Taman Menteng is a great place to check out some of the locals socializing during their downtime.
If you like basketball (either watching or playing) they do tend to have some entertaining pick up games on the court in the park.
The outdoor gym offers some machines for people to burn a few calories. If you are staying near Menteng it's a nice place to relax and read a book for a few hours. And as mentioned before, Suropati Park and Lake Lembang Park are nearby within walking distance.
There is no admission fee to enter Taman Menteng and the park is very conveniently located if you are staying in central Jakarta.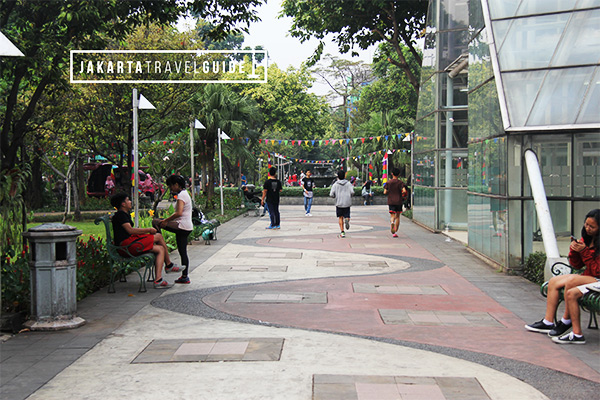 Why you might not want to visit Taman Menteng in Jakarta?
Taman Menteng, like many of the parks in Jakarta, is quite small.  It leaves many visitors with the feeling of "if only if it were bigger!"  
The main limitation it has is that it simply isn't large enough to cycle or run around if your goal is to cover some serious kilometers. That's why it is suggested to combine your run or bike ride with Suropati Park and Lake Lembang Park to add some distance. Car Free day is also a great idea.
---
Final Thoughts about Visiting Taman Menteng in Jakarta
Taman Menteng serves as an important tiny patch of green space in central Jakarta. If you are not from Jakarta you might find it interesting to see how Jakartans spend their free time in the park.
It's also a convenient place to find Indonesian street food at one of the small vendors around the park.
Since Taman Menteng does not receive too many foreign visitors, the prices should not be overly inflated. Taman Menteng is not the most ideal place for running or cycling in Jakarta due to its small size.  You will most likely find the Monas area, Ragunan Zoo, Ancol, Bung Karno and Taman Mini as better locations for outdoor exercise.
There are some quality restaurants at nearby Grand Indonesia and Plaza Indonesia if you are also planning on eating lunch or dinner in this area of Menteng.
Best Accommodation Options Nearby
Some of Jakarta's best hotels are located east of Taman Menteng around Bundaran HI and the Selamat Datang Monument. They include:
Some of these properties even give out maps for guests to show them how to access parks such as Taman Menteng to promote exercising in Jakarta.
---
Jakarta Travel Guide Insider Tip: Add Taman Menteng to your walking tour.
An interesting and unconventional walking tour is to mix up a bit of shopping with visits to the three parks in Menteng.  
You can shop at Thamrin City, Grand Indonesia, and Plaza Indonesia and then walk to Suropati Park, Taman Menteng, and Lake Lembang Park before finishing your tour at Jalan Surabaya – an antique market in central Jakarta.
This will give you different perspectives about daily life in Jakarta.
---
10 Closest Hotels to Taman Menteng in Jakarta
***Organized according to Star Rating