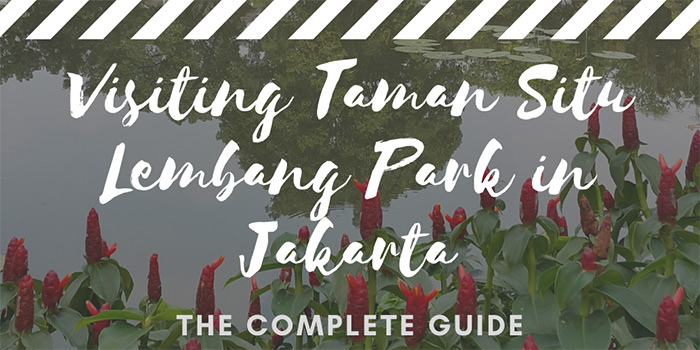 Everything you need to know about visiting Taman Situ Lembang in Menteng, Jakarta.
Taman Situ Lembang, which translates to 'Taman Situ Lembang'' in Bahasa Indonesia is a public park located in the elite Menteng area of central Jakarta.
In the middle of Taman Situ Lembang is an artificial lake that adds a lot of appeal to the place.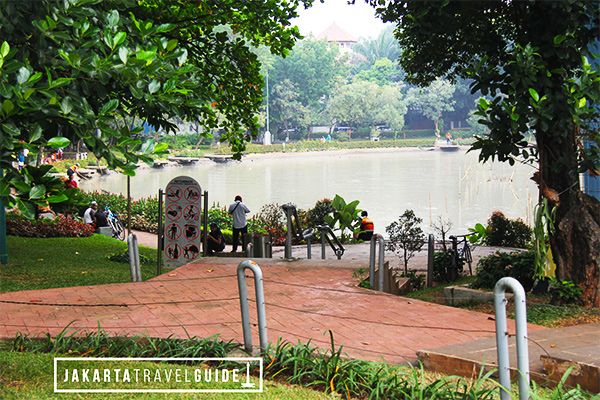 The park itself is quite small and you can easily walk around it in less than 10 minutes. Along the way you will walk by some nice lotus trees and benches where you can sit down and relax.
Taman Situ Lembang is also equipped with public washrooms. If you arrive at Taman Situ Lembang in the early morning or early evening when the lighting is best for photos you can capture some really nice water reflections.
This park is also conveniently located within walking distance of a few of Jakarta's most popular public parks: Suropati Park and Menteng Park. All three of these green spaces are quite small and therefore it might be a wise idea to combine all of them if you are planning on going for a run or a bike ride.
The roads between these parks tend to be particularly quiet in terms of traffic on Sunday mornings. Since they are within walking distance from one another it is a practical option to visit all three of them consecutively if you are staying in Jakarta.  
Like most public parks in Jakarta, you can expect to have some local street vendors setting up shop at Taman Situ Lembang during busy times (especially on weekends).
When you walk around Taman Situ Lembang you will notice that there are some cement outcroppings that extend over the lake a meter or two.  These are ideal for relaxing on, especially if you have some chairs that you can bring along to sit on.
If you walk around the road surrounding Taman Situ Lembang there are also some beautiful, really old trees that look like they should be in the middle of the jungle, opposed to being in the middle of Jakarta. Regardless, they make excellent shade during the peak afternoon hours.  
Taman Situ Lembang, like Menteng Park, has an outdoor gym for visitors to use while they are there. Consider running some laps of the park and then working in some reps at the gym.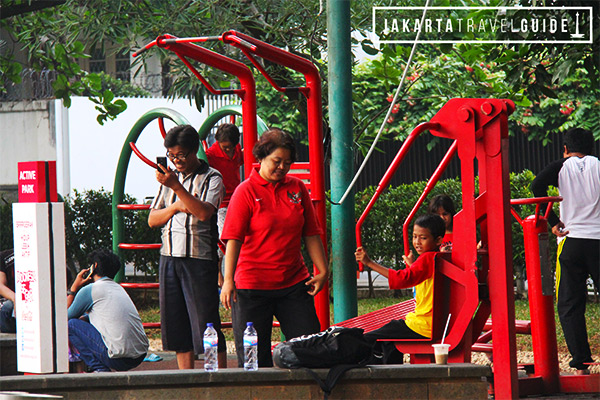 Situ Lembang Park is a popular choice for locals despite its small size. Everyone just wishes that there were more parks like this scattered throughout Indonesia's largest city!
---
Jakarta Travel Guide Insider Tip: Run-Machines-Run-Machines (Parks in Menteng)
A cool cross-training exercise to complete in Menteng is running between Suropati Park, Menteng Park and Taman Situ Lembang and mixing in some exercises along the way.
Both Menteng Park and Taman Situ Lembang have small outdoor gyms.
If you run around each of these parks, and also run between them, you will surely get a good workout. If you also spend 15 minutes or even more at each 'gym' you will get an even better workout.
The machines at these parks are basic but good enough for gravity-based exercises where you can use your own body weight. The road traffic around these parks is particularly quiet during Sunday mornings. But realistically, if you wake up early enough on any day, it shouldn't be too congested getting from one park to the next.
---
Taman Situ Lembang: Essential Visitor Information
GPS Address: -6.197886, 106.834671
Street Address: Jl. Lembang Terusan D-59, Kec. Menteng, RT.6/RW.5, Menteng, Kota Jakarta Pusat, Daerah Khusus Ibukota Jakarta 12910, Indonesia
---
What is located around Taman Situ Lembang in Jakarta?
Shopping Malls
Taman Situ Lembang is located close to some of the most popular shopping malls in Jakarta:
These three examples are located only about 1.7 km southwest of the Situ Lembang Park. You can either walk to them or take a short drive in a car (or moto).
Best Accommodation Options
The international hotels beside these malls are an ideal place to stay while you are in Jakarta. They are oriented around Bundaran HI and the Selamat Datang Monument:
Other Parks and Points of Interest
You can also access two other popular parks from Taman Situ Lembang:
Consider combining all three parks into your workout.
You can also access nearby museums and markets from Taman Situ Lembang.
Jalan Surabaya Antique Market is a perfect example.
This is a popular antique market that is only about 1 kilometer east of the park. This antique market has an interesting mix of antiques, masks, woodcarvings, ceramics and who guessed it, used golf clubs! You can walk between these two landmarks in about 10 minutes or arrange for a short ride.
The three closest museums to Taman Suropati are
You can drive to any of these museums in five minutes from Taman Situ Lembang.
The best place to stay that is within walking distance of Taman Situ Lembang is The Hermitage – a Tribute Portfolio Hotel.
It is only an 800 m/10 minute walk from the park. It typically receives review scores of 9/10 on major accommodation booking sites.
You can also access Taman Situ Lembang quite easily using public transportation. The closest commuter station is Cikini Station. This is just located one street over to the east.
The closest MRT Station is Bundaran HI MRT Station. Once you arrive at the station head east (20 minute (1.6 km) walk).
---
The Pro's and Con's of Visiting Taman Situ Lembang
Why you should visit Taman Situ Lembang in Jakarta?
Taman Situ Lembang is a nice patch of green space in central Jakarta.  
The lake at the center of the park makes it feel much different than visiting nearby Suropati Park and Menteng Park.
Due to the water, you will see different wildlife here in comparison to some of Jakarta's other parks that lack water. Walking around Taman Situ Lembang is a pleasant experience, albeit a short one.
If you are running or cycling in Menteng, then keep in mind that there is indeed a public washroom facility at Taman Situ Lembang. The outdoor gym is also a good thing to have at the park for exercise enthusiasts.  
Why you might not want to visit Taman Situ Lembang in Jakarta?
This park is quite small in comparison to many city parks around the world.  
Like many of Jakarta's parks, everyone who uses them just wishes that there could be more space to walk, jog, run and cycle. Running at Taman Situ Lembang simply isn't the best because you will have to do so many laps to get a serious distance completed.
The walkways and facilities throughout the park could use a facelift (renovation).
---
Jakarta Travel Guide Insider Tip: Add this park to your walking tour.
An interesting and unconventional walking tour is to mix up a bit of shopping with visits to the three parks in Menteng.  
Take the MRT to Bundaran HI Station.
Then, you can shop at Thamrin City, Grand Indonesia, and Plaza Indonesia and then walk to Suropati Park, Taman Situ Lembang and Lake Lembang Park before finishing your tour at Jalan Surabaya – an antique market in central Jakarta.
The Jalan Surabaya Antique Market is the closest point of interest to Taman Situ Lembang. Therefore, make Taman Situ Lembang your last destination prior to reaching Jalan Surabaya.  
Head home from Cikini Commuter Station.
This is a nice little itinerary for central Jakarta which will also burn some calories.
---
10 Closest Hotels to Taman Situ Lembang in Jakarta
***Organized according to Star Rating
---
Final Thoughts on Visiting Taman Situ Lembang in Jakarta
Taman Situ Lembang is a picturesque, but small park in central Jakarta.
Its central artificial lake definitely is rare to find in Jakarta and what 'puts it on the map'. Some of the old trees around the park are worth photographing with their 'jungle-like' branches and trunks.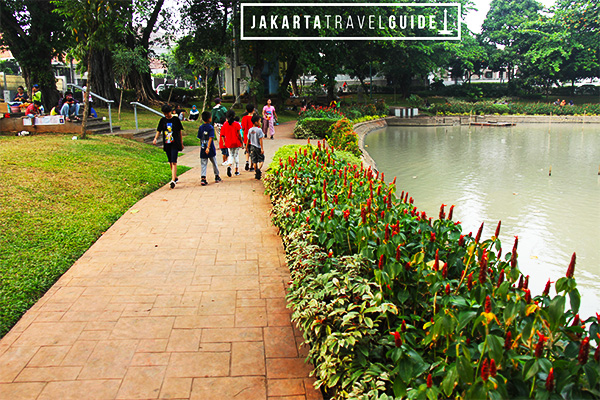 If you are an exercise enthusiast then you shouldn't only plan on running or cycling at this park as it is simply just too small.
It is easy to access the park using either Cikini Commuter Station or Bundaran HI MRT Station.