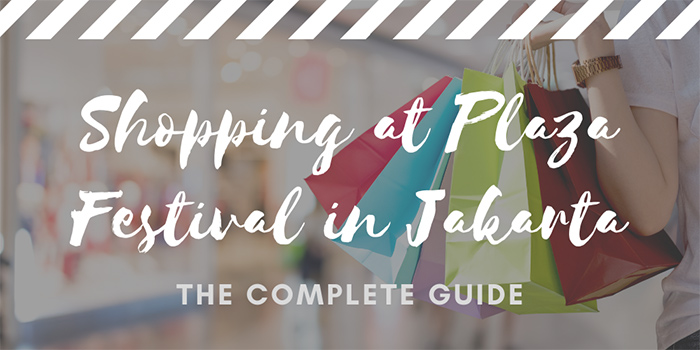 Everything you need to know about shopping and enjoying late-night dining at Plaza Festival in Jakarta
Plaza Festival is a small shopping mall located in Kuningan – one of Jakarta's best areas for shopping. People enjoy shopping at Plaza Festival, but it is also very popular with Jakartans for eating out and socializing at outdoor cafes.
The area around Plaza Festival has various malls all within a few kilometers of each other.  Unlike some of the other mega malls in Jakarta, Plaza Festival is more popular because of its restaurants and cafes opposed to its selection of stores. It isn't the largest mall by any standards, but it is ideal for chilling out and chatting over a few late night drinks with friends.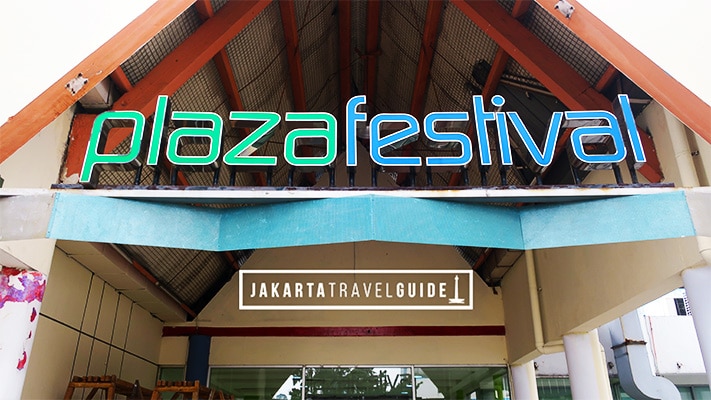 The ground floor of Plaza Festival is particularly popular with visitors because of the outside restaurants and cafes surrounding its exterior. It is common, even late at night, to see Jakartans sitting around Plaza Festival drinking coffee or beer while watching football on the television screens outside. Finger foods are also popular here.
There is also a food court within the mall that visitors can try out. Some of the cafes are well priced and the social environment is pretty cool.
As its name suggests, Plaza Festival sometimes organizes small concerts and local events at its roadside stage.
This is more common on weekends with local performers playing some music for shoppers and people eating at the mall. Since there are so many malls within a few kilometers of Plaza Festival, it is more dining oriented opposed to offering a massive selection of international brands. You can easily drive to other malls in Kuningan if you are looking for a greater selection.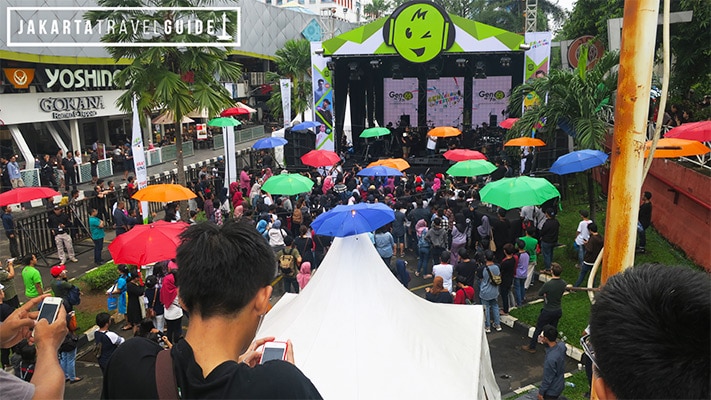 Unlike some of the other malls in Kuningan such as Kota Kasablanka, Lotte Shopping Avenue and Kuningan City Mall, Plaza Festival does not have a cinema. You can easily get to these other malls if you want to catch a movie, however.
---
Plaza Festival: Essential Visitor Information

Opening Times: Everyday from 10 am 10 pm, but the outdoor restaurants are open late!!
Address: Epicentrum, Kav. C, Jl. H. R. Rasuna Said No.22, RT.2/RW.5, Karet Kuningan, Kecamatan Setiabudi, Kota Jakarta Selatan, Daerah Khusus Ibukota Jakarta 12940
---
What is around Plaza Festival in Kuningan, Jakarta?
Plaza Festival is a popular choice for cafes and restaurants, but consider visiting one of its neighboring malls if you want to get some serious shopping done.
Shopping Malls
Mall Ambassador is one of the most popular shopping malls near Plaza Festival and for good reason.  
Mall Ambassador has an excellent selection of affordable electronic shops selling everything from video cameras, computers to the latest cell phones. Its top two floors also have a good selection of local restaurants and snacks like waffles and bubble tea.
There are also affordable salons and barbershops throughout Mall Ambassador that are great value.
Directly beside and physically-attached by a pedestrian bridge to Mall Ambassador is ITC Kuningan.
ITC Kuningan is also an affordable shopping center with electronics and cheap products like belts, socks and other accessories.
Across the road from ITC Kuningan is Lotte Shopping Avenue.
Lotte Shopping Avenue is a larger and more modern-looking shopping center than both Mall Ambassador and ITC Kuningan. It has more upscale brand names and a large department store in addition to a cinema. Lotte Shopping Avenue has nice, wide aisles and it tends to be less crowded than these other malls.
Lotte Shopping Avenue is also popular for visitors to the city because it is physically attached to Raffles Jakarta. This is widely considered to be the most luxurious 5-star hotel in all of Jakarta.
If you stay at Raffles you can also avoid Jakarta's traffic while shopping at your own convenience.
The other two malls in this area of Kuningan within close proximity of Plaza Festival are Kuningan City Mall and Kota Kasablanka. Both of these are large shopping centers with a wide selection of international chains and international restaurants. They both have cinemas.  
Best Hotel Choices Near Plaza Festival
Staying close to Plaza Festival is a very practical decision if you want to conduct business in this area of Jakarta or get some shopping done!  
It also doesn't hurt that Kuningan has many of Jakarta's best hotels. Some of the most positively reviewed hotels near Plaza Festival include:
The Westin Jakarta is the closest property to Plaza Festival. It is located in the tallest tower in Indonesia. It is super modern with superb aerial views of Jakarta. This property is highly recommended if you enjoy photography!
If you are staying near Plaza Festival also consider going to Henshin, this is a new sky bar that is located above the Westin. Again, the views from the outside bar are superb. The dress code is smart casual.
---
10 Closest Hotels to Plaza Festival in Jakarta
***Organized according to Star Rating
---
Summary: Shopping at Plaza Festival in Jakarta
Plaza Festival is a small mall by Jakarta standards. But that doesn't mean it isn't worth visiting.
It is conveniently located in Kuningan – an area of the city that will be soon serviced by the LRT. It is also just a few minutes away from Thamrin and the business area of the city.
Plaza Festival is a great place to visit if you are with a group of people. The outdoor roadside restaurants have a real chill vibe, especially on weekends with events going on. Some of the restaurants serve alcoholic beverages whereas others mainly serve coffee and snacks.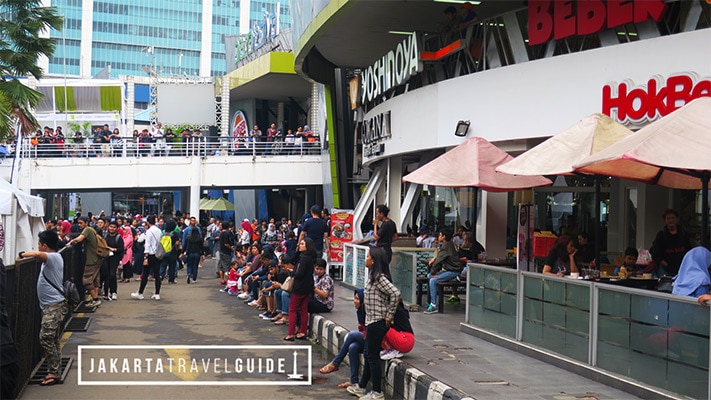 Try to stay in one of the upper rooms in the Westin to get convenient access to Plaza Festival (and the other malls in Kuningan) while getting amazing views of Jakarta's skyline.