Visiting Jakarta History Museum
in Kota Tua
The ultimate guide to Jakarta History Museum. Everything you need to know about visiting this museum in Kota Tua, Jakarta.
Jakarta History Museum (locally known as Museum Sejarah Jakarta) is located along the southern edge of Fatahillah Square in Kota Tua, Jakarta.
As its name suggests, this museum highlights the historical development of Jakarta over the years. The Jakarta History Museum is often photographed by visitors to Kota Tua because it is located in a striking Dutch colonial building that was built in 1707.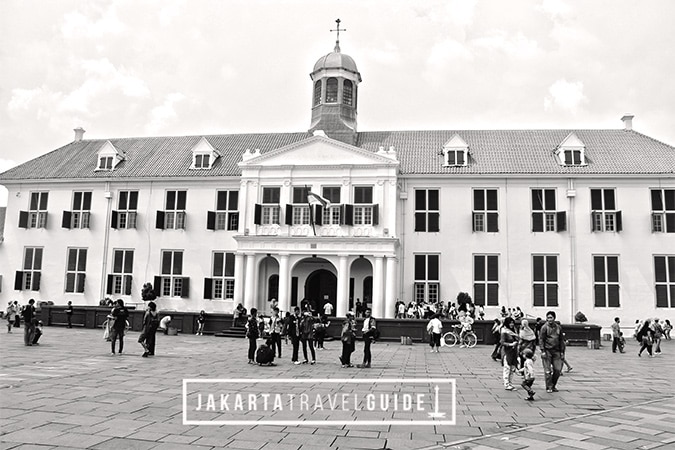 The building is a classical Dutch renaissance style of architecture. This is one of the oldest buildings of Jakarta.
Kota Tua was once known as 'Batavia' and the town hall of Batavia was located in the very same building as the current Jakarta History Museum. At that time, the building was referred to as 'Stadhuis.' The Jakarta History Museum opened to the public in 1974.
There haven't been many structural changes to this building over the last few hundred years.
Since Jakarta History Museum is located in the former town hall of Batavia it does have an authoritative appearance.  With its solid white color, green shutters, pillars, and high ceilings, the Jakarta History Museum has a very stately feel.
Many Visitors – Especially on Weekends
It is a very popular museum for visitors to the city and this can be attributed to its very affordable entry price and its ideal location right in the heart of Kota Tua. A typical visit to Jakarta History Museum lasts around 30 minutes with a couple of floors to explore within the building itself, and a courtyard outside.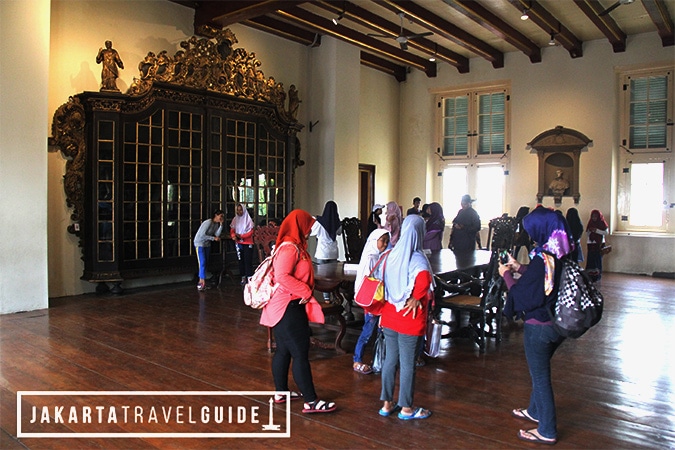 Due to its colonial charm and prominent position, this is one of Jakarta's most photographed buildings.
Since the Jakarta History Museum is located in Kota Tua and directly faces Fatahillah Square there are various other tourist attractions within walking distance of it.
Some of the rooms throughout the museum appear sort of empty with mainly paintings and antique furniture occupying space. It is best known for having over 250 pieces of furniture that date from the 17th century to the 19th century.
---
Jakarta History Museum – Essential Visitor Information
GPS Coordinates: -6.135200, 106.813300
Street Address: Jalan Taman Fatahillah No.1, Pinangsia, Tamansari, Kota Jakarta Barat, Daerah Khusus Ibukota Jakarta 11110, Indonesia
Hours of Operation
Monday: Closed

Tuesday to Sunday: 9 am – 5 pm
Entrance Price for Jakarta History Museum
Children/Students 2,000 IDR

University Student 3,000 IDR

Adults 5,000 IDR
---
Jakarta Travel Guide Insider Tip: Prison Cells at Jakarta History Museum
When you are visiting Jakarta History Museum you will have to exit through the courtyard which is located at the back of the building.

As you go outside try not to walk directly straight to the exit without checking out the interesting old prison cells.  The cells are located along the lower back portion of the main museum building.

It's possible for you to enter the cells to take photos.

Prison Cells at Jakarta History Museum in Kota Tua.

There was one famous captive in the prison at Jakarta History Museum – Prince Diponegoro.

He was captive for a couple of weeks on his way to exile in Sulawesi. He was captured by the Dutch in Magelang in 1830.
---
What is around the Jakarta History Museum in  Kota Tua Jakarta?
You will find sightseeing around Jakarta History Museum to be very convenient.
It is located right in the heart of Kota Tua – the Dutch colonial area of Jakarta. A trip to Kota Tua is essential for visitors to the city.
Other Museums in Kota Tua
You will be able to access various other museums in this part of Jakarta. All of which are within a 5-minute walk (or less) of Jakarta History Museum. Other museums to explore in Kota Tua include:
The museums here are centered around Taman Fatahillah (Fatahillah Square) which is the central heart of Kota Tua. Expect a bustling, community-like environment in this part of Jakarta.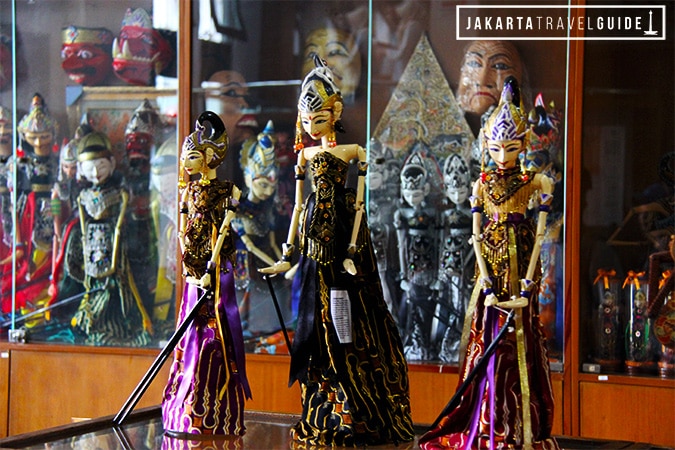 You may also want to drop into Cafe Batavia and shop at some of the cool street markets around this area.
Jakarta History Museum is not particularly close to shopping malls. This area is more about history and culture. The closest shopping area is Mangga Dua. It has various electronic malls to check out. You can drive there in about 10 minutes (traffic permitting).
Best Accommodation Choices Near Kota Tua
Traditionally, Kota Tua has not been a popular place to book a room for visitors to the city. But over the last few years, more and more hotels are opening up. A few options not too far away include:
You may want to consider staying closer to Chinatown. In this case, you will be able to visit Jakarta History Museum and other attractions in Kota Tua while being closer to the Monas. Kota Tua can have heavy traffic. Staying closer to central Jakarta is a wise decision in most cases.
---
The Pro's and Con's of Visiting Jakarta History Museum
Why you should visit the Jakarta History Museum in Jakarta?
Jakarta History Museum, like many of the other museums in the city, is very affordable to visit.
This makes it very popular with visiting families, school groups and packaged tour groups. The building looks particularly nice in photos from Fatahillah Square.
Although it isn't the largest museum in Jakarta, the nice courtyard at the back of the building and the interesting prison cells help to make up for it. This museum can easily be seen in 30 minutes.  It has an ideal position right in the heart of Kota Tua and Fatahillah Square.
---
Why you might not want to visit Jakarta History Museum in Jakarta?
Although Jakarta History Museum is situated in a nice colonial building, the interior could use a facelift.
In other words, the museum could use a renovation to become more modern. Some of the rooms in the Museum appear to look sort of empty with limited exhibits on display. The exhibits could be modernized with better descriptions about the artifacts throughout the museum.
---
Final Thoughts about Visiting Jakarta History Museum Kota Tua
This is a convenient museum to visit if you are in the Kota Tua area.  
Its ideal location is one of the reasons why it is one of the most-visited museums in Jakarta. It is located right in Fatahillah Square. The courtyard at the back of the main building is quite pleasant and a nice place to take a break if you are sightseeing in Kota Tua.
The prison cells are interesting to check out. Some visitors to this museum find some of the exhibits a bit underwhelming. The interior of the building could use a renovation.
Since the entrance fee is extremely affordable, it's hard to argue that a visit isn't worth the money. If the price were to increase in the future, we would hope that the exhibits, air conditioning, and upkeep would be improved as well.   
Remember to take a tripod to capture pictures of Jakarta History Museum. If you go to the second floor of Cafe Batavia you can get really nice pictures of Taman Fatahillah with the museum in the background. This is one of the nicest photos of Kota Tua that you can get!