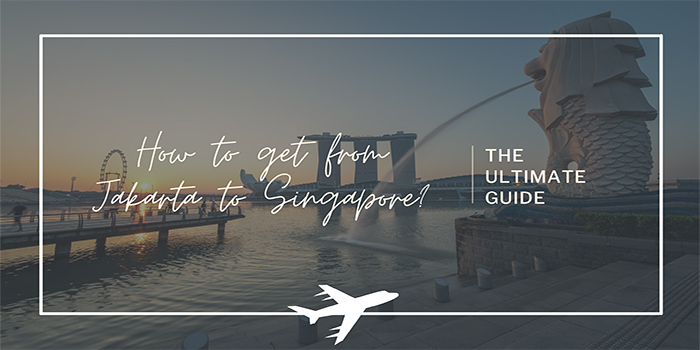 A step-by-step guide on how to get from Jakarta to Singapore. Find all the information you need here, fast.
Jakarta and Singapore provide an interesting contrast from one another. 
Singapore is a developed country that has an extensive public transport system. Jakarta, on the other hand, is still working on its infrastructure. MRT and LRT lines are opening up in Jakarta. In the meantime, they have been established in Singapore for a long time. 
Regardless of whether you live in either one of these cities going from one to the other is an interesting cultural experience. 
The most popular and practical way to get to Singapore from Jakarta is to book a flight. Although technically you could work your way up through Sumatra or try multiple ferries, it isn't practical and takes too long. Flying is the way to go. 
When you read this article you will learn about the best way to get to Jakarta's airport, the cheapest airlines and how to get from Changi Airport to downtown Singapore. 
The flight from Jakarta to Singapore is short and the flight tickets tend to be quite reasonably priced in comparison to other cities such as Hong Kong and Bangkok. 
Here is a step-by-step guide on how to get from Jakarta to Singapore:
Step #1: Book your Flight Ticket Well in Advance to Singapore
The first thing that you should do if you are trying to get from Jakarta to Singapore is booking a flight well in advance. Both cities have busy airports so be sure to get your tickets well before your intended date of travel.
This is particularly important when Jakartans are celebrating long weekends and especially during Hari Raya. Flights can be fully booked because Singapore is a popular travel destination for middle and upper-class Indonesians. The city provides some relaxation in comparison to Jakarta where traffic and pollution are serious issues throughout the year. 
Fortunately, there are multiple airlines servicing flights between Soekarno-Hatta International Airport (Jakarta) and Changi Airport (Singapore).
---
Airlines Flying from Jakarta to Singapore
When you are booking your flight from Jakarta to Singapore, you do have a nice selection of airlines to choose from. Some are budget airlines whereas others are not. Try to book with an airline that suits your own personal needs while providing enough checked luggage for your trip.
Here are some of the popular airlines providing flights from Jakarta to Singapore:
Singapore Airlines

Garuda Indonesia

Air Asia Indonesia

Jetstar

Batik Air

Lion Air
In terms of safety standards and worldwide reputation, Singapore Airlines is your best airline for this trip. Lion Air, Air Asia, and Jetstar often compete for the cheapest fares.
---
Step #2: Check out and Leave for the Airport 'Very' Early in Jakarta
Once you have booked your flight ticket from Jakarta to Singapore your next step is to check out of your hotel room in Jakarta. As you probably have heard, Jakarta can get clogged up with heavy traffic jams. Therefore, you do have to be a bit more proactive here than in most places.  
While in Jakarta you can either stay near the airport or stay in central Jakarta and proactively arranging your transport to the airport. 
Staying at a place near the airport can be a wise decision in Jakarta but it isn't convenient if you still have shopping or business to do before you leave the city center. 
***You can read additional information about Jakarta's airport hotels in this airport accommodation guide.
---
Getting to The Airport in Jakarta
You can arrange transportation to Soekarno-Hatta International Airport in Jakarta by getting a taxi, or using one of the city's ride-sharing apps such as GoJek or Grab. 
Any form of motorized vehicle in Jakarta does have the risk of being stuck in traffic, however. 
---
Taking the Airport Train
A new alternative is using the airport rail link (airport train). This can save you serious time during peak times in the early morning and early evening when the working crowd is starting and finishing work.
You can access the Jakarta Airport Train by taking the MRT to Dukuh Atas Station. From Dukuh Atas you can transfer to BNI City Station which services trains to Soekarno-Hatta International Airport. They are a two-minute walk from each other.
If you can't take the airport train then you often will have the choice to take a toll road to the airport. This is usually a very smart decision if you are near a toll and you are traveling at a busy time. 
Once you are at the airport in Jakarta, check-in, proceed through security and go to your gate. Since the trip from Jakarta to Singapore is an international flight, you will have to clear immigration before you can go to your gate. Don't forget your passport.
---
How long does it take to travel from Jakarta to Singapore?
The direct flight from Jakarta to Singapore takes about 1 hour and 30 minutes to 1 hour and 45 minutes. Expect the plane to be in the air for about 1 hour and 25 minutes on average. 
If the sky is clear and there is no turbulence along the way, you might be in the air for only 1 hour and 15 minutes.  But when you consider the taxi at taking off and landing it adds up to about 1 hour and 45 minutes.
---
$$$

 How much does it cost to fly from Jakarta to Singapore?
One way flight tickets from Jakarta to Singapore cost anywhere from 450,000 IDR to 3,000,000 IDR. Of course these values are subject to change over time with peak periods and sales.
An airline like Singapore Airlines during peak travel periods may even exceed this price range. Airlines like Air Asia and Lion Air often have flight prices from Jakarta to Singapore for around 600,000 IDR. 
---
Step #3: Landing and Arranging Transportation/Accommodation in Singapore
Getting from Changi Airport to Downtown Singapore
Conveniently, you can take the MRT directly from Changi Airport to downtown Singapore. 
You don't even have to spend a second in traffic. 
Just simply follow the MRT signs throughout the airport and it is super easy. You will most likely have to make a deposit to get an MRT card in Singapore, so it is a wise decision to have some extra cash on you when you land.
You can also get a taxi at Changi Airport, but expect this to be significantly more expensive than the MRT! If you are concerned about breaking your budget, forget about the airport taxis and hop on the MRT instead.
---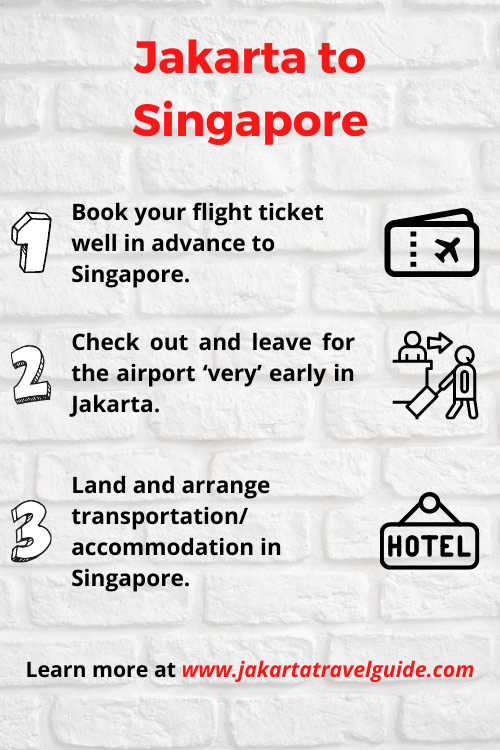 ---
Selecting the Best Area to Stay in Singapore
Where should you stay in Singapore?
Where you stay in Singapore comes down to your personal preference, but the downtown area is particularly popular with visitors. 
Areas such as Clark Quay, Boat Quay, Marina Bay, Chinatown and Orchard Road are popular. You can easily access MRT stations from all of them. 
The Marina Bay area is particularly beautiful and it's loaded with amazing hotels. 
World-famous Marina Bay Sands Hotel is one of them. You have probably seen a photo of it already, but if you can get a skyline view room, go for it. It won't be cheap but it will offer an unforgettable view!
Unlike Jakarta, Singapore's MRT Lines are extremely well connected. Therefore, as long as you are within a few minutes of a station you can get many places very quickly. 
Sometimes visitors to Singapore save serious money by staying away from the downtown area. They just take the MRT into the downtown area in the morning and then head back to their hotel in the evening. The savings can be huge, but it is a bit less convenient.
---
Where did we stay in Singapore?
We have traveled to Singapore more than 15 times. Many of those trips were from Jakarta to Singapore. We have stayed all over the place, but our favorite area is near Clarke Quay. The hotels tend to be affordable, but still clean and convenient. 
Two well-priced places that we stayed at are only a 3-minute walk to Clarke Quay MRT Station:
Hotel Bencoolen @ Hong Kong Street
Of these two choices, we found that Hotel Bencoolen is more modern, but it is a bit more expensive as well. Both offered nice little breakfasts during the times of our stay.
From these properties, we could walk to Marina Bay, Boat Quay, Clarke Quay, and Raffles Hotel.
***Please take note that we have no direct partnership with these hotels.
If we had a larger budget then we would stay at The Fullerton Hotel Singapore or Raffles Place Hotel. Both of these are right near the Marina in prime areas for leisurely walking along the waterfront. But they aren't cheap!
---
Any more Questions about your Trip from Jakarta to Singapore?
This has been a step-by-step guide on how to get from Jakarta to Singapore. 
If you have any additional questions about this journey or your upcoming stay in Singapore send us a comment or an email.
We always appreciate feedback from our readers. If information changes, we always want to be the first to know!