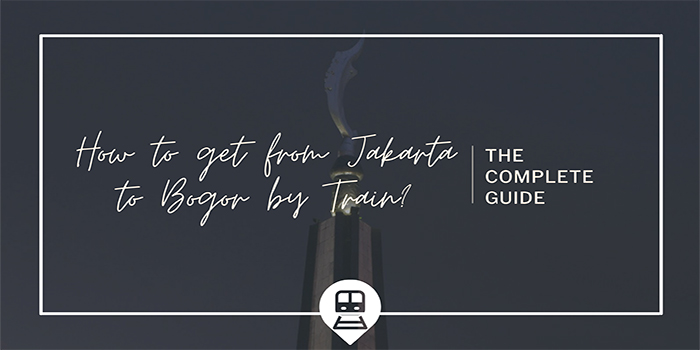 The step-by-step guide on how get from Jakarta to Bogor using the commuter system. Find all the information, right here.
The trip from Jakarta to Bogor is one of the most popular weekend activities for people living in Jakarta. One of the largest attractions you will find in Bogor is Bogor Botanical Gardens. This attracts lots of international and domestic tourists. Bogor is also home to the Presidential Palace.
Since Bogor is considered to be a 'satellite city' of Jakarta they are quite close to each other. Despite this, road traffic can be very heavy between the two cities, and this is especially true on weekends. This can make the drive between Jakarta and Bogor take between 2-3 hours, and sometimes more on long weekends!
This makes taking the commuter train between Jakarta and Bogor much more convenient if you plan your trip appropriately. Like most major cities around the world, public transport is busy during rush hour.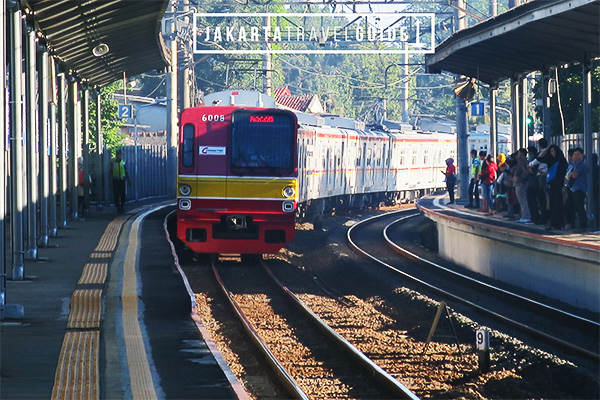 This means that if you are planning on taking the train from Jakarta to Bogor right after work you can expect to be extremely crowded. So crowded that you feel like you have just made the worst decision in a long time!
If you want to take the train from Jakarta to Bogor you have to first consider what time you want to travel and much much comfort you want along the way. There is also a strong possibility that you may have to wait in line before you can get on a commuter train to Bogor.
You also have to consider whether you are travelling with a family or not.
This article is intended to provide you with a step-by-step guide on how to get from Jakarta to Bogor using the commuter train.
---
Step #1: Find a Commuter Station close to your Hotel in Jakarta
It doesn't make much sense taking a train from Jakarta to Bogor if you have to travel a far distance to get to a commuter station. Therefore, make it a priority to take stay near a commuter station in Jakarta.
Jakarta is a massive city, with many different commuter lines. Currently, there are 6 commuter lines in Jakarta and the surrounding area:
Here are links to each of the 6 current lines making up the KRL Jabodetabek System:
One of the most convenient commuter stations to book your hotel near is Sudirman Station.
Why is it so convenient?
If you stay at Sudirman Station you can take use the Yellow Commuter Line all the way to Bogor, but you can also access other public transportation systems.
You can easily walk from Sudirman Station to BNI City Station (part of the Airport Railink line to Soekarno-Hatta International Airport) and also walk to Dukuh Atas MRT Station (part of the MRT System in Jakarta).
All Seasons Jakarta Thamrin is one of the closest hotels to Sudirman Station in central Jakarta.
---
Step #2: Purchase your commuter train ticket from Jakarta to Bogor.
Under most circumstances, it is possible to just use your cashless top-up card right at the station to access Jakarta's commuter network.
This makes it fast and convenient when you arrive at the station. You don't have to walk to the machine to buy a single trip or a round trip ticket.  
Currently, there are multiple bank-issued cards that can work for the commuter system in Jakarta. Some examples include:
Flazz Card
jakcard
Brizzi BRI Card
TapCash BNI Card
E-money Mandiri Card
As mentioned before, you can also pay directly at one of the ticket kiosk machines at each commuter station (although there is sometimes a line up).
Make sure that you enter the departure (gate area) early so that you don't have to wait for the next train to depart due to large crowd numbers.
---
Step #3: Relax and Enjoy The Ride from Jakarta to Bogor
If possible, try to get a bench seat for your trip to Bogor from Jakarta. Unlike intercity trains, the seats on the commuter train in Jakarta are more like an MRT. They have bench seats along with the windows with standing room in the middle of the train.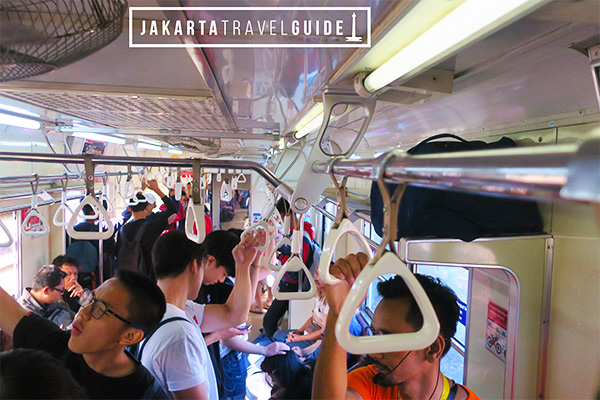 There are designated areas for elderly, pregnant, and women with young children. Please be mindful of these passengers along your journey.
---
Step #4: Arranging Transportation/Accommodation in Bogor
One of the convenient things about visiting Bogor is that many of the main sights are within walking distance of Bogor Station.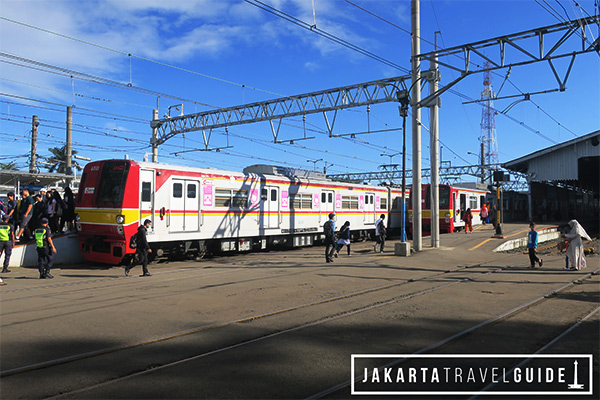 Although it will take you about 20 minutes you can walk to Bogor Botanical Gardens. The presidential palace is located within the garden grounds. You can drive there in 10 minutes or less if traffic is light.
Once you are in the gardens it's possible to walk to the presidential palace area in under 10 minutes.
Since Bogor has a popular tourism industry there are many hotels located near Bogor Station along the way to the gardens. Some examples include:
---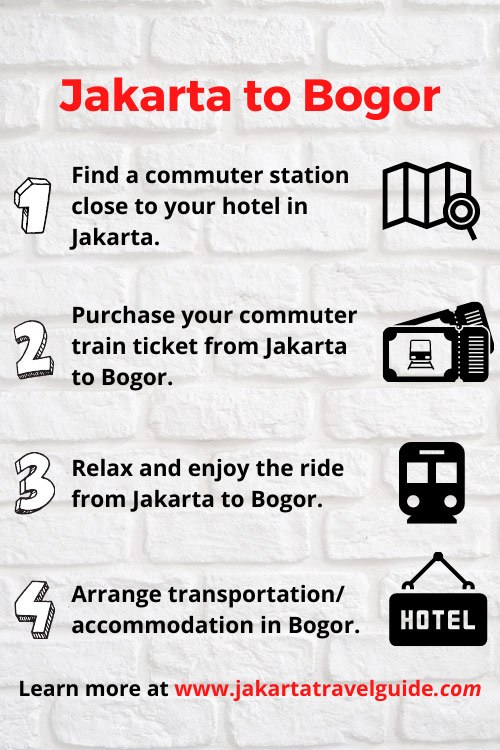 ---
$$$ How much are train tickets from Jakarta to Bogor?
The price of getting from Jakarta to Bogor train depends on which commuter station you are starting your journey at.
Fortunately, the commuter is extremely affordable and it is priced according to distance travelled.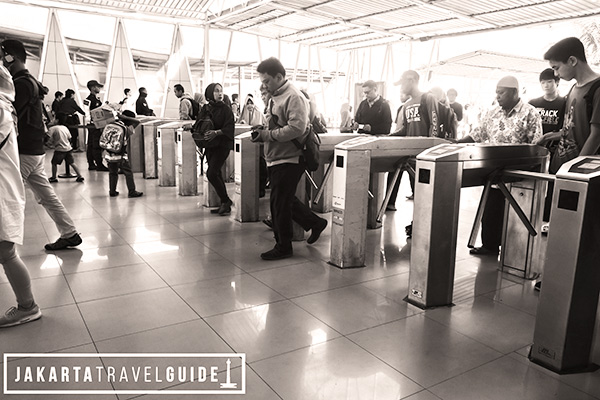 The first 25 km of your journey should be 3,000 IDR, followed by an additional 1,000 IDR for every 10 km travelled. If you have a cashless card like the Flazz for instance, you won't have to worry about selecting your terminal station if you have enough money on your card.
If you are getting a single journey ticket then be sure to select Bogor Station as your terminal station to tap out of the commuter system upon arrival.
---
How long does it take to travel from Jakarta to Bogor using the commuter train?
Again, this depends on your origin. If you are travelling from Sudirman Station in central Jakarta it should take about 1 hour and 20 minutes.
If you are travelling from Jakarta Kota Station in Kota Tua then it will take you around 1 hour and 40 minutes.
The amount of time it takes per journey will also depend on how many people are getting on and off at each station along the way. There are a lot of stations between Jakarta and Bogor. Consequently, you can expect some delays if the commuter stations are overloaded with passengers.
---
When is the best time to travel using the Jakarta to Bogor train?
The first rule is to avoid rush hour if possible. This means before work and after work each day.
Instead, try to get on the commuter after 9 pm during the week. Sunday is always the quietest day on the trains because fewer people are working. Saturday is better than during the week as well. If you are planning a weekend trip to Bogor leaving really early Saturday can be a wise decision to beat the crowds.
Many locals will try to use the commuter network Friday night.
This is a step-by-step guide on how to take the commuter from Jakarta to Bogor. If you have any additional questions please feel free to send us an email. We would be happy to provide you with additional information.