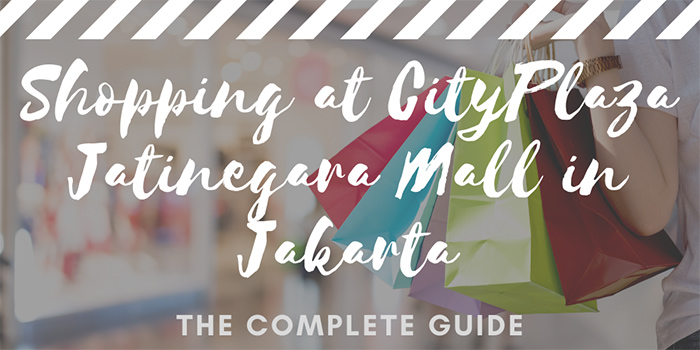 The Complete Guide: Everything you need to know about shopping at CityPlaza Jatinegara in Jakarta
CityPlaza Jatinegara is a new, bustling mall which is located across the road from Jatinegara Market (locally known as Pasar Jatinegara).
Although it isn't the biggest mall in Jakarta, CityPlaza Jatinegara is very popular with locals due to its strategic position within walking distance of Jatinegara Market, Jakarta Gem Market and Jatinegara Commuter (Train) Station.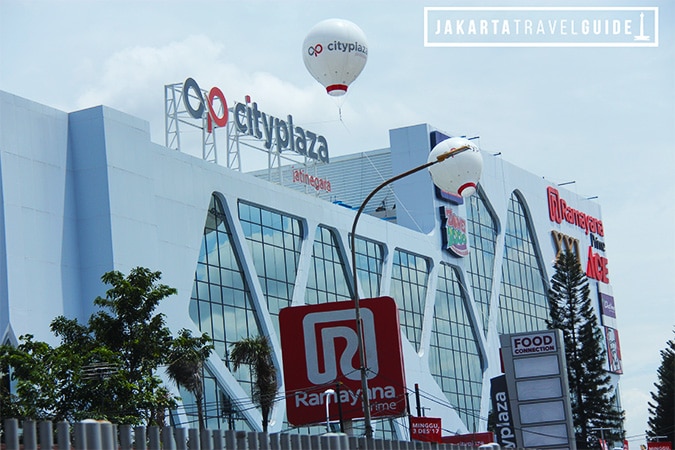 On the ground floor of the mall, you have the choice of eating snacks or having a coffee at a couple of different cafes.  The upper floors are made up of local department stores that specialize in affordable clothing and shoes.
Unlike some of Jakarta's famous malls such as Grand Indonesia and Pacific Place, CityPlaza Jatinegara does not have too many internationally-branded outlets. It isn't a luxury mall by any means.  Instead, it caters to shoppers who are just trying to get some cheap prices.
On the second-highest floor there is a food court that specializes in local Indonesian cuisine.  The food there is also affordable with many meals under 50,000 IDR.
On the top floor, there is a cinema that offers international blockbusters as well as local Indonesian made films. If a film is shown in English they will have subtitles for local viewers in Bahasa Indonesia.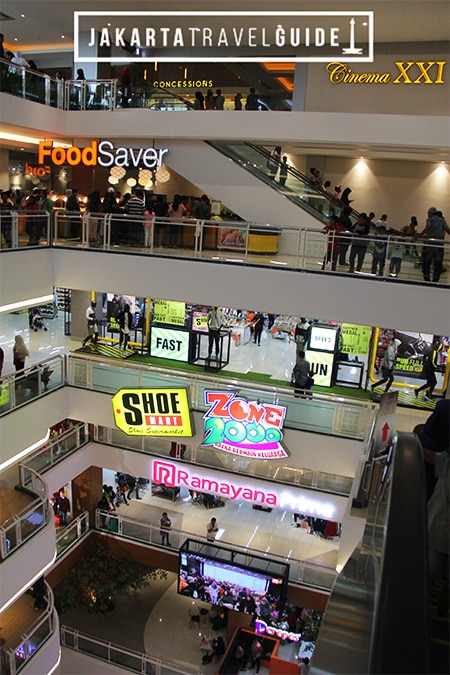 ---
CityPlaza Jatinegara: Essential Visitor Information
Opening Times: Saturday and Sunday: 9:30 am – 10:00 pm
                                   Monday to Friday: 10:00 am – 10:00 pm
Address: Jl. Matraman Raya No.173-175, RT.7/RW.6, Bali Mester, Jatinegara, Kota Jakarta Timur, Daerah Khusus Ibukota Jakarta 13310
---
What is located around CityPlaza Jatinegara Mall in Jakarta?
Whether it is simply a coincidence or pre-planned, it is very convenient having CityPlaza Jatinegara, Jatinegara Market, Jakarta Gem Market and Jatinegara Commuter (Train) Station all within walking distance of one another.
Markets Near the Mall
If you are at CityPlaza Jatinegara you can simply cross the road and walk about 300 meters and you will be at Jatinegara Market.  
The area around this market building is bustling with vendors and shoppers. This is an interesting area for street photography. This is especially true on weekends when there are lots of people shopping at CityPlaza Jatinegara and Pasar Jatinegara.
If you continue further south, you will pass by a large pet market (only about 200 meters away from CityPlaza Jatinegara on the same side of the road). It isn't for everyone, especially if you don't want to see animals caged-up. But there is a large selection of exotic creatures.
Just past the pet market, there is a small plant market. You can buy cheap plants there.
If you continue walking south you will reach Jatinegara Station and Jakarta Gem Market.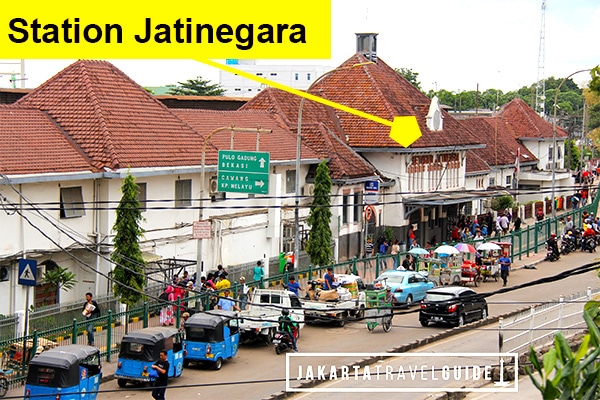 Conveniently, they too, are directly located across the road from each other.  
This area of Jakarta is really interesting and definitely work exploring.
In terms of culture and interesting streets, this is one of the better areas in the city to walk around to absorb what Jakarta is like on a day-to-day basis.  
Due to the heavy traffic here, it isn't the best place to book your room if you are visiting for a few days. Unless your priority is to see all these sights.
---
Why you should visit CityPlaza Jatinegara?
CityPlaza Jatinegara is a modern, affordable shopping center.  
It has a wide selection of shoes, bags and shirts, shorts and pants to choose from that are affordably priced. Although small, the food court has a nice selection of local dishes to choose from.
The top floor has a cinema that is conveniently located for watching both local and foreign films.
---
Why you might not want to visit CityPlaza Jatinegara?
If you are looking for designer and international brand names, then CityPlaza Jatinegara is not the place for you.
It caters mainly to local shoppers who are looking for affordable Indonesian or Chinese made products. Although the food court does have some nice local choices, it doesn't have an extensive selection of international cuisines.
Since CityPlaza Jatinegara is located in a market area it can get really busy, so expect heavy traffic at some points during the day. This is especially true on weekends when local shoppers are out in full force.
---
10 Closest Hotels to CityPlaza Jatinegara in Jakarta
***Organized according to Star Rating
---
Summary: Shopping at CityPlaza Jatinegara in Jakarta
CityPlaza Jatinegara is a good shopping complex for budget shoppers, and that's why it is very busy (especially on weekends) with locals looking for bargains. It is also busy because of its location.  
Being directly across from Jatinegara Market makes it a natural place to go for those visiting the market as well. The area around the mall has no shortage of interesting street markets to check out.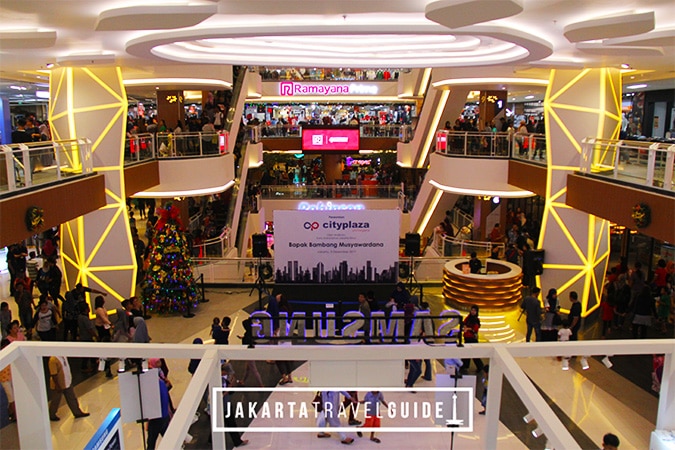 CityPlaza Jatinegara is only about a ten-minute walk away from Jatinegara Station.  Therefore, visitors can easily access the mall via Jakarta's commuter system. You can read more about Jakarta's Commuter Network by referring to this comprehensive Jakarta Commuter Guide.