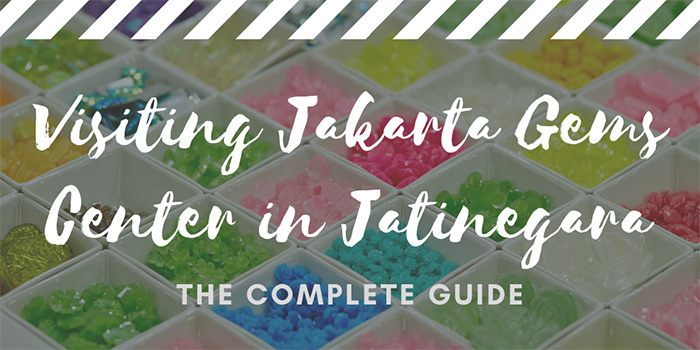 The Complete Guide: Everything you need to know about visiting one of the most interesting markets in Jakarta – Jakarta Gems Center (Jatinegara)
You should consider visiting Jakarta Gems Center while you are sightseeing in Jakarta.
You might hear the Gems Center being called different names, by different people. Locally, it is known as 'Pasar Rawa Bening' in Bahasa Indonesia. You also may hear it being called Jakarta Gem Market in English as well.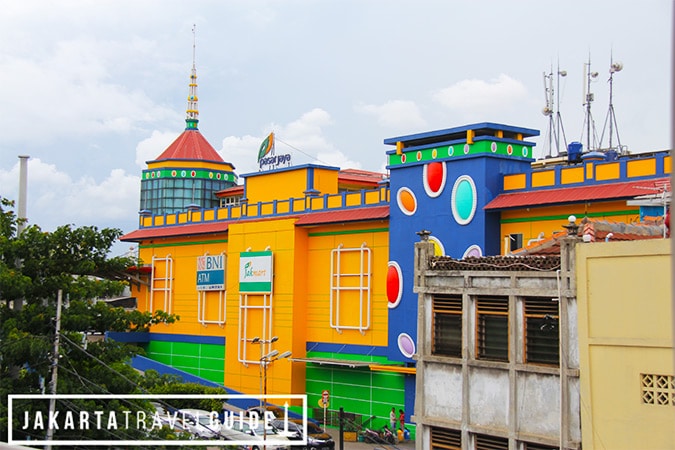 Regardless, these names are all referring to the same interesting place in east Jakarta.
To help you place its location into context, Jakarta Gems Center is situated about 8 km southeast of the Monas – Indonesia's National Monument. The Monas is located right in the heart of Central Jakarta.
The Jakarta Gem Market is a multistory shopping center that offers a wide selection of gems, crystals and silverware. Unlike most markets, the Jakarta Gems Center also functions as a working factory.
As you walk around the market you will see merchants cutting and polishing gemstones, but once a potential buyer approaches they act as a salesperson.  This makes the market quite interesting to explore because you will also get an idea of how the gemstones are prepared before they are ready for sale.
There are multiple long tables throughout the market area. Some of the stones are placed above the glass display casings whereas others are securely stored inside.
When you visit Jakarta Gems Center you will be able to easily recognize it from the outside due to the large artificial gemstones that are spread along its exterior. Once you enter and walk through the ground floor it doesn't take long to realize that the selection of stones is very impressive.
The ground floor is the most active in terms of gemstones, shoppers and salesmen. Therefore, it's a good place to start when you visit.  
When you move upstairs there are still small shops to choose from but some of them specialize solely in wholesale trading within a minimum purchase of $200 USD equivalent.
There is also a small general store within the Jakarta Gems Center if you need a snack or some refreshments. Although the Jakarta Gems Center has a wide selection of stones to choose from, it definitely specializes in gemstone rings.
At many of the vendors, you can easily choose a stone and also the metal or silver frame that goes along with it. In other words, you can have a ring made right on the spot. You will also have no problem finding premade gemstone rings at the market if you don't want to wait for them to put one together for you.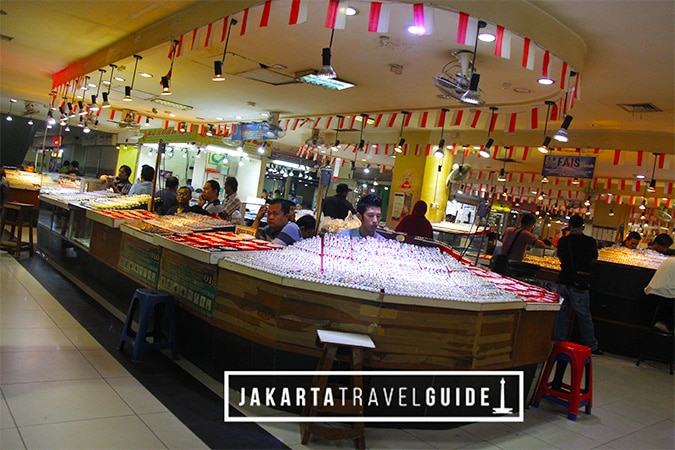 There are a few craft shops and silver outlets in the Jakarta Gems Center as well, but you will find way more ring vendors than anything else. They do have some gemstone pendants as well, but very few earrings in comparison.
One of the reasons why we chose to classify Jakarta Gems Center as a market opposed to a shopping mall is the informal atmosphere inside. This is by no means a pretentious place to shop.
You can also expect some wiggle-room in terms of negotiating for prices as well. Many of the merchants know each other, so it might be hard to compare prices from different people, but you can still try.
Like most markets around the world, the more you plan on buying the more leverage you have in terms of getting cheaper prices. Try to see if you can negotiate a cheaper price than the original one you are quoted while at Jakarta Gems Center. It might be well worth a try!
---
Jakarta Gems Center: Essential Visitor Information
Opening Times: Everyday from 7 am to 7 pm
Address: Jl. Bekasi Barat Raya No.2, RT.4/RW.2, Rw. Bunga, Jatinegara, Kota Jakarta Timur, Daerah Khusus Ibukota Jakarta, 13350
---
What is located around Jakarta Gems Center?
The area around Jatinegara Market is one of the most interesting to explore in Jakarta. This is especially true if you want a busy street culture.  
Markets and Malls
One of the most convenient things about visiting the Jakarta Gems Center is the fact that it is located very close to one of Jakarta's most interesting market areas – Jatinegara Market.
Jakarta Gems Center is located within walking distance of Jatinegara Market (10 minutes) and directly across the road from Jatinegara Commuter Station (2 minutes).
Not only can you check out Jatinegara Market, but also Jakarta Gems Center, CityPlaza Jatinegara and all of the bustling market streets in this area during one day. In addition to the market buildings, be prepared to also stumble upon a pet market, plant market, kitchen utensil market and an area where locals fix shoes and watches.
The street scene here is especially authentic on weekends when local shoppers are out in full force bargain hunting.
CityPlaza Jatinegara is a popular shopping mall that is located directly across from Jatinegara Market. It has a cinema and a food court that is popular with local shoppers. It is a good place to cool down after checking out the adjacent market areas.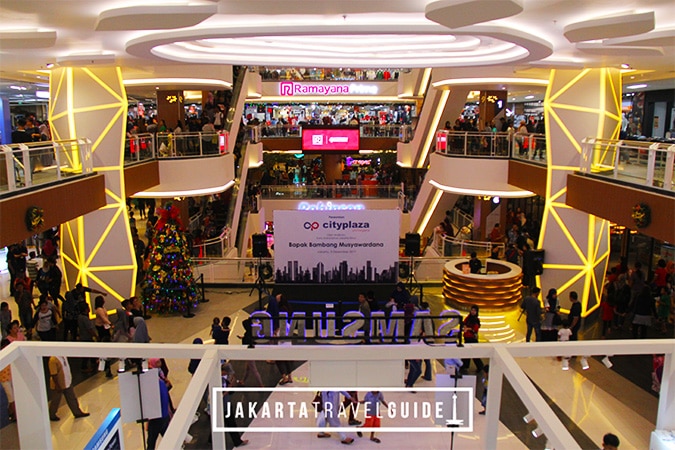 To get to Jakarta Gems Center simply take the commuter to this Jatinegara Station and just walk across the road to get to the Gem Market. From there, you can access both Jatinegara Market and Cityplaza Jatinegara in under 10 minutes.  
Expect to take a bit longer than this though because the street market areas along the way are quite interesting!
---
Why You Should Visit Jakarta Gems Center?
The Jakarta Gems Center is an excellent place to shop around for gems and to also get a custom-made ring.
There is plenty to choose from, so selection shouldn't be an issue. Even if you are not really planning on purchasing any stones, crafts or jewelry it is still an interesting place to see.
As you walk around you will see local jewelers cutting and polishing stones. This hybrid market-factory feel is what makes Jakarta Gems Center a unique place to check out.   
---
Why you might not want to visit Jakarta Gems Center?
If you have no interest in looking at gemstones or jewelry, then you might not find the Jakarta Gems Center worth visiting.  
Language could also be a barrier for visitors who cannot speak Bahasa Indonesia.
If this is the case, then bring along your phone to show the vendors as you bargain prices. Google translate can be super handy while negotiating for prices. It isn't the cleanest market in the world either. Go to malls like Plaza Senayan and Pacific Place if you want polished floors and luxury branded items.
---
10 Closest Hotels to Jakarta Gems Center in Jakarta
***Organized according to Star Rating
---
Final thoughts about Jakarta Gems Center
Jakarta Gems Center is a cool place to check out. It is very specialized which makes it unique from other markets around the city.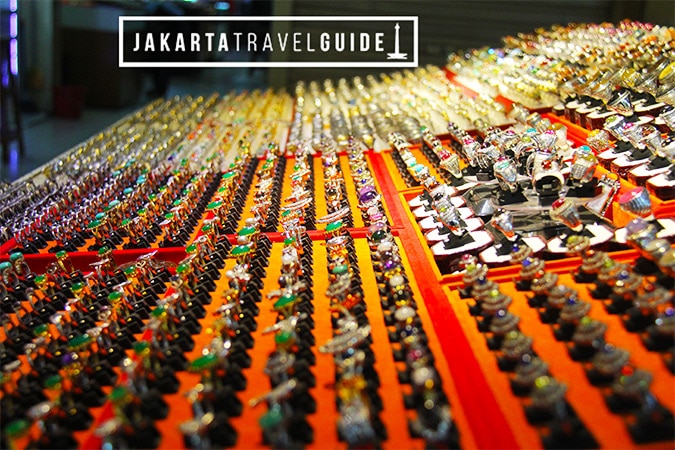 It's rare to find a market nowadays that is so specialized!
When you go to Jakarta Gems Center, you should know what you are going to get: gemstones, and lots of them!
It is also a bonus to have Jatinegara Market so close by.
Walking between these two markets and exploring the narrow roads between them is an interesting cultural activity. Since neither one of these markets has too many sit-down restaurants, you might be better off going to PlazaCity Jatinegara if you want to eat lunch or dinner.  
PlazaCity Jatinegara is located across the road from Jatinegara Market.
If you are planning on taking photos at Jakarta Gem Market kindly ask the locals for permission first. This is especially true if you don't plan on buying anything during your visit.