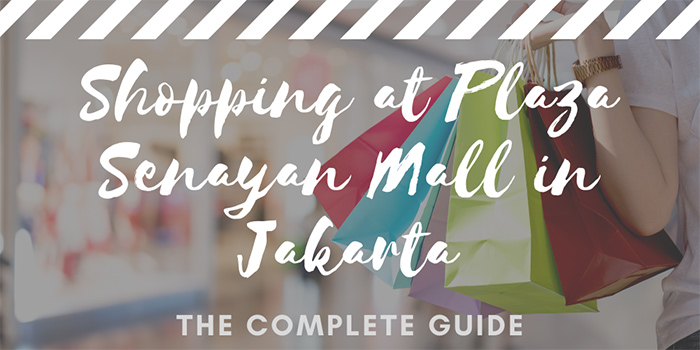 Plaza Senayan is a luxury shopping mall located in Senayan, Central Jakarta. To help you place its location into context, Plaza Senayan is about 7 km southwest of the Monas at the southern end of Jakarta's Sudirman Central Business District (SCBD).
If you are staying in central Jakarta, then you can easily visit Plaza Senayan for some shopping.
Senayan is a popular area for tourists, expats and domestic tourists because of the number of shopping malls, accessibility to the CBD and some of the best hotels in all of Jakarta.
---
Visiting Plaza Senayan
When you visit Plaza Senayan you will notice that it caters more to luxury shoppers who prefer high-end international brands. The mall is designed in a rectangular shape with a colonial-style central atrium with an elegant elevator. It also has a musical clock that plays music when each new hour arrives.
Aside from a wide range of designer stores, Plaza Senayan also has a nice selection of restaurants and some entertainment options such as a bowling alley and a billiards area. Therefore, if you are not in the mood to shop you can keep yourself occupied with some leisure activities instead.  
 The two anchor stores for Plaza Senayan are Metro and Sogo. These are located at opposite ends of the mall. Plaza Senayan also has a Cinema 21 which features both local and international movies. Foreign films have Bahasa Indonesian subtitles for local viewers. There are multiple baby change stations in Plaza Senayan. Therefore, it is a family-friendly environment.
Shopping at Plaza Senayan is usually a good experience during the week when it is much quieter than on weekends. It isn't the busiest mall in central Jakarta, but you can expect bigger crowds when people are not working.
---
 Essential Visitor Information
Opening Times:
Everyday : 10:00 am – 10:00 pm
Address: Jl. Asia Afrika No.8, RT.1/RW.3, Gelora, Tanah Abang, Kota Jakarta Pusat, Daerah Khusus Ibukota Jakarta 10270
---
Shopping at Plaza Senayan Mall: Summary
If you plan on shopping at Plaza Senayan, then do not expect it to be one of Jakarta's biggest malls. It feels more like an exclusive boutique mall with designer brands. When you shop at Plaza Senayan you will probably experience much smaller crowds than at Grand Indonesia for instance. This can be a good thing if you want to take your time and receive assistance within each store.
With its proximity to the new MRT, Bung Karno and the business district of the city, Plaza Senayan is one of the most convenient malls to shop at if you are staying in central Jakarta.
---
What is located around Plaza Senayan Mall in Central Jakarta?
Plaza Senayan is one of the most conveniently located shopping malls in all of Jakarta. Consequently, this area is popular with international and domestic tourists visiting the city.
Plaza Senayan is very close to the new Senayan MRT Station, so its connectivity is only going to get even better in the future. You can take the MRT (avoiding Jakarta's jams) to Senayan Station and then simply walk to Plaza Senayan. This should take you well under 10 minutes.
So what makes the area around Plaza Senayan such a good place to stay while in Jakarta?
'Superb hotels' is one of the main reasons.
Some of Jakarta's best luxury hotels are located within 1-2 km of Plaza Senayan.
Two examples are the Fairmont Jakarta and the Ritz-Carlton Jakarta Pacific Place. Both of these consistently rank in the top five or six 5-star hotels in the entire city.
The Fairmont Jakarta is only 400 meters north of Plaza Senayan which makes it extremely convenient to access if you are shopping there. You can walk there in under five minutes from the mall.
The Ritz-Carlton Jakarta Pacific Place is also conveniently attached to another luxury mall called Pacific Place. It is about 2 km east of Plaza Senayan. Although the Ritz is farther from the mall, it is closer to the business towers and the stock exchange.
The area around Plaza Senayan is also popular with visitors because of how close it is to other shopping malls. You can shop at Plaza Senayan and then conveniently access neighbouring shopping centers.
As mentioned before, it is about 2 km away from Pacific Place.
Pacific Place is an impressive luxury mall that is attached to the Jakarta Stock Exchange as well as the Ritz. If you can't find a specific brand at Plaza Senayan then there is a good chance you will find it at Pacific Place instead.
A mall that is even closer to Plaza Senayan is Senayan City.
Actually, Senayan City is located right across the road, southwest of Plaza Senayan. You can walk between the two in about 30 seconds.
Senayan City is a big shopping complex that features a large central atrium. It has plenty of food choices, international brands and a cinema that features all the latest blockbusters.
Ratu Plaza is a small electronics mall (with a department store) that is also close to Plaza Senayan.  You can walk between them in 5-10 minutes.
fX Sudirman is also close to Plaza Senayan. It has some great Japanese food choices with Harris Suites fX Sudirman physically connected to it.
Plaza Senayan is also very conveniently located beside Bung Karno Athletics Park – the site of international sporting competitions in Jakarta.  If you plan on attending an event in the park, then the Fairmont Jakarta, Harris Suites fX Sudirman, Century Park and The Ritz-Carlton Pacific Place are very convenient hotel choices all within a few hundred meters of the gates.
Also to the west of Plaza Senayan is Senayan Golf Club. Therefore, if you are staying at a hotel near Plaza Senayan be sure to bring your golf clubs along!
If you stay near Plaza Senayan will also have convenient access to the malls in Thamrin around Bundaran HI such as Thamrin City, Grand Indonesia and Plaza Indonesia. You can take the MRT north to the Monas and many other museums in central Jakarta.
---
10 Closest Hotels to Plaza Senayan in Jakarta
***Organized according to Star Rating