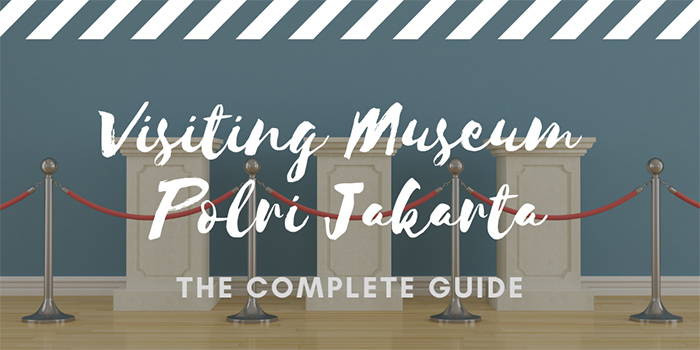 The most comprehensive guide to Museum Polri in Jakarta. Learn everything you need to know about the National Police Museum.
Museum Polri is one of the best-managed museums in all of Jakarta. It is the National Police Museum of Indonesian.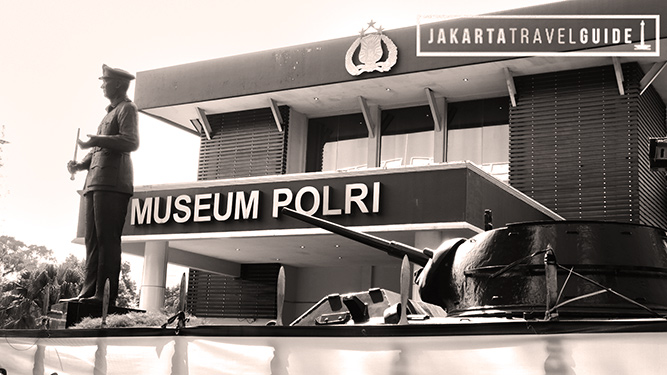 To help you place its location into context, it is situated in Kebayoran Baru. This is an area in south Jakarta. The museum is a 9.5 km drive south of the Monas and an 11 km ride north of Ragunan Zoo. The two most popular shopping districts relative to Museum Polri are Blok M and Senayan.
If you are interested about learning more about major incidents in history like the Bali bombings this is the place to go. Museum Polri is designed to showcase the long journey and role the National Police force has played as protector and guardian of the Indonesian people.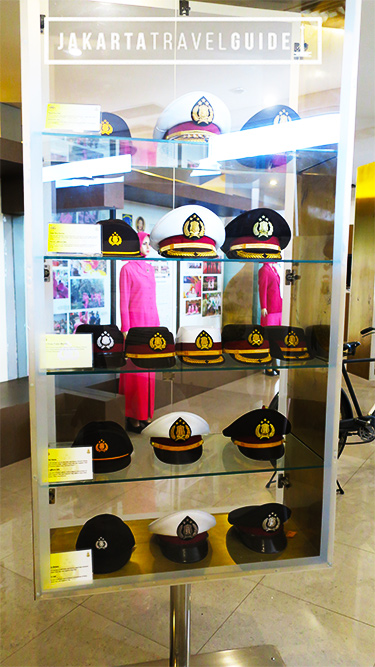 Although most museums in Jakarta are very affordable, Museum Polri is even a better bargain because it is absolutely free to enter!
The museums is organized into multiple exhibit rooms on multiple floors.
---
Collections and Exhibits at Museum Polri Jakarta
When you first arrive at Museum Polri you will pass through the front gate security area.
Once through the main gate, you will notice an old tank and helicopter outside. Feel free to take some photos in this outdoor area before entering.
When you enter the museum you will be asked to write down your name before entering the first exhibit rooms. The museum is free of charge but you still have to sign-in to enter.
The museum is packed with interesting displays and historical information for visitors of all ages.
On the ground floor of Museum Polri, there is a nice collection of photographs and displays which recount important events about the history of the police force in Indonesia. Some of the photographs have been added to a large collage that consists of both circular and rectangular pictures.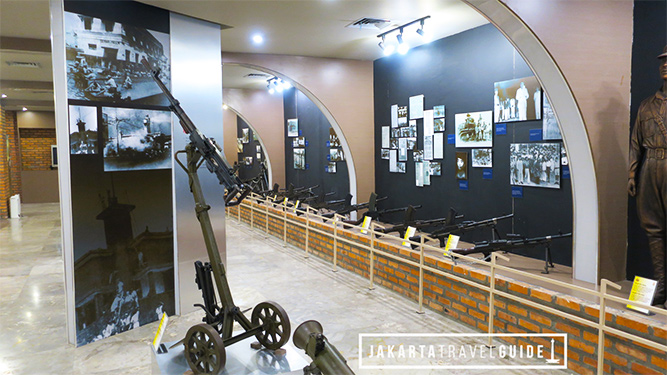 The ground floor also showcases some interesting old motorcycles and bicycles used by Indonesian police forces.
Artillery on Display
One of the highlights of visiting Museum Polri is the large selection of machine guns and rifles in the weapon room. This is also located on the ground floor of the museum. There is a truly impressive collection of previously used artillery to examine.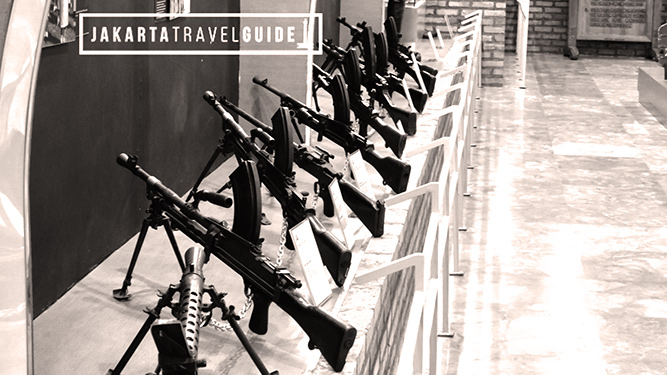 As you travel closer to the stairs leading up to the second floor, you will come across at the Hall of Fame section of the museum. This is a picture tribute to many of the top-ranking police officers in Indonesian history.  
The upper floors of Museum Polri showcase more interesting archives and gadgets used by the police force. Medals and police uniforms are on display. They even have a robotic device used to detonate/deactivate bombs and other harmful materials.
There is a nice play area for children in Museum Polri. Therefore, it is possible to let you children play while you check out the interesting exhibits.
Past Tragedies
Arguably the most interesting exhibit in the museum is the one dedicated to some of the terrorist bombings in Indonesia. There are even fragments from the devastating Bali bombings. They have included media reports as well to help visitors understand the context of the attacks, why they occurred and how they caught those responsible.
Keep in mind that you can take photos throughout Museum Poli, but you cannot take photos in the exhibit area that recounts the terrible bombings. This is out of respect for the victims of the attack and also to prevent individuals from sharing misleading information about what occurred.
---
Museum Polri – Essential Visitor Information
GPS Coordinates: -6.239330, 106.802769
Street Address: Jl. Trunojoyo No.3, RT.5/RW.2, Selong, Kec. Kby. Baru, Kota Jakarta Selatan, Daerah Khusus Ibukota Jakarta 12110
Hours of Operation
Price for Museum Polri: Free of charge but you have to sign up before entering.
---
What is around Museum Polri in Jakarta?
If you are visiting other attractions in central Jakarta then you will have to drive about 10 km south to this area of Jakarta.
Alternatively, you can take the MRT System to ASEAN MRT Station. From this station it is only a 6 minute (800 meter) walk east to Museum Polri.
Even though this is not central Jakarta, there are lots of things to check out around this museum.
Markets
Two popular markets are nearby Museum Polri:
Pasar Mayestik is located west of the museum, whereas Santa Modern Market is located to the east.
Blok M, one of Jakarta's best shopping districts is also very close to the museum.
Shopping Malls
Some of the most popular malls in Blok M include:
You can drive to these in under 5 minutes from the museum. Alternatively, take the MRT one more station south from ASEAN to Blok M MRT Station. You can walk to Plaza Blok M in under 1 minute from the station.
Most of the hotels in this area of Jakarta are quite affordable. Many shoppers tend to stay near Blok M for affordable prices and a large selection of textiles.
Best Accommodation Choices
Some of the closest hotels to Museum Polri include:
It is also easy to access ASEAN MRT Station and Blok M MRT Station from Senayan.
Therefore, also consider staying in the business district of the city. The Ritz Carlton Pacific Place and Harris Suites fX Sudirman are conveniently located close to Istora MRT Station. You can take the MRT south from there to access Museum Polri in under 10 minutes.
---
10 Closest Hotels to Museum Polri in Jakarta
***Organized according to Star Rating
---
Final Thoughts about the National Police Museum Jakarta
Many international visitors to Jakarta don't visit Museum Polri because they don't know it exists because it is in South Jakarta.
Most of the museums in Jakarta are around the Monas and up north in Kota Tua.
Highly consider checking it out if you are shopping in Blok M. You can see Pasaraya Blok M right from the museum which shows you how close they are!
The added bonuses of visiting this museum are that it is completely free to enter and that there is a nice playing area for children inside.
This is a well-maintained museum in Jakarta. It is located in the police headquarters of Jakarta so it is efficient to manage. It is cleaner and newer than many museums that charge guests an entrance fee.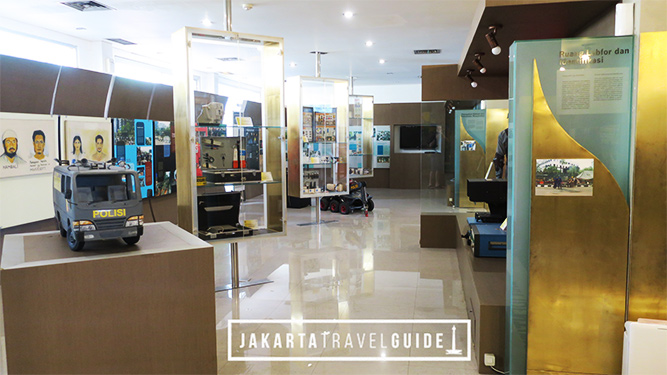 Although everyone has their own personal preference, we suggest that you spend time checking out the weapon room (ground floor) and the Bali bomb exhibit (upstairs). They are very interesting and worth your time and effort.