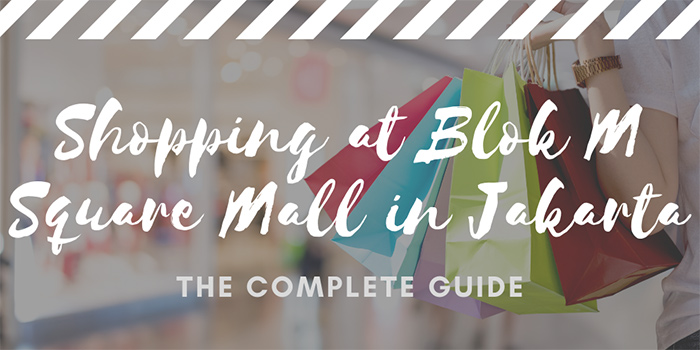 The Complete Guide: Everything you need to know about shopping at Blok M Square in Jakarta
Blok M Square is a very popular mall in south Jakarta in an area called Blok M. This is an area of Jakarta that is particularly popular with locals looking for good bargains. With the recent opening of MRT Jakarta and Blok M MRT Station it is only going to get busier at Blok M Square as time goes on.
If you are shopping at Blok M Square you will enjoy excellent prices and lots of selection. The mall is a multistory building which has no shortage of small stalls.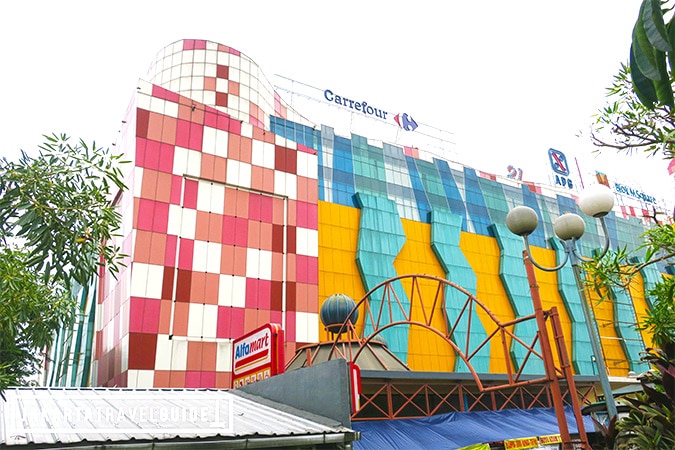 Unlike many of the large shopping malls in Jakarta like Grand Indonesia and Senayan City, Blok M Square specializes in more affordable products. Brand identity isn't the focus here. Cheap prices are.
It is a great place to buy Chinese and Indonesian-made products. You won't find many (if any) designer or luxury products at Blok M Square. Instead, clothing, shoes, belts, sunglasses, and handphones are the norm. If you want to buy affordable underwear or socks this is the place.
When you walk into Blok M Square you will notice that the central atrium is where the main elevators are located to get to the higher floors. On the ground floor of the atrium, you will also see promotional events and special sales going on. This is common on weekends when more people are shopping.
Blok M Square Mall in Jakarta occasionally has events organized outside the main entrance as well (facing Blok M MRT Station). During the evening hours, you can buy finger foods that they cook outside. Some events that they have organized in the past include Durian themes as well as food events from different regions of Indonesia.
The top floor of Blok M Square has a cinema and a food court.
The cinema features both local and international movies. If the movie is shown in English you can expect Bahasa Indonesia subtitles to be provided for local viewers. Most of the food choices here are of great value. There are a few Japanese restaurants and Indonesian eateries. The drinks and desserts here are also very affordable.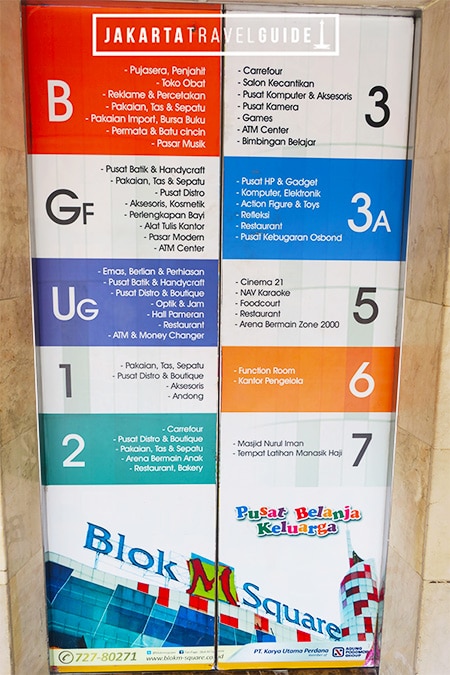 Another reason why Blok M Square is a popular shopping mall in Jakarta is because of its proximity to other budget-friendly malls in Blok M such as Plaza Blok M and Pasaraya Blok M.
---
Blok M Square Mall: Essential Visitor Information
Opening Times: Everyday from 10 am to 10 pm
Address: Jl. Sultan Hasanuddin Dalam No.3, Melawai, Kby. Baru, Kota Jakarta Selatan, Daerah Khusus Ibukota Jakarta 12160
---
What is located around Blok M Square Mall in Jakarta?
Blok M Square is situated in one of Jakarta's most popular areas for budget shopping.
All of the malls in Blok M are within walking distance to the newly opened Blok M MRT Station. You can literally take the MRT here and walk to this mall in under 5 minutes. Just head directly east from the station and you can't miss Blok M Square.
Other Malls in Blok M
Pasaraya Blok M and Plaza Blok M are two shopping malls that are located only a few minutes from Blok M Square.
Plaza Blok M is the closest mall to Blok M MRT Station. It is directly west of the station. You can walk there in about 20 seconds from the station.
Pasaraya Blok M is located to the east of Blok M Square. You can walk between these two malls in under 3 minutes at a brisk pace.
You will notice that the area to the north of Blok M Square is very busy.  There is a popular public transportation station located in that area. Typically, there are lots of buses lined up waiting for passengers.
Pasaraya Blok M has some good prices as well. You should check out the Indonesian-souvenir floor in Pasaraya. It is very popular with foreigners visiting Jakarta. It specializes in high-quality batik, wood carvings, and paintings. The selection is massive and very impressive, but the prices aren't cheap!
Plaza Blok M has some affordable barbershops and massage parlors. It also has a central atrium with cafes on the ground floor.
Since the Blok M area is mainly tailored towards budget shopping, you might be looking for more high-quality brands. In this case, consider driving over to Gandaria City Mall or Pondok Indah Mall.
Pondok Indah Mall or PIM for short is very popular with people living in South Jakarta. It has two cinemas and much more internationally branded stores in comparison to Blok M Square. It is about 4.5 km southeast of Blok M.
Gandaria City Mall is also a nice, spacious shopping center. It is closer to Blok M Square than PIM. It is also very busy on weekends, but slightly quieter than PIM.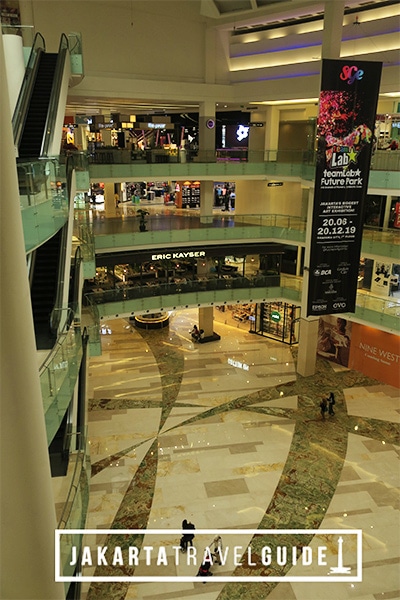 Gandaria City has an IMAX and a large cinema on the top floor (as well as a food court). It has a large central atrium that hosts large events and promotions such as Singapore Airline large sales.
You can also head east to Kemang – arguably the most favourite area for expats living in Jakarta.
Kemang has an extensive selection of restaurants, bars and cafes to choose from and they tend to be reviewed quite positively. Lippo Mall Kemang is the mall in this area of Jakarta. It also has a cinema on the top floor.
Top Accommodation Options
You won't find very many luxury hotels near Blok M Square. Instead,  a large selection of 2 and 3 star hotels to choose from.
This area caters to budget shoppers, therefore it makes sense that the hotels are also targeting the same crowd.  Here are some of the closest properties in relation to the mall:
Try The Dharmawangsa if you want to be near Blok M while having world-class service and amenities. This is one of the best 5-star properties in all of Jakarta.
A good market quite close to Pasaraya Blok M is Pasar Mayestik.
Pasar Mayestik has an extensive selection of Indonesian-made Batik.  The market building has multiple floors worth checking out and the stores outside surrounding the market are also very affordable. They tend to sell wholesale quantities. It is considered to be the best area to buy batik in south Jakarta.
Public Parks
There are a few small public parks in Blok M. They are located to the west of Blok M Square:
Ayodya (Taman) Park
Langsat (Taman) Park
Martha Tiahahu (Taman) Park
These are small public spaces, but better than nothing. Of these, Langsat Park is the largest and best for walking or jogging.
---
10 Closest Hotels to Block M Square Mall in Jakarta
***Organized according to Star Rating
---
Summary: Shopping at Blok M Square Mall in Jakarta
With the opening of Blok M MRT Station, you can only expect Blok M Square get busier over the next couple of years.
This shopping area is also surrounded by many Japanese and Korean restaurants as well. Therefore, you can easily shop at Blok M Square while having a nice meal during your trip.
Don't be shy to bargain while at Blok M Square as well. Many of the local vendors will be up for negotiating. Always be sure to double-check the price of the product if you see it at multiple stores within the mall to make sure that you are getting the best price. The cinema can get busy on the weekend so be sure to buy your tickets well in advance.