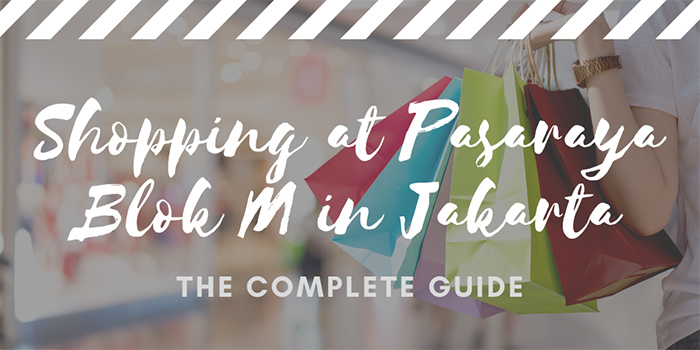 The Complete Guide: Everything you need to know about shopping at Pasaraya Blok M in Jakarta
Pasaraya Blok M is a shopping center in Blok M, an area of south Jakarta that is known for affordable malls that tend to offer locally-made and Chinese imported goods.
Batik is one of the big items in demand here.
There are things that you know before you shop at Pasaraya Blok M.
Pasaraya Blok M is a multistory mall that has some department stores and a complete floor dedicated to Indonesian arts, crafts, souvenirs and organic products such as coffee and local delicacies.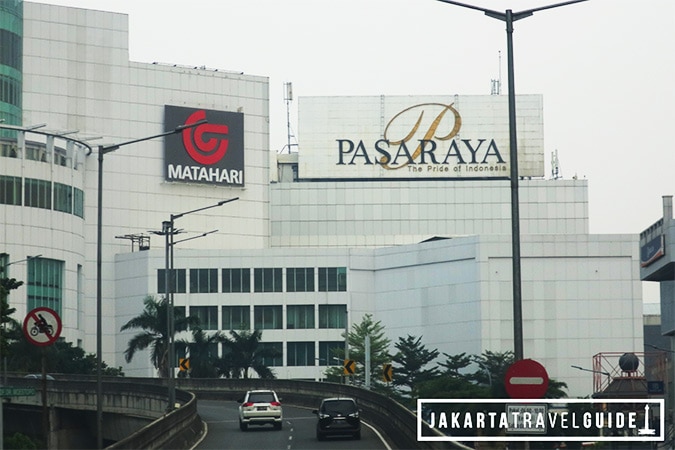 This section of the mall is particularly popular with foreign tourists in Jakarta despite the mall's distance from central Jakarta.
It has an extensive collection of Indonesian paintings, puppets, masks and other artworks that are really interesting to check out if you are in this area of the city. Pasaraya Blok M is popular with foreign tourists and expats living in Jakarta.
The selection of Indonesian-made Batik is also outstanding which makes it an excellent place to shop for high-quality shirts, blouses, and sarongs. If you want to see a large selection of batik, this is the place.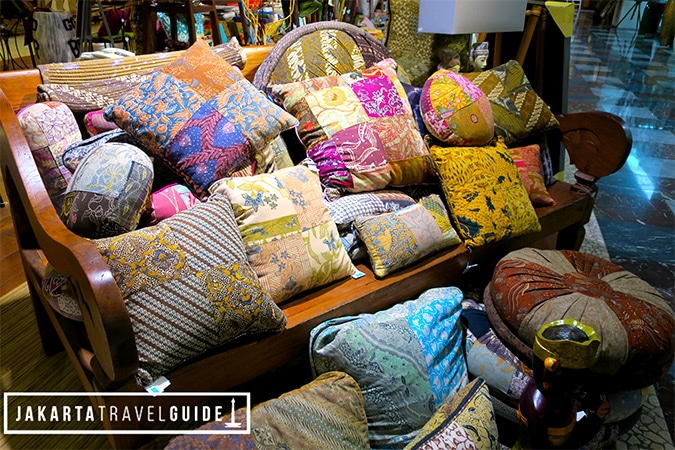 When you enter Pasaraya Blok M you will first see the atrium near the entranceway.  They sometimes have sales on the ground floor in the atrium.
As you go up the escalator you will pass some restaurants and department stores before reaching the Batik and souvenir sections. Although the quality of the locally-made products is pretty good, they are not particularly cheap.  Be sure to shop around before purchasing items.
Pasaraya Blok M doesn't only consist of an area for tourists good.
The ground floor of Pasaraya Blok M has three or four cafes that also have outdoor seating areas. This area is great for working online and enjoying a locally brewed cup of kopi (coffee).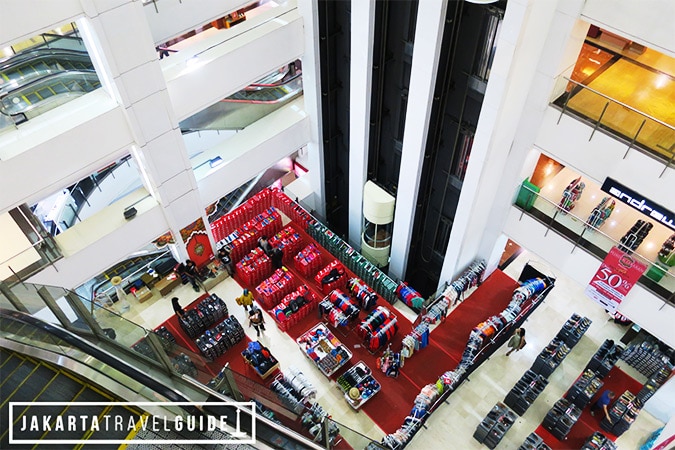 If you are looking for sporting goods or shoes Pasaraya Blok M has a few stores on the second floor that you can check out. Prices here tend to be quite competitive in comparison to other luxury malls in Jakarta like Plaza Indonesia and Pacific Place.
You won't find a cinema in Pasaraya Blok M, unfortunately. But Blok M Square (the mall next door) has one that features international and local movie releases.
---
Pasaraya Blok M: Essential Visitor Information
Opening Times: Everyday from 10 am – 10 pm
Address: Jl. Iskandarsyah II, RT.3/RW.1, Melawai, Kby. Baru, Kota Jakarta Selatan, Daerah Khusus Ibukota Jakarta 12160
---
What is located around Pasaraya Blok M Mall in Jakarta?
Pasaraya Blok M is located in one of Jakarta's best areas for budget shopping opportunities. It is also very easy to reach now that the MRT is open in Jakarta.
All you need to do is take the MRT to Blok M Station. You can walk to Pasaraya Blok M from the station in under 5 minutes by heading east.
Although the mall has some high-quality paintings and expensive locally-made products, the malls beside it tend to have much cheaper products.
Shopping Malls 
Blok M Square and Plaza Blok M are two shopping centers that are located west of Pasaraya Blok M.
Plaza Blok M is literally directly beside the Blok M MRT Station.
Blok M Square is very close to Pasaraya Blok M (about a 1-minute walk to the west).
The area directly in front of Pasaraya Blok M tends to be quite busy because there is a popular transport station located in that area. Don't be bothered by all the pedestrian and vehicle traffic.
Blok M Square has low ceilings, narrow aisles and no shortage of small shops selling affordable merchandise.
Batik, electronics, and products such as sunglasses, belts and undergarments are common. Plaza Blok M is located right near the new Blok M MRT Station. It has a variety of local and internationally branded merchandise with some good value salons and spas as well.
If you are looking for more internationally branded products and more high-quality restaurants, then consider going2.5 km west to Gandaria City Mall or about 4.5 km southwest to Pondok Indah Mall.
Both of these malls are popular with affluent shoppers living in Pondok Indah and they have cinemas which show both local and international films.
Another good idea if you are in Blok M and looking for a nice dinner is to head east to Kemang – arguably the most favorite area for expats living in Jakarta.
It has an extensive selection of restaurants, bars, and cafes to choose from and they tend to be reviewed quite positively. While in Kemang, also consider shopping at Lippo Mall Kemang.
Top Accommodation Options
The area around Pasaraya Blok M has a pretty large selection of 2 and 3-star hotels to choose from.
Since this area caters to budget shoppers, the accommodation choices tend to satisfy similar tastes.  Here are some of the closest properties in relation to the mall:
If you want to stay near Blok M at a 'higher-end' property, try The Dharmawangsa. This is one of the best hotels in Jakarta with excellent service and amenities.
Staying close to Pasaraya Blok M and the malls in this area can be a wise decision because it can get really clogged with traffic, so it will make your visit much more efficient.
Markets
A good market quite close to Pasaraya Blok M is Pasar Mayestik.
Pasar Mayestik has an extensive selection of Indonesian-made Batik.  The market building has multiple floors worth checking out and the stores outside surrounding the market are also very affordable. They tend to sell wholesale quantities.
Some of the stores can get extremely busy, especially on weekends. Don't forget to compare the prices outside the market with the prices inside before purchasing.  You might be surprised by the price difference.
Public Parks
If you are staying near Pasaraya Blok M then don't expect massive public parks and areas to relax outside. It feels like a busy concrete jungle. However, there are a few small parks located between Gandaria City Mall and Pasaraya Blok M that you can visit to get a bit of exercise:
Langsat (Taman) Park
Martha Tiahahu (Taman) Park
Don't expect miles upon miles of parkland here, but at least you might be able to stop at each one to run a long enough distance.  
---
10 Closest Hotels to Pasaraya Blok M in Jakarta
***Organized according to Star Rating
---
Summary: Shopping at Pasaraya Blok M in Jakarta
You should consider shopping at Pasaraya Blok M if you want to pick up some Indonesian-made products. It has the best selection of interesting, and high-quality tourist items in the city.
It is very common to see expats and foreigners staying in Jakarta visit this mall. The prices are not cheap by any means when it comes to Batik and souvenirs but the selection is superb.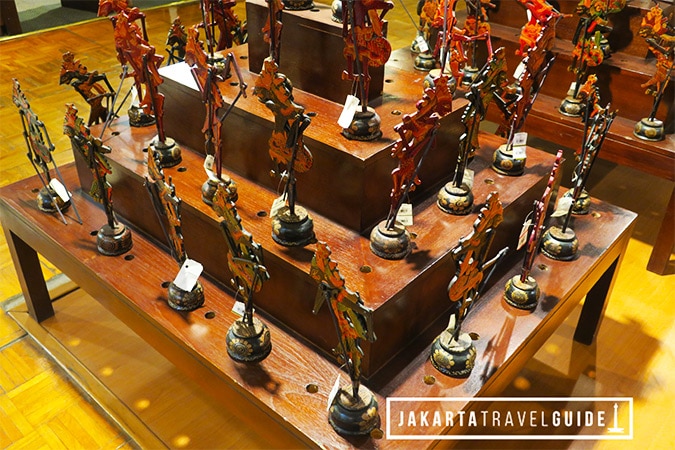 Pasaraya Blok M also has a good selection of shoe stores as well. You can find some good bargains here.
The MRT is a game-changer in Blok M. Now suddenly, this is one of the most convenient areas to access because the station is literally only a few hundred meters away from all the malls in Blok M.