Visiting Taman Lapangan Banteng in Jakarta
Everything you need to know about Taman Lapangan Banteng – one of Jakarta's nicest and most modern parks right in the city centre.
Taman Lapangan Banteng is a historic park in central Jakarta which located close to the Monas – Indonesia's National Monument. If you are sightseeing in central Jakarta this is one of the best parks to visit.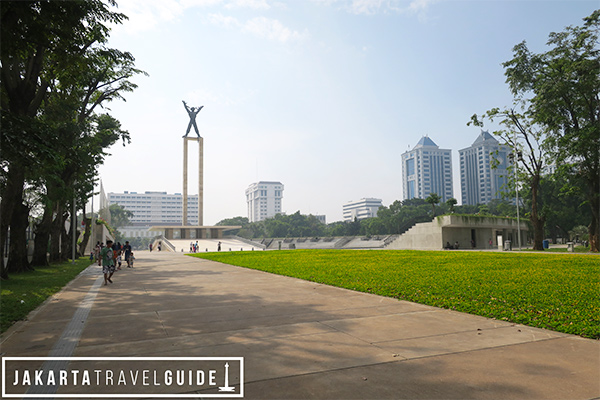 After a very recent renovation to this park, it is now one of Jakarta's best outdoor spaces with a modern outdoor amphitheater, island stage, and an excellent evening water show.
This park was not always called Taman Lapangan Banteng, however.
After the revolution and the Independence of Indonesia, Waterloo Square (known as Waterlooplein Square in Dutch) was renamed by Sukarno to its current name of Lapangan Banteng.
During Dutch Colonial times in Indonesia, the field in Taman Lapangan Banteng was known as 'Lion's Field'. But since Indonesia was no longer under Dutch influence, Sukarno changed the name to 'Banteng' (which translates to bull or buffalo) to create a new identity for the park and the newly formed independent republic.
The square in Taman Lapangan Banteng was part of Sukarno's national building project in the early 1960's.
As part of this project, the West Irian Liberation Monument was constructed and placed at the center of the park. Sukarno also wanted a national mosque and luxury hotel placed around the park.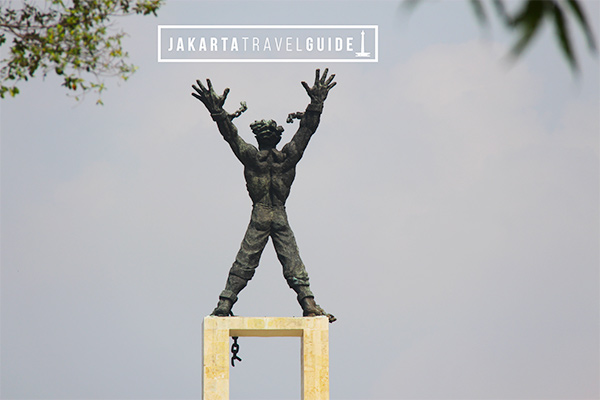 That's why Istiqlal Mosque and Hotel Borobudur are located directly beside Taman Lapangan Banteng.
Although Taman Lapangan Banteng has seen its fair share of changes over the years (it even served as a bus station for a while), a recent renovation began in 2017 to modernize it.
Currently, it is one of Jakarta's best parks with a modern feel, ideal for chilling out over a cup of coffee in the amphitheater area.
---
Taman Lapangan Banteng Park Information
Taman Lapangan Banteng is divided into three main sections:
1) A recreational park with the West Irian Liberation Monument
2) A running track
3) A football field and children's playground
The southern section of Taman Lapangan Banteng consists of tree-lined paths, an outdoor amphitheater, a large water fountain, an island stage, and the West Irian Liberation Monument.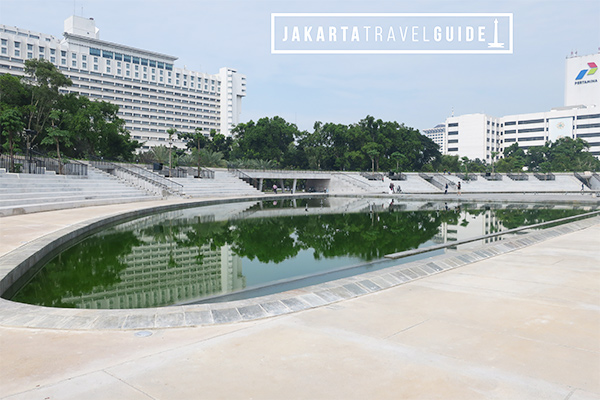 Unless you are planning on playing sports while you are visiting the West Irian Liberation Monument, chances are you will be in this section of the park.
The two northern sections of Taman Lapangan Banteng are more tailored for athletics, but not sightseeing. You can use the running track, fields and basketball court if you want some exercise.
The northern section of the park has not been renovated. Therefore, it doesn't look as modern as the amphitheater area to the south.
When you enter Taman Lapangan Banteng chances are that you will bypass some security near the entrance. The security personnel don't really do much other than watch over the parked motos in the parking area.
Feel free to walk around and take photos of Taman Lapangan Banteng.
One of the interesting things about this park is that it's possible to take photos of the following points of interest as you walk around the park:
West Irian Liberation Monument
It's rare to find a place with so many sights nearby in Jakarta. So bring your camera along and make the most of it!
---
Water Fountain Shows at Taman Lapangan Banteng
One of the most exciting things about the recent renovation to this park is the installation of a modern water fountain. It is capable of conducting excellent water and light shows that are in sync with background music.
Although the fountain is new and more information will be released about showtimes, this is an exciting new attraction in central Jakarta and one worth checking out!
---
What is around Taman Lapangan Banteng in central Jakarta?
Surrounding Attractions
Taman Lapangan Banteng is located in one of the best areas for sightseeing in all of Jakarta.
It is surrounded by some of Jakarta's most popular sites such as Jakarta Cathedral and Istiqlal Mosque.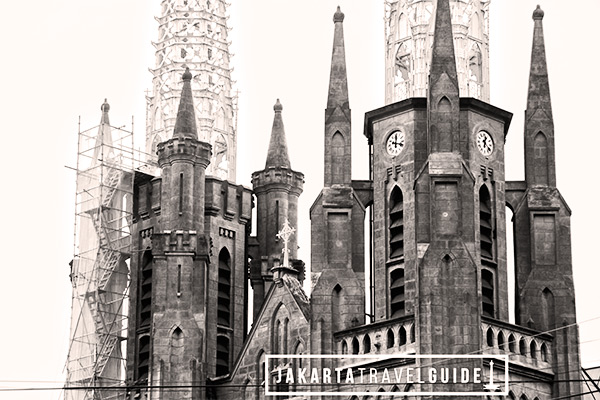 You can walk to either one of these in two minutes from Taman Lapangan Banteng.
It is also possible to walk to Pasar Baru from Taman Lapangan Banteng.
Pasar Baru is a popular market area with lots of shops. As you walk from the park to Pasar Baru you will also pass the Jakarta Art Building, the Pasar Baru Painting Market and Antara Museum. You can bundle these into the same-day itinerary if you want to save some time while you are in Jakarta.
You can also walk or take a short ride over to the Monas from the park. The Monas is only 1.5 km away. This should take you about 15 minutes to walk or a 3-minute drive.
Best Accommodation Options
You should also highly consider staying in this area of Jakarta. Because it is so centralized, it is possible to walk from your hotel to many sights.
Hotel Borobudur is one of the most famous and historic hotels in Jakarta. It overlooks the park, and offers superb views of the park. It has a simply superb outdoor area at the back of the hotel that is ideal for children. If you have a family this is an awesome, and pretty affordable choice for central Jakarta. Don't expect super modern rooms, but the amenities and services available are great!
Some other good options near Taman Lapangan Banteng include:
All of these get review ratings above 8/10 on most major booking sites based on verified guest review scores.
If you are staying at any of these properties near Taman Lapangan Banteng you will also be able to check out other points of interest in central Jakarta as well.
Other Points of Interest
The National Gallery of Indonesia, the National Museum of Awakening, Tugu Tani and Pasar Senen are just a few of the places you might want to check out.
---
Final Thoughts about Visiting Taman Lapangan Banteng in Jakarta
The newly renovated Taman Lapangan Banteng is definitely worth checking out while you're in central Jakarta.
The outdoor amphitheater is particularly nice. You can sit there and enjoy a great view of the West Irian Liberation Monument and even the water show if you visit during certain evenings.
Saturday nights tend to be the most vibrant at Taman Lapangan Banteng, so if you have a night to pick, it's a good choice.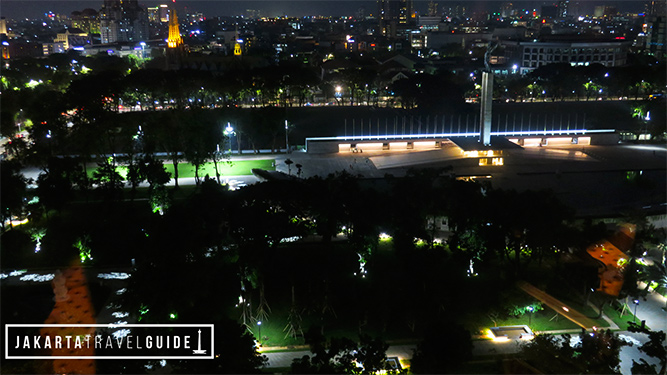 Don't forget that Taman Lapangan Banteng is also a good place for running and exercising.
There is a running track, fields and a basketball court there! You may also want to combine a few public parks to lengthen your exercise routine.
You can run around National Monument Park and then run over to Taman Lapangan Banteng. To get the longest run, consider going to Senayan MRT Station during car-free day in Jakarta. Then run from there all the way to the Monas. After the Monas continue your run to Taman Lapangan Banteng.
This is a nice running circuit that will be quite long (especially if you complete a full loop).