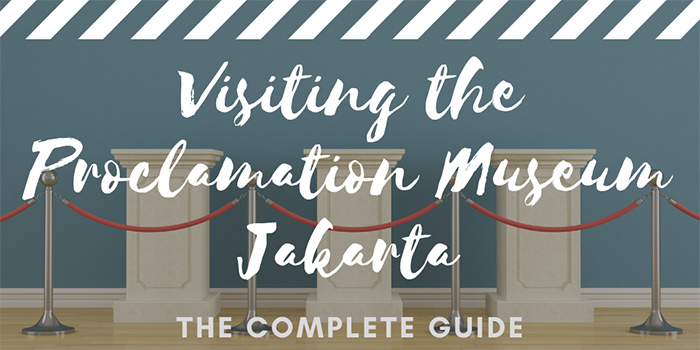 The ultimate guide to the Formulation of Proclamation Text Museum Jakarta. Everything you need to about the proclamation of Indonesian Independence and how it was formed.
The Proclamation Museum in Jakarta can be called different names by different people.
Although 'Proclamation Museum' is the shortest name, you might also hear it being called the "The Formulation of Proclamation Text Museum". This, of course, is much longer to say and harder to remember. In Bahasa Indonesia, it is called "Museum Perumusan Naskah Proklamasi".
As the name suggests, this is a history museum located in central Jakarta. This is a famous landmark because this is where a lot of the work was done to eventually get the proclamation of Independence completed. If you are interested in Indonesian history and overcoming colonial rule this is a great spot to visit.
To place its location into context the Proclamation Museum is located in Menteng.
This is is a popular area of the city for museums and parks. This museum is only about 3 km south of the Monas (Indonesia's National Monument).
History of the Museum
The building that houses the Proclamation Museum was originally built in 1920. It is a two-story Art-Deco-style construction. Over the years it has changed hands various times. In 1931 an insurance company bought it. It was then used by the British General Consulate during the Pacific War. During the Japan occupation period, it was the residence of Rear Admiral Tadashi Maeda.
When the allied forces arrived in September 1945 it was returned to the British again. Over a twenty-year span from 1961 until 1981, it was rented to the English Embassy. Eventually, in 1981 it was given to the Indonesian Department of Education and Culture. It was then converted into a library and then an office building in 1982.
In 1984 Minister of Education and Culture, Nugroho Notosusanto proposed that it should become a museum. Because this building (and the events within it) played a large role in the formation of the independence proclamation text it seemed fitting to have the museum there.  
In 1992 the Museum of the Formulation of Proclamation Text Museum was officially inaugurated.
---
Collections and Exhibits at Proclamation Museum Jakarta
The Proclamation Museum is very easy to access because it is directly beside Jalan Imam Bonjol. You can see it from the road and walk to it in under 30 seconds.
This is by no means one of Jakarta's largest museums. It is small and easy to navigate without much guidance.
The museum consists of four sections. What you will mainly find here are large meeting tables that are used to help 'reimagine' the discussions that went on to help reach independence.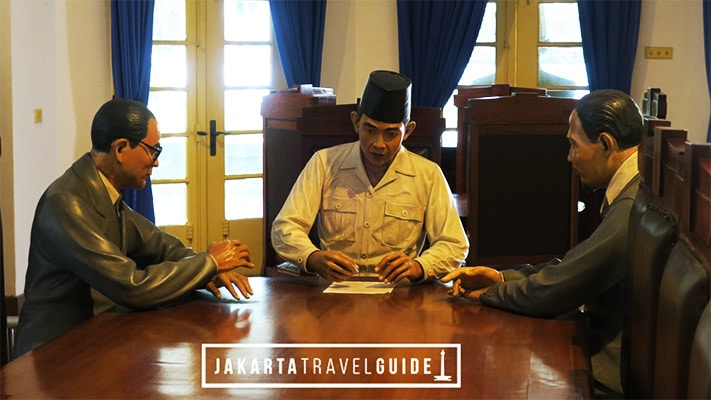 The museum also displays wax figures to showcase some of the individuals involved in the discussions. There are displays on walls throughout the museum to summarize all of the individual parties involved.   
Printed Displays
There are large sections of the proclamation document that are printed out on displays to highlight key pieces of information. Photos and records are scattered in different areas of the Proclamation Museum.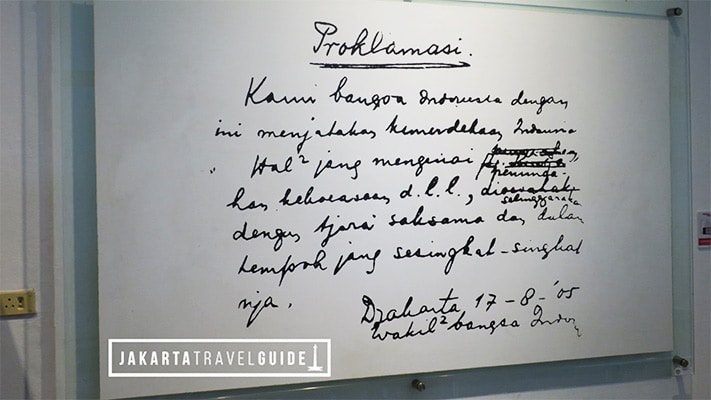 Many visitors to this museum don't realize that there is an outdoor backyard area as well. You can take a break here and relax for a while before you head to your next attraction in Jakarta.
There is an underground bunker at the back of the Proclamation Museum. This is an interesting place to check out if you have the time and energy. Most visitors to the museum don't know that it exists!
---
Proclamation Museum – Essential Visitor Information
GPS Coordinates: -6.200476, 106.831057
Street Address: Jl. Imam Bonjol No.1, RT.9/RW.4, Menteng, Kota Jakarta Pusat, Daerah Khusus Ibukota Jakarta 10310
Hours of Operation
Monday: Closed

Tuesday: 8:00 am to 12:00 pm and 1:00 pm to 4:00 pm

Wednesday: 8:00 am to 12:00 pm and 1:00 pm to 4:00 pm

Thursday: 8:00 am to 12:00 pm and 1:00 pm to 4:00 pm

Friday: 8:00 am to 11:30 am and 1:00 pm to 4:30 pm

Saturday: 8:00 am to 4:00 pm

Sunday: 8:00 am to 4:00 pm
Entrance Price for Proclamation Museum
Indonesian Adult: 2,000 IDR

Indonesian Adult in Group (consisting of 20 or more people): 1,000 IDR per adult

Children: 1,000 IDR

Child in group (consisting of 20 or more children): 500 IDR per child

Foreigners: 10,000 IDR
---
What is around the Proclamation Museum in Jakarta?
The Proclamation Museum is located right in central Jakarta. Menteng is a nice area of the city that was home to many elitists and influential people during the colonial days.
Nearby Points of Interest
Due to this museum's proximity to major sights like the National Museum and National Gallery, it's a great area to stay while in the city as well. Many foreign embassies are currently located right in this area of Jakarta.
Most of the streets here have sidewalks and large trees which provide some much-needed shade.
Three of central Jakarta's most popular parks are located very close Museum Proclamation:
Of these three, Taman Suropati is the closest. It is only 200 meters away and you can walk there in 3 minutes. You will pass by the Diponegoro Monument on the way.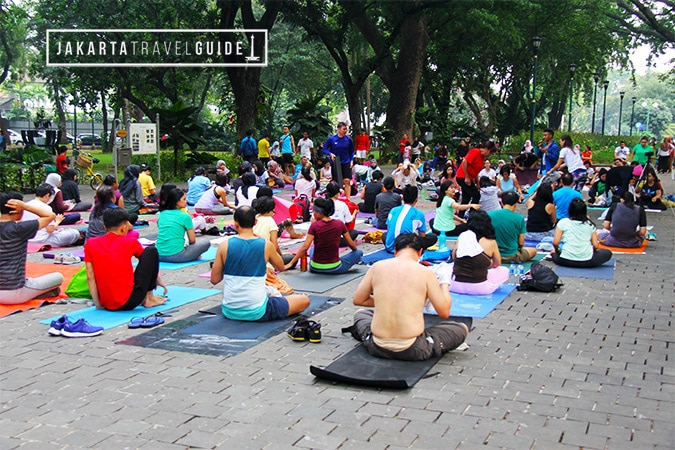 If you are visiting the Proclamation Museum consider walking (or driving) east to Jalan Surabaya Antique Market. It is about 1.2 km away which is a 15-minute walk or a 3-minute drive. You can find all kinds of interesting antiques in this market.
Best Accommodation Options
Some of Jakarta's best hotels are a short ride away from the Proclamation Museum as well. This is because Bundaran HI and the Selamat Datang Monument are only a 4-minute drive from the museum. This is one of the best areas (if not the best) to stay in the entire city.
You can drive to all of the following hotels from the Proclamation Museum in under 6 minutes (traffic permitting):
If you plan on using the MRT system in Jakarta then the closest stations to the Proclamation Museum are Dukuh Atas MRT Station and Bundaran HI MRT Station.
---
10 Closest Hotels to Formulation of Proclamation Text Museum in Jakarta
***Organized according to Star Rating
---
Final Thoughts about visiting the Formulation of Proclamation Text Museum Jakarta
There is no denying the fact that historians will value the Proclamation Text Museum much more than the average visitor to Jakarta.
This museum summarizes specific events that lead to Indonesia's independence. It provides a tribute to the individuals who made an effort for this to occur.
Unlike the National Museum, this museum doesn't have many ancient artifacts to examine. There are no ancient fossils or battle swords. But many Indonesians may find this as a proud reminder of their past and how it has shaped the present.
If you are traveling with children to the Proclamation Museum, remember to go outside to the backyard area. There is some room for them to play outside (just watch out for the entrance to the underground bunker!).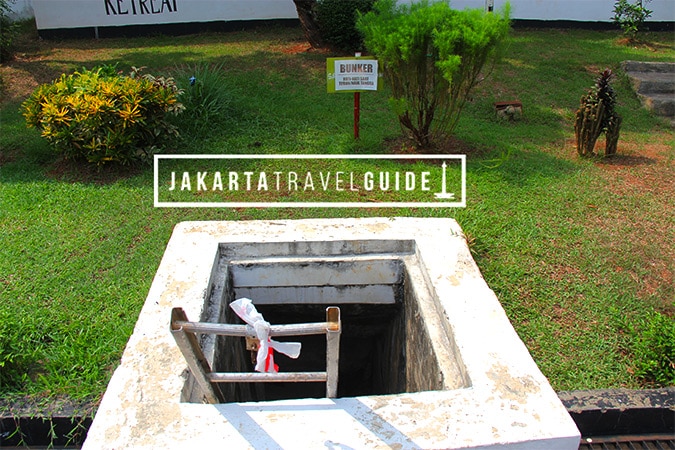 Consider going over to Taman Suropati after visiting the museum. It is literally just a few minutes away (across the road).
Foreigners should expect to pay more to enter the museum in comparison to Indonesians. The most expensive ticket is 10,000 IDR making this a very affordable place to add to your itinerary for Jakarta.