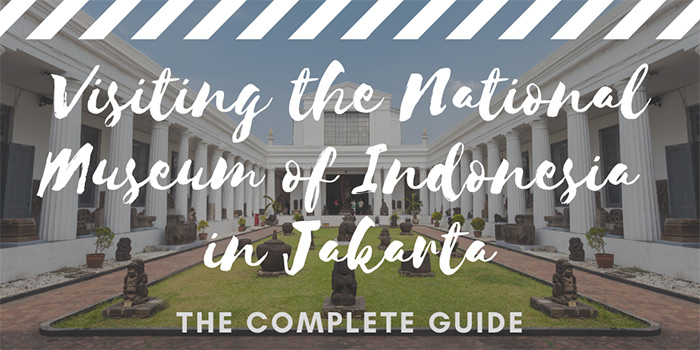 Everything you need to know about the National Museum (Museum Nasional) in central Jakarta.

---
Museum Nasional Indonesia: Overview
The National Museum of Indonesia is locally called 'Museum Nasional' in Bahasa Indonesia. This is without question one of the most popular and famous museums in Jakarta and in the entire country for that matter.
If you are visiting Jakarta, you should definitely try to visit the National Museum during your stay.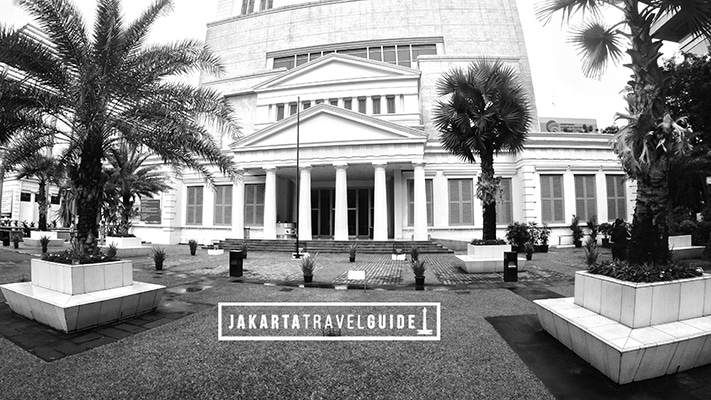 Museum Nasional Indonesia officially opened in 1868. If you are in Jakarta long enough you might also hear it get called 'Gedung Gajah' (Elephant Building) or Gedung Arca (The house of Statues).
The name Gedung Gajah originated because of the bronze elephant statue that is located in the front area of the museum ground. It was a gift to Batavia from King Chulalongkorn of Siam in 1871.
The alternate name, Gedung Arca is sometimes used to describe the large selection of statues that are on display here.
Aside from an impressive collection of historical artifacts in Museum Nasional, you will also appreciate its central location directly across the road to the west of Merdeka Square and the Monas – Indonesia's National Monument. It is one of the most conveniently located attractions in all of central Jakarta.
Museum Nasional Indonesia is a multistory exhibit that highlights Indonesia's history. Although there are 4 main floors to the museum, the ground floor, and the top floor are highlights.
Currently, the National Museum of Indonesia hosts a collection of approximately 61,600 prehistoric and anthropological artifacts and 5,000 archeological artifacts from all over Indonesia and Asia. They are arranged in such a way that it is easy to navigate from one artifact to the next while visiting the museum.
The ground floor of the National Museum of Indonesia has an impressive collection of ancient stone age artifacts such as fossilized skulls and skeletons of Homo erectus, Homo floresiensis, and Homo sapiens.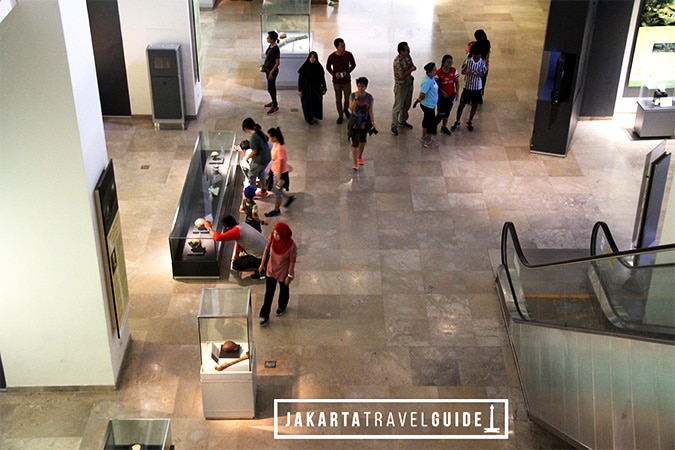 If you are a historian, this is a must-see. There is a lot of debate amongst scientists around the world who are attempting to explain the genetic origins of these bone specimens. Once you walk into the first exhibit area of the museum you can see them in glass containers in the middle of the room.
---
Visiting the Gold Treasury Room at the National Museum of Indonesia
The top floor of the National Museum of Indonesia is the treasury room. This is also an impressive area to check out.
The treasury room showcases some really interesting (and ancient) gold artifacts. You will also see all kinds of ancient gold-plated daggers and swords. There are multiple examples of ancient war tools that are on display.
If you like jewelry, you will also like the treasury room in Museum Nasional Indonesia.
There are multiple gold-crusted necklaces that have rare gemstones embedded in them. They appear to be the remains of previous royal families or prominent leaders in Indonesia.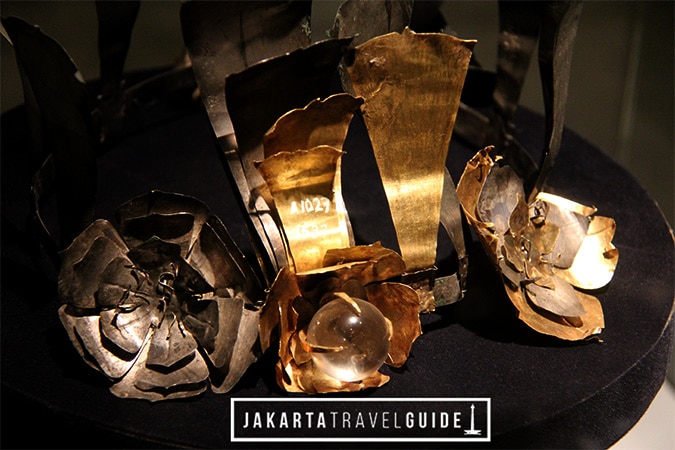 While you are visiting the National Museum in Jakarta you will notice that you can only access the treasury room (upper floor) by using the elevator. There aren't clear signs directing visitors to the to the top level of the mall for some reason? Regardless, don't forget that you can indeed take the elevator up there. Don't forget this!
On the same floor as the treasury, there is also an international ceramics exhibit. Although not as impressive as the gold next door, it is also worth checking out. If you like ceramics, then also consider checking out the Museum of Fine Arts and Ceramics in Kota Tua as well.
Please keep in mind, that although you can take pictures throughout the National Museum of Indonesia, you cannot take pictures in the treasury room. They usually have a few security personnel circling around to make sure that nobody sneaks in a few shots. Due to the very valuable items of display, security is tight in this area of the museum, and rightfully so.
Back in 2013 four pieces of golden artifacts were stolen from the National Museum. Therefore, to prevent an incident such as this from recurring you can expect to have some restrictions in place around the prized artifacts.  
---
National Museum of Indonesia: Essential Visitor Information
Opening Times for Museum Nasional
Monday: Closed

Tuesday: 8 am – 4 pm

Wednesday: 8 am – 4 pm

Thursday: 8 am – 4 pm

Friday: 8 am to 11:30 am and 1 pm to 4 pm (adjusted for Friday prayer)

Saturday: 8 am – 5 pm

Sunday: 8 am – 5 pm

***Also closed on National (public) Holidays
Entrance Prices for Museum Nasional:
Local Indonesian Nationals: 5,000 IDR for adults and Rp2,000 IDR for children.
Foreigners: 10,000 IDR (more expensive, but still very affordable based on international rates)
Discounts are available for groups (minimum 20 persons)
Museum Address
Jl. Medan Merdeka Barat No.12, Gambir, Kota Jakarta Pusat, Daerah Khusus Ibukota Jakarta 10110
---
What is around the National Museum of Indonesia in Jakarta?
Hotels near the National Museum
One of the added bonuses of visiting the National Museum of Indonesia in central Jakarta is its accessibility to hotels and other attractions in the city.
You can expect to find a large selection of high-quality hotels near Museum Nasional.
This is partly due to its proximity to the Monas, which naturally attract lots of domestic and international visitors to Jakarta.  Most of the properties within 1-2 kilometers from the museum are in the 2-4 star category. The area west of the museum is popular with textile shoppers visiting Tanah Abang Market. Therefore, the hotels cater to these guests as well.
Some reasonably priced hotels not too far from the National Museum include:
If you are looking for something a bit more comfortable with more services try:
Stations
With the recent opening of MRT Jakarta, it is now easier than ever to access the Monas area, which includes, the National Museum. Simply go to Bundaran HI MRT Station and take either a taxi, private car or a bus north to the museum. It is only a five-minute drive away.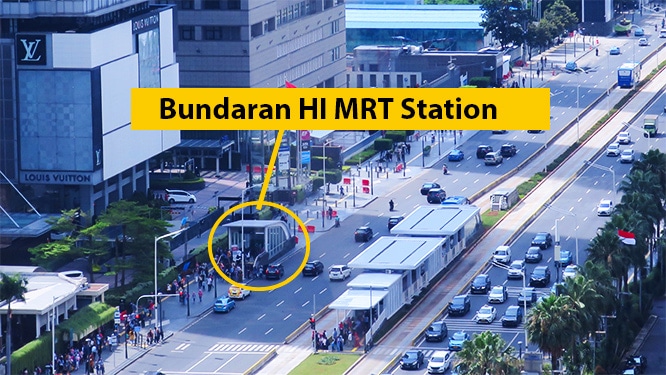 You can also consider staying near Bundaran HI if you want to access the National Museum of Indonesia.

Bundaran HI is surrounded by some of the most popular hotels for visitors to Jakarta. Some of the best options near the MRT Station include:

You can walk to any of these in under 5 minutes from the Bundaran HI MRT Station.
---
Sightseeing Options near the National Museum in Jakarta
Museum Nasional Indonesia is within walking distance of:
Merdeka Palace
Merdeka Square

 
It is also a short drive away from:
Tanah Abang Textile Market

 

Bundaran HI
If you have a full day of sightseeing in central Jakarta, you may want to add as many of these as you can into your itinerary.
***Read more about exciting itineraries for Jakarta using this popular itinerary guide.
If you stay near the National Museum of Indonesia, you can also enjoy Car-Free Sundays in central Jakarta. This is one of the best opportunities to exercise and run or cycle long distances without worrying about Jakarta's notorious traffic.
Some of Jakarta's most popular shopping malls are located about 2 km south around Bundaran HI:
All three are very popular due to their accessibility to the MRT system, Bundaran HI and Jakarta Airport Railink (BNI City Station).
You can also travel a few kilometers south of the National Museum to Chinatown (Glodok). Many street markets and electronic malls can be accessed on the way to Kota Tua from the Monas area.
---
Frequently Asked Questions about visiting Museum Nasional in Jakarta
---
Where do you buy tickets for the National Museum?
The easiest place to buy tickets for the museum is right at the entrance. They have museum personnel and a few counters set up right at the door to the museum. Simply pay cash and get your entrance ticket.
Keep in mind that there are different prices for adults and children and whether you are a local or foreign visitor. Don't be surprised by this.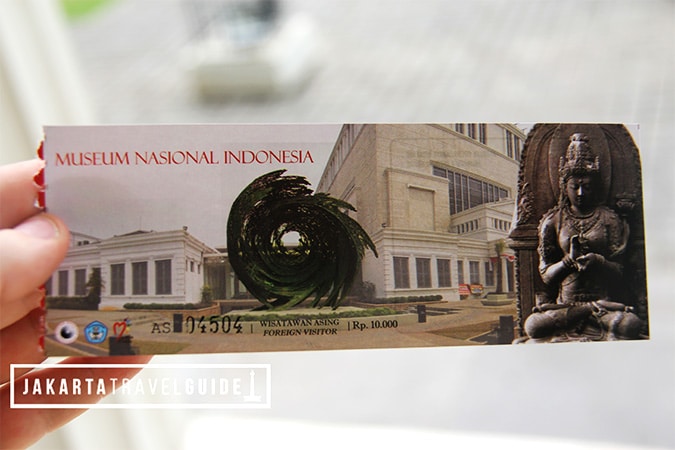 Foreign visitors are charged more at many museums throughout Jakarta.
***Read this Jakarta Museum Guide for additional information about museums throughout the city.
---
Is it possible to walk from the Monas to the National Museum of Indonesia?
Yes, this is completely possible. Actually, one of the most practical ways of getting from the Monas to the National Museum is to walk.
The museum is located along the western side of the Monas park area. The easiest way to walk there is to go to the northwestern exit of the Monas park. This is in the corner area.
Simply, walk outside the gates and turn left (south). Cross the road and walk 5 minutes (or even less) and you will reach Museum Nasional Indonesia.
---
Can you take pictures in Museum Nasional Indonesia?
Yes, you can take pictures throughout the Nasional Museum.
The only exception is in the treasury room which is located on the top floor of the museum. You shouldn't have an issue throughout the rest of the museum, however.
---
Can you buy food and drinks at the National Museum of Indonesia?
There is a small cafe located near the exit area where you can buy coffee, other drinks, and light meals.
Don't expect anything fancy. There is also a small souvenir shop in case you are wondering.
---
How much time should you plan to spend at the National Museum?
In most cases, visitors spend anywhere from 30 minutes to 2 hours at this museum.
Since it is a large building 30 minutes would reflect minimal engagement, whereas 2 hours would reflect taking photos and really looking at details.
If you are traveling with children in Jakarta, plan for a 1-hour trip to the National Museum.
---
10 Closest Hotels to National Museum of Indonesia in Jakarta
***Organized according to Star Rating
---
Final Thoughts on Visiting Museum Nasional Indonesia in Jakarta
The National Museum of Indonesia is popular with both local and foreign visitors to Jakarta. It doesn't hurt that it is conveniently located beside the National Monument (Monas).
This makes it an easy place to visit.
Over the last couple of years, it has been going through some major renovations. So don't be surprised if they are still going on during your trip to Jakarta.
It isn't the most modern Nasional museum that you will find. Some visitors think it could still be organized more effectively with modern exhibits. It is hard to deny that some of the artifacts are quite interesting to check out, however.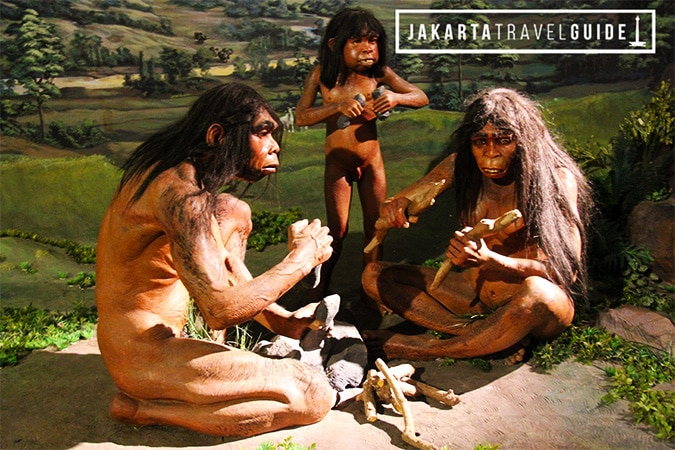 As mentioned before, the treasury room and the artifact area on the ground floor tend to be the highlights. Again, this will depend on what interests you!
Consider checking out the National Museum during the same day as the Monas to make your trip efficient. This will also cut down on the time you spend in Jakarta's notorious traffic jams.