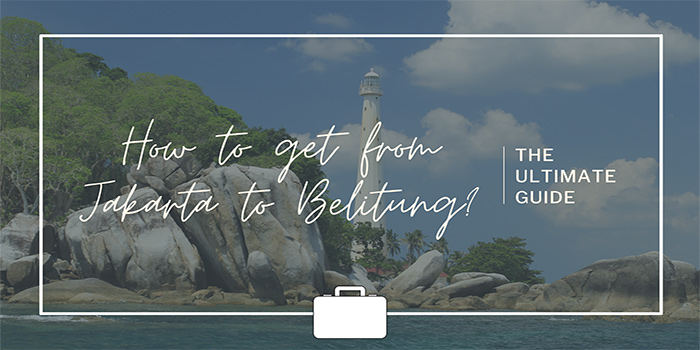 Everything you need to know about getting from Jakarta to Belitung. This is the complete guide.
This article is intended to provide you with a step-by-step overview on how to get from Jakarta to Belitung Island.
Currently, Pulau Belitung is more popular with domestic tourists but over the last couple of years more and more international tourists are checking it out.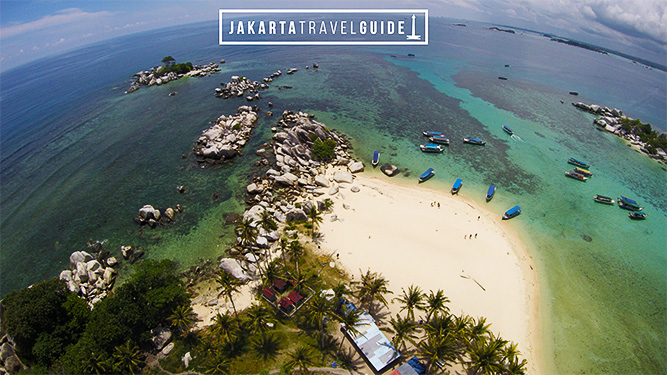 Belitung island is well known in Indonesian for its tin mining industry.
But recently, with the help with an extremely popular Indonesian movie entitled "Laskar Pelangi" (translated in English to "The Rainbow Troops") it has become increasingly popular as a convenient tourist destination. Since Jakarta is one of the largest cities in the world, there is increasing demand from locals.
The movie was shot on some of Belitung's nicest beaches, which subsequently placed Belitung on the tourist trail due to the exposure it received.
Belitung has some beautiful white sand beaches, welcoming locals and some stunning and easily accessible off-shore islands.  It's the perfect island for renting a moto and cruising around the small villages and deserted beaches.
A day diving or snorkeling is also very popular with visitors to Belitung.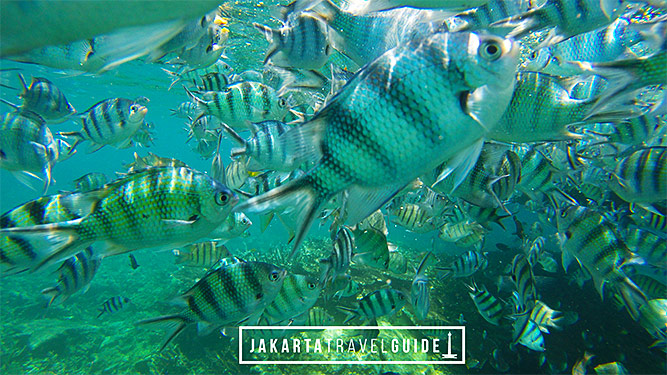 Another major reason why more and more tourists are visiting Belitung is the fact that it is very convenient to reach from Jakarta. If you are staying in Jakarta and you have a few days to spare, try to organize a trip from Jakarta to Belitung.
The flight is short and the flight tickets to get from Jakarta to Belitung tend to be quite affordable in comparison to other island destinations throughout Indonesia such as Bali and Raja Ampat for instance.
Here is a step-by-step guide on how to get from Jakarta to Belitung Island (by train, plane, and bus):
The most practical and popular way of getting from Jakarta to Belitung Island is flying.
---
Step #1: Book your Flight Ticket Well in Advance to Belitung.
The first thing that you should do if you are trying to get from Jakarta to Belitung is booking a flight well in advance, especially if you are traveling on a weekend or during peak season.
Belitung's airport is located just outside the small city called Tanjung Pandan.  Therefore, you should type in Tanjung Pandan as your destination when you are trying to purchase your tickets online. These are the airlines that service flights from Jakarta to Belitung:
Garuda Indonesia
Citilink Indonesia
Lion Air
Sriwijaya Air
Nam Air
As you can see these are all domestic carriers that are based out of Indonesia.
Here are some of the most popular flight booking sites for flights from Jakarta to Belitung:
Traveloka
Etiket.com
Momondo
BookingBuddy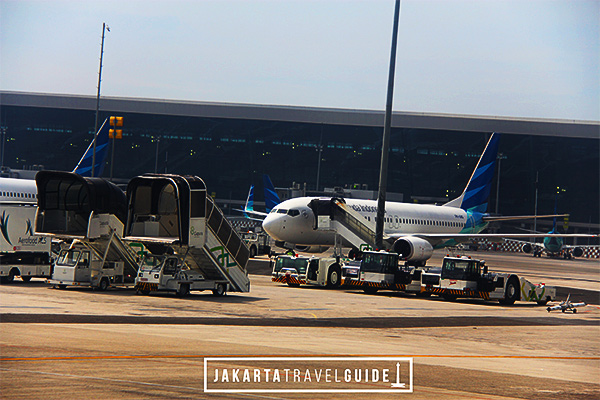 ---
Step #2: Check out and Leave for the Airport 'Super' Early in Jakarta.
Once you have purchased your flight ticket from Jakarta to Belitung, and you are at your hotel in Jakarta, be sure to leave for the airport well in advance to avoid being trapped in one of Jakarta's notorious traffic jams.  The last thing you want is to miss your flight because of traffic.
If you are staying in Jakarta you really have two choices of where you should stay the night before you depart on this trip: staying near the airport you are flying from, or staying in central Jakarta and proactively arranging your transport to the airport.
Staying at a place near the airport can be a practical option depending on your flight time.
You can easily arrange transportation to the airport in Jakarta by getting a taxi, or using one of the city's ride sharing apps such as GoJek, UBER or Grab. You can also take public transport such as a bus or the new airport rail train. The MRT now goes to Dukuh Atas Station. From Dukuh Atas you can transfer to BNI City Station which services trains to Soekarno-Hatta International Airport.
Depending on where you are staying in Jakarta, you might have the choice to take a toll road to the airport.  This is usually a smart decision if you are near a toll and you are traveling at a busy time.
Once you are at the airport in Jakarta, check-in, proceed through security and go to your gate. Since the trip from Jakarta to Belitung is a domestic flight, you won't have to go through immigration prior to departure. Locals won't require a passport, but simply a valid photo ID.
Foreigners are strongly encouraged to carry their passport at all times while traveling in Indonesia.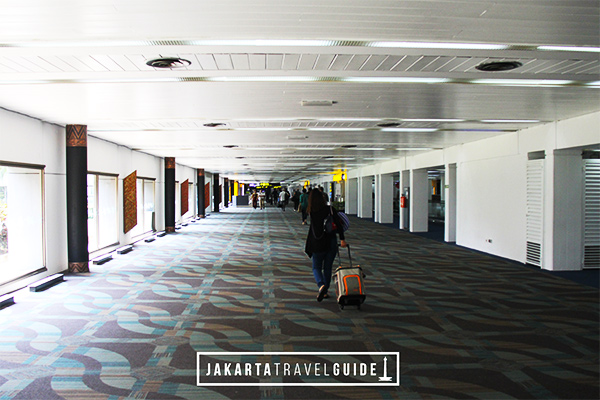 ---
How long does it take to travel from Jakarta to Belitung Island?
The direct flight from Jakarta to Belitung Island usually takes around 45 minutes.
If the sky is clear and there is no turbulence along the way, you might be in the air for only 35 minutes.
Expect the flight from Jakarta to Belitung to take around an hour if the weather is a bit choppy along the way.
---
$$$

How much does it cost to fly from Jakarta to Belitung Island?
Flight prices from Jakarta to Belitung Island tend to be one of the most affordable flights from the Indonesian capital. Expect to pay around $60 USD for a round trip flight per person if you get a good deal.
Expect to pay well over $100 USD if you are traveling from Jakarta to Belitung during a busy time like a long weekend for instance. This is quite pricey considering how close it is to Jakarta.
Book well in advance if you plan on visiting Belitung during a peak period such as Ramadan.
---
Step #3: Landing and Arranging Transportation/Accommodation on Pulau Belitung.
Selecting the Best Area to Stay
What is the best area to stay on Belitung Island?
Belitung's main city is Tanjung Pandan.  This where you will find the most restaurants, hotels, and tourist services.
Therefore, you will have to make the decision when you are booking your hotel whether you want to use Tanjung Pandan as your base where services are available or stay near one of the beaches in the northwest tip of the island where the nicest beaches are located?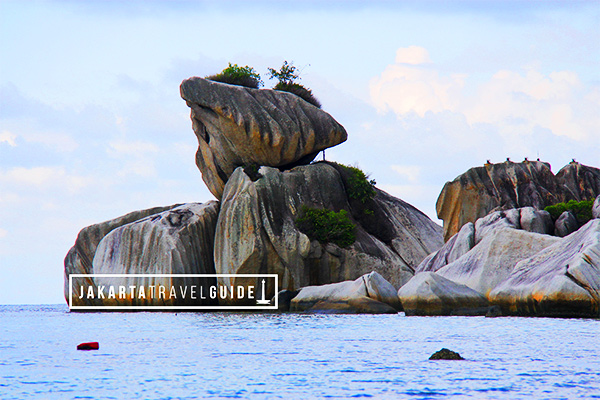 If you want a relaxing stay on Belitung, then it's probably better to stay near the beach, but if convenience is your priority then the city definitely has more to offer.
The interior of Tanjung Pandan isn't overly scenic by international standards so most of the attractions (like beaches) are along the shoreline.
If you rent a car or a moto you should be able to reach Tanjung Tinggi and the other nice beaches from Tanjung Pandan within 30 minutes or so.
Regardless of where you stay, you can get a taxi at the airport when you land. Make sure that it is clear how much your trip will cost before leaving the airport.
---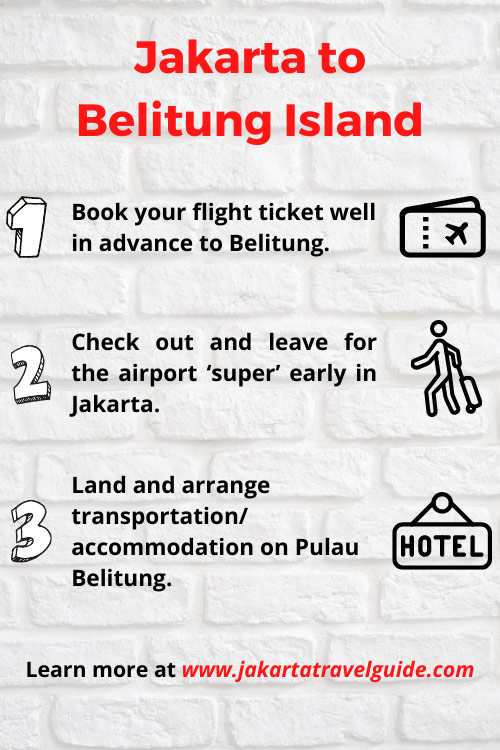 ---
Where did we stay on Belitung Island?
When you go to book your room on Belitung, you will notice that there still aren't many choices available.
We stayed at BW Suite Belitung.
This is one of the more established properties on the island. It has a pool, ocean view rooms, and a bar. Although it isn't a five-star property by any means, the rooms were comfortable and it is only a five-minute drive from downtown Tanjung Pandan.
We found it convenient to drive our moto from there to Tanjung Pandan. There are a few convenience stores nearby as well to grab extra drinks and snacks.
At the time of writing it is rated 7.8/10 on major booking sites such as Agoda.
This has been a step-by-step guide on how to get from Jakarta to Belitung by air. If you have any additional questions about this journey or our stay on the island feel free to comment below or send us an email.
We always appreciate feedback from our readers.
---
10 Closest Hotels to Belitung Island in Jakarta
***Organized according to Star Rating