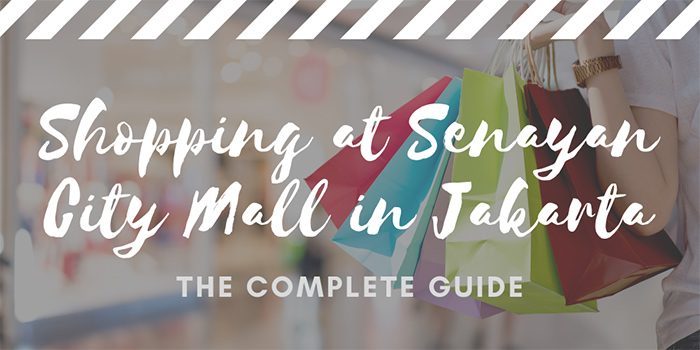 The complete guide to Senayan City in Jakarta. Find all the information you need, now.
Senayan City is a large shopping mall located in central Jakarta. As its name suggests it is located in Senayan, an area well known for shopping malls, 5-star hotels and excellent restaurants.
The direct area around Senayan City is considered to be one of the most popular shopping districts for visitors in Jakarta. With Senayan MRT Station now open it is easier than ever to shop in this area of Jakarta.
Senayan City consists of 7 floors of shops and restaurants which are located around a large central atrium in the middle of the mall. The atrium is large enough for special events and promotions to take place on weekends and during festivals.
Senayan City usually has an impressive Ramadan display set up during the holy month which is definitely worth checking out.  
If you do visit Senayan City you might notice that the building also consists of office towers and apartment towers as well. Therefore, the mall section is only one component making up a larger complex.
Like many malls in Jakarta, Senayan City consists of a large range of high-end international brands and a wide selection of restaurants to choose from. It also has a large cinema which routinely features the latest Hollywood blockbusters. English movies have Bahasa Indonesia subtitles for local viewers.
Another notable section of Senayan City is located on the third floor of the mall. Here you will find a bunch of shoe and athletics stores clustered in one area. This is an excellent area if you need sporting equipment or everyday shoes for work.
There is also various baby stores at Senayan City which makes it convenient for family shopping.
---
Senayan City Mall Essential Visitor Information

Opening Times: Every day: 10 am-10 pm
Address: Jl. Asia Afrika No.Lot. 19, RT.1/RW.3, Gelora, Tanah Abang, Kota Jakarta Pusat, Daerah Khusus Ibukota Jakarta 10270
---
What is around Senayan City Mall in Jakarta?
The recent opening of Jakarta's first-ever MRT line makes it really easy to access Senayan City. Previously, commuters often had to spend hours in traffic jams to get to this area of central Jakarta. This has now changed.
It is possible to take the MRT straight to Senayan MRT Station. From there, it is less than a 5-minute walk to the mall.
This area of the capital city is known as one of the best in all of Jakarta for sightseeing and conducting business.
Accommodation Choices
Therefore, it isn't uncommon to see international visitors in the mall or at one the superb hotels in the area.  
There are a few reasons why the area around Senayan City is popular with both foreign and domestic tourists. One of the main reasons is because some of Jakarta's best hotels are within a small radius of the mall. A perfect example is the Fairmont Jakarta.
The Fairmont is only a 650 m/7 minute walk directly north of Senayan City. It is largely considered as one of the top three or four 5-star hotels in all of Jakarta.
Another superb hotel close to Senayan City is The Ritz-Carlton Jakarta Pacific Place.
The Ritz is only about 2 km east of Senayan City. It too is largely classified as one of the three or four best hotels in the entire city.
Shopping Malls
The area around Senayan City is also very popular for, you guessed it, shopping!
Although Senayan City is a large shopping mall, it isn't the only one in the area.
Directly across the road to the northeast, you will find Plaza Senayan. This is another high-end shopping mall. It literally only takes about 1 minute to walk between the two.
Some other malls within 1-2 km of Senayan City include Ratu Plaza (a small high-tech mall with a large department store), fX Sudirman (a nice modern mall with a nice selection of Japanese restaurants), and Pacific Place (one Jakarta's best luxury malls that is physically attached to The Ritz).
Senayan City is also next door to Bung Karno Athletics Park – the site of international sporting competitions in Jakarta.  
If you plan on attending an event in the park, then the Fairmont Jakarta, Harris Suites fX Sudirman, Century Park, and The Ritz-Carlton Pacific Place are very convenient hotel choices all within a few hundred meters of the gates.
Staying near Senayan City will provide you with the opportunity to access some of Jakarta's best hotels, malls and the central business district of the city. It is also very convenient from this area to access Bundaran HI, the Monas and many other museums in central Jakarta.
---
Shopping at Senayan City in Jakarta
Senayan City is one of the largest shopping malls in central Jakarta.
It has a wide selection of restaurants and a large cinema. It is an excellent choice if you are staying in central Jakarta.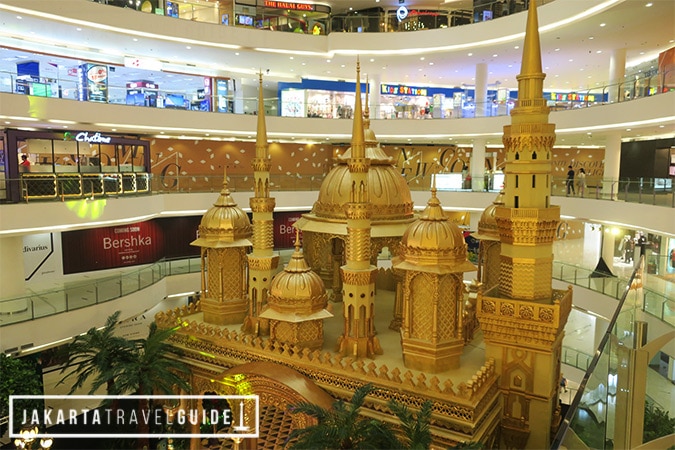 Due to its proximity to Bundaran HI and the Monas, it's a practical area to stay. You can assess Blok M to the south or the Monas to the north without much effort using the MRT. Consider shopping at Senayan City mall while you are in Jakarta.
---
10 Closest Hotels to Senayan City in Jakarta
***Organized according to Star Rating