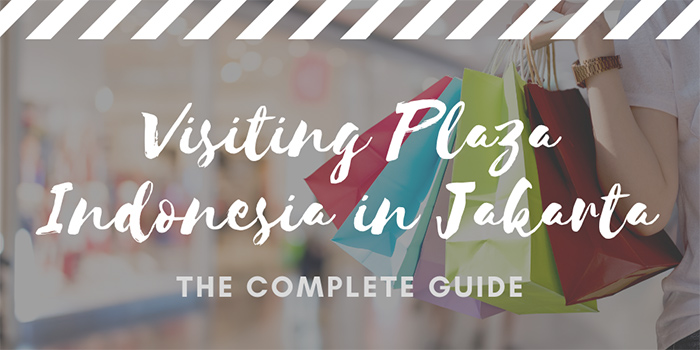 The complete guide to shopping at Plaza Indonesia in Jakarta. Find all the info you need right here!
Plaza Indonesia is one most luxurious and popular shopping malls in Jakarta.  It is ideally located in Thamrin, Central Jakarta beside The Selamat Datang (Welcome) Statue.  If you're visiting the Indonesian capital, consider visiting Plaza Indonesia.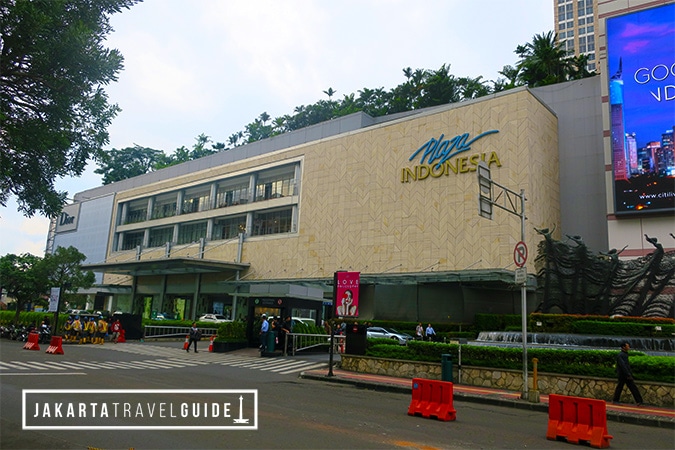 ---
Plaza Indonesia Mall Description
Due to its prominent location near the Monas, various shopping malls and some of Jakarta's best hotels, Plaza Indonesia is popular with foreign tourists visiting the city and affluent locals living in Jakarta.
This area of Jakarta is also very close to Menteng – one of the city's most affluent neighborhoods marked by stately homes and tree-lined roads. The mall component, Plaza Indonesia, or PI for short, is part of a larger complex called the Plaza Indonesia Complex.
This complex consists of two of Jakarta's best hotels – The Grand Hyatt Jakarta and The Keraton at the Plaza, a Luxury Collection. These are physically attached to the mall. The Plaza office tower is also part of the complex.
Plaza Indonesia was originally built in 1980, but it has seen many renovations over the years. Although it does have a substantial collection of international designer brands it also has many mid-range brands to choose from as well.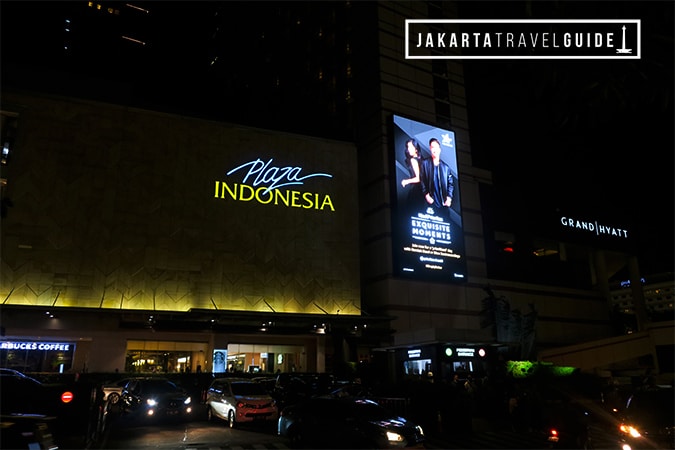 Plaza Indonesia Essential Visitor Information
Opening Times:
Mondays to Fridays : 10 am-10 pm
Weekend u0026amp; Public Holiday : 10 am -12 pm
Address: Jalan M.H. Thamrin No.Kav. 28-30, Menteng, Kota Jakarta Pusat
---
What's Around Plaza Indonesia Jakarta?
Plaza Indonesia is ideally located in central Jakarta, only 2 km south of the Monas. This area of Jakarta is very popular with visitors in the city because it is close to multiple shopping centers, markets, tourist attractions, and also some of Jakarta's most impressive luxury hotels.
Hotels
Staying near Plaza Indonesia is a popular and practical choice.  As mentioned earlier, two of Jakarta's leading properties – The Grand Hyatt Jakarta and The Keraton at the Plaza, a Luxury Collection are attached to the shopping center.
Guests to these hotels have the luxury to shop and eat at excellent restaurants without even experiencing a second in Jakarta's notorious traffic.
There also some other superb accommodation options within a few hundred meters of Plaza Indonesia Mall that can be easily reached by walking. The Pullman Jakarta is located directly across the road from Plaza Indonesia. Therefore, can just take the pedestrian bridge to reach it.
The Mandarin Oriental is one of Jakarta's best hotels and it's only 500 meters away from Plaza Indonesia. It is perfectly located overlooking The Selamat Datang Monument and the iconic roundabout.
The other excellent hotel option near Plaza Indonesia also overlooks The Selamat Datang Monument and it's called Hotel Indonesia Kempinski Jakarta. It is popular with affluent guests visiting Jakarta and it is physically attached to Grand Indonesia – the shopping complex directly across from Plaza Indonesia.
Other Shopping Malls
Plaza Indonesia is not the only shopping center in this area of Jakarta. There are a few more.  This allows visitors to Plaza Indonesia to also compare prices at different malls.  
Directly across the road from Plaza Indonesia is Grand Indonesia. This is arguably the most popular mall in all of Jakarta for foreign visitors in the city. It is massive and has an extensive selection of international brands and restaurants to choose from.
Another more affordable option for shopping near Plaza Indonesia is Thamrin City. This is only a few hundred meters away. Thamrin City is very popular with local shoppers because of its excellent prices and local textiles such as batik.
If you are interested in looking at some locally made products and much more affordable goods, then Thamrin City is the place. It isn't nearly as polished as Plaza Indonesia or Grand Indonesia, however. Expect low ceilings and no shortage of small stalls.
Sightseeing at and around the Monas is also possible if you decide to stay near Plaza Indonesia. The Monas and its surrounding galleries, museums, churches, and mosques are all within 2-3 kilometers of Plaza Indonesia.
Public Parks
If you're interested in going for a jog or relaxing under the trees, you can also check out the nearest parks to Plaza Indonesia. They are:  
These public parks located within a few kilometers of Plaza Indonesia.  You can choose either walk to them or to take a taxi or a private car (Uber, Grab, GoCar).  Although they are small, they have some mature trees and paths.
A bit farther, but worth seeing is Jalan Surabaya Antique Market. It has an interesting array of antiques, Indonesian masks and used merchandise such as golf clubs that can be purchased.  Be prepared to bargain if you decide to visit Jalan Surabaya Antique Market.
Plaza Indonesia is also not too far away from Tanah Abang. This is a busy market area in Jakarta that is famous for affordable textiles. Expect busy street markets and lots of pedestrian traffic.
Staying near Plaza Indonesia Mall is a wise decision for various reasons, but its central location is hard to beat. If your budget can allow for it, try to book a room at one of the hotels that are directly attached to one of the malls in Thamrin to minimize your time in traffic and to maximize the efficiency of your trip.
---
10 Closest Hotels to Plaza Indonesia in Jakarta
***Organized according to Star Rating