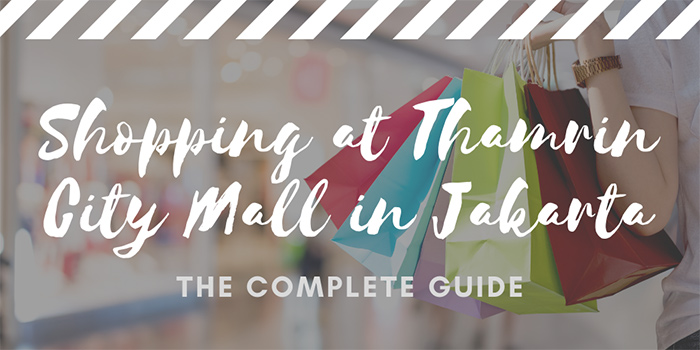 The complete guide to Thamrin City in Jakarta. Find out everything you need to know, right here.
If you are visiting Jakarta in the future then you might want to consider shopping at Thamrin City Mall. Thamrin City is one of  Jakarta's most popular malls for local shoppers.
As its name suggests, it is ideally located in Thamrin – an area in central Jakarta that is close to major attractions such as the Monas and its surrounding museums and galleries.
Thamrin City is actually one component of a large commercial and residential complex that also consists of 5 apartments buildings, Amaris Hotel and a gym.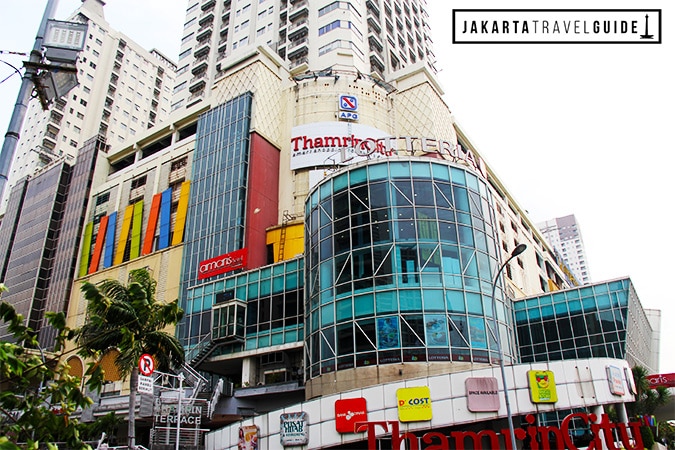 What is Thamrin City Mall Known For?
Thamrin City is also located beside Grand Indonesia and Plaza Indonesia – two of Jakarta's best shopping centers.  Unlike these malls, Thamrin City has far fewer international brand names, but much more in terms of Indonesian-made products such as batik.
Batik is an extremely popular fabric that is used to make traditional shirts, garments, and dresses in Indonesia. There is a good selection of batik at Thamrin City. This makes a lot of sense considering that Thamrin City is very close to Tanah Abang – arguably the best place to buy batik in all of Jakarta.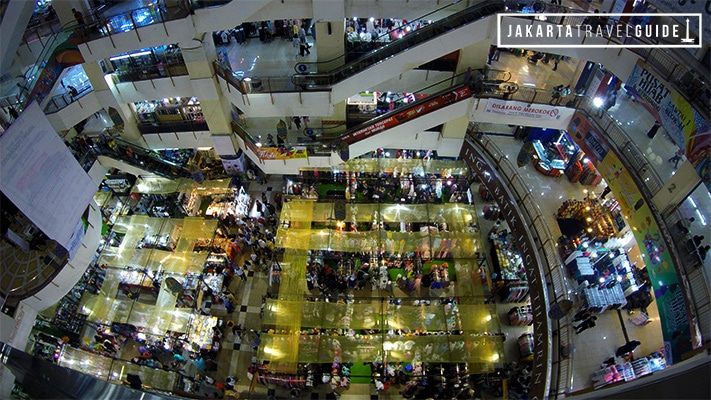 As you walk into the mall it is easy to navigate because the escalators are located within the central atrium. You can find some good bargains at Thamrin City and that's why it is popular with Jakartans who are familiar with common prices within the city.
There are multiple floors making up Thamrin City. The central atrium area commonly has special promotions and events going on there. There is a strip of outdoor restaurants along the eastern side of Thamrin City Mall (facing the direction of Grand Indonesia) if you are interested in eating while you are shopping there.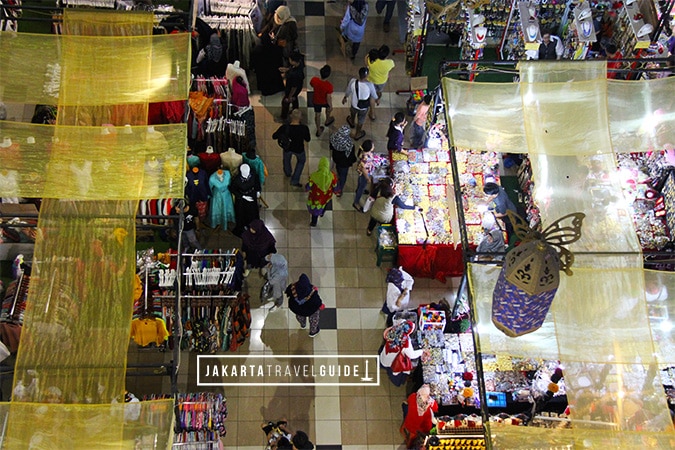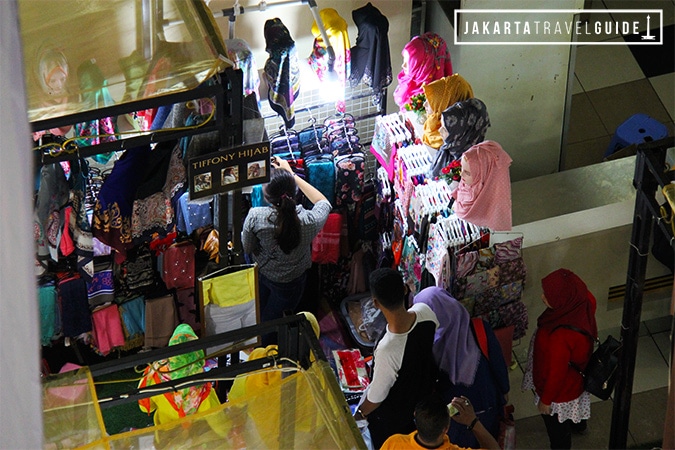 Thamrin City Mall Opening Hours: Monday to Sunday 9:00 am to 10:00 pm
---
What is around Thamrin City Mall in Jakarta?
Thamrin City is conveniently located in central Jakarta, only about 2.3 km south of the Monas.
Thamrin, the area where this mall is located tends to be very popular with visitors in the city because it has some of the Jakarta's best hotels, malls, restaurants and sky bars.
Shopping Malls
Staying near Thamrin City is a practical choice if you are visiting Jakarta because it is easy to walk from there to Grand Indonesia and Plaza Indonesia – two of Jakarta's most popular tourist malls. They are both literally a few hundred meters away from Thamrin City.
Both Grand Indonesia and Plaza Indonesia offer more choice in terms of international brand names and high-end restaurants. Subsequently, these malls are both more popular than Thamrin City among foreign shoppers and affluent Jakartans. On the other hand, Thamrin City has more affordable local products.
Best Accommodation Options
Due to the shopping and dining convenience of this area expect to find some of Jakarta's hotels right around these three malls.  
The Grand Hyatt, for instance, is about 500 meters away from Thamrin City and physically attached to Plaza Indonesia.
 It overlooks Jakarta's famous Selamat Datang (Welcome) Monument and Bundaran HI.
The Mandarin Oriental and the Pullman are also located around this famous roundabout in Jakarta. They are both 800 meters away from Thamrin City which is roughly an 8-minute walk away.  
Hotel Indonesia Kempinski Jakarta is a popular choice for wealthy visitors and it is physically attached to Grand Indonesia (it's about 600 meters away from Thamrin City). It is one of the most positively reviewed properties in the city.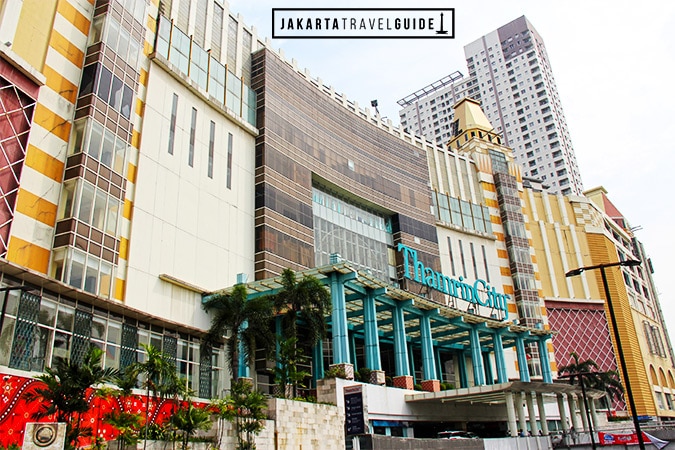 Physically attached to Thamrin City Mall you will find Amaris Hotel. This is a much cheaper option than the previously listed properties. The second most convenient place to stay near Thamrin City is the Ascott Jakarta. It is only 200 meters from the mall and on the same side of the road.
Sightseeing at and around the Monas is very much possible if you decide to stay near Thamrin City. The Monas and its surrounding galleries, museums, churches, and mosques are all within 3.5 kilometers of Thamrin City.
Public Parks
Some of Jakarta's popular parks such as Taman Suropati, Taman Menteng and Taman Situ Lembang are all located within a couple kilometers of Thamrin City as well.  Consider walking to them or trying to hire a taxi or a private car (Uber, Grab, GoCar) to drive you. Don't expect large green space like European or Western cities. Jakarta still has plenty of room for improvement in terms of developing more parks and recreational areas.
Markets
Jalan Surabaya Antique Market has an interesting array of antiques, Indonesian masks and previously used merchandise such as golf clubs that can be purchased. It is about 1 km past these parks in Menteng – one of Jakarta's wealthiest areas.  
Get ready to bargain if you decide to visit Jalan Surabaya Antique Market. Most of the merchants speak good enough English to haggle over prices.
Thamrin City is also very close to Tanah Abang. This one of Jakarta's busiest market areas. Similar to Thamrin City, Tanah Abang is famous for affordable textiles such as batik. Come prepared and expect busy roads, street-side markets and lots of pedestrian traffic. It is a good area for street photography.
Staying near Thamrin City is a practical choice if you are visiting the city. The closer you stay to the Selamat Datang (Welcome) Monument the better.  That will help you to avoid the street traffic associated with the Tanah Abang markets.  The Grand Hyatt and the Mandarin Oriental have particularly good locations with easy access to the roads leading to the Monas and further south to Sudirman, Senayan, and Kuningan.
Thamrin City Mall is also going to be well connected to the MRT which will open in Jakarta in 2019. Bundaran HI MRT Station is right beside the Grand Hyatt and Plaza Indonesia. Both of these are a short walk away from Thamrin City Mall in Jakarta.
---
10 Closest Hotels to Thamrin City Mall in Jakarta
***Organized according to Star Rating