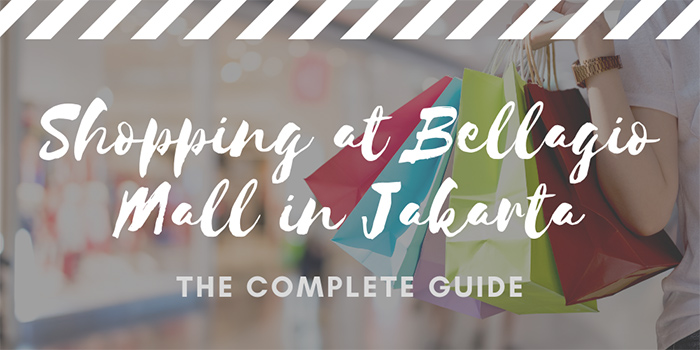 The complete guide to Bellagio Boutique Mall in Kuningan. 
Bellagio Mall is a small shopping center located in Mega Kuningan, Jakarta.
In case you are not familiar, Mega Kuningan is a nice modern area of South Jakarta. It is located about 6 km south of the Monas – Indonesia's National Monument.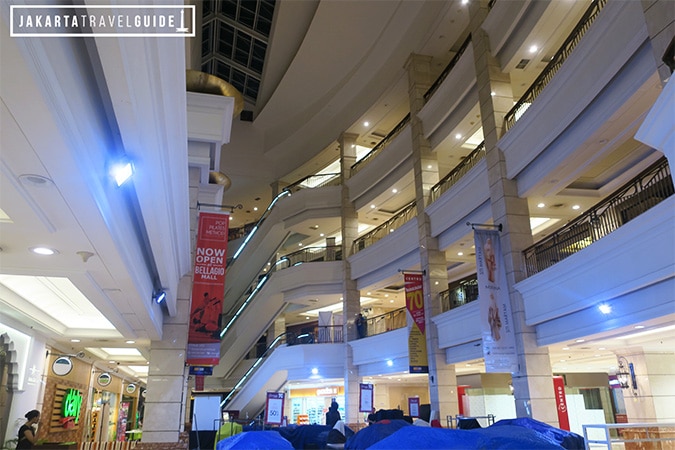 Mega Kuningan consists of large corporate towers, excellent restaurants, some of Jakarta's best hotels and of course, shopping malls. Bellagio Mall, unlike many malls in Jakarta, specializes in small boutique shops.
Since Bellagio Mall is surrounded by large towers, it serves as a convenient spot for people doing business to grab lunch or dinner. It is quite small when compared to some of Jakarta's other megamalls such as Grand Indonesia and Mal Kelapa Gading. This makes it easy to navigate if you are looking for a specific product or restaurant.
Many of the stores in Bellagio Mall are small boutique outlets opposed to large internationally branded chains. The mall is really easy to navigate.
When you arrive at Bellagio Mall you will notice that most of the restaurants and shops surround a large central atrium in the middle of the mall.
On the ground floor there is a nice selection of restaurants to choose from considering its size. Some of them are very popular with Jakartans and they have quite reasonable prices considering that they are located in Kuningan's business district. You can find both local and international restaurants when you visit Bellagio Mall in Jakarta. Mexican and Indian dishes are available at popular restaurants.
On the top floor of Bellagio Mall there is a food court that you might want to check out if you are looking for more affordable food options.
Bellagio Mall does not have a cinema, therefore you will have to go one of the other malls in the Kuningan area to find one. Kota Kasablanka or Lotte Shopping Avenue are options you may want to consider.
---
Bellagio Mall  Essential Visitor Information
Opening Times:
Mondays to Fridays: 10 am-11 pm, but selected shops close much early than 11 pm.
Address:
Jl. Mega Kuningan Barat Kav. E4 No. 3, Kuningan Timur, Setiabudi, RT.5/RW.2, Kuningan Tim., Kota Jakarta Selatan, DKI Jakarta 15810, Indonesia
---
What is around Bellagio Mall in Mega Kuningan, Jakarta?
The area around Bellagio Mall is popular for a few reasons:
1) Shopping Opportunities
If you decide to stay at a hotel near Bellagio Mall then you will have a surplus of shopping malls to visit as well. Actually, this area of Jakarta is one of the best locations for shopping in the entire city.
North of Bellagio Mall you will be able to complete either a short walk or drive to get to the following shopping centers:
Lotte Shopping Avenue is a large mall that is centered around its Lotte Department Store. It is also physically attached to what many consider the best hotel in the entire city – Raffles Jakarta. It commonly gets rated around 9.5/10 on major accommodation sites which is simply remarkable. They even have rooms that come with a personal butler for the duration of your stay!
Just a few hundred meters away from Raffles and Lotte, you will see ITC Kuningan and Mal Ambassador.
Both of these are popular electronics malls that are connected to each other. They both have an excellent selection of computers, hand phones, and local food choices. You can get to either one of these by walking/driving 1 km north of Bellagio Mall.
If you walk another 300-400 east of Mall Ambassador, you will reach Kuningan City Mall.
This is quite similar to Lotte Shopping Avenue in terms of international chains. It has a cinema on the top floor. International blockbusters are shown in English with Bahasa Indonesian subtitles.
A few other malls within a couple of kilometers of Bellagio Mall include Plaza Festival and Kota Kasablanka.
As mentioned before, foreign and domestic tourists also enjoy the Mega Kuningan area because of awesome restaurants and hotels.
Accommodation Choices 
Some of Jakarta's best properties are located within only a few hundred meters away from Bellagio Mall such as:
These properties are located around corporate towers. Therefore, there are restaurants catering to affluent guests scattered in different buildings throughout this area. Expect high service standards and great amenities at these properties.
You can walk around in the Mega Kuningan area as well. Unlike most areas of Jakarta, the area around Bellagio Mall does have sidewalks!
Mega Kuningan is one of the most children-friendly areas of Jakarta, making it possible to walk from one of these hotels to Bellagio Mall or one of the other malls described above.  
If you are looking to check out some pubs and clubs near Bellagio Mall there are also some excellent choices nearby that are located in many of the hotels and corporate towers throughout Mega Kuningan.
---
10 Closest Hotels to Bellagio Mall in Jakarta
***Organized according to Star Rating
---
Shopping at Bellagio Mall in Mega Kuningan, Jakarta
When you visit Bellagio Mall it won't take you long to realize that it is much different than the mega malls in the city. It is small but specialized. It is much quieter than other malls in the city. Check out the restaurants on the ground floor – some of them are awesome!!!