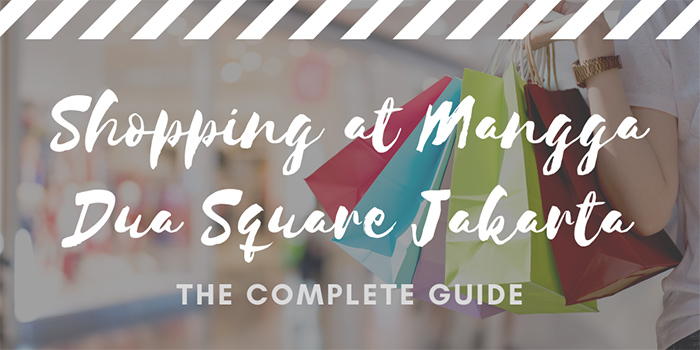 Everything you need to know about Mangga Dua Square Mall in northern Jakarta: The Complete Guide.
Mangga Dua Square is a shopping mall that is located in North Jakarta. As its name suggests, it is located in an area of Jakarta called Mangga Dua. This area is popular with shoppers because the malls here tend to offer affordable prices for textile and electronics.
To help you place Mangga Dua Square's location into context, it is about 5 km south of the Monas and 2.5 km southeast of Fatahillah Square in Kota Tua.
Mangga Dua Square was first opened on June 18th, 2005. Former governor of Jakarta, Sutiyoso, made the announcement which coincided with the start of the Jakarta Great Sale.
Currently, Mangga Dua Square is one of the most popular shopping malls in north Jakarta. The building consists of nine floors, but five of these are for mall tenants.  Some of the big tenants in the mall include Carrefour, Jayakarta Bookstore, and Gramedia.
This is a convenient mall in terms of accommodation as well. Both Ibis Styles Jakarta Mangga Dua Square and Novotel Jakarta Mangga Dua Square are physically connected to the mall which makes it really easy to stay right there and shop.
The Mangga Dua Square complex also consists of a multipurpose event venue called JITEC. This stands for Jakarta International Event and Convention Center. Over the years this venue has hosted various large scale events including international music stars performances.
Currently, Mangga Dua Square does not have a cinema.
---
Mangga Dua Square: Essential Visitor Information
Opening Times: Everyday from 10 am to 10 pm
GPS Coordinates: -6.138559, 106.831552
Address: Jl. Gn. Sahari No.1, RT.11/RW.6, Ancol, Kec. Pademangan, Kota Jkt Utara, Daerah Khusus Ibukota Jakarta 14420
---
What is located around Mangga Dua Square in Jakarta?
Shopping Malls
Mangga Dua Square Jakarta is just one of many malls in this area.
Most of the malls in Mangga Dua are focused on selling affordable goods and services. You won't find too many luxury malls or hotels in this zone of Jakarta. You will also find that the food court at Mangga Dua also caters to local shoppers opposed to foreigners.
The additional malls in Mangga Dua are located north and northeast of Mangga Dua Square.
Here is a list of the other shopping centers in Mangga Dua:
WTC Mangga Dua
ITC Mangga Dua
Harco Mangga Dua
Mangga Dua Mall
Pasar Pagi Mangga Dua
Of these malls listed, the closest one to Mangga Dua Square is WTC Mangga Dua. It is about 600 meters north.
The other malls are located along Jalan Mangga Dua Raya.
Other Attractions to Consider
If you walk or drive to any of the malls listed above (in the westerly direction) you will be moving towards Kota Tua – Jakarta Old Town.
Kota Tua is one of the most visited and popular areas for sightseeing in Jakarta. Many of the buildings in this area were built by the Dutch. Consequently, it has a colonial feel with some charming buildings.
The museums in this area of Jakarta are centered around Taman Fatahillah (Fatahillah Square). This is the public heart of Kota Tua.
You can drive to Taman Fatahillah in under 10 minutes from Mangga Dua Square if traffic is light.
Museums in Kota Tua include:
You can walk between any one of these museums in under 5 minutes from Taman Fatahillah.
Best Accommodation Options
Since Mangga Dua Square and the other malls in Mangga Dua cater to budget shoppers, most of the hotels in this area are quite affordable.
Some of the best accommodation options near Mangga Dua Square include:
Most visitors walk to these hotels from the mall with the exception of Le Grandeur. It is a short ride away from the mall in the direction of Kota Tua.
The closest commuter station to Mangga Dua Square is Kampung Bandan Station.
It is located directly north of WTC Mangga Dua. You can walk between the station and the mall or take a very short ride. Either way, expect it to take 5-10 minutes.
---
10 Closest Hotels to Mangga Dua Square Mall in Jakarta
***Organized according to Star Rating
---
Summary: Shopping at Mangga Dua Jakarta
Mangga Dua Square is located in an area of Jakarta that has a reputation for affordable shopping.
Unlike luxury malls in Jakarta such as Pacific Place and Plaza Senayan, this mall is for everyday shoppers. There is nothing fancy here.
If you are looking for affordable products from unbranded stores there are some good buys at Mangga Dua Square. The food court at the mall is affordable and there are lots of Indonesian options.
Since this is an older mall in Jakarta it is fighting against newer malls for business.
Some of the other malls in Mangga Dua such as ICT Mangga Dua and Mangga Dua Mall are more specialized in electronics. Therefore, you have to consider what you are looking for before you know which mall in Mangga Dua is right for you.