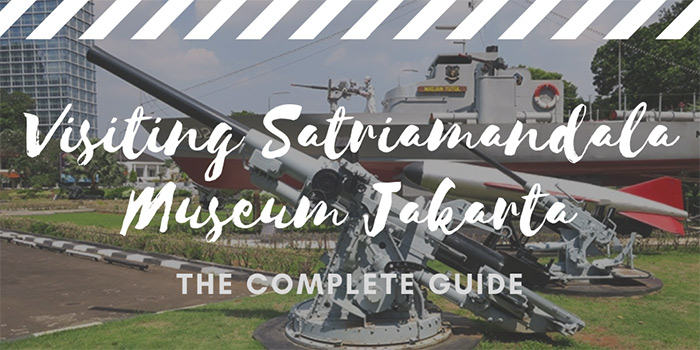 The ultimate guide to Museum Satriamandala. Everything you need to know about visiting this interesting armed-forces museum in Jakarta.
Satriamandala Museum (also spelled as Satria Mandala by some online sources) is the primary museum for the Indonesian armed forces. While you are visiting Jakarta you might also hear it being called 'Museum Satriamandala' as well.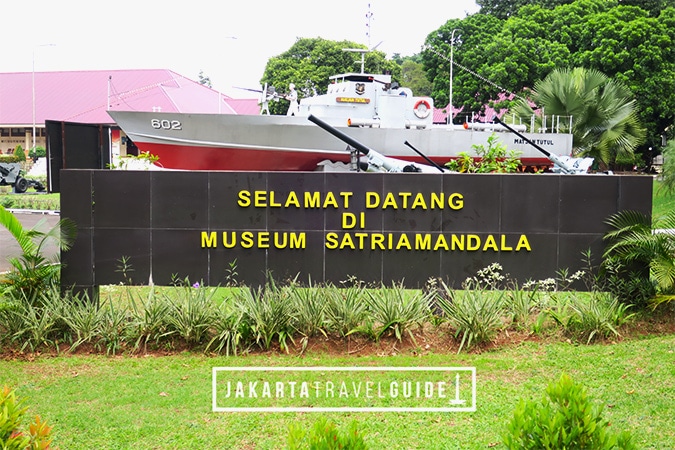 This is one of Jakarta's largest museums.
It consists of three buildings and a large outdoor exhibit area which is spread over 5.6 hectares of land (about 14 acres).
Location
To help you place its location into context, Museum Satriamandala is located in West Kuningan. It is situated about 8 km south of the Monas (Indonesia's National Monument) and southeast of Pacific Place in Senayan. It is located beside the Four Seasons Jakarta – one of the best 5-star hotels in the entire city.
Museum Satriamandala is by no means one of Jakarta's newest museums. It originally opened in 1972 to the public by Suharto (the current president of the time). During January of 2010, it was declared as a Cultural Property of Indonesia.
In case you are wondering, according to Wikipedia the name Satria Mandala is derived from an ancient Indian language called Sanskrit. When translated to English it means "a sacred place for the knights".
If you are interested in the military history of Indonesia this is the place to go while in Jakarta. Satriamandala consists of many exhibitions that showcase the military history of Indonesia.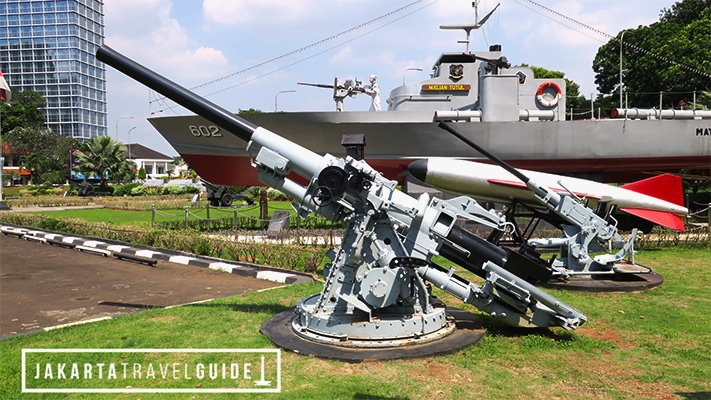 ---
Collections and Exhibits at Satriamandala Museum Jakarta
The main parking area at the museum is located directly in front of the main entrance to the building. The ticket booth is located beside the front entrance. Don't be surprised if you see the buses in the parking lot here. Satria Mandala is a popular stop for Indonesian tour groups and school groups.
Once you pay for your ticket enter the indoor area of the museum.
Within the interior of Satriamandala Museum, there are multiple rooms dedicated to famous military generals.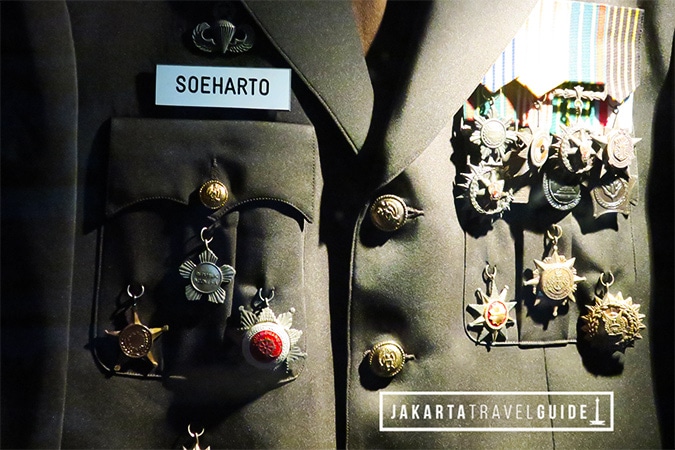 There are squadron banners and artifacts belonging to the following influential generals:
General Abdul Haris Nasution

General Oerip Soemohardjo (the military's first Chief of Staff)

General of the Army Sudirman (the military's first commander in chief)

General Suharto
Once you pass through the first level of the museum, head downstairs.
Weapon and Ammunition Room
The weapon and ammunition room is a must-see at the Satriamandala Museum in Jakarta. You will get the chance to check out hundreds of different weapons dating back to the 1940's! Rifles, bamboo sticks, rocket launchers, and grenades are just a few examples of what you can find in this large room.
Similar to the Monas Museum, there are also dioramas here. There are 75 of them which showcase the pre-independence rebellions. Craftsmen from Jogja (Yogyakarta) constructed the dioramas.
After checking out the weapon room head outside to see all of the war machines. This is without question another highlight of visiting Satriamandala Jakarta.
Outdoor Exhibits
The outdoor exhibit is organized over a large area with some of the machines being housed under rooftops. Expect to see everything from ships to old presidential jets here.
This is a summary of what you can expect to see outside at the Matriasandala Museum in Jakarta:
KRI Pattimura – a ship which was used in Papua.

American AT-16 Harvard (aircraft)

North American B-25 Mitchell (aircraft)

North American P-51 Mustang (aircraft)  

RI 001 Presidential Jet

Mil Mi-4 (helicopter)
The air machines listed above are organized in one area of the museum.
It is easy to miss the land machine area at Satriamandala Museum. Therefore, be sure to carefully read the section below.
Once you finish exploring the planes and helicopters walk along the road at the back of the museum grounds (located along the western edge of the property). Turn right towards the parking area and walk along the road.
Here you will find the following military land machines among other things:
Tanks

Ambulances

Willys MB (belonging to Sudirman)

Litter (used to carry general Sudirman)
Once you pass by the land machine section you will see a nice outdoor area at the back of the Satriamandala Museum building.
Also, take note that there are some impressive planes to check out at the front of the main parking area. They are adjacent to Jalan Jenderal Gatot Subroto.
---
Museum Satriamandala – Essential Visitor Information
GPS Coordinates: -6.231690, 106.818536
Street Address: Jalan Jenderal Gatot Subroto No.14, RT.6/RW.1, West Kuningan, Mampang Prapatan, South Jakarta City, Jakarta 12710
Hours of Operation
Monday: Closed

Tuesday: 9:00 am to 2:30 pm

Wednesday: 9:00 am to 2:30 pm

Thursday: 9:00 am to 2:30 pm

Friday: 9:00 am to 2:30 pm

Saturday: 9:00 am to 2:30 pm

Sunday: 9:00 am to 2:30 pm
---
What is around Satriamandala Museum Jakarta?
Best Accommodation Choices Nearby
This museum is primarily surrounded by office towers and pockets of residential space in Kuningan Jakarta.
One of Jakarta's best hotels overlooks the outdoor grounds – Four Seasons Jakarta.
This is by far the most convenient place to stay if you want to be close to the museum.
There are some great hotels both to the east and west of Satriamandala but they will take about 10-15 minutes driving time. The museum is located between Mega Kuningan and Senayan. Both of these spots have lots of hotels and shopping options.
To the east consider staying at the Ritz Carlton Mega Kuningan.
To the west consider staying at the Ritz Carlton Pacific Place.
All of these hotels are superbly well-managed properties. They are some of the best choices in the entire city.
Shopping Malls
There are also numerous malls near Museum Satriamandala that you can check out while you are in the area. If you want to get some shopping done try some of the malls in Kuningan like:
ITC Kuningan (electronics)
Connectivity
Currently, Satriamandala Museum is not accessible by the MRT Network in Jakarta. Consider going to one of these three stations, but you will need a short ride afterward:
There is an LRT line that is being constructed in Kuningan. When that opens you will be able to access this museum much easier.
---
10 Closest Hotels to Satriamandala Museum in Jakarta
***Organized according to Star Rating
---
Final Thoughts about visiting the Satriamandala Museum
This museum is unique because it has both indoor and outdoor exhibits. This is much different than most museums throughout Jakarta.
If you enjoy war history, this is a must-see.
The weapon room and the air machine section of the museum are particularly interesting for visitors.
There is a large parking lot at the front of the museum, so parking here shouldn't be an issue.
Some of the indoor spaces could use a major renovation. The indoor exhibits could be still modernized. Therefore, don't expect world-class interactive displays like museums in the West. Since this opened in the '70s not much money has been put into keeping it up to date.
This is one of the best museums in Jakarta if you have children. They can easily run around outside while you read up on the military history of Indonesia.